Analysis: No Matter Who Wins On Tuesday, Our Political Dialogue Needs Attention
Resume
In a few days, the presidential election will be over, drawing to a close nearly two years of nonstop campaigning. As we head into the final weekend, Hillary Clinton still appears to have the edge over Donald Trump, though Trump's chances have improved in the last few weeks.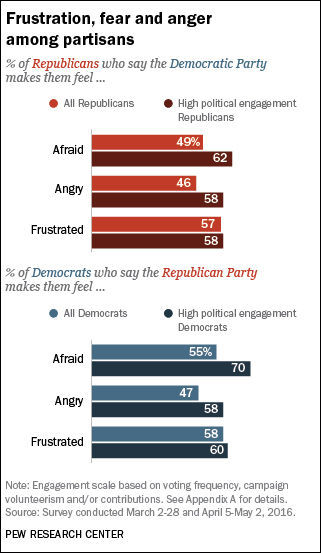 No matter who wins, the next president will face a deeply fractured country, with splits along party and socioeconomic lines. These divisions go back longer than just the past few years, so the candidates this year can't take all the blame. But this election season has not helped, and has poured salt on already open wounds in our political system.
On Inauguration Day, the next president will likely be both disliked and distrusted by a majority of Americans. In New Hampshire, both Clinton and Trump are viewed favorably by less than 40 percent of voters, and trusted by even fewer. Just 3 of the 500 people we interviewed thought favorably of both candidates. These figures echo national polling, which has found Clinton and Trump the two least popular major party nominees ever.
Congress is more polarized as well, making it hard to make progress and pass laws. But the dysfunction in Congress is a reflection of American voters rather than the cause of our political stalemate. Studies from the Pew Research Center show fewer Americans occupy the middle of the political spectrum than 20 years ago. We've fled to our partisan corners and view those on the other side of the divide with suspicion and fear.
We are also now much more likely to live in like-minded communities than in past decades. And rather than a conversation over the back fence, or a soapbox in the town square, opinions are often shared on social media. That may be making things worse. Pew found a majority of social media users find political disagreements on social media stressful and frustrating, and less respectful than what would happen in other forums.
In our final New Hampshire poll, just 10 percent of voters said the campaign has made our nation's democracy stronger. Fifty-eight percent said it is now weaker. At the end of a bruising election season and facing a divided country, our next president will face serious challenges trying to heal our country's political wounds.
This segment aired on November 4, 2016.