Interactive Website Highlights Extent Of State's Opioid Addiction Epidemic
This article is more than 6 years old.
State health officials have finished work on an interactive website containing information about how the opioid addiction epidemic is affecting Massachusetts. The site is based on the so-called "Chapter 55 Report," which analyzed information from public and private databases on the opioid epidemic. Its findings include:
-Opioid-related deaths have increased 350 percent in Massachusetts in 15 years.
-From 2013 to 2014, opioids accounted for more than a quarter of all fatalities for residents age 18 to 24. For residents age 25 to 34, opioids were responsible for more than a third of all deaths — rising to more than 40 percent for men in this age group. In 2015, roughly two out of every three residents who died from opioids were younger than 45.
-Every year from 2007 to 2014, New England led all areas of the country in the percentage of law enforcement officials who reported a high availability of heroin.
The new website also has interactive maps that allow users to click on specific Massachusetts communities to see the rate of opioid-related overdoses there, and the percentage of people in treatment who list heroin as their primary substance of use.
"The visual effect of it is profound," Public Health Commissioner Dr. Monica Bharel said in an interview. "If you look at the data from 2000 versus 2015, you can really see that this problem has gotten so much worse. But it really reminds us that behind each of these data points is an individual."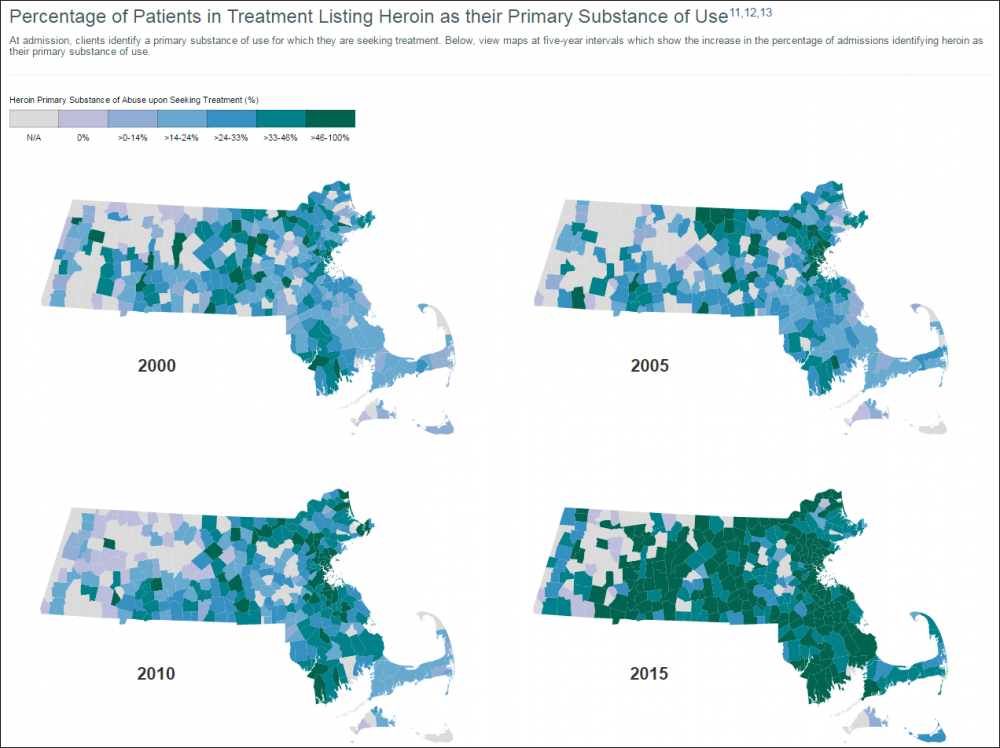 State health officials hope the site will help residents better understand the effects of the opioid epidemic and help policy makers determine how best to deal with it.
This article was originally published on November 29, 2016.