Our Favorite Productions On Local Stages This Year
This article is more than 6 years old.
Our team of theater critics — Carolyn Clay, Ed Siegel, Jeremy D. Goodwin and Kilian Melloy — roundup the best productions on local stages in 2016.
Carolyn Clay
"The Convert," Underground Railway Theater
Megan Sandberg-Zakian helmed a riveting production of Ohio-born, Zimbabwe-raised Danai Gurira's ambitious drama set in the 1890s in colonial Rhodesia. The three-act play is a little cumbersome and its ending is melodramatic. But Gurira's portrayal of the simmering conflict between imposed Christianity and African tradition is fiery and complex. And the URT ensemble, anchored by an ebullient Adobuere Ebiama as the susceptible title character and a rigid Maurice Emmanuel Parent as a zealous African cleric, was terrific.
"Fingersmith," American Repertory Theater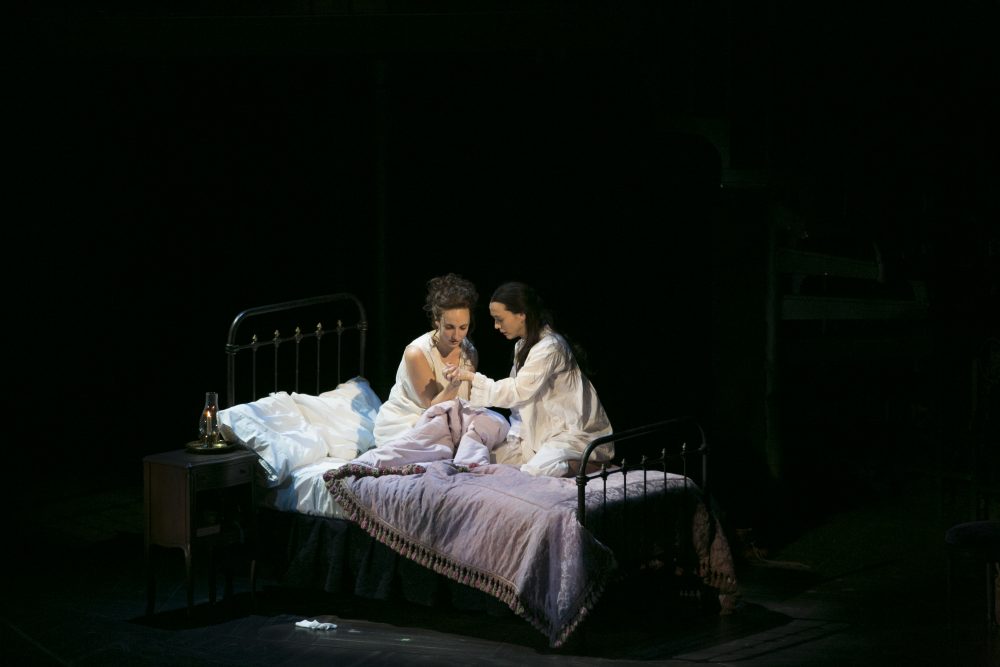 This Victorian thriller has so many whiplash-inducing twists that you may need a neck brace. Adapted by Alexa Junge from the 2002 novel by Welsh writer Sarah Waters and rife with repressed love, double crosses and unreliable narrative, the show presents a sootier, sultrier Dickensian England than we're used to in this season of Scrooges. Bill Rauch helms the darkly atmospheric production, in which "Oliver Twist" gains a contemporary, lesbian perspective as 19th-century pickpockets, unsavory aristocrats and conniving con artists wrestle for control of a slippery tale. Surprising, disturbing and tender, the whirlwind show features a tough, terrific cast headed by Tracee Chimo, Christina Bennett Lind and especially Kristine Nielsen as women endeavoring not to live at the mercy of merciless men. Best news: It's up through Jan. 8, 2017.
"Mala," ArtsEmerson
Playwright and performer Melinda Lopez, premiering her first solo work since "Midnight Sandwich/Medianoche," draws on both her Cuban-American heritage and icy Arctic imagery to negotiate the emotional maelstrom occasioned by the painful, protracted demise of a parent. The play, which was helmed by ArtsEmerson co-artistic director David Dower, is fiercely personal yet universal, brimming with mordant humor. And Lopez's performance, as the daughter whose name means "bad," was at once casual and devastating.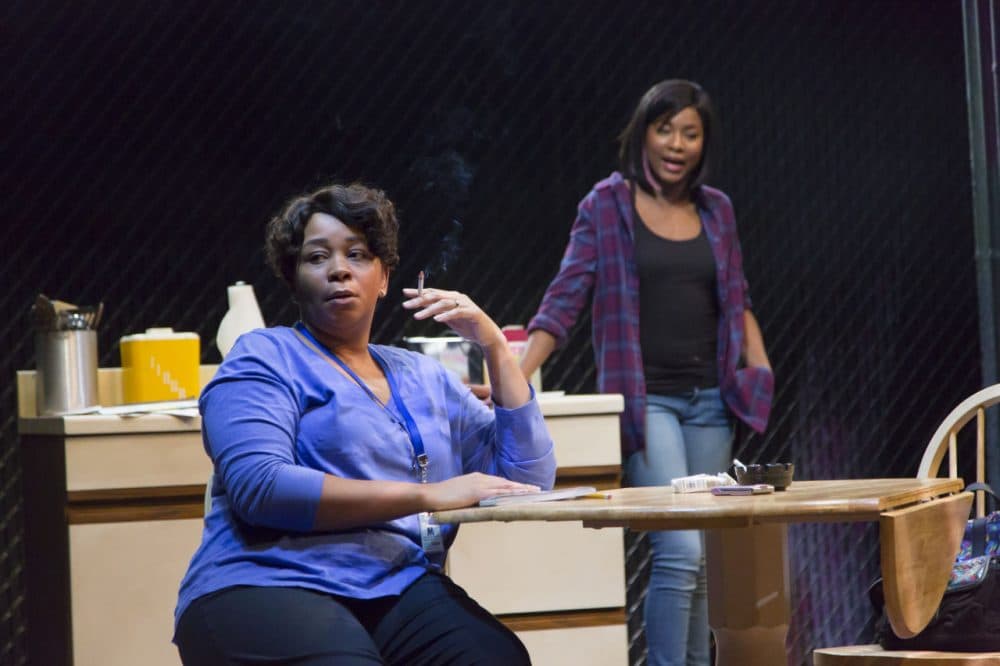 Taking its name from powdered milk that's longer on shelf life than on nutrition, Kirsten Greenidge's play, which was seen here in its Boston premiere, deftly mixes contemporary speech and attitude with metaphor. Inspired by a so-called "pregnancy pact" among Gloucester teens, the play, centered on three saucy young women with fantasies of premium cellphones and Coach diaper bags dancing in their heads, is less about teen pregnancy than hard-pressed urban youth staring simultaneously at limited options and a cornucopia of desirable stuff. M. Bevin O'Gara directed a spikily excellent cast.
"Nice Fish," American Repertory Theater
An unlikely charmer cobbled by Olivier-, Tony- and Oscar-winning English actor Mark Rylance and Midwestern scribe Louis Jenkins from the latter's droll and existential prose poems, the lyrical, whimsical theater piece centers on a couple of guys ice fishing. The more bemused of the two was played by Rylance in colorful tundra gear, which only enhanced the production directed by Claire van Kampen. "Nice Fish" has since surfaced, as they say, across the pond; it opened on London's West End in November.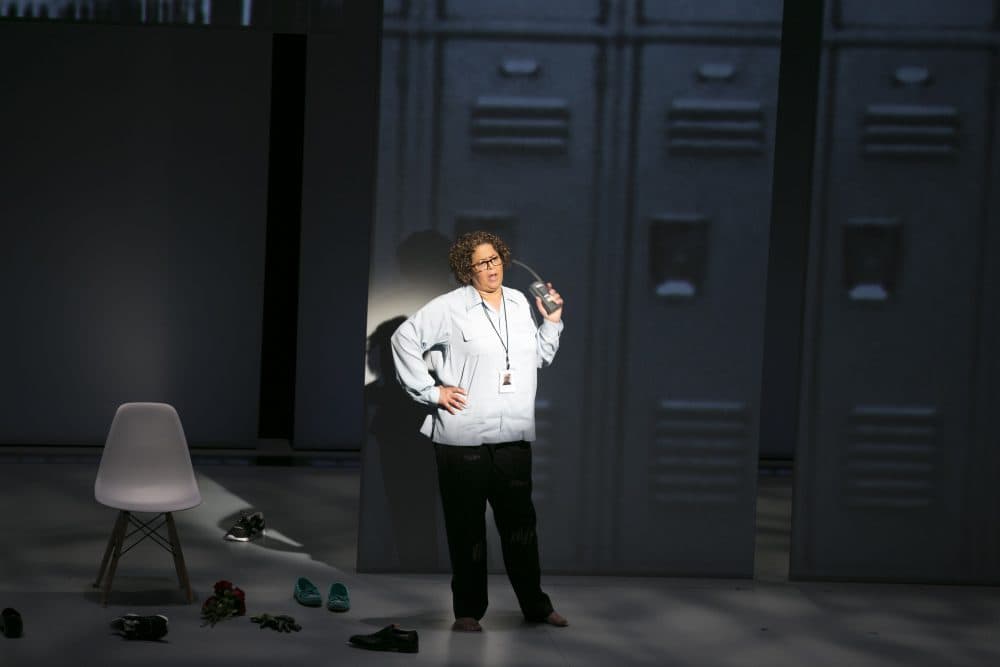 The latest documentary drama from playwright/performer Anna Deavere Smith delves into what is sometimes called the school-to-prison pipeline: the syndrome in which poor, usually minority children are swept from public school into the juvenile justice system and, often, into a lifetime of ins and outs at the Big House. Like Smith's award-winning previous works culled from verbatim interviews, the new theater piece offers a performance of extraordinary emotional and intellectual verisimilitude. Smith does not so much mimic her subjects (though she does that with preternatural accuracy) as render them soul, stance, tics and all. I could have lived without the "second act" — in which the performance was interrupted and the audience broken up for facilitated discussion. But that went away when the piece continued to New York, leaving only Smith's activism-propelled art to shed light on a complicated, troubling issue.
"Oh God," Israeli Stage
Israeli Stage followed up touring readings of Anat Gov's intelligent and ironic 2008 drama, in which a depressed deity visits a mortal shrink, with this sharply honed, sophisticated staging by artistic director Guy Ben-Aharon. Will Lyman was a dapper commanding CEO of a God, feeling understandably betrayed by humanity and his own fanaticism. And Maureen Keiller was just the elegant, angry, articulate lady to offer Him her couch and counsel.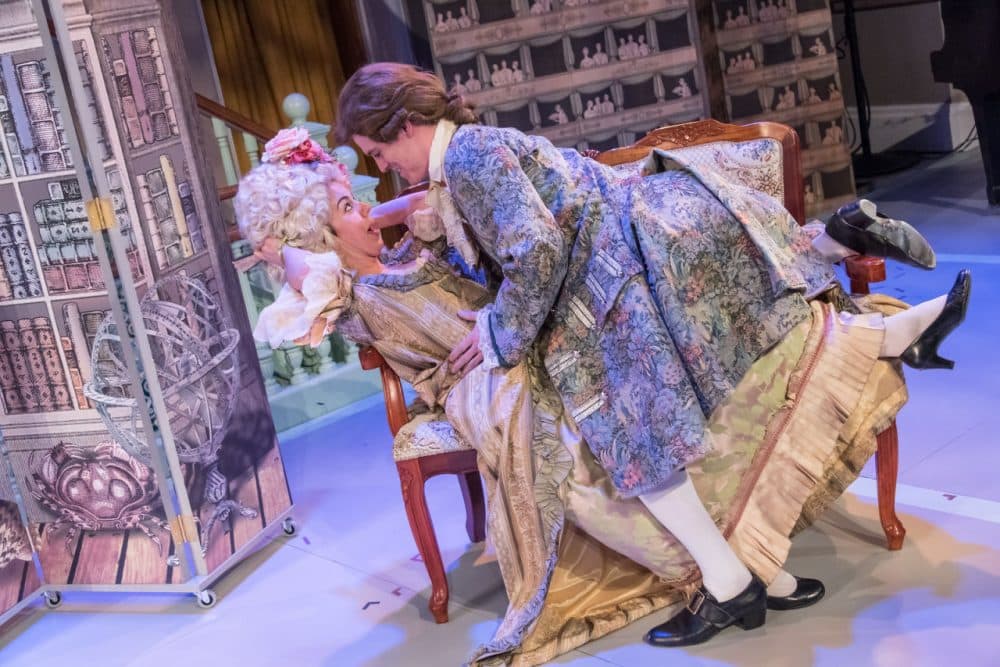 Talented actress Paula Plum switched hats to helm this smart if sometimes jarring revival of Richard Brinsley Sheridan's 1777 carnival of backbiting, rumor-mongering and character assassination played out against a couple of true loves whose courses run not smooth but through hoops of calumny. Steven Barkhimer supplied the streamlined adaptation, complete with cleverly rhymed new prologue and a bumptious, harpsichord-accompanied cover of Joan Jett. And the cast, flipping between period refinement and saucy, loopy modernity, kept things as snarky-speedy as "Gossip Girl."
The veteran team of John Kander and Fred Ebb proved it still had a corner on audacity — even after Ebb was dead. This 2010 Broadway musical by the duo, with book by David Thompson, took an appalling incident in our racist history and presented it as … a minstrel show! In 1931 Alabama, nine young black men were falsely accused of raping two white women on a train; "To Kill a Mockingbird" did not ensue. Here, however, a great show — rife with gospel, ragtime, blues, jazz and poignancy — does. Paul Daigneault helmed the roughhewn and intimate SpeakEasy staging, with athletic choreography by Ilyse Robbins that included a tap dance around the electric chair. Big-voiced De'Lon Grant led the excellent, spirited ensemble. Missed it? Don't kick yourself: The show returns to the SpeakEasy stage from Dec. 30 - Jan. 22.
---
Jeremy D. Goodwin
"The Chinese Room," Williamstown Theatre Festival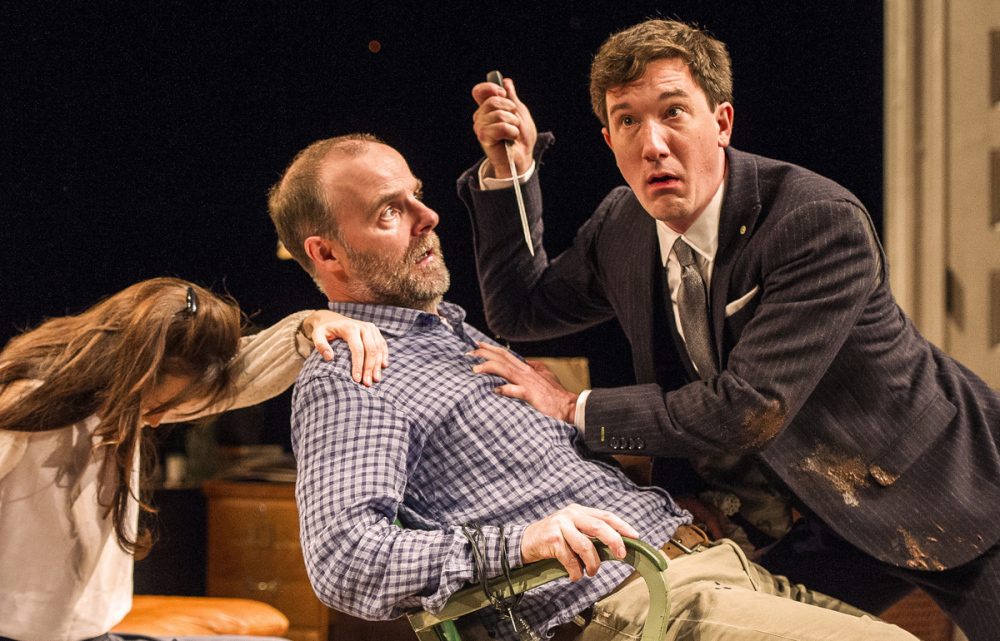 Telling another story about the future, James MacDonald directed his own script for this world premiere. A few months before we got a look at "Westworld," a very strong cast led by Brían F. O'Byrne examined the rise of artificial intelligence and the relationship between humans and androids. In a contest between man and machines, it wasn't clear who to root for.
"The Fall River Axe Murders," Imaginary Beasts
With little fanfare, Matthew Woods' adaptation of Angela Carter's short story about Lizzie Borden weaved true enchantment from an array of low-tech stagecraft, including puppetry, shadow-play and creative movement. Using Carter's language, written in third person, it achieved a surprising vividness. A seamless ensemble evoked a claustrophobic world of tight corsets and weird relations, to chilling effect.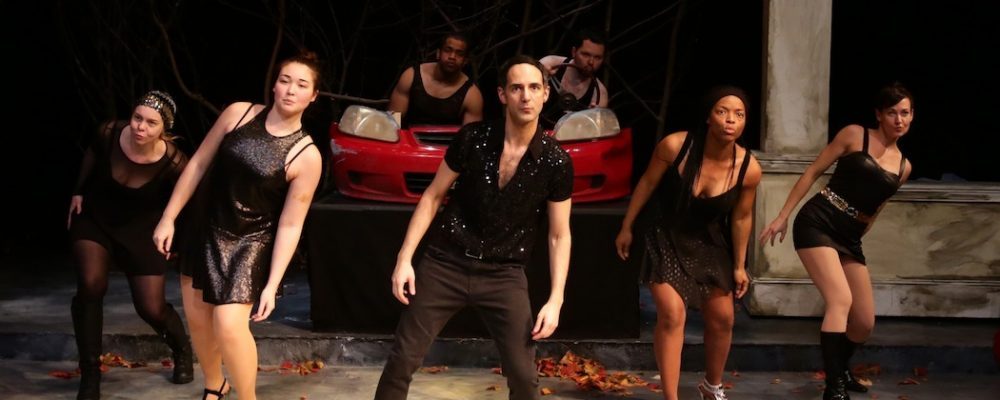 This was definitely a love it or hate it show, but put me firmly in the first camp. A deeply resonating examination of the way we tell stories to make sense of the world, this post-apocalyptic tale mined much deeper into the human psyche than any zombie movie or TV show. Directed by A. Nora Long, it culminated with a deeply haunting third act that proposed a futuristic form of performance, implying much about how communities process trauma.
"What You Will," Bedlam presented by Central Square Theater
There's a lot of buzz around this New York-based company, and for good reason — its reimagined takes on well-known texts bring fresh energy and probe deeply. After impressing last year with "Saint Joan," Bedlam this year performed two versions of Shakespeare's "Twelfth Night." The one dubbed "What You Will" was the more concept-heavy affair, a fever dream that implied the path to love is a route toward sanity … or is it insanity?
---
Kilian Melloy
"1984," American Repertory Theater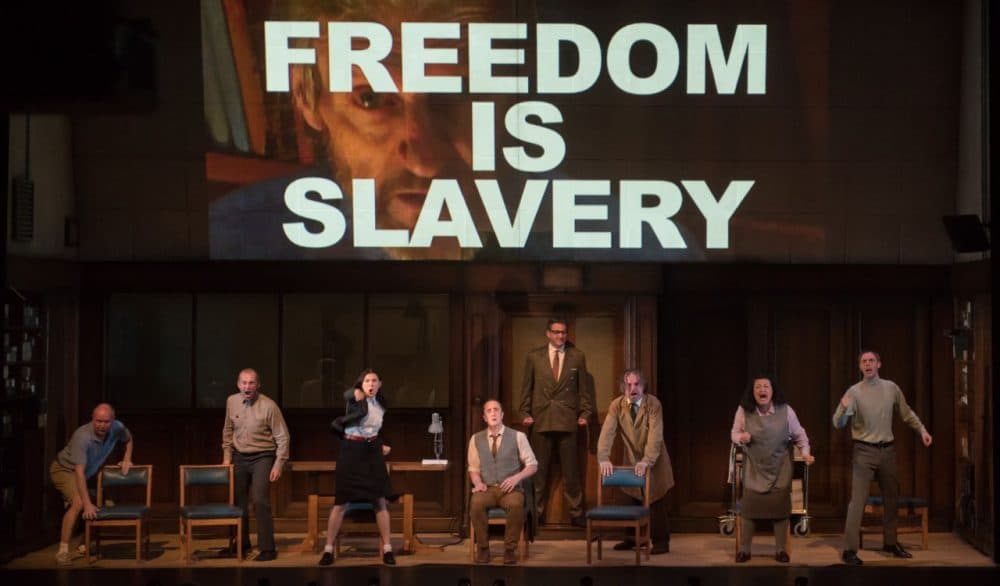 This visiting production at the American Repertory Theater, adapted from the George Orwell novel by Robert Icke and Duncan Macmillan, preserved the spirit of the novel while sparing the audience none of its dystopian grandeur and grime. Orwell's vision of a world gripped and closely controlled by masters of mental and emotional manipulation — overlords who sought to erase defining human traits such as empathy, love and curiosity — speaks to each generation in its own way, but its warnings have never have been more specific and prescriptive than they felt last February — or, indeed, right now.
Area playwright Patrick Gabridge's original play marked its inaugural production from the Bostonian Society, which had a direct interest in the story. The work depicted events following the Boston Massacre, a tragedy in which British soldiers garrisoned in Boston fired into a crowd of civilians on the evening of March 5, 1770, resulting in several deaths and bringing colonial resentments to a fever pitch. The incident had lasting repercussions that contributed to the American Revolution. The play, which dramatizes the deliberations of a group of local leaders trying to navigate perilous political waters, was presented to limited audiences in the very room where those leaders actually met. Gabridges's dramatization illustrates a foundational American truth: We are a freedom-loving people, and woe betide any king or despot who discounts our devotion to liberty.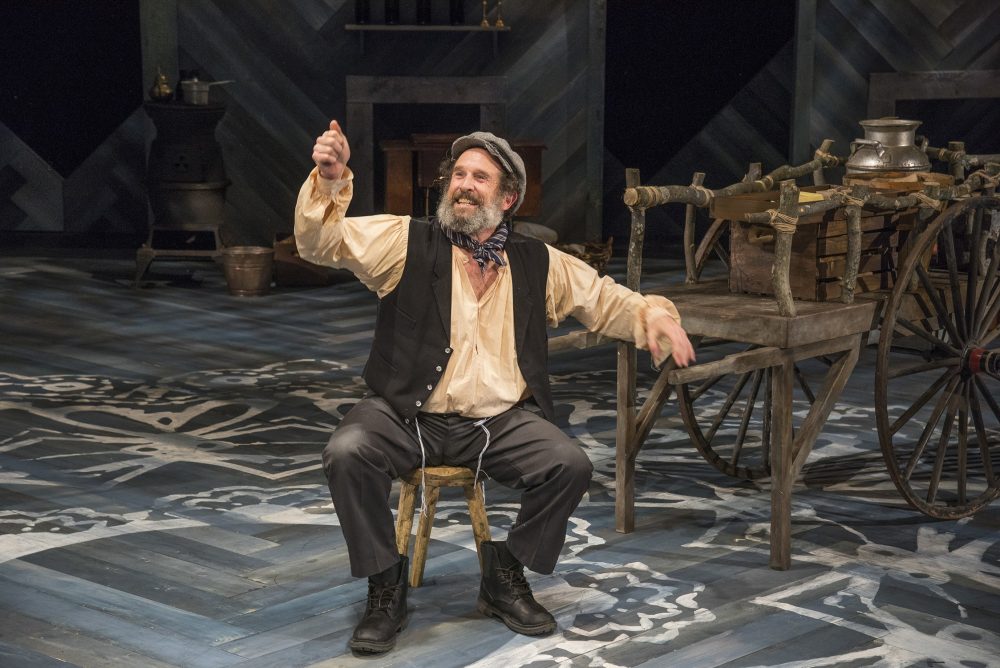 The New Repertory Theatre's production of the classic musical by Jerry Bock, Sheldon Harnick and Joseph Stein recalls the legal and physical violence Jewish people have endured for centuries. Though set in 1905, the tale almost feels futuristic as it recalls for us the ways in which persecution of specified groups can be not only ignored or even encouraged by governments, but actually mandated. But the play also pays close attention to the roles played by hope, humor and how the dueling forces of progress and tradition can buoy persecuted people and lend them the strength and purpose they need in order to survive and flourish. The local theater scene offered many productions that felt like direct commentary on the 2016 election, among them years-old satirical works from Patrick Gabridge ("Blinders," produced last June by Flat Earth Theatre Company) and Jamie Pachino ("The Return to Morality," presented at the Central Square Theater this past September by Titanic Theatre Company), as well as C.P. Taylor's somber dissection of spiritual descent, "Good" (also recently performed at the New Rep), but "Fiddler" hit the multifaceted nail on the head with more force, humanity and pure impact than any of the others — and it's still playing through Jan. 1.
A late entry in the canon of Kander and Ebb, "The Scottsboro Boys" is a sharp, unsettling and yet charmingly executed retelling, in minstrel style, of shocking true events from 1931. A group of African-American men were accused, in Alabama, of gang raping two white women; at the time, the idea that the men were not summarily lynched by an angry mob was considered a major sign of progress. But that doesn't mean justice was in any way served — especially when the men lost appeal after appeal, even when one of their accusers had a change of heart and went public with the revelation that the story was a complete fabrication and no such assault had ever taken place. If the racial tensions suffusing the country's political climate had been less than they were, the production of this play undertaken by SpeakEasy Stage Company would still have felt urgent in the face of an ongoing spate of white police officers killing black suspects, and the rise of the Black Lives Matter movement. The production was such a success that SpeakEasy is bringing it back for another month at the beginning of the New Year.
---
Ed Siegel
My colleagues did such an estimable job of covering the local theater scene that I thought I'd just get out of town.
"American Son," Barrington Stage Company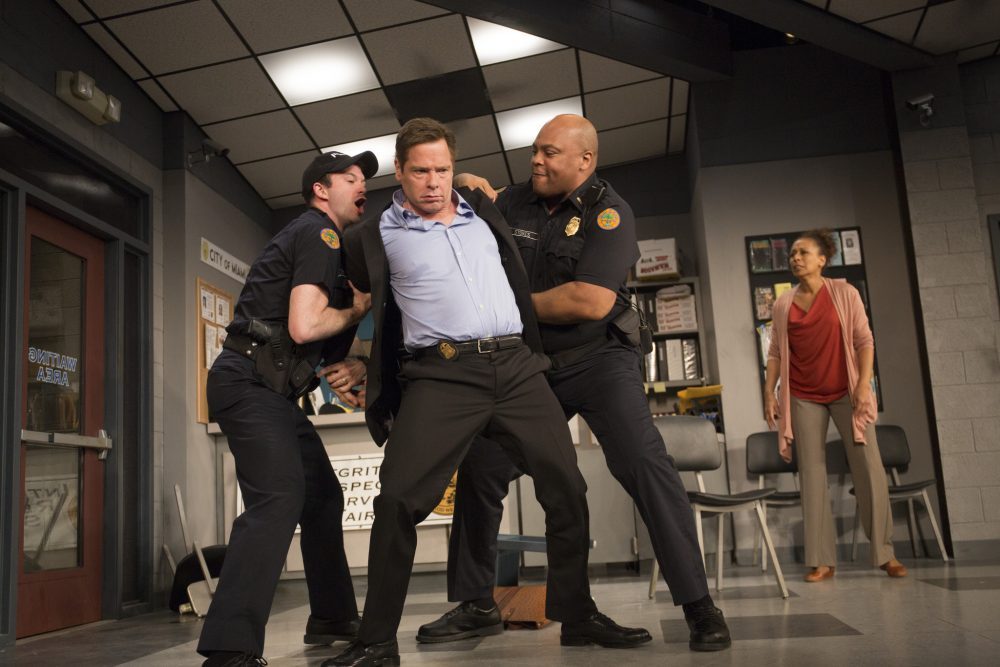 Julianne Boyd's Pittsfield theater did two of the most talked-about plays of the summer — a rollicking "Pirates of Penzance" that I couldn't get out to see — and "American Son." In the middle of Black Lives Matter protests over the killing of unarmed black men and the murder of policemen in Dallas, Barrington Stage mounted this profoundly engaging world premiere by Christopher Demos-Brown that not only concerned itself with the aforementioned issues, but with the state of race relations in America. Tamara Tunie of "Law and Order: SVU" fame led a sizzling production directed by Boyd.
"Or," Shakespeare & Company
This was another political comedy, though set in the 18th century when Aphra Behn was becoming the first woman to support herself by writing — and by spying for Charles II. Along with the mainstage productions, "Or" not only demonstrated how special the acting is in this company but it provided a showcase for former company member Allyn Burrows, playing three parts beautifully, to make a case that he should be the company's new artistic director. We'll miss him at Actors' Shakespeare Project, but he and Shakespeare & Company are worth the two-hour trip to Lenox.
"The River," Harbor Stage Company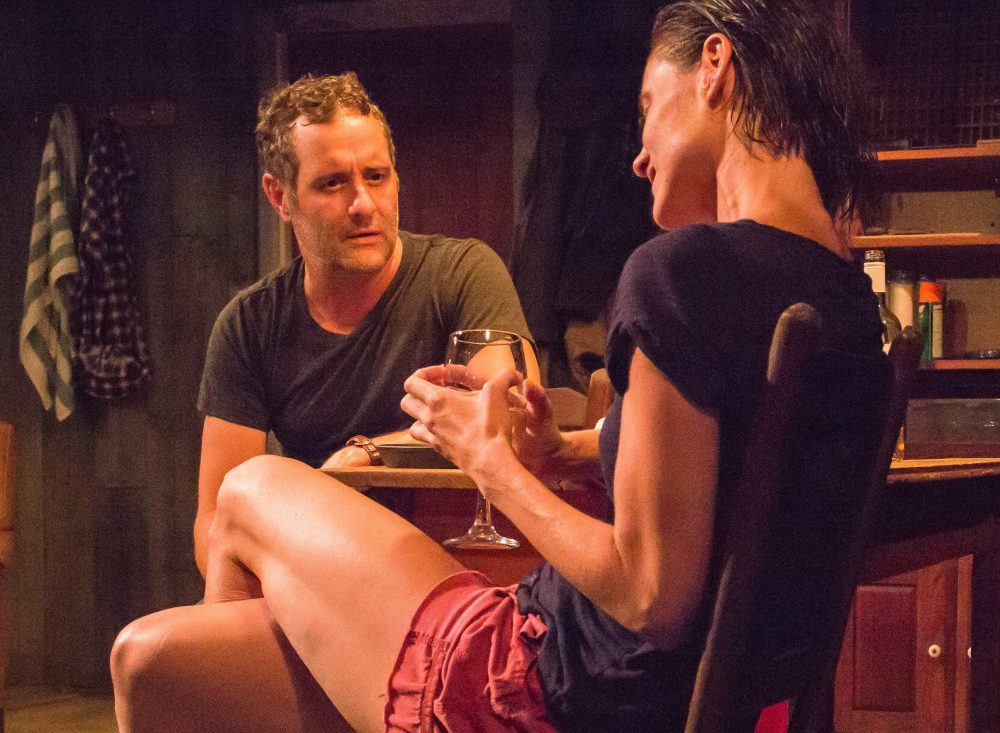 Harbor Stage Company in Wellfleet has established itself as one of the most interesting theaters in the state. While many theaters have become U.S.-centric, Harbor Stage continues to also highlight our brothers and sisters across the pond with exemplary style and intelligence, including the always-fascinating Jez Butterworth's haunting Pinteresque play. (Won't somebody do "Jerusalem" in Boston?)
Director Jeff Zinn also tapped into the political zeitgeist with this dark satire of American politics that Peter Sinn Nachtrieb wrote, inspired by Sarah Palin and "The Manchurian Candidate." Instead, it all but predicted the rise of Donald Trump. It seemed funny at the time.