7 Things To Know About The Trial Over Deadly Meningitis Outbreak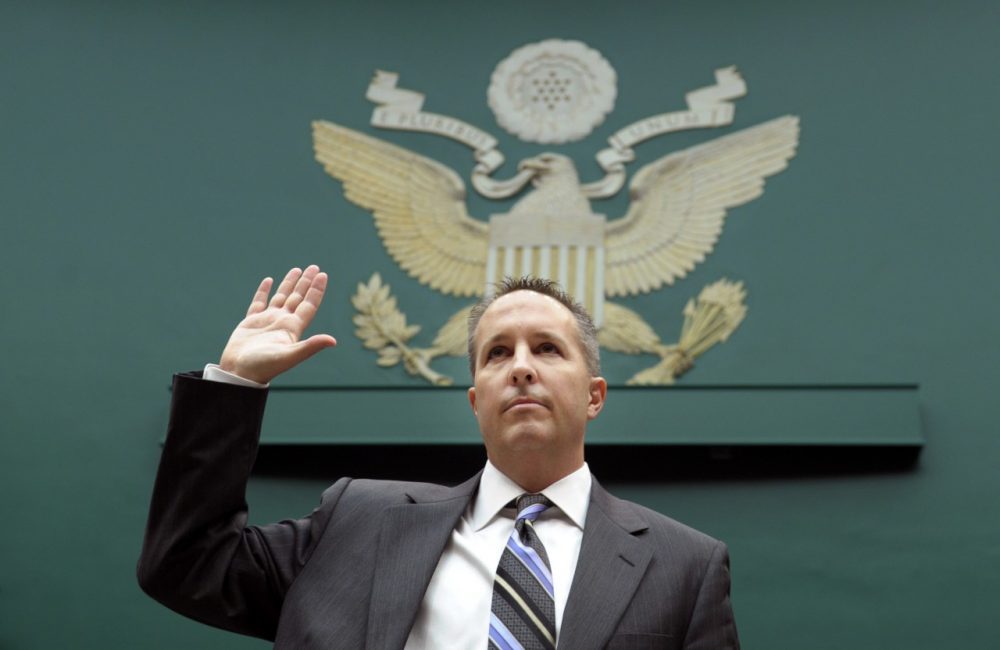 This article is more than 5 years old.
The criminal case against a former executive of the now-shuttered New England Compounding Center, which was linked to a deadly nationwide meningitis outbreak in 2012, began in Boston federal court Wednesday. Here's what you need to know about the case:
1. What is this trial about?
In 2012, a fungal meningitis outbreak killed 64 people and sickened nearly 700 more in 20 states across the country. The outbreak was linked to contaminated steroid injections (used to treat pain) produced at the Framingham-based NECC. (Compounding pharmacies produce custom-mixed medications.) The center was accused of using expired ingredients and failing to follow safety standards, which resulted in the tainted drugs and patients' deaths.
More than a dozen employees were charged in connection with the outbreak, in what authorities called the biggest criminal case ever brought in the U.S. over contaminated medicine.
2. Who is on trial?
In this particular trial, it's Barry Cadden, NECC's former co-owner, president and head pharmacist.
3. What charges does he face?
Cadden faces 25 counts of second-degree murder under federal racketeering laws, as prosecutors allege he was directly responsible for 25 of the deaths. Cadden also faces dozens of other charges, including fraud and conspiracy. He pleaded not guilty and has been free on bail since his arraignment in 2014.
4. What's the punishment for that?
Cadden faces a maximum of up to life in prison if convicted on all counts.
5. Were other people charged in this case?
Yes. A total of 14 people were originally charged in connection with the outbreak. They face a slew of charges including fraud, criminal contempt, misleading regulators, falsifying records, preparing drugs in unsanitary conditions, and shipping mislabeled drugs and prescriptions with fake patient names.
Cadden and Glenn Chin, a former supervisory pharmacist, are the only ones accused of causing deaths. Chin, who also faces second-degree murder charges, pleaded not guilty and will be tried separately, after Cadden's trial ends.
U.S. District Judge Richard Stearns has divided the remaining defendants into different trials.

Two other defendants — Carla Conigliaro, the majority owner of NECC, and her husband, Douglas Conigliaro -- pleaded guilty in July to illegally transferring assets after the meningitis outbreak. They were sentenced in November to probation and ordered to pay fines.
NECC's sales director, Robert Ronzio, pleaded guilty in December to conspiring to defraud the Food and Drug Administration. He will be sentenced in September.
Charges against two pharmacists — Kathy Chin and Michelle Thomas — were thrown out in October. Both were responsible for checking and shipping orders, but Judge Stearns said they couldn't be held criminally liable since they didn't dispense the drugs. Similar charges were dismissed against another pharmacist, Alla Stephanets, but the defendant still faces a fraud charge.
-- Read the full 131-count indictment involving all 14 people originally charged.
6. Has there been any other fallout from the meningitis outbreak?
Certainly. The compounding center filed for bankruptcy at the end of 2012 after it was slapped with hundreds of lawsuits.
Congress then took steps to improve regulation of such compounding pharmacies, and in 2013, President Obama signed a law to increase federal oversight of them. 
In 2014, former Gov. Deval Patrick signed a law overhauling state oversight of compounding pharmacies in Massachusetts. (It's worth noting, there were no meningitis infections in Massachusetts.)
7. What about the victims? Have they received help or compensation?
There are some different sources of compensation for victims of the meningitis outbreak and their families — many of whom are still dealing with lingering health problems.
A $200 million settlement was reached in 2015 between victims and their families, and NECC along with companies it did business with — including one that cleaned the pharmacy and a clinic that administered shots. There's also $40 million in federal funds that were set aside last year for victims. And victims may also get compensation through civil lawsuits. For example, there was a $10.5 million settlement in a suit in Michigan, which had 19 deaths (the highest amount of any state) and over 260 people sickened in the outbreak.
But many payouts have been stalled. That's largely due to negotiations with insurance companies and Medicare and Medicaid over how much money should go to insurers who paid for people's care, according to Michigan Public Radio.
Cadden's trial — and Chin's after it — have also been a long wait for many victims.
"Justice has been a long time coming and hopefully the defendants — the criminals in this case — will have justice brought down on them in the form of a verdict finding them responsible for the harms they caused," attorney Marc Lipton, who represents almost 100 victims in Michigan, said in an interview this week.