Pakistani Artist, Known For Miniature Paintings, Goes Big With Female Warrior At The Gardner
Play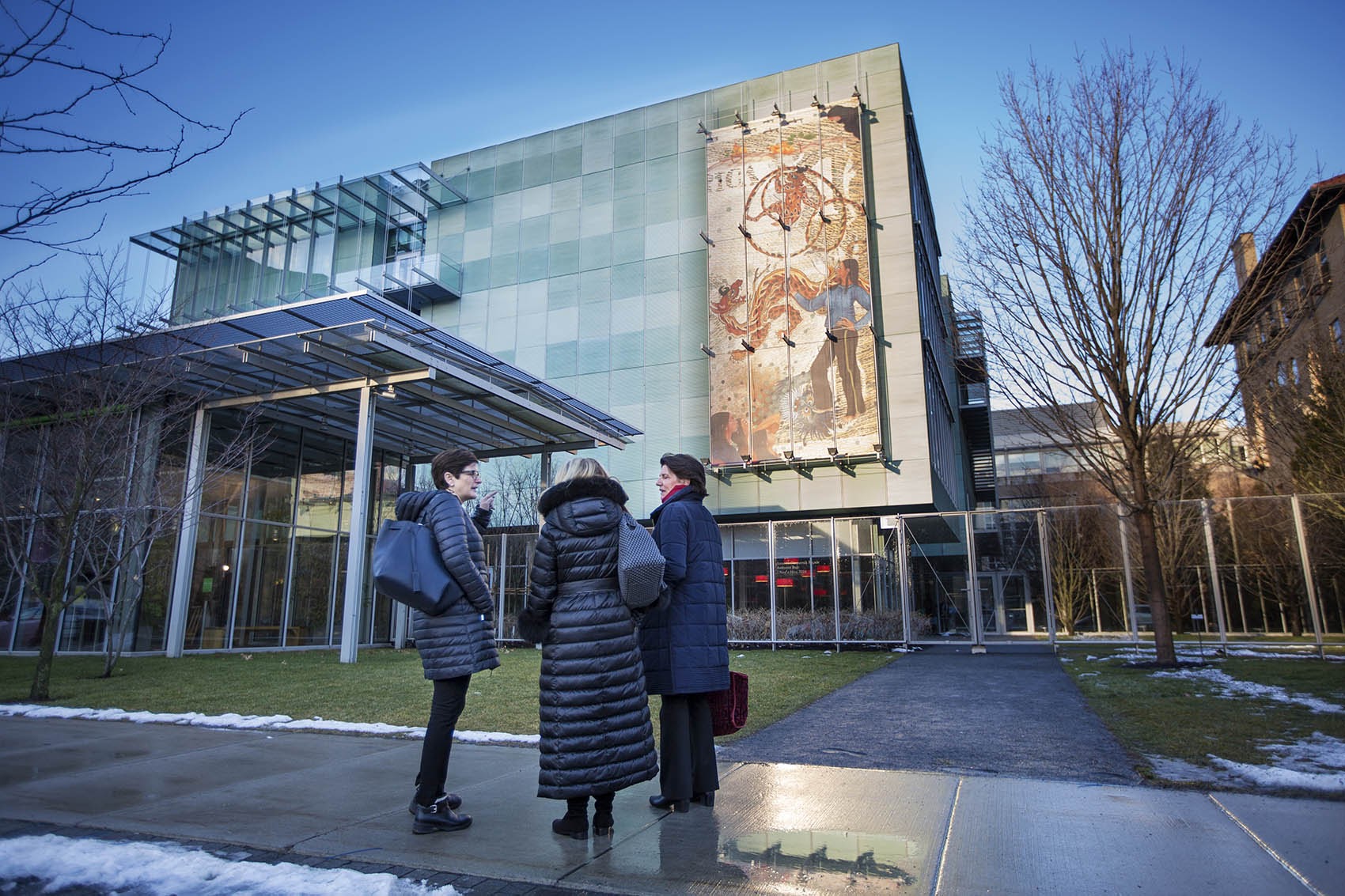 This article is more than 5 years old.
If you walk or drive by Boston's Isabella Stewart Gardner Museum you'll see a larger-than-life woman fighting a fierce dragon on the building's façade. She's the star in "I Need a Hero," a giant, new work by Ambreen Butt, a Pakistani artist with local ties, that was installed this week.
In the chilly morning air, a pair of technicians in a bucket lift unfurled and secured "I Need a Hero" to the exterior of the museum's Renzo Piano building. The enlarged work, printed on vinyl, measures 16-by-36 feet — which is not the size of work the artist is known for.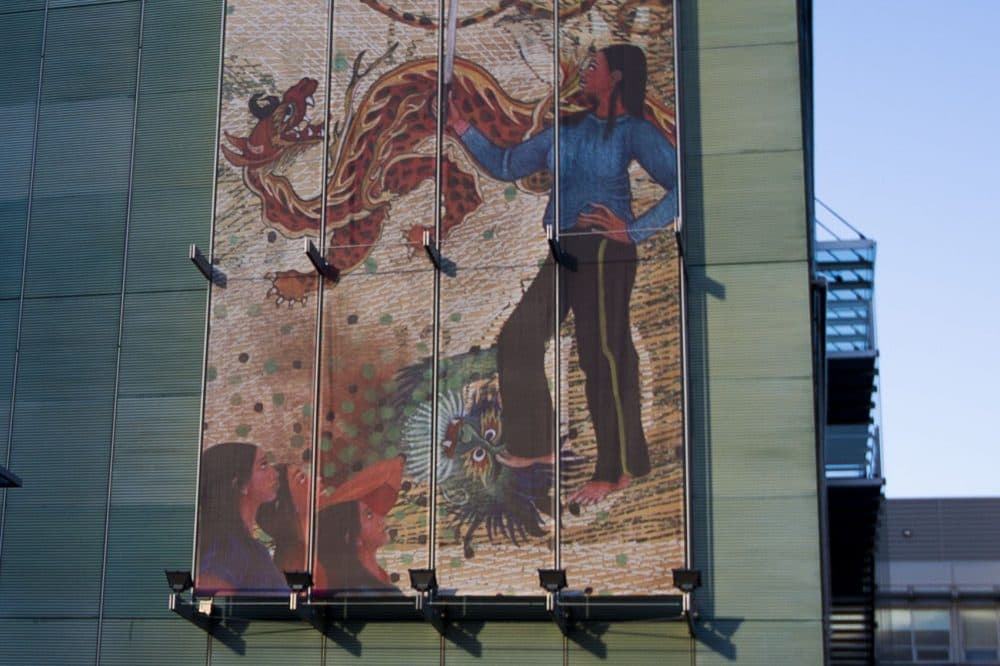 Taking a break inside to warm up, the 47-year-old recalled how more than two decades ago she became entranced by traditional Persian miniature paintings.
"My very first miniature, it took me a whole month," Butt remembered. "I worked on it every day."
Butt said she used brushes made of squirrel hair to delicately "kiss" vibrant paints onto handmade paper. She studied the multilayered, age-old miniature painting techniques at the National College of the Arts in Lahore, where she was born.
"They're small, but they're very seductive," she said of the works that can be held easily in two hands. "They have beautiful colors, stylized figuration and then narrative, also."
Historically men rendered the mythic narratives for manuscripts featuring tales of legendary male protagonists, including Amir Hamzah, uncle of the prophet Muhammad.
But the artist said she had a realization as she considered creating her own miniature-style works. She's one of an early group of contemporary artists who've re-imagined and revived the intricate genre that faded after the fall of the Mughal Empire.
"I need to bring a female heroine into my work," Butt remembered telling herself, "because I'd always seen in miniature painting these male heroes who are always fighting the demons, and I'd always wondered why there had never been a female hero."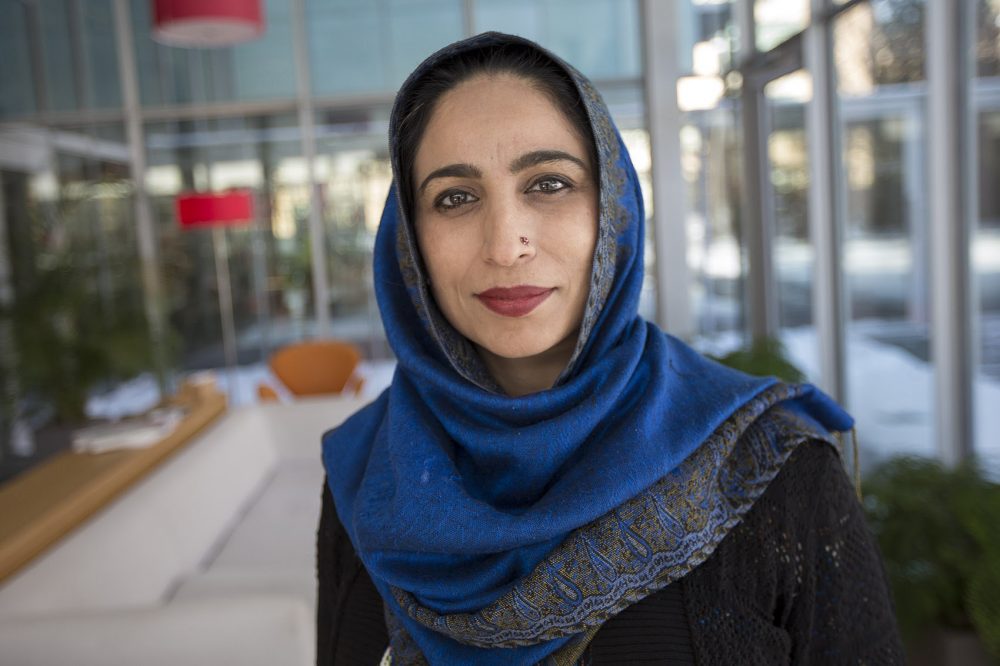 Butt went on to conceive a series called, "I Am A Hero." In 2002, she found inspiration in a real-life woman warrior as the horrific news about Mukhtar Mai spread across the globe.
"She was gang-raped at the order of her local council as part of her 11-year-old brother's punishment for being seen with a woman of a higher caste," Butt said. Two hundred people stood by and watched.
"Usually what happens in these kind of situations is the women either commit suicide or they're basically gone for life," Butt said.
But Mai did not die. And she didn't disappear. Instead, she fought for justice, raised awareness about violence against women and so-called "honor punishment," and used government compensation money to open schools to educate young Pakistani girls. Now, the narrative Butt created to honor and celebrate Mai's heroism is writ large on the Gardner Museum's façade.
"She's the hero of today's time," Butt told me from beneath her bright blue head scarf as she looked at her finished piece in the morning sun. "You know, I wanted her to represent a certain time — so that's why she has sweat pants and the T-shirt on."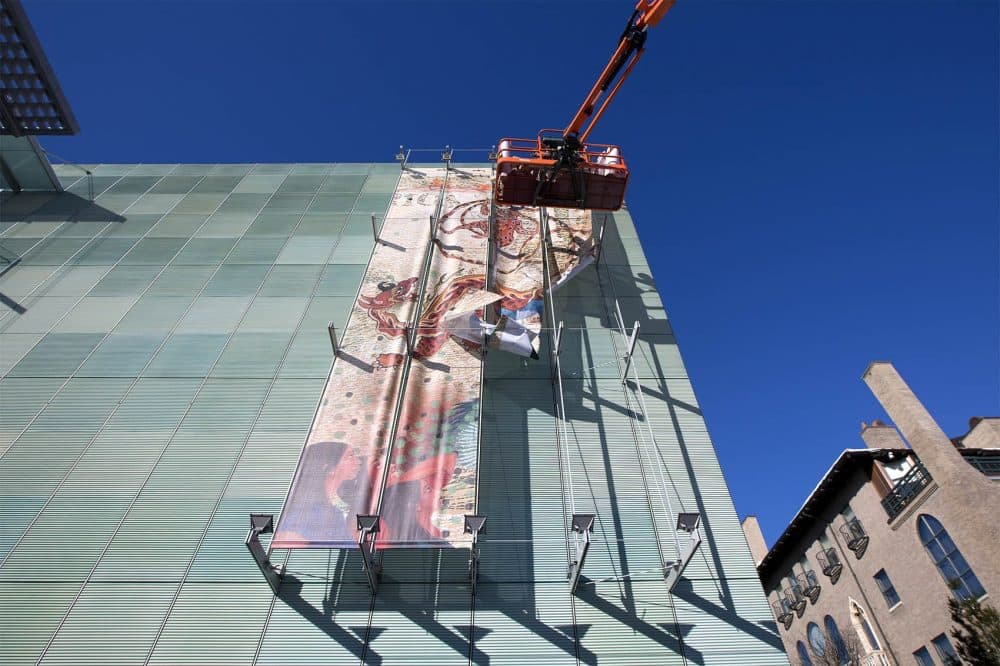 Butt's modern heroine also holds a sword as she subdues a writhing dragon with a single bare foot.
"And there are all these women looking up at her," the artist described. "She is fighting her own battle — and yet, there's this question that comes by looking at the other women who are looking at her: 'Is she really the hero? Is she our hero?' "
The Gardner Museum's Pieranna Cavalchini, a curator of contemporary art, is taken by the women's reactions.
"The women are also looking up with wonder somehow, and curiosity, and a certain timidity," she mused.
Butt was an artist-in-residence at the Gardner Museum 18 years ago, and Cavalchini is thrilled to have her back in Boston. The painter also studied at Mass Art.
"Our public is a general public," Cavalchini said, "but it's also so many students. We have all these schools around us. So the idea of bringing an [alumna] back to do a project on the façade is very exciting."
At the same time Cavalchini said, the narrative of "I Need a Hero" is poignant and relevant.
"I think it's important to keep taking on the system in any culture — with courage," she said.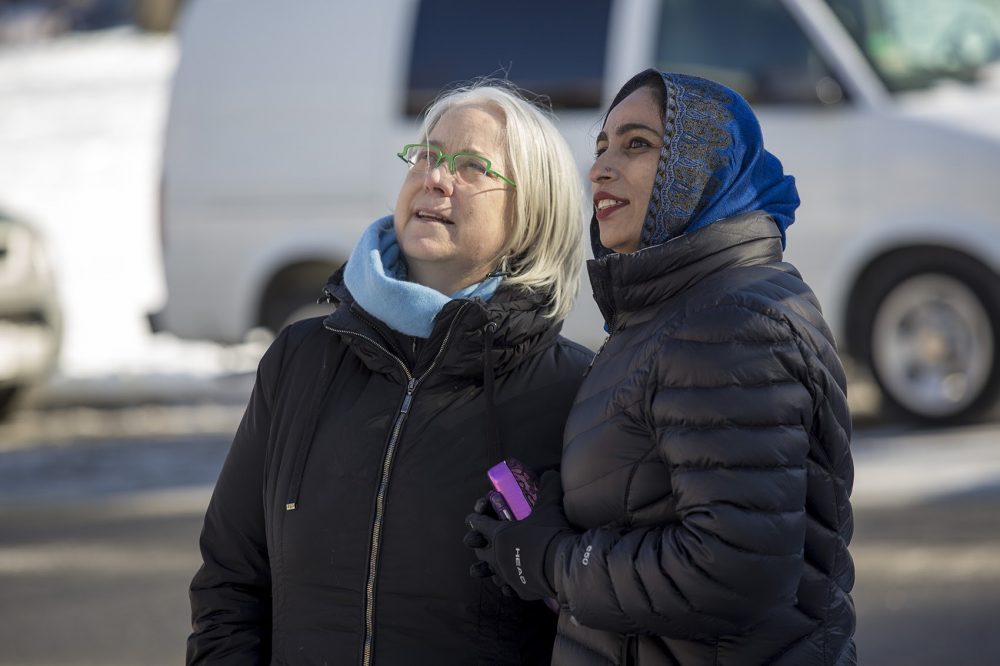 Butt's work has been shown locally as well as in exhibitions around the world. The State Department commissioned a large-scale piece that now hangs in the U.S. embassy in Islamabad.
Butt recently moved to Dallas, but no matter where she lives she said her job as a contemporary artist will be — and always has been — to have a voice.
"I don't make art for pleasure, but I gain tremendous pleasure out of my making," she explained. "What I do is I take the broken pieces of society, I put them together and then I try to transform it into something very positive and beautiful, something that can be looked at and that can make people think — and that's all I want."
As for her gigantic heroine now up for all to see in Boston, Butt said, "Seeing this woman warrior up there, that's a pretty hopeful gesture, especially in the times that we are in now. No matter what happens out in the world, she has to gain strength to be the warrior and fight the fight."
Butt's fearless warrior will keep fighting that fight outside the Gardner Museum for the next six months.
This segment aired on January 12, 2017.