Mass. Legislators Propose Limits On Legal Marijuana — Here Are The Key Points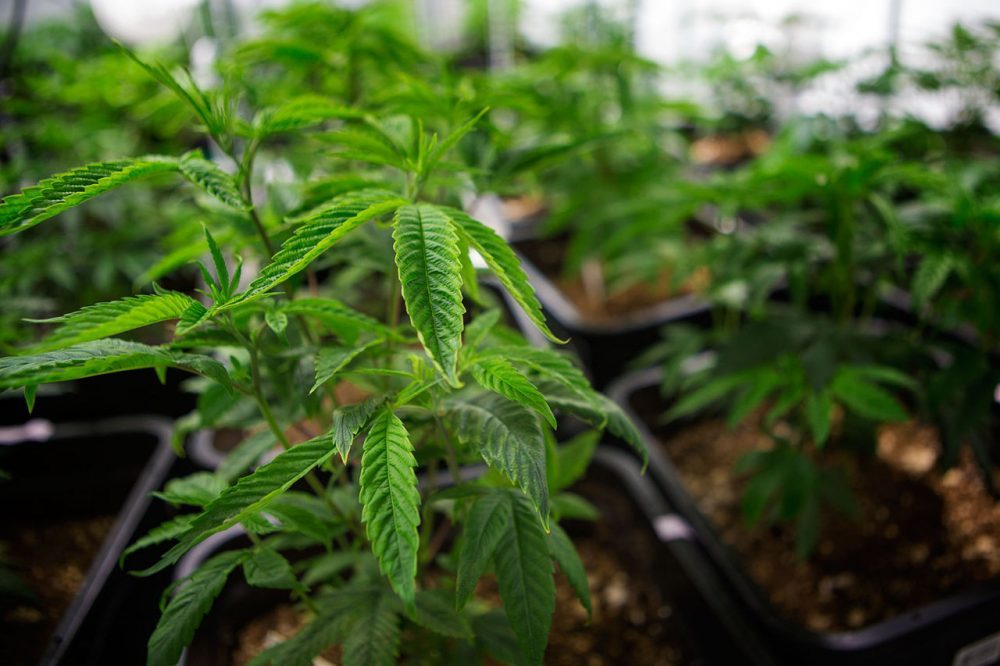 This article is more than 5 years old.
Just hours after polls closed on Nov. 8, 2016, leaders on Beacon Hill began talking about ways they might change the ballot question that made marijuana legal for adult use in Massachusetts. In December, without notifying all members, a handful of lawmakers voted to delay the start of retail sales. Now, as a new session begins, House and Senate leaders have filed dozens of bills that would make major changes in the recreational marijuana law.
Here's a summary of key points in bills filed by Sen. Jason Lewis and Rep. Hannah Kane.
Possession: It is currently legal to have up to 1 ounce of marijuana in public and up to 10 ounces at home. Bills filed by Lewis and Kane would keep the public cap of up to 1 ounce, but at home, the limit would drop from 10 ounces to to 2 ounces.
Home growing: It is currently legal to grow up to six plants as an individual with a limit of 12 per household. The bills would cut the total allowed in one home to six plants.
Sales: The original law said sales could begin on Jan. 1, 2018. The Legislature has already delayed that start date to July 2018. The new legislation proposes a further two year moratorium on the manufacture and sale of edibles and concentrates. The sale of buds or flower could still begin in July 2018.
Local control: The current law says municipalities must allow marijuana stores unless voters pass a referendum that bans local sales. The proposed change would let members of a city or town council — or voters at a town meetings — approve a ban without holding a special election.
Cannabis Control Commission (CCC): The CCC is a three member body under the current law, appointed by and under the oversight of the state treasurer. Lewis and Kane would make the CCC a five member independent entity, similar to the Gaming Commission.
Drugged driving: The proposal is to add language that would require drivers suspected of driving under the influence to submit to field sobriety tests or face arrest. In addition, legislation says the state should look into setting a THC threshold for impairment, similar to the 0.08 standard for alcohol.
Taxes: There seems to be widespread agreement that the Legislature will increase the 3.75 percent excise tax on marijuana included in the ballot question. Legislators filed a number of bills on this topic, several of which call for more study of an appropriate rate. Lawmakers say there is disagreement about whether the state should make money off the sale of marijuana or just cover the costs of implementing and studying the effects of the law.
Clear records: Lewis' bill says anyone arrested or fined for less than 1 ounce could petition the court to have their record expunged.
Supporters of the recreational marijuana law vowed to fight against most of these changes.
"People are seeing this as a direct attack on Question 4, a substantial revision of a new law that was passed by 54 percent of the voters," said Jim Borghesani, spokesman for the Yes on 4 coalition. "People are very upset about the scope of this legislation."
Rep. Kane said this is not an attempt to invalidate the will of the voters.
"I do not have a philosophical concern with legalization," Kane said. "What I've attempted to do here is to ensure that we've taken into consideration some of the public health, public safety and local control concerns that we had when talking to people about the ballot question."
Sen. Lewis said he doesn't think Massachusetts voters intended to approve all the details of the ballot question, such as how many plants would be legal at home or the number of commission members.
"What I believe the people voted for was to make it legal and safe to possess, use, purchase, sell and cultivate marijuana," Lewis said. "Everything I've filed in the bills is consistent with that."
Hearings on the law and proposed changes are expected to begin in February.