Gov. Baker Trumpets Collaboration With Democratic Legislature In State Of The State Address
04:35
Play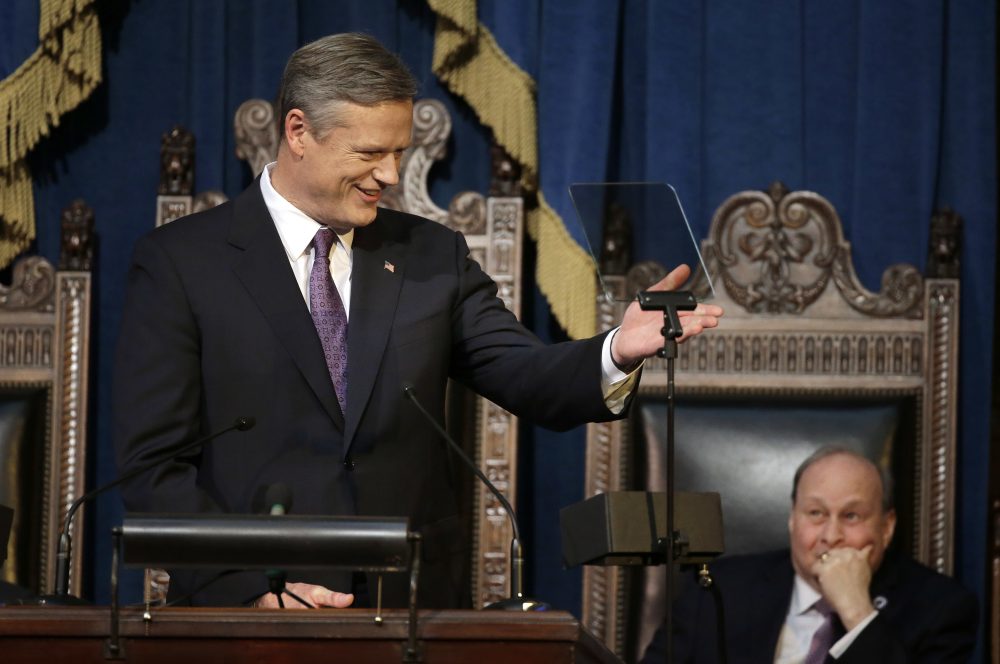 This article is more than 3 years old.
The state of the commonwealth is strong.
That's the overall assessment from Gov. Charlie Baker in his annual State of the Commonwealth address Tuesday night on Beacon Hill. The governor highlighted accomplishments of his first two years in office and set some goals for the coming year.
The Republican governor noted sharp contrast between the collaborative relationship he has with Democratic state leaders and the animosity that prevails between Democrats and Republicans on the national political stage.
Baker Outlines Triumphs And New Targets
In a 36-minute speech, the governor ticked off a long list of accomplishments, taking extra care to share credit with the Legislature for the results.
"With a shared sense of purpose we've made real progress in job creation, fiscal discipline, education, child welfare, public health, transportation, public safety, environmental and energy policy and community building during the past two years," said Baker. "And because of all that, I stand here tonight and say, the state of our commonwealth is strong."
The governor proposed building upon some of the successes. After touting how the opioid bill passed last session has made a difference in the lives of people suffering from addiction, he said he will propose spending an extra $2 million to help law enforcement arrest and convict drug traffickers.
He reported that new policies and procedures at the Department of Children and Families, along with the hiring of 270 more social workers, have turned an agency that was in crisis into a very different place. Still, he wants DCF to recruit more foster homes and do a better job working with foster families, and he wants the agency to work with the courts to shorten the time children have to wait for a permanent home.
He also acknowledged the challenging task of keeping the state's finances in line.
"By working together we've controlled the runaway growth in spending and nearly eliminated the structural deficit in just two years. We've reduced the state's bureaucracy, saving hundreds of millions of dollars. And we're working smarter and making state government more accountable to the people who pay the bills," Baker said.
One of the most ambitious proposals set forth by the governor would make major changes at Bridgewater State Hospital, a prison that houses men with severe mental health issues who have committed crimes or who have been charged with a crime. The 2009 death of a Bridgewater inmate who was being restrained by correctional officers has prompted officials to reconsider how to deal with such offenders, and the governor proposed two things to address what he called a "longstanding and unacceptable situation."
"First, move corrections officers out of the hospital. And instead deploy them outside the facility to provide security. Second, the size and scale of the clinical program offered inside the hospital will be significantly expanded. This reform will not come cheap, as spending on clinical services will increase by $37 million," said Baker.
Baker Rejects Placing 'Partisanship Before Progress'
But the governor kept on coming back to the theme of collaboration. He said too much of what passes for political dialogue these days isn't dialogue at all, but is in fact talking points, character assassination and deliberate misrepresentation.
"Wedge issues may be great for making headlines, but they do not move this commonwealth forward. Success is measured by what we accomplish together," Baker said. "Our obligation to the people we serve is too important to place politics and partisanship before progress and results. The changes in Washington don't change this powerful obligation. Our jobs remain the same. That is to represent Massachusetts to Washington and not Washington to Massachusetts."
The governor's address was well received by the Democratic leaders of the House and Senate. House Speaker Robert DeLeo said he thought it was a great speech.
"I was very pleased, especially with that portion relative to collaboration of all branches of government, working to get things done," said DeLeo. "I thought hitting on some of the major issues, whether they be education, security, seniors, whatever it may be — I thought most of the points were touched upon. We anxiously await the budget. That's where the real interest will lie."
The governor's budget recommendation will be presented Wednesday afternoon. With both the governor and the Legislature not seeing totally eye-to-eye over how much trimming needs to be done to keep the budget in balance, it could put the spirit of collaboration to the test.
Correction: An earlier version of this report left out that Bridgewater State Hospital also holds men who have been charged, but not convicted, of a crime. We regret the error. 
This article was originally published on January 25, 2017.
This segment aired on January 25, 2017.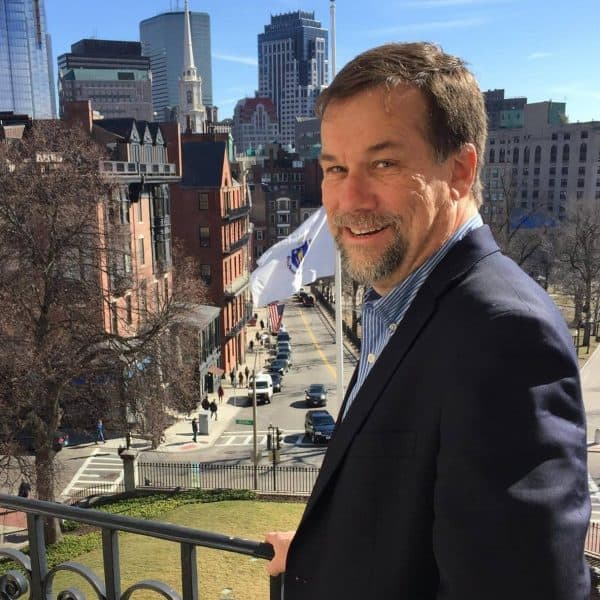 Steve Brown Senior Reporter/Anchor
Steve Brown is a veteran broadcast journalist who serves as WBUR's senior State House reporter.