A Little Big Game Trash Talk: New England, Atlanta Fans Gear Up For Super Bowl
05:26
Play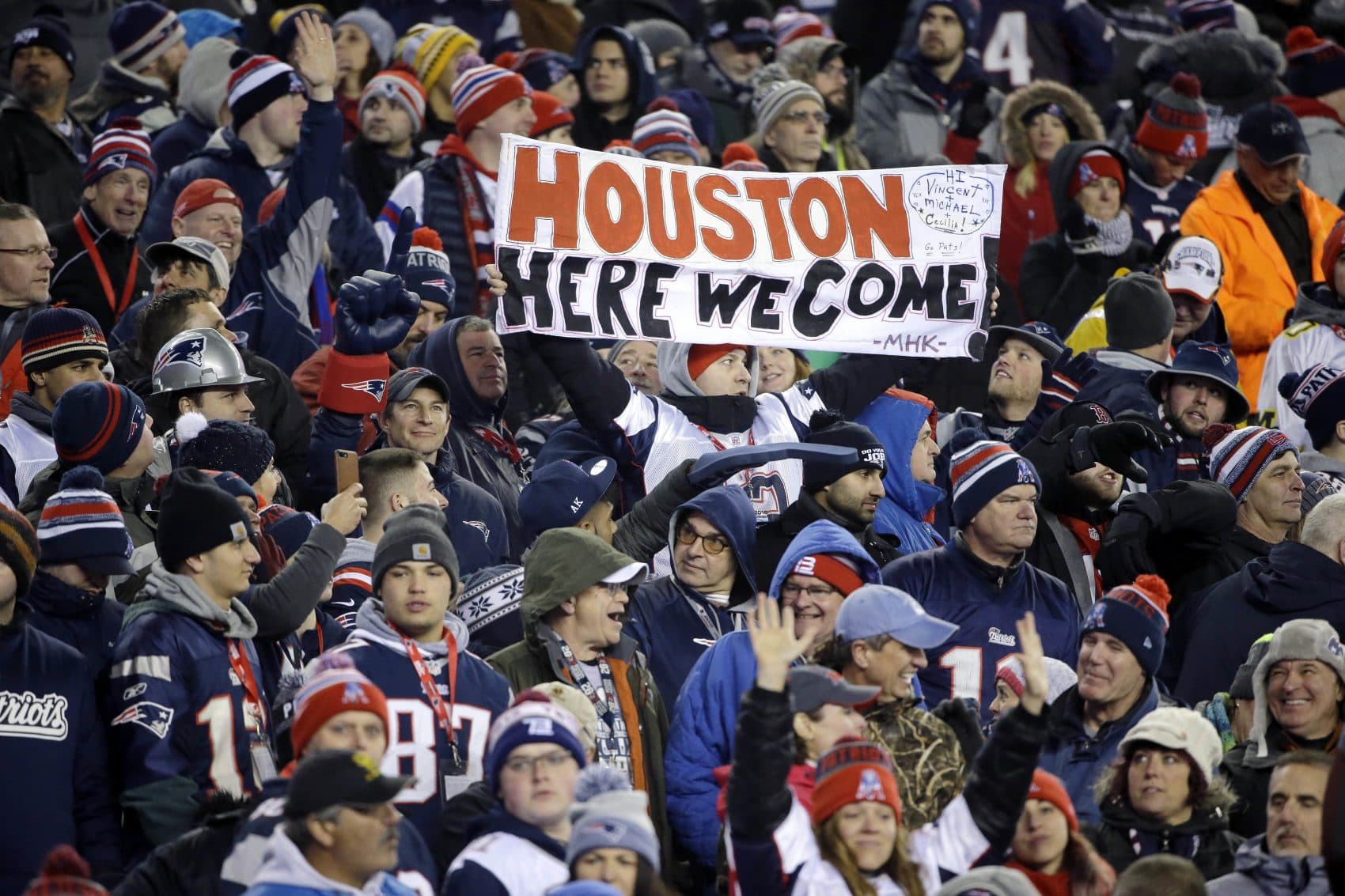 This article is more than 3 years old.
Super Bowl LI will feature the New England Patriots and the Atlanta Falcons. But who are these teams really playing? And what's at stake for both cities?
Some Pats fans would argue their team is going up against NFL Commissioner Roger Goodell. For them, the big game is more about exacting revenge against Goodell for Deflategate than about beating the Falcons.
For Atlanta fans, it's about bringing home its first Super Bowl ring. The city's only other championship was the Braves World Series win in 1995. Of course, here in Boston, well … we've lost count of our championships.
And Atlanta and Boston are two cities that don't know a whole lot about each other.
When Patriots fans were asked, besides the Falcons, what first comes to mind when they think about Atlanta, they gave a wide variety of answers. Coca-Cola. Peaches. Chick-fil-A. Jimmy Carter. T.I. the rapper. Strip clubs. The Olympics. Peaches and Steve Harvey. And more peaches.
When Falcons fans were asked what comes to mind when they thought of Boston, most said the cold weather. But they also thought about beans, great sports teams and Irishness.
Well, the Celtics do have a leprechaun for a mascot.
Even At The Celtics, It's All About The Pats
It was 45 minutes before the Celtics tip off at TD Garden. Fans rushed toward the arena. And Patriots hats and jerseys were as plentiful as green Celtics gear and shamrocks. Of course, everyone wanted to show their pride in Tom Brady and company.
In the middle of the crowd was Andrew Brisson of Peabody. He couldn't stop staring at his cellphone and smiling. He had just bumped into Patriots tight end Martellus Bennett, who was also headed to the game.
"He was nice enough to give me a little selfie," Brisson said. "Right there. Good stuff."
Brisson is a big Patriots fan. And he doesn't give the Falcons much of a chance in Super Bowl LI.
"We expect to win," Brisson said. "That's what the Patriots do best. It creates a great environment for the fans."
The Patriots will be making their seventh Super Bowl appearance of the Brady-Bill Belihick era and going for title No. 5. "One for the thumb" as fans around New England like to say. For Brisson, it's all part of what makes Boston better than Atlanta.
"The history, the culture, the fans. You can't beat it. Title town. You can't beat it," Brisson said.
In the background, his buddy Andy Gordon of Manchester, New Hampshire, shouted, "Tommy Touchdown!"
Gordon is more than ready to take down Atlanta's sports scene.
"They haven't been good in baseball since Greg Maddux retired," Gordon said. "They haven't been good at basketball since Dominique Wilkins retired. They've never been good at football unless you're talking about the Georgia Bulldogs. So when you talk about Atlanta, besides like a big airport, I don't see what the hell they have to offer to the world."
Atlanta's Football Scene
Back in Atlanta, Korey Alsbrooks obviously disagrees.
"People always underestimate Georgia even when it comes to sports, or even music," Alsbrooks said. "They always take the South for granted for some reason. I really think the Falcons have something to prove this year."
Atlanta was revving up for the Super Bowl on Friday. The mayor hosted a pep rally at City Hall. And at the state capitol downtown, the plaza was painted red and black for the Falcons.
"Going to Houston baby, woohoo!" said 47-year-old Lisa Shepard, who was proudly wearing a Falcons hat.
Shepard is a super fan. She pulled out her phone and showeds off selfies she took with Falcons players after the NFC Championship.
"I don't know if you can see," Shepard said with phone in hand. "That's Jalen Collins. He plays defense. So I got to represent with him!"
Atlanta fans have been accused of being part-timers, of not being really that invested in their pro sports teams. But, again, Shepard is a super fan. Her first job as a teenager was as an usher at the old Atlanta-Fulton County Stadium.
"For the Atlanta natives who have supported the Falcons pretty much their whole lifetime, like me, we are die-hard," Shepard said. "We ride with our team through and through, through the ups and downs."
And she said Falcons fans have had a lot of disappointments. Like many Atlantans, she admitted: Sure, Boston has something to be proud of.
"First of all, we cannot deny their history of winning Super Bowls," she said. "We can't deny that. But I do think that there is a sense of entitlement. They expect to win, they're not even really giving us a chance. I read where Bill Belichick was like just — oh, he didn't even know we won, and I'm like, 'Come on, sir.' "
Shepard's right. New Englanders aren't giving the Falcons much of a chance.
Southern Gentility, Northern Confidence
Paul Crawford of Cambridge, a Patriots super fan, was working near Harvard Square and responded to a question about what he could say about the Falcons.
"Nothing," he said. "Just that they're going to lose."
Shepard cautioned, "Take us lightly if you want to and you're going to be really upset when we get that win on Sunday."
Where Atlantans talk sports with a certain southern gentility, Patriots are unapologetic with their trash talk. Part of the reason? New Englanders feel a special bond with their pro athletes.
"I feel like they're family members," Crawford said. "They're going to battle for you. All of them. From the star right down to the guy that only plays a few snaps."
If New England fans like Paul Crawford know anything about Atlanta, it's that Commissioner Goodell went to two straight playoff games at the Georgia Dome rather than visit Gillette Stadium.
Chants of "Where's Roger?" rang out during the AFC Championship.
Fans figure the commissioner is avoiding the Patriots because of how he handled Deflategate and the four-game suspension he gave Brady. For some, winning the Super Bowl is as much about getting revenge on Goodell as it is about beating the Falcons.
"I think it's about redemption and revenge for Tom Brady," said Dan O'Donnell of Whitman. "It would definitely mean a lot for Tom to win and have Goodell hand him the trophy."
And Crawford agrees.
"What Goodell did to Tom was a shame," Crawford said. "Tom Brady's a good person, and that was ridiculous. That's personal."
But that's not how Falcons fans, like Donald Morgan, see it.
The Dream Of Boston Sports Teams
"Tom Brady is the probably the best football player I've ever seen before," Morgan said. "But they always get caught doing something kinda shady."
Lisa Shepard thinks Boston fans can be blinded by their loyalty.
"I remember I went to Boston a couple of years ago when the Deflategate thing, where Brady was going on, I remember seeing 'Free Brady T-shirts,' " Shepard said. "And I was like, 'Are y'all for real? 'Free Brady'? Like, seriously?' But, I mean, they ride hard for their team."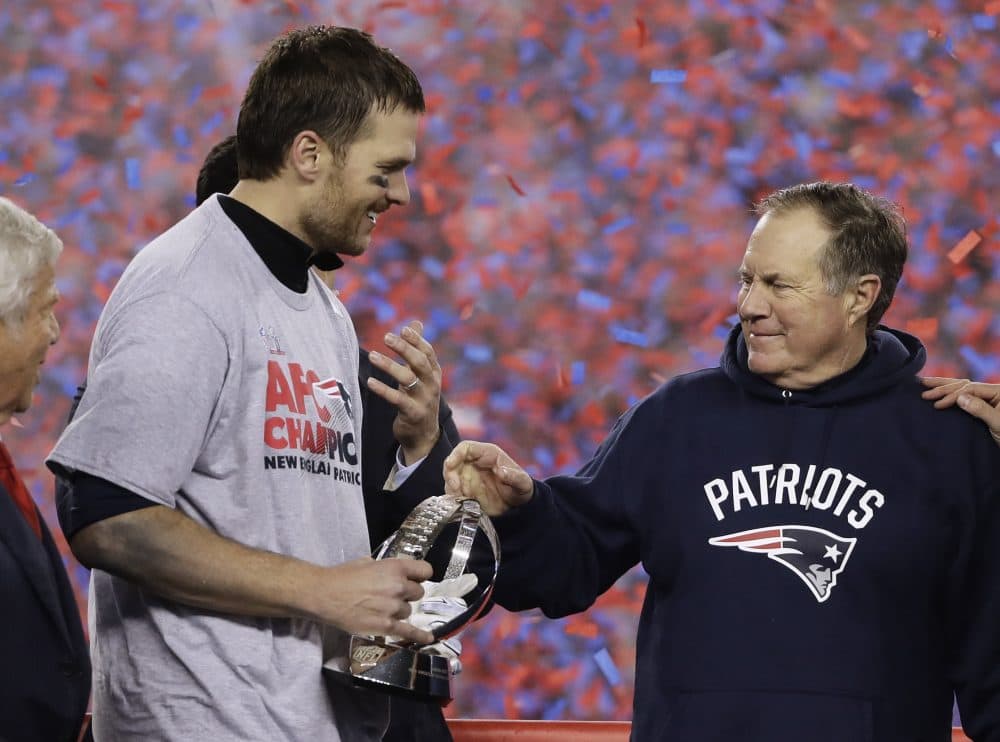 While fans in Boston see this game as a way to get back at Goodell, many fans in Atlanta see it as a way for the city to prove itself as a real sports town.
Kind of like Boston. In some ways, being like Boston is the dream.
"It's a championship city," Atlanta native Patrick Morrison said. "They're known for all their sports. They're known for good organization. I got much respect for them, but hey, you can't win all the time, and I think it's Atlanta's time this time."
Morrison knows the Falcons have only been to one Super Bowl. In 1999, the Dirty Birds lost to the Denver Broncos. But he has high hopes for Sunday's game.
"The Patriots are slow," Morrison said. "Tom Brady is slow, the receivers are slow. We've got more speed on offense and defense, and I think we can really beat them."
Meanwhile, Patriots fans, like Crawford, think it's their time … again.
"The Patriots are 56 years old," he said. "We've been good for 20 years. So, that means there was a lot of losing. I remember a lot of losing when we were like the Cleveland Browns, and we never won a game, and we were never on television, and we never got a call. We've paid our dues. It's our time. So, just deal with it."
Despite what Boston thinks, Atlanta fans said they'll be ready to rise up.
And New England fans will be ready to win one more.
This segment aired on February 2, 2017.