Surgery On Hold For Injured Iraqi Toddler As Advocates Work To Get Boy's Parents Into U.S.
Resume
Surgery for a badly burned Iraqi toddler has been put on hold while advocates work to determine if the boy's parents can travel from Iraq to Massachusetts to be with the boy at Shriners Hospital in Boston.
Two-year-old Dilbireen Muhsin first came to Boston last year after his face was severely burned by a malfunctioning heater in an Iraqi refugee camp. The U.K.-based charity Road to Peace made arrangements for his care at Shriners Hospital.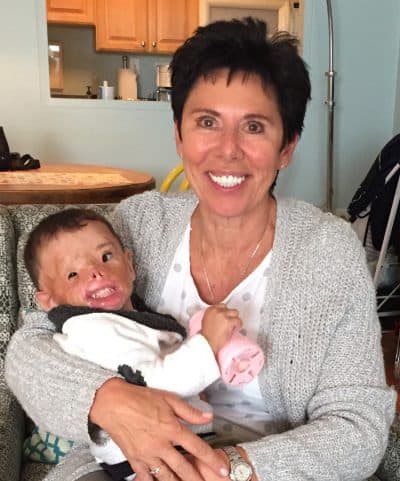 Sally Becker (no relation to the reporter) is with Road to Peace and helped bring Dilbireen to Boston for his surgery in October.
"We took him in with his dad and he looked around in wonder," Becker recalled. "He doesn't see that well, but all the glass and the sun was shining and he looked around and kind of said, 'Wow.'"
Dilbireen recuperated with a family in Michigan and another surgery was scheduled in Boston for January. But President Trump's executive order temporarily barring citizens from seven Muslim-majority countries, including Iraq, from entering the U.S., and all refugees, has put the surgery in limbo.
Becker says Dilbireen's father planned to come back for the boy's second surgery after returning to Iraq for the birth of Dilbireen's brother — who the family named Trump.
"They were so grateful that their little boy was being treated at last that they thought it would be wonderful to name their baby after the new president," Becker said.
According to Becker, Dilbireen's parents already had visas, but the visa application for the new baby was denied. Then, Becker says, the visas the parents already had were revoked in early January over concerns the family might not return to Iraq.
All this happened before President Trump signed the executive order. When Dilbireen's parents went to a U.S. consulate in Iraq to try to get new visas this past weekend, they were told that all interviews were cancelled — presumably in light of the executive order.
"They arrived at 8 a.m. on Sunday morning at the consulate and they were told you can't come in," Becker said. "Apparently all interviews have been cancelled for 90 days."
While in Massachusetts, Dilbireen and his family were scheduled to stay in Ipswich, with the social services organization House of Peace. Carrie Schuchardt runs the group.
"We share with many the deepest levels of concern and compassion for both the case of this little boy, but the uncountable number of people affected in either similar or other ways on every level," Schuchardt said.
In a statement, Shriners Hospital says it remains ready to help with the child's continued medical needs.
Road to Peace says there are about 87 other children in Iraq who need specialized medical attention, similar to Dilbireen. The group is asking the British prime minister to allow Dilbireen to receive medical care in the U.K. — and to be with his parents.
This segment aired on February 7, 2017.