With Tax Credit Future Unknown, New Mass. Affordable Housing Units Hang In The Balance
04:15
Play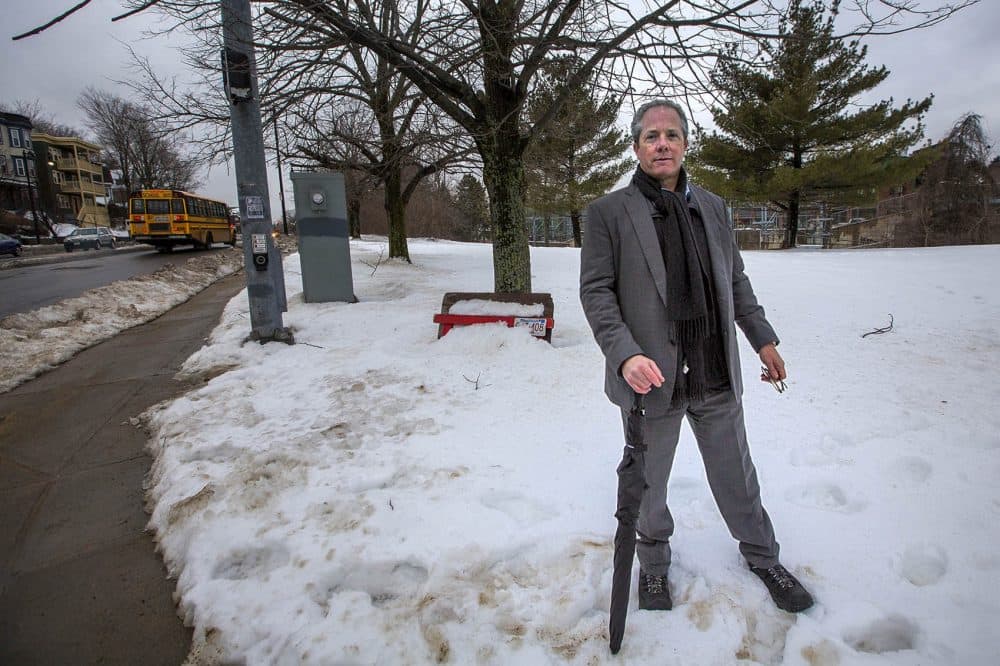 This article is more than 5 years old.
Bart Mitchell stands next to a snowy field along train tracks in Jamaica Plain's Forest Hills neighborhood. Mitchell's company expected the spot to be a work site right now, with 78 units of affordable housing. But then, the 2016 elections happened.
"We're standing looking at some land where we hoped would be in construction on some beautiful new mixed-income housing," he said. "But we aren't starting construction because of what's changed to the low-income housing tax credit marketplace."
Uncertain Market Stalling Development
That tax credit, known as LIHTC, is the key to developing affordable rental housing in the U.S. About 90 percent of this housing is financed with these tax credits.
The basics of the program are simple. The state awards tax credits to developers through a competitive process. Developers sell them to investors, who use them to save money on Tax Day. But the value is tied to the corporate tax rate. If taxes go down, as many expect to happen under Republican control, so does the value of the tax credits.
The uncertainty alone is causing banks to revisit terms with developers, experts say, and the value of the tax credits has gone down as much as 15 percent. For the $8 billion program, this could translate into hundreds of millions of less housing dollars.
"On Nov. 9 there were investors calling their developers and saying, 'We may not want to proceed with tax credit investments for the next many months,' " Mitchell said. "'We may pull out of projects that you thought we were committed to.' "
Mitchell heads a nonprofit affordable housing developer called Community Builders, Inc. that operates in 15 states. After the elections, the project in Jamaica Plain suddenly faced a $700,000 funding gap.
The uncertainty in the tax credit market is also bad news for builders in the state.
Joe Rettman, who heads NEI General Contracting, said a quarter of his work is funded by low-income housing tax credits.
"We probably have four projects that were slated to start in the first quarter that are being delayed, and the answers we're getting for clients on those particular jobs are, we're working on it," he said.
'Less Affordable Housing Built'
The sudden decrease in the value of low-income housing tax credits could affect 23 projects — and more than a thousand units — that were awarded LIHTC credits in Massachusetts last year. The housing will likely be built, but it could deplete money for future developments.
"There will be less affordable housing built, because the existing resources will have to fill gaps on existing projects rather than be saved for funding the next projects," Mitchell said.
He was able to patch the money together so his project in Jamaica Plain will still go forward — a half a year behind schedule.
A number of affordable housing developers across the state also said they're facing similar challenges.
Despite the uncertainty in the market, many in the industry are optimistic about what tax reform will mean for low-income housing tax credits.
David Gasson is vice president at Boston Capital, one of the largest investors in affordable housing in the country. Gasson — who sits on WBUR's advisory council — expects a bipartisan group in Congress to support an enhanced version of LIHTC.
"What we're working with Congress on is, at a minimum, the value will be consistent, if not greater," he said.
"So we're hoping that actually after tax reform, the value is greater for affordable housing."
Gasson is scheduled to meet with members of the Trump administration next week to discuss affordable housing and the future of the low-income housing tax credit.
Correction: Due to an editing error, an earlier version of this story included a quotation that was incorrectly attributed to Joe Rettman.
This article was originally published on February 17, 2017.
This segment aired on February 17, 2017.