Boston Outlines 58 Projects To Increase And Improve Its Transportation Options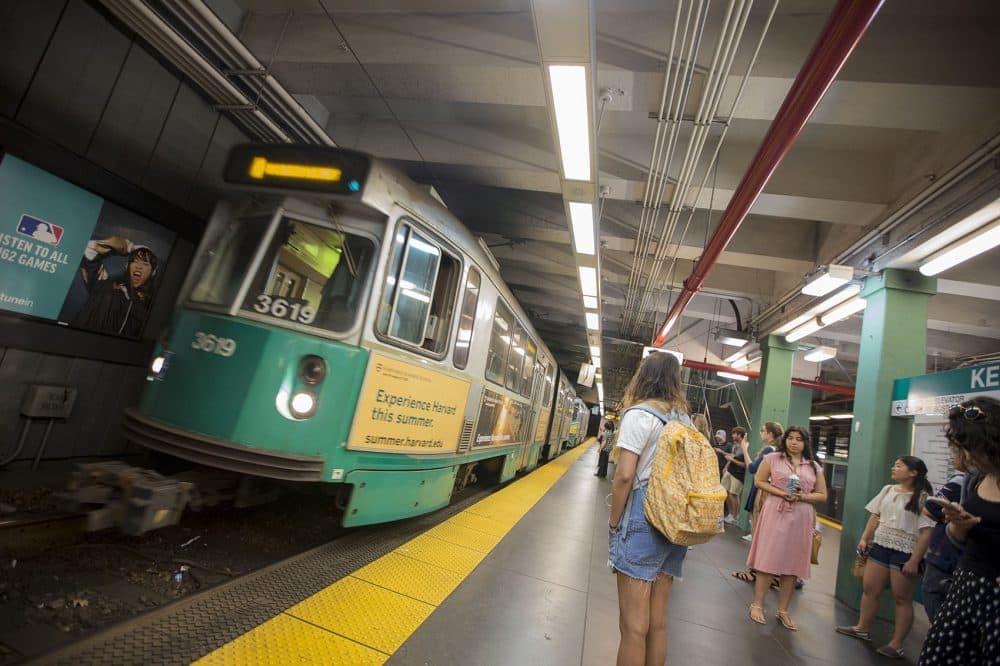 This article is more than 5 years old.
Visions for Boston's transportation future include fewer cars on the road and more people biking, walking and using public transit.
These goals are outlined in the city's Go Boston 2030 Vision and Action Plan released Tuesday. The plan is basically a blueprint for Boston's transportation priorities. It outlines 58 transportation projects and policies the city will pursue over the next 15 years. The long-term transportation plan strives to improve how people move around — whether it's by car, bike, public transit or on foot.
The new official goals are designed to improve roadway safety, while also increasing travel options and their reliability.
"Go Boston 2030 addresses the transportation challenges that we face as a city and a region and lays the foundation for how we can create a safer, more equitable transportation future," Mayor Marty Walsh said in a statement.
The plan's initiatives are based on feedback from thousands of city residents collected over the last two years. Here's a look at the top projects (you can dive into all 58 projects and policies here):
Make neighborhood main streets more walkable and bike-friendly
Improve service on the Fairmount line of the commuter rail
Develop a greenway along Columbia Road
Create mobility "microhubs" throughout the city where people can access multiple transportation options — such as a Hubway bike, an MBTA bus or train, a ride-hailing vehicle and an electric vehicle charging station
Create a rapid bus line that goes from Mattapan to the Longwood Medical Area. The bus would run frequently, have exclusive lanes, and get traffic signal priority to keep rides quick
Create a direct bus and ferry connection between the South Boston waterfront and North Station. This would include creating a new ferry route from Fan Pier in South Boston to Lovejoy Wharf near North Station. Additionally, the project calls for direct bus service between the two areas
Here are the top policies:
Implement roadway changes to reduce traffic fatalities as part of the city's Vision Zero initiative
Make investments to repair and maintain roadways and bridges
Restructure bus routes to better match the needs of residents
Develop policies on autonomous vehicles and support on-street testing
Some elements of the plan are already being implemented. The city has made some roadway changes under its Vision Zero initiative, including reducing the speed limit — though there's more work to be done to achieve its goal of eliminating traffic fatalities. In January, self-driving car testing began on Boston roadways, and the mayor has outlined oversight for autonomous vehicles.
Many parts of the plan, however, focus on the MBTA and will require coordination with the transit agency to implement. Boston Transportation Commissioner Gina Fiandaca said city officials are working with the T.
"The MBTA has been part of our conversation from Day 1 and part of the Go Boston [2030] planning team," Fiandaca said. "We know that if we're going to achieve our growth goals for the next 15 years that folks need to move around on a reliable transit system and folks need to support that."
Each undertaking is likely to run on different timelines, with some slated to be implemented within five years while others may take up to 15 years.
There are also varying costs depending on the enterprise. For example, the mobility "microhubs" are estimated to cost $500,000 while the rapid bus line from Mattapan to Longwood Medical Area is projected to run around $55 million. Additionally, officials calculated the development of Columbia Road Greenway is likely to cost about $17 million while the installation of smart traffic signals was valued at $25 million.
The city said it is committing to a five-year investment plan to "jump-start" the plan. Further, officials are looking to secure state and federal funds to offset the price tags of certain projects.
The city also aims to work with academic institutions to create a "mobility lab" that will track the plan's progress.