Schooltree's Epic Rock Opera Is Fantastically, Defiantly Ambitious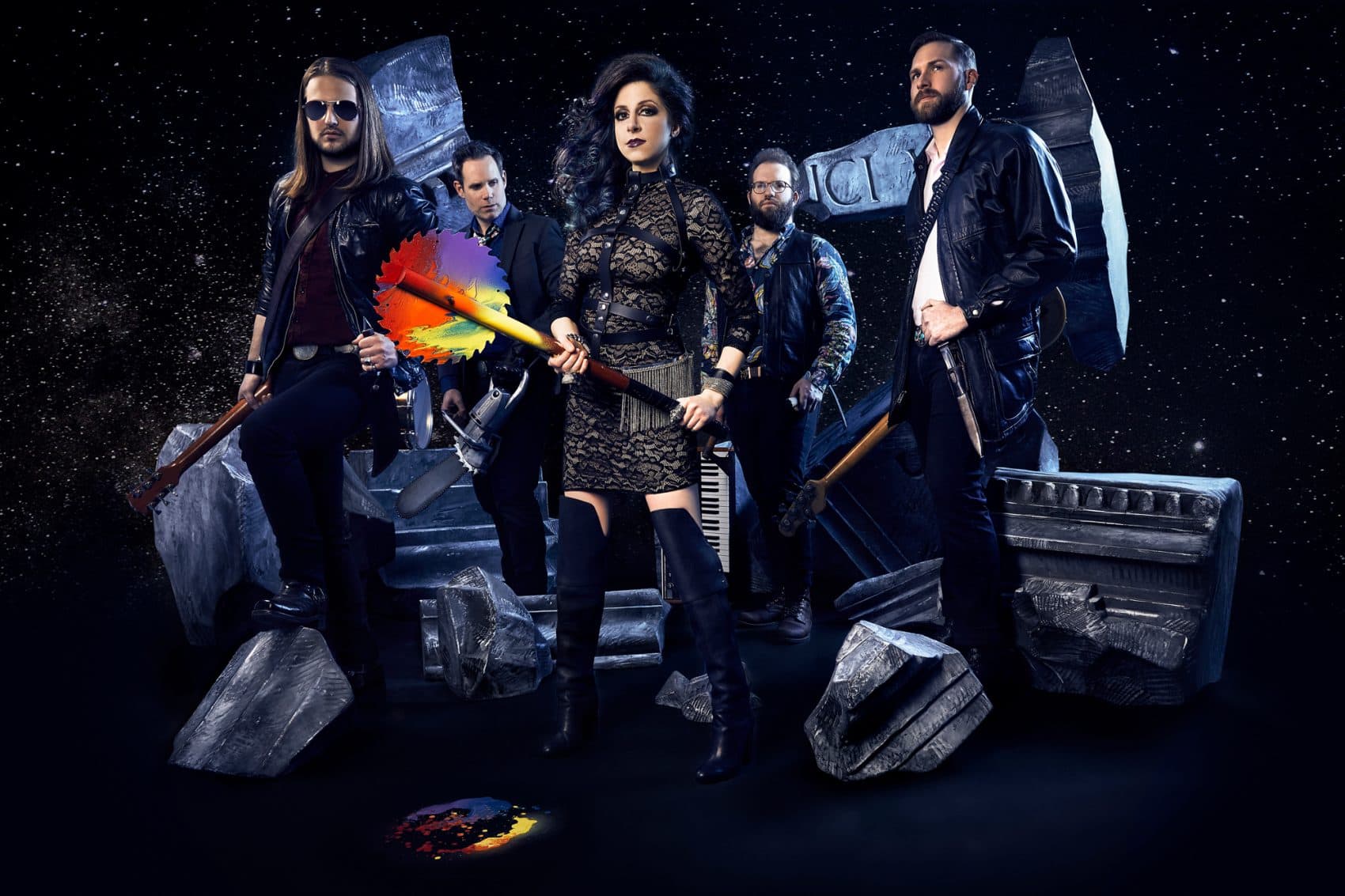 This article is more than 5 years old.
On a blustery afternoon in March, the art-rock band Schooltree gathered in their cavelike basement rehearsal space in Medford with a single objective: to play through the entirety of "Heterotopia," an original rock opera that the band was set to debut, live, in two weeks' time.
Lainey Schooltree, the group's diminutive frontwoman and the opera's composer, faced her bandmates from behind her keyboard. In between songs, the singer issued evocative directives — "I just want it to feel weird and bad in that section," she said of one particularly creepy number — and occasionally turned to consult the set list pinned to the wood-panelled wall behind her. There hung the fruits of four years of labor, distilled now to two pages of small, plain print, at once unassuming and enormous.
"It's feeling alright," Schooltree said later, as she sat at the kitchen table in her tidy apartment upstairs. "I've gone past anxiety and terror and just into a place [where] I'm totally calm." She paused. "But I'm terrified."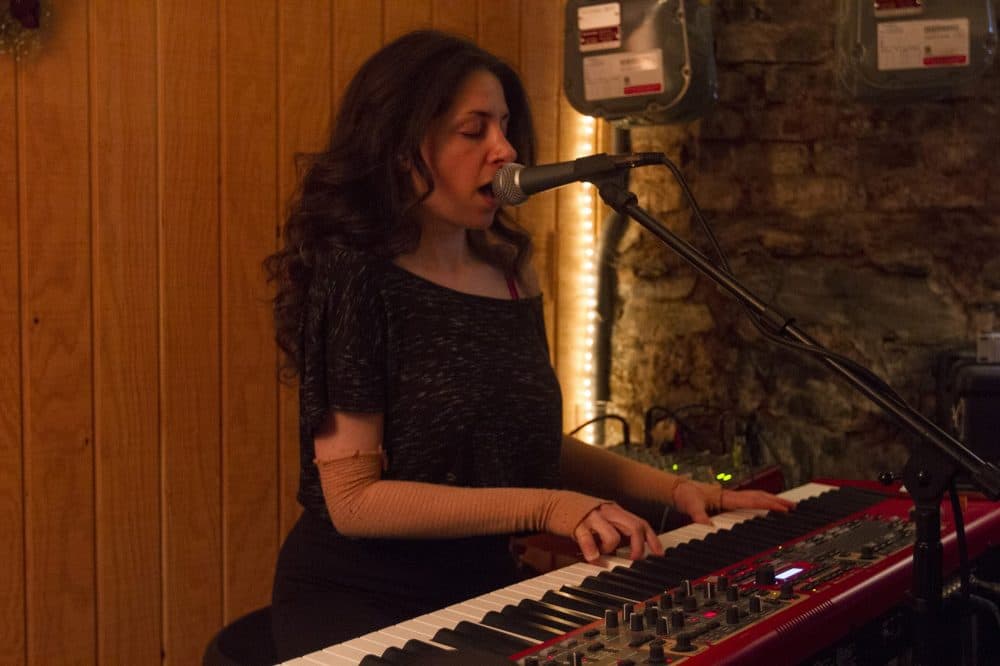 "Heterotopia," which will be released as a double album at the band's performance on Friday, March 31 at Oberon in Harvard Square, is Lainey Schooltree's magnum opus. When the composer, whose given name is Elaine Schulbaum, started the project back in 2013, she had no idea what she was getting into. Fans thought that her band's 2013 album, "Rise," should be turned into a rock opera, so Schooltree figured, why not actually write one? Some of her favorite records were concept albums -- Genesis' "The Lamb Lies Down on Broadway" and The Who's "Quadrophenia," for instance. How hard could it be?
Flash forward to 2014, and Schooltree was in a crisis. She had thrown out her original concept and was 100 pages deep into a new one when she realized it wasn't working. "I wanted to make a big political statement," she says. "It was like, 'I'm going to say everything I think about everything.' "
Needless to say, the project was a mess. A friend gave Schooltree some advice: "Tell the story that you know." So, reluctantly, she returned to her original concept, about a young, down-on-her-luck rock singer named Suzi who falls down a manhole into another dimension and must embark on an epic quest to reunite her consciousness with her body.
It's not exactly the stuff of autobiography. But Schooltree says that the reason she was afraid to tackle the story was because it was, in fact, very personal, informed in part by her own struggles with mental health and her encounters with grief and loss. A decade ago, the unexpected passing of her then-boyfriend's brother brought the horror of death into sharp relief, and more recently the loss of an uncle made her confront it again, this time more intimately.
In "Heterotopia," much of Suzi's journey finds her striving to come to terms with impermanence. "There's a lot of me trying to make friends with death and accept it," Schooltree says. "If you are healthy and you live a good long life, you're going to lose a lot of people throughout that. How do we deal with that? We have to deal with that. And I definitely started out from a place of being like, 'Nope, I'm not going to be able to deal with that.' And finding [that] there is something valuable in loss. There's something about grief that, on the other side of it, there's wisdom."
There are more philosophical ideas at work, too. The term "heterotopia" refers to a loosely defined concept coined by Foucault to describe spaces that contain multiples layers of meaning, worlds folded into worlds. The alternate dimension, dubbed "Otherspace," is a riff on Jung's notion of the collective unconscious.
But equally influential are the mythologist Joseph Campbell and the author J.R.R. Tolkien. "I love that Tolkien did so much legwork," Schooltree says. "He made a world that he could walk through." "Heterotopia," appropriately, contains its own specific mythology. There are guiding spirits called "leitmaidens," a three-headed shadow being that dispenses prophecies and a multi-legged sewer creature — "cat centipede" — that slithers out of the cracks in Suzi's urban mis en scène like a grotesque White Rabbit who lures her into Otherspace.
In terms of the music itself, Schooltree is the first to own her prog rock influences — Genesis, Yes, Kate Bush — even as she admits that prog is decidedly un-hip these days. "People say prog is a four letter word, and it's like, yeah, [it's a] 'f--- you' to people who wouldn't have its complexity and its ambition," she says. "You can have complexity and ambition without being self-indulgent and wanky, I think."
That complexity is precisely what makes "Heterotopia" so fun to perform, says Peter Danilchuk, who plays synths in the band. "It's like a jungle gym. It just keeps you moving. You never feel underwhelmed, everything is such an emotional moment. And it rewards you exponentially: The more you put into it, the more you get back out of it."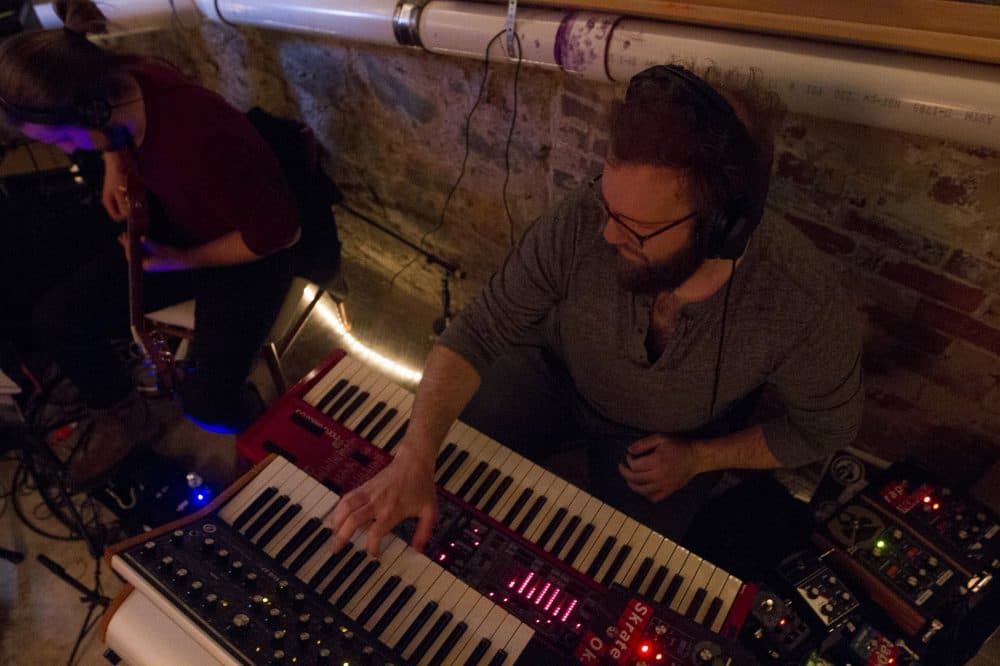 "Heterotopia" is, indeed, an opera, and it operates on an oceanic scale. The music is fluid and prismatic, churning through knotty riffs and shimmery hooks before coming to rest, briefly, in sublime moments of repose. With its harmonic inventiveness and timbral expressiveness, "Heterotopia" nods as much to Schooltree's classical loves — Debussy, Bartók, Satie — as her prog rock influences. But more than anything it reflects her exacting musical vision, something she says she has possessed since she was a child. "We inherited my grandmother's piano when she died, when I was 6. And I just remember I was so excited because I could finally start trying and trying to make the sounds that I wanted to hear."
Schooltree went on to major in music and political science at the University of Rhode Island in her home state. Following college she moved up to Boston and began hanging around the underground artist collectives Pan9 and Cloud Club, then the nexus of a fertile, irreverent art and music scene that engendered, among other things, Boston's Brechtian-punk celebrities The Dresden Dolls. (Pan9 perished in a fire in 2007.) As one half of the musical comedy duo The Steamy Bohemians, Schooltree founded the deliciously campy Jerkus Circus, a local cabaret series that helped usher in a wave of neo-vaudevillian performance in Boston.
It was at the Cloud Club that Schooltree first workshopped an early version of "Heterotopia" in 2014. Recording for the project began in 2015; a successful Kickstarter campaign in 2016, which raised over $20,000, helped move it forward.
But along the way there were setbacks. At one point, Schooltree developed a repetitive stress injury so bad that she couldn't even use her hands to turn doorknobs, let alone play. And then, partway through the recording process, two of her bandmates quit.
It was devastating, Schooltree says, because even though "Heterotopia" was her baby, she had hoped the band would collaborate on it. But she admits that it was an enormous ask, one that required everyone to share the same vision. "These guys kind of knew what they were getting into when they signed on," she says of the current lineup, which consists of Danilchuk on synths, Tom Collins on drums, Ryan Schwartzel on bass and Sam Crawford on guitar. "For whatever reason, that seems to have yielded more camaraderie and cooperation."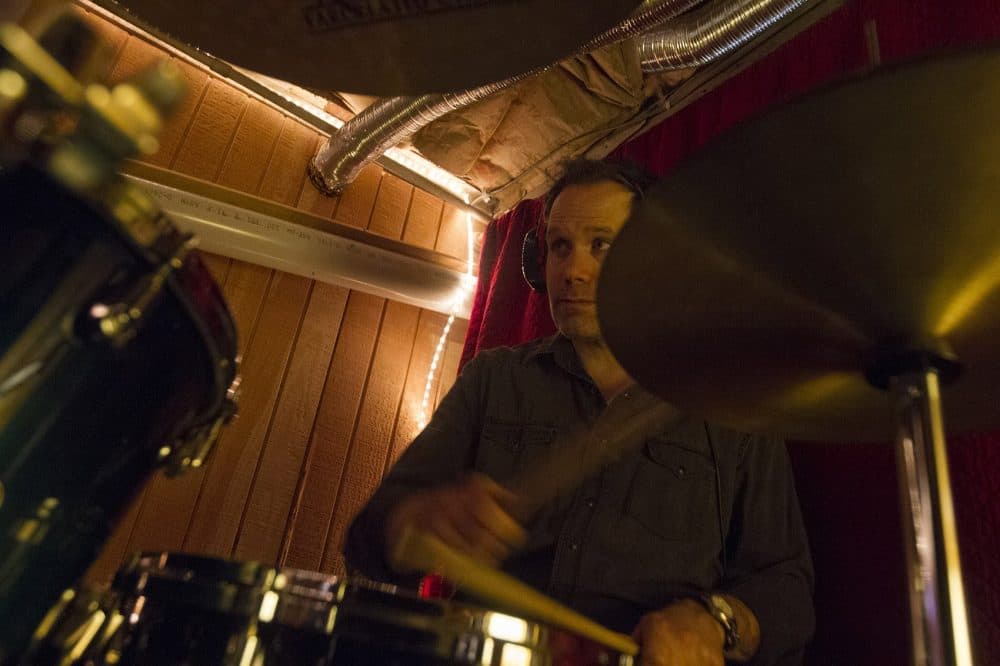 At rehearsal, the group displayed a congenial, focused rapport, Schooltree issuing gentle-yet-pointed instructions and dry wisecracks, the guys diligently absorbing her feedback and only indulging in the occasional tangent to, say, make cat sounds on Danilchuk's moog synthesizer.
Not two weeks prior, it was announced that the band had won a $7,500 Live Arts grant from the Boston Foundation. The money was put toward the upcoming performance, which includes work by local multimedia artist Sam Okerstrom-Lang, aka Samo, who will transform Oberon into a glittering, eerie Otherspace. The award, Schooltree says, was "really validating" — and not the sort of assistance independent artists are accustomed to getting. "This is not a reasonable investment. There's nothing reasonable about this. It's completely unreasonable," she says.
But that's exactly the point. As Schooltree notes, everything about the music industry pushes artists to scale down. Want to go viral? Record a single with a catchy hook, slap it up on SoundCloud, and wait for the clicks to roll in. "The bottom line is what drives a lot of creation," Schooltree says. "That creates a lot of innovation, because competition can be good in that way. But also it means that resources don't go to risk-taking things."
"Heterotopia" is not about Suzi's search for professional success; it's about her quest for self-actualization. And yeah — it wouldn't be too heavy-handed to say the same of the band Schooltree and its determined frontwoman.
"We're putting something out there that there may be no demand for," Schooltree says. "But then when you look deeper, maybe this is what is actually needed. The kind of thing that's needed is artists trying to put something out there that is their own search for meaning, [and that is] about a search for meaning. And maybe meaning is a thing that is missing."