Thousands Of Ride-Hailing Drivers Fail New Mass. Background Checks
This article is more than 5 years old.
More than 8,000 drivers for ride-hailing companies have been denied licenses to operate after failing the state's new background check process.
The drivers for Uber, Lyft and Fasten were mostly denied because their licenses had been suspended, they had been driving for less than three years, or they had multiple serious driving offenses.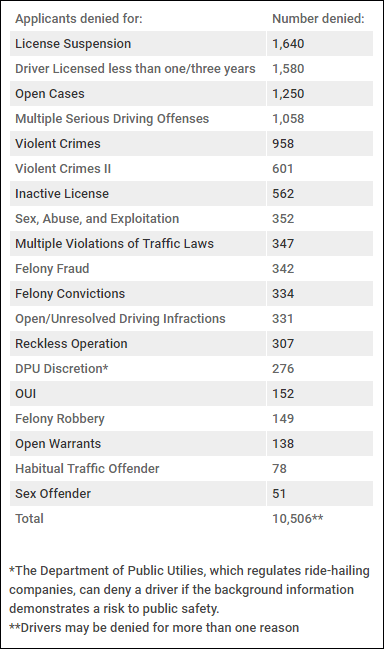 Data released from the state Wednesday also shows hundreds of applicants were denied for more serious offenses — including violent crimes, felony convictions and sexual offenses. According to the state, 51 applicants were registered sex offenders and 334 had felony convictions.
More than 62,000 drivers were approved by the state.
State background checks are required by a new law that was approved last year. The background checks began in January and were due to be completed by Monday.
Under the law, drivers for ride-hailing companies must go through a two-part background check — one through the company and one through the state. The ride-hailing companies must conduct multi-state background checks on criminal and driving records. Companies must also check the national sex offender registry. If the driver passes, the companies then give the information to the state, which conducts checks through the Registry of Motor Vehicles, the warrant management system, as well as the state's criminal records database and sex offender registry.
The state's background check process includes a lifetime look back for violent felonies, serious driving offenses and sex abuse convictions. Uber says this unfairly prevents people who have committed crimes long ago from pursuing job opportunities.
"The new screening includes an unfair and unjust indefinite look back period that has caused thousands of people in Massachusetts to lose access to economic opportunities," an Uber spokesperson said in a statement.
Uber says it will push to limit the look back period as the state works to finalize regulations under the new law.
Lyft said the state's current background check process looks back further than the company can.
"Under Massachusetts law, Lyft's commercial background check provider, like all consumer reporting agencies, is legally prevented from looking back further than seven years into driver applicants' histories," Lyft spokesman Adrian Durbin said in a statement. "The state does not face the same limitation, which likely explains why a small percentage of our drivers failed the state's background check while passing ours."
Fasten had less than two dozen drivers rejected for minor offenses, according to spokeswoman Annie Hudson. None of Fasten's drivers were rejected for criminal offenses, Hudson said.
Uber and Lyft would not comment on the number of their drivers impacted.
Gov. Charlie Baker said public safety is his top priority.
"Massachusetts has set a national standard for driver safety and we look forward to future partnerships with Uber, Lyft and others to grow this innovative industry and support more jobs and economic opportunities for all," Baker said in a statement.
This article was originally published on April 05, 2017.