UMass Boston Community Defends Outgoing Chancellor Keith Motley
Resume
Students, faculty and staff at UMass Boston are defending Chancellor Keith Motley, who on Wednesday announced he will step down at the end of June after a decade leading the campus.
The news comes shortly after Barry Mills, the former president of Bowdoin College, was hired as deputy chancellor and chief operating officer, in part to help fix the university's finances.
The Dorchester campus began its fiscal year forecasting a $2.3 million surplus. A university official says that by December, halfway through the fiscal year, that predicted surplus had turned into a projected $15 million deficit, and a report found that over the last four years reserves had fallen by more than half.
'He'll Be Sorely Missed'
Motley was off campus Thursday and not available for an interview. However in the halls and elevated walkways across campus, he's finding support.
Sophomore Michael Martinoli, of New Hampshire, lives across the street from UMass Boston at Harbor Point.
"I hear the construction every morning. That's my alarm clock," Martinoli said, laughing.
UMass Boston is one big construction zone right now, as costly new dorms are being built and utilities placed underground to prepare for more buildings.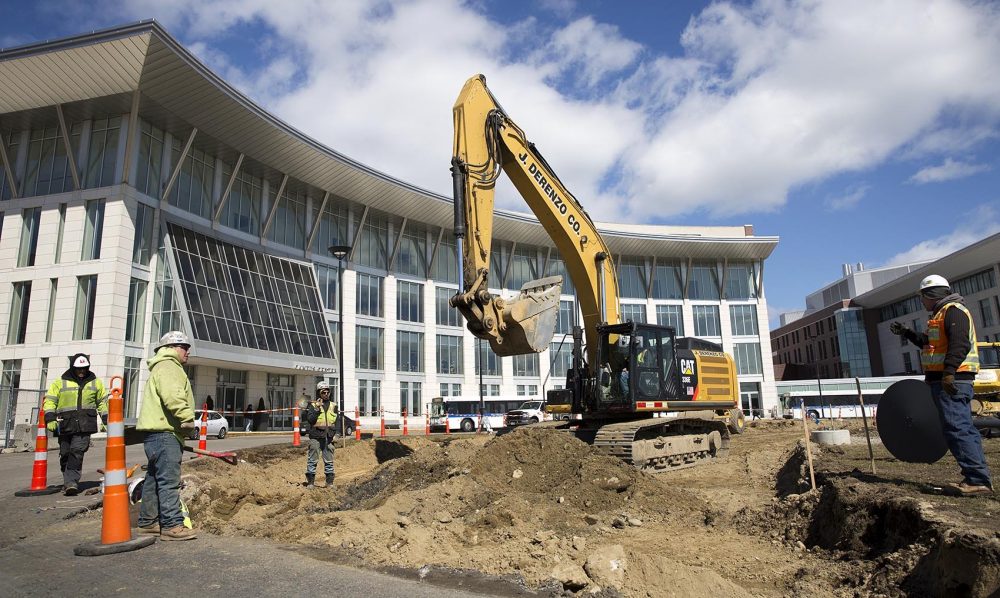 Martinoli, who is studying marketing, defended Motley.
"He's definitely getting most of the blame put on him, because it's more complex than just one person doing one thing. It's way more difficult," Martinoli said. "So everything that's going on financially I think is being put on him. He's an awesome person. I think he was doing a good job."
Martinoli was drawn to UMass Boston's urban campus and by finances. He says he pays $5,000 a year.
Staff defended Motley too. Michelle McIntyre, an instructional designer, helps faculty build their courses, both with content and technology.
"He's really great at keeping the spirit of the university up and going, so he'll be sorely missed," she said.
McIntyre says her department has seen serious budget cuts.
"We have unfilled positions that are pretty critical. We function a lot with graduate assistants, we've seen that budget cutting, although everybody's trying to manage the best they can," McIntyre said.
Due to the projected budget deficit, cuts are being felt across campus.
Bernice Alexander, an administrative assistant in the office of the dean of the College of Education and Human Development, says her department is not ordering supplies.
"I'm surprised and kind of not surprised that it's going on, but I'm going to miss him," Alexander said, noting the university's financial problems. "I think he was a great guy and I think he did well as a chancellor."
In a campus-wide email announcing his plans to step down, Motley said he would take a yearlong sabbatical before returning to the the university to teach.
This segment aired on April 6, 2017.