Many Local Haitians Fear They'll Have To Leave U.S. If Residency Program Ends
Resume
The Greater Boston area is home to the country's third-largest Haitian community — more than 40,000 people, according to census data. And nearly one out of every 10 Haitians living in this area is here with Temporary Protected Status (TPS).
As the name suggests, TPS is a temporary benefit for immigrants from certain countries, like Haiti, where natural disasters, ongoing war or epidemics make returning to their country unsafe. For the last seven years, many Haitians have been eligible for TPS. But that soon could change as the federal government weighs whether to renew TPS for Haitians.
Fears Of Separation And Returning To Nothing
Martine Cadostin is one of dozens of local Haitians who showed up for a recent immigration forum in Dorchester.
"Imagine, people that have been here for many years, you know, and then now they have kids. They don't know if they're going to get separated from their child," Cadostin said. "That's the number one fear."
Cadostin wouldn't say whether she's living here with TPS but most of the questions from the audience were about the renewal of the program. Many people were leaning forward, sitting on the edge of their seats, waiting for answers from the panelists assembled on stage.
Marianne Jeune, of Dorchester, was one of those in the crowd. Jeune's youngest child is a U.S.-born citizen while Jeune, who is Haitian, is here on Temporary Protected Status. She doesn't know what she'll do if her status isn't renewed. She says she has no other options.
"My house, I don't have house in Haiti. Everything [is] gone," Jeune said.
Jeune said everything she owned in Haiti was destroyed in the 2010 earthquake. In fact, it was that massive quake that led the Obama administration to declare that eligible Haitians could stay in the U.S. under Temporary Protected Status.
Since then, Haiti has been riddled with devastating hurricanes, flooding and a cholera epidemic. And as a result, the federal government has renewed Haitian TPS every 18 months.
So, people like Jeune keep reapplying. Some community advocates say anxiety in the local Haitian community began when that routine process was disrupted.
May 23 Decision Deadline
Dieufort Fleurissaint, the executive pastor at Voice of the Gospel Tabernacle in Mattapan, says community members have been calling him since January, asking for updates on this year's TPS renewal date.
"When March already has passed and gone, you get April already passed and gone, and the fact they have seen just executive order after executive order not favoring immigrants," he said, "and then Haitians really start worrying."
The federal government under President Trump is taking a closer look at the status. At question is whether Haiti is now safer and better equipped to absorb the nearly 60,000 people currently residing in the U.S. with Temporary Protected Status. The Trump administration has until May 23 to make a decision on extending TPS for Haitians or allowing it to expire on July 22.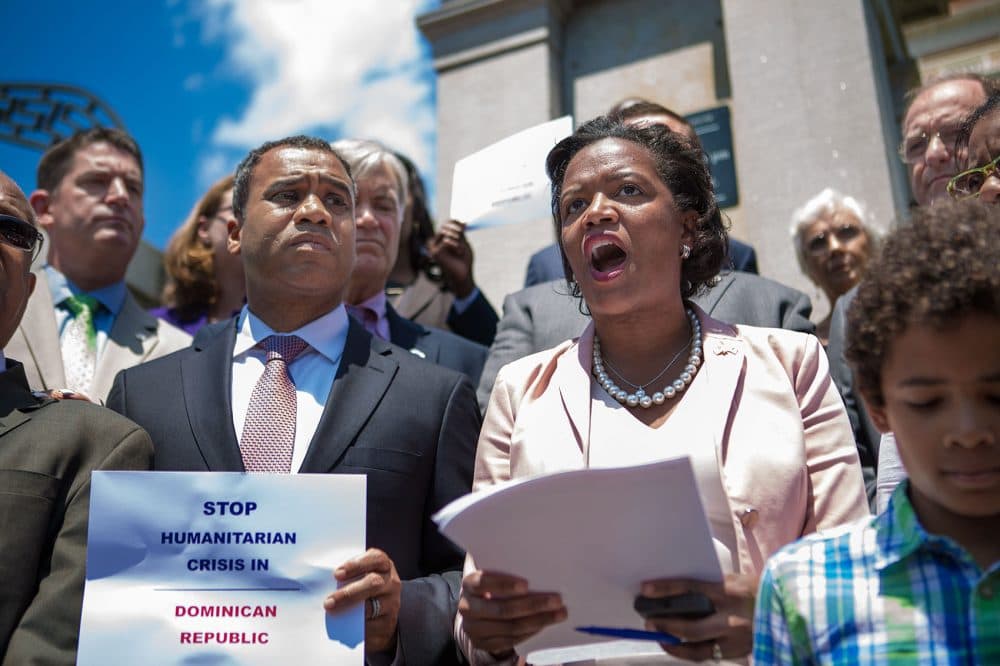 Massachusetts state Sen. Linda Dorcena Forry hosted the recent immigration forum, jumping between English and Creole and translating answers for the majority-Haitian audience.
Forry, whose parents emigrated from Haiti, says letting TPS expire would be devastating for the more than 4,000 local Haitians living here with the temporary status. And Forry says it would run counter to the America she knows.
"It's only here, you know, that I can stand before you as a state senator. So, this is an incredible, incredible place. And to turn away and to really treat folks that may not look like us, may not speak our language, in a certain fashion, is wrong," she said.
A representative from U.S. Citizenship and Immigration Services, the agency that administers the TPS program, told people at the forum that public input is being considered in the decision-making process, but, he said, "we won't know until we know."
This segment aired on May 12, 2017.