How Women Pioneers Are Changing The Meat Industry In Massachusetts
Resume
When you picture a livestock farmer or butcher, you might imagine a burly man working with pigs or wielding sharp knives. But a community of women in Massachusetts is challenging those stereotypes — and working to change the growing sustainable meat industry at the same time.
Kate Stillman is one of them. She grew up on a farm and always thought she'd end up selling cut flowers for fancy weddings, as she did to pay for college. Now the 36-year-old raises grass-fed beef, lamb, pastured poultry and pork at Stillman Quality Meats in Hardwick.
"Twelve years ago it was just two people — so it's exploded," she said on a cloudy-day tour of her dynamic operation.
As we walked past a pile of piglets crossbred from heritage Yorkshire and Gloucester Old Spot sows, Stillman recalled buying this farm nine years ago, right around the same time her first son was born.
Back then, Stillman said, a lot of people didn't even know what "sustainable meat" was. (Sustainable farming generally strives to make as little impact on the environment as possible, respect animal welfare and enhance human health and quality of life.) And the traditionally male-dominated industry could feel like a bit of a boys' club. Stillman remembers what it was like when she first made trips to the region's slaughterhouses with her animals.
"It's an intimidating place to begin with — let alone you show up in a big, crazy, hectic work scene with a bunch of men," she said. "And it's gory and everything else. I was always the one showing up with a child slung, a baby hanging in front of me. But you know, you learn to work your way through it."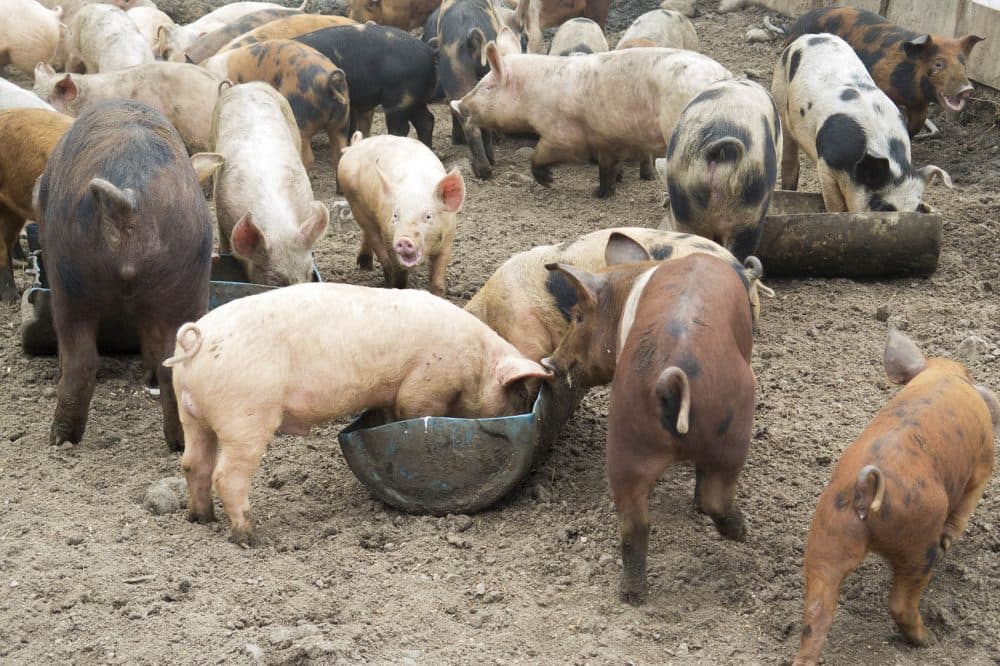 Stillman's learning curve was steep. There was no manual, she said.
Regardless, she grew a loyal customer base for her fresh poultry, cuts of meat and sausages through Community Supported Agriculture (CSA) farm shares and farmer's markets. About five years ago, she realized the region's slaughterhouses — which process animals into meat products — couldn't support increasing demand.
"The biggest problem we faced was processing," she explained as we entered a nondescript white building. "We just couldn't get our stuff processed anywhere. And the writing got to be on the wall."
Stillman's solution was to build her own on-farm "abattoir" — which she admits is just a fancy name for a slaughterhouse. The facility would enable her to take control of killing and processing her chickens. And she could hire her own butcher, rather than rely on meat-cutters at the slaughterhouses to process her pigs and cows into value-added products.
This abattoir would be the first one like it in Massachusetts. Stillman says she might not have been able to build it without support from pioneers in a growing network of women.
"I grew up and it was always a man's world, and yet when you actually look at who's moving and shaking most of the farms nowadays, it's these incredibly strong women."

Kate Stillman
"I grew up and it was always a man's world, and yet when you actually look at who's moving and shaking most of the farms nowadays, it's these incredibly strong women," Stillman reflected. "And that's become its own thing now."
One of the women Stillman turned to for help was Jennifer Hashley of Pete and Jen's Backyard Birds at Codman Farm, just outside of Boston.
Eleven years ago, Hashley paved the way for Stillman's abattoir by creating another new model for the meat industry: the Mobile Poultry Processing Unit. It's a collaboration with Tufts University's New Entry Sustainable Farming Project, which Hashley directs.
"There were no USDA poultry processing plants available in the Northeast, other than running down to New York or Pennsylvania or other places," she said.
It was a long, four-year slog to get the mobile pilot project off the ground. Hashley navigated the complex matrix of environmental, public health and agricultural regulations. In the end she brought government agencies together and calmed concerns about things like disease transmission.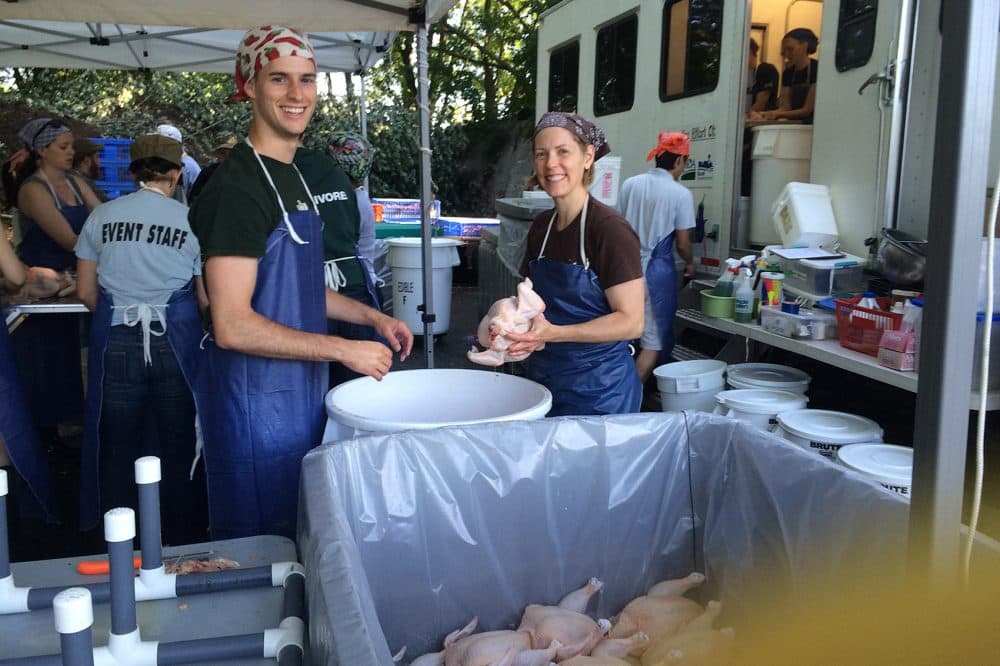 Hashley continues to support other women interested in meat production through the sustainable farming program she runs at Tufts.
"We start with 'gateway livestock' — poultry, pigs or goats. Scale appropriate for smaller people," she explained. "As we build their confidence, they can move into different kinds of systems."
Asked about how she sees women changing the meat industry in Massachusetts, Hashley said, "Women are jumping into this space in a creative way — networking, sharing, coming eager to learn." And they're overcoming a myriad of obstacles along the way.
Today, Massachusetts is also home to the craftily named League of Women in Meat. Edith Murnane (also known Boston's "food czar") created the business networking group to bring more women into the industry.
Murnane also organized the inaugural Women in Meat Conference last October, along with workshops led by Kari Underly, a master butcher and the author of the James Beard Foundation-nominated book "The Art of Beef Cutting."
"We were going to create a space and a workshop that would enable women to come together to get their hands on knives and saws and really learn the skills," Murnane recalled, adding she used Stillman's pigs for the demonstrations.
Murnane points to a well-documented, enduring shortage of skilled butchers in Massachusetts, and nationwide, that is affecting the entire meat ecosystem.
"Our region, our industry, need butchers. We know it," she said, "whether it's at the slaughterhouse, whether it's at the processing plant, whether it's at the grocery store."
There are reasons why women (and men) might not pursue careers in butchery. For one, meat-cutting jobs are not high-wage. Also, there's an pervasive "ick" factor that can color plenty of people's perceptions and opinions about this type of specialized work. Murnane said women are attracted to the meat industry for a variety of reasons.
"Many of the women that I meet are really concerned about health and safety in food. And so that's where they started," she said.
And a lot of these women are selling to like-minded customers.
"Most of us in the New England area that are doing pasture-based meat are marketing to women," said Diana Rodgers, a sustainable-eating advocate and a registered dietitian nutritionist with Clark Farm in Carlisle.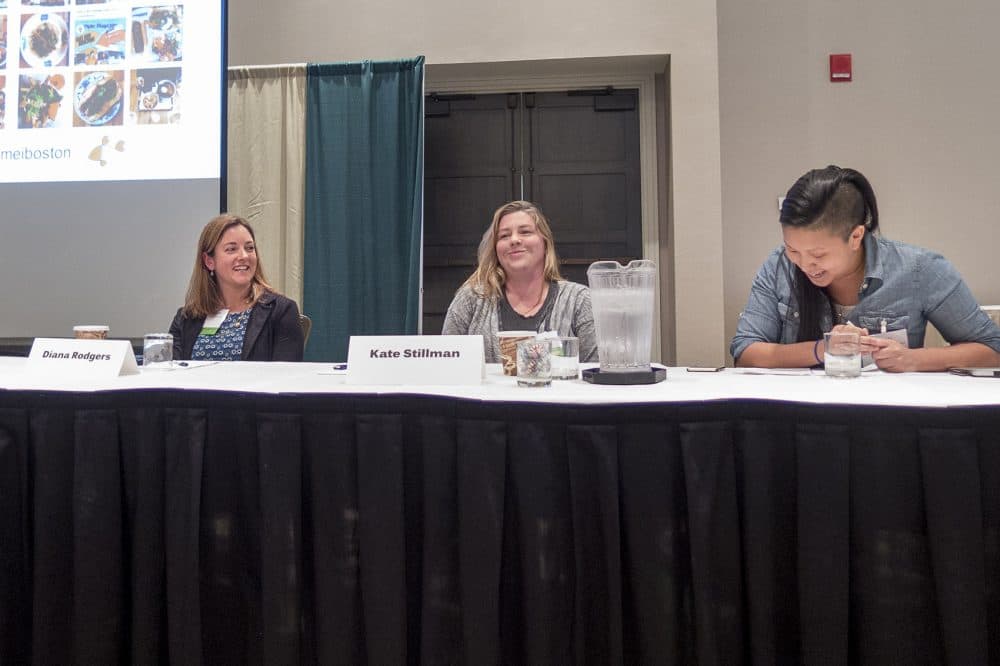 Women are "the ones who are buying the food. They're concerned about the quality of meat," Rodgers explained. "And so to buy local, and to buy well-raised meat from somebody that they know and trust, is really important to them. It's a great way for us to connect with them directly."
Rodgers also said women are taking a lead in connecting with customers through social media. She regularly posts stories and photos from her farm on Instagram and Facebook. She has a blog and a podcast.
"My husband, who's up on the tractor, just wants to be growing the food," Rodgers said. "It's just a little bit more natural for me to go on my phone and snap a couple of pictures, share and engage with our customers that way."
Rodgers shared social media tips with other producers at the recent New England Meat Conference (also organized by Murnane) in Manchester, New Hampshire. She encouraged them to make the time to post seasonal recipes, relevant articles or cute farm-life videos and pictures.
"And then just repeat what works," she said, then joked about the viral power of baby goats, "Baby goats, baby goats, baby goats being fed by a bottle. Baby lambs, a kid feeding a baby lamb! For us that's the No. 1 thing that really gets the most engagement."
At the conference, stalls for companies that make non-GMO livestock feed and sausage casings lined the ballroom's perimeter. Susan Murray stood behind a design plan for the Livestock Institute of Southern New England, which is being built in Westport, Massachusetts.
"The women I meet in the livestock industry are incredible businesswomen. They won't take any 'Sugar Honey Iced Tea,'" she said with a laugh. "They are proud of what they do, and they're strong, and they're incredibly knowledgeable."
Murray is the Livestock Institute's program coordinator. Once built, it will be the state's third large USDA slaughterhouse, but it's also uniquely poised to shift paradigms as an educational nonprofit.
Murray owns Apponagansett Farm with her husband in Dartmouth, Massachusetts, and says women in agriculture often have to fight a little harder and appear a little stronger (even if they can carry two 50-pound bags of food at once).
"Just like in any male-dominated industry, having role models shows you that it can be done," she told me. "I tend to gravitate toward other women producers to ask questions. I feel like we speak a similar language when it comes to problem solving. I think — not in all cases, but in general — women problem solve slightly different than men."
Women who choose the meat industry face a host of challenges — from access to financing to work-life balance, which can be hard to achieve when you're a farmer and a mom, 24/7, 365 days a year.
"The animals don't care who you are, or what day of the week it is, so you have to put on a little bit of a thick skin."

Kate Stillman
Stillman, of Stillman Quality Meats, knows about that firsthand. She looks forward to the day when her industry is free of gender stereotypes.
"Sometimes I write the checks, and people finally meet me, and they're shocked that there's this woman running the farm," she said. "The animals don't care who you are, or what day of the week it is, so you have to put on a little bit of a thick skin."
But in reality, she added, anyone wants to work in the competitive farm retail business needs to do that, too.
Clarification: This story has been updated to reflect Diana Rodgers' title of registered dietitian nutritionist.
This article was originally published on May 12, 2017.
This segment aired on May 12, 2017.