A Major Hotel Development Is Coming To South Boston's Seaport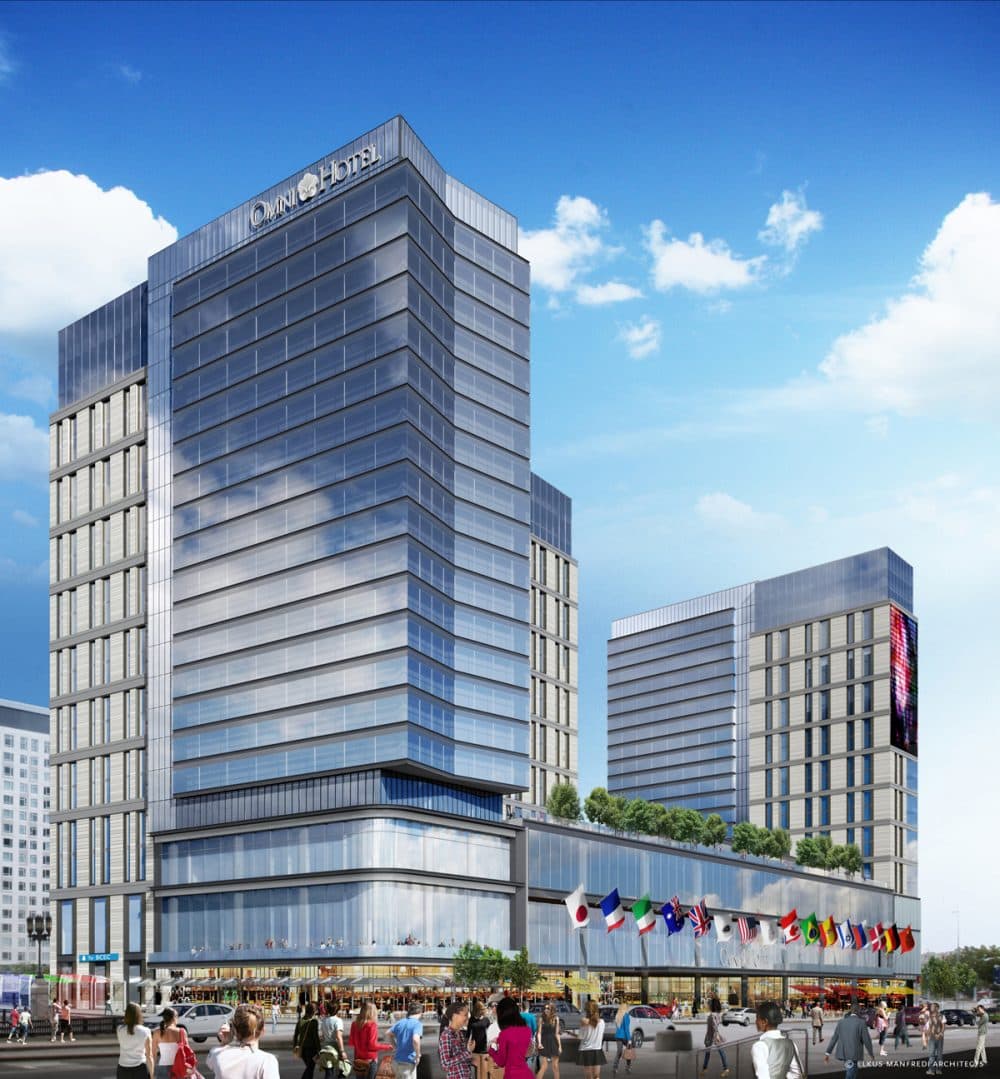 This article is more than 4 years old.
The South Boston skyline is getting a new addition.
State and local officials on Monday unveiled plans for the development of a massive hotel in the Seaport District.
The Omni hotel will be built at the corner of D and Summer streets near the Boston Convention and Exhibition Center. The $550 million development will have two 21-story towers and more than 1,000 hotel rooms. The hotel will also have over 100,000 square feet of meeting space, 40,000 square feet of retail space and a 25,000-square-foot ballroom.
Officials say the development will add much needed hotel space to Boston, which they believe will attract more tourists and major conventions to the city.
"This will allow us to have multiple meetings going on in Boston at the same time. Everybody gets to win," said David Gibbons, the executive director of the Massachusetts Convention Center Authority.
He added that due to the planned hotel the authority is already getting inquiries and bookings for future conventions.
The Omni hotel will be the largest hotel in the Seaport District and will continue the transformation of Boston's waterfront.
Mayor Marty Walsh said "diversity and inclusion" were built into the development, and the project will have a broader impact for the city.
"This project certainly is a vision of economic growth," Walsh said. "Even though the project is on the South Boston waterfront, it's going to reach out to every neighborhood."
Omni is working with several partners on the project, including a group of minority investors. Additionally, six local nonprofit organizations will receive a portion of the hotel's profits. The organizations include the Edgerley Family South Boston Clubhouse of the Boys and Girls Clubs of Boston, the Daniel Marr Boys and Girls Club of Dorchester, South Boston Community Health Center, Ladies Involved in Putting a Stop To Inner-City Killing (LIPSTICK), Julie's Family Learning Program and the Building Pathways New Boston Hospitality.
The hotel is expected to open in 2021.