Malden School That Punished Black Students For Hair Extensions Drops Policy For Now
Play
This article is more than 5 years old.
The school in Malden that punished two African-American girls for wearing hair extensions has suspended its ban on certain hairstyles for the rest of the school year.
Dozens of protesters gathered at the start of an emergency board of trustees meeting of the Mystic Valley Regional Charter School on Sunday, calling on the board to end what they call a racist ban on hairstyles including extensions, and hairdos more than two inches in height.
The board began its meeting and went immediately into executive session, discussing in private for three hours before Alexander Dan, the board's interim director, emerged.
"The Mystic Valley Regional Charter School board of trustees unanimously voted tonight to suspend the hair section of the uniform policy for the remainder of the school year," he said. "The school will continue to work with the attorney general's office to ensure that the uniform policy reflects our long-standing commitment to the rights of all of our students."
The about-face comes two days after Massachusetts Attorney General Maura Healey asked the school to immediately end its ban on certain hairstyles that she said illegally singled out students of color.
Deanna Cook, one of the twin girls who received detention for defying the hair policy, said she was upset the board met in private.
"That was like a punch to the gut — the fact that they couldn't even face us. We were all sitting here, we weren't even chanting before they got up and left. That made me really angry," she said. "It just kind of put a face to all that is happening, to see really, who is the one doing this. And I got to see all their faces right in front of me."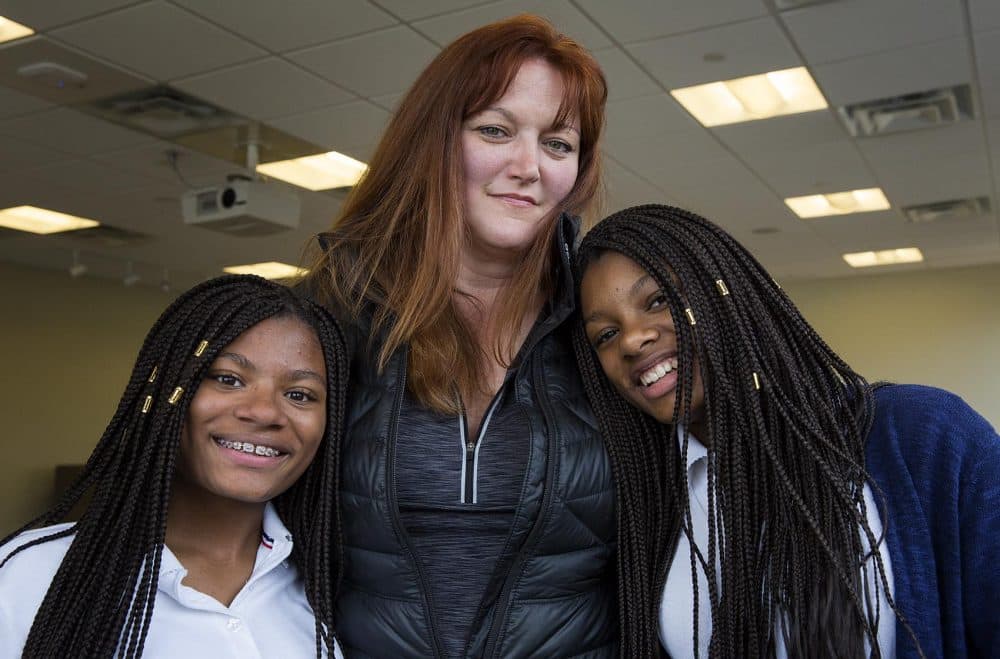 Sunday night's protests against the policy received the support of groups ranging from the American Civil Liberties Union to the Anti-Defamation League, as well as the Lawyers' Committee for Civil Rights and Economic Justice.
Colleen Cook, the mother of the adopted 15-year-old twins, applauded the school for lifting its hair ban but wants to know whether all the hours of accrued detention will be wiped away.
"I think we still have a long road to go, but I'm glad. I think what we did meet is that no more discipline and punishment will come to any girls, and if they do, hopefully, we'll have recourse," she said.
The girls' mother said she doesn't currently have plans to take legal action against Mystic Valley Regional Charter School. But she wants to know how school officials will make up to the girls for all the school activities they missed as a result of the hair policy.
Cook also said wants to see more diversity among teachers and administrators at her daughters' charter school.
This segment aired on May 22, 2017.