Black Harvard Students Hold Their Own Commencement Ceremony
Play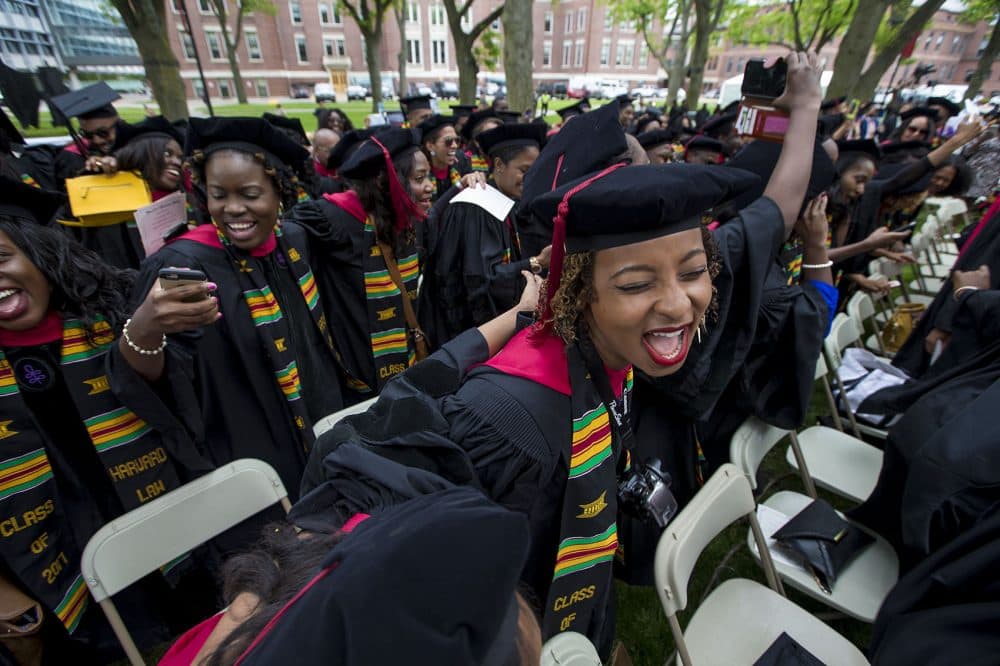 This article is more than 5 years old.
Black students at Harvard University held the school's first-ever Black Commencement on Tuesday.
The students will get their degrees with all the others on Thursday, but Tuesday's ceremony offered a chance to celebrate their triumphs and remember the obstacles they have faced.
Harvard gave its official approval for the ceremony. It was conducted in Holmes Field at Harvard Law School. But students, who started planning last summer, put together the entire program.
"I am so honored and privileged to welcome you to this ceremony that honors the struggles, the hardships, the jubilee, the families and friends of black and African diaspora students here at Harvard University," one of the principal organizers, Michael Huggins, who graduates from Harvard's Kennedy School of Government Thursday, told the crowd.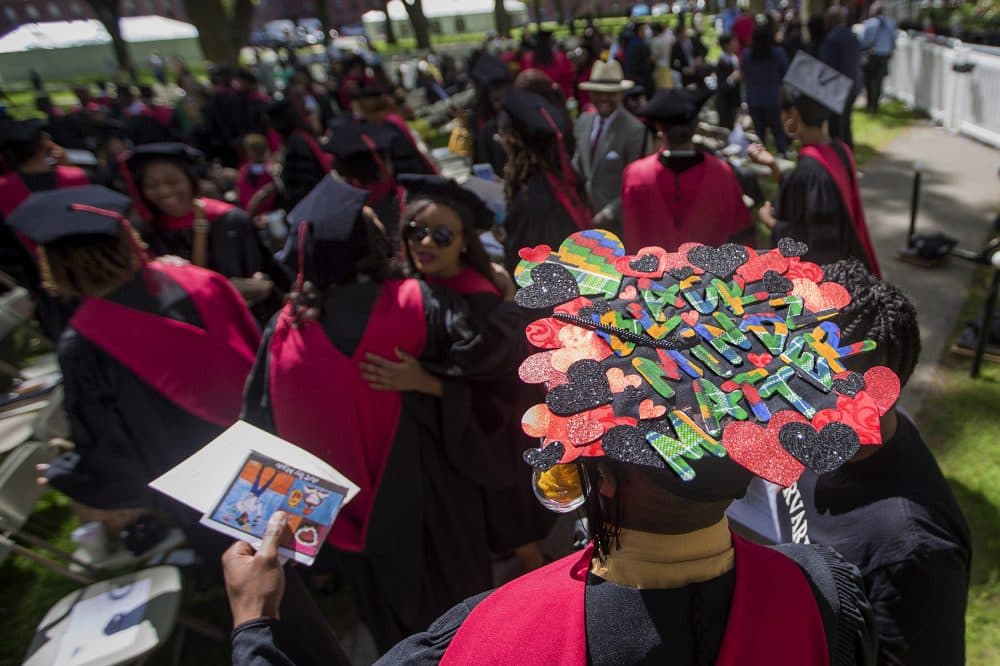 Duwain Pinder, who's from Columbus, Ohio, is getting a joint degree Thursday from the Kennedy School and Harvard Business School. But this afternoon was for an excited celebration of a joint trajectory through Harvard with fellow black students.
"I think it's been a real place of community and belonging, and so I think it matters that organizers tried to collaborate across schools and create a space for belonging and collaboration during the week of graduation," Pinder said.
The ceremony was also a chance to thank parents. Pinder's father, Dennis, from Dorchester, was there to celebrate with him.
"I can't believe it," the elder Pinder said. "It's overwhelming to a certain degree, but I was just telling my son he built it, he built it from the ground up."
The younger Pinder was one of four keynote speakers. He recalled how three weeks before his first day at Harvard, he learned that a white police officer in a suburb of St. Louis had shot and killed Michael Brown, an African-American man. Months later, he listened to his Harvard professor struggle to explain the public policy that allowed the officer to walk free.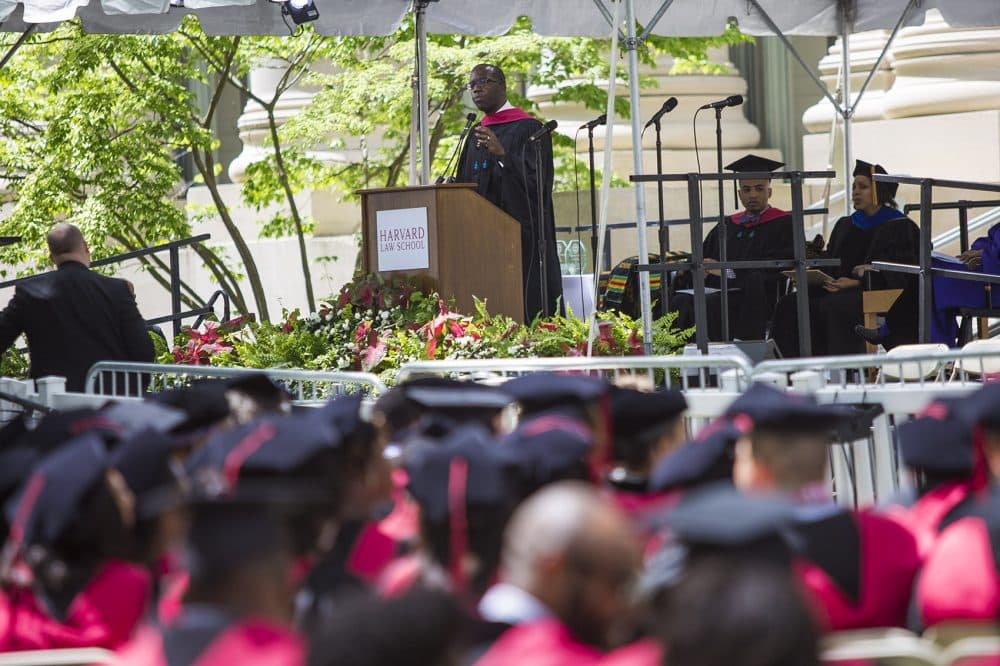 "And that spring, while reviewing notes on the ethics of public office, I watched replays of the senseless execution of Walter Scott, and the overwhelming question during this first year at Harvard was: How can I survive in a world that seems not to value my life?" Pinder said.
"We have survived," Pinder told the crowd, who responded with "yes." "Just look at us."
"We are educated. We don't need the white men nor white girl pity. Just because my skin is a couple shades darker doesn't mean I grew up in the depths of the city," recited four students from Boston's Match Charter School  -- Sumeya Aden, Ny'lasia Brown, Kelly Holland and Glodie Lubunga — who gave a spoken word performance.
"Why is it so easy for a white girl to get into college?" they asked.
Huggins said he was taking the day as a time for reflection.
"Our journeys at Harvard have not been easy," Huggins said. "Our families have had to overcome everything from Jim Crow segregation to poverty to an oppressive criminal justice system, yet we still persist."
As students' names were read aloud, they walked onto the stage and the deans draped a stole of kente cloth over each student's shoulders.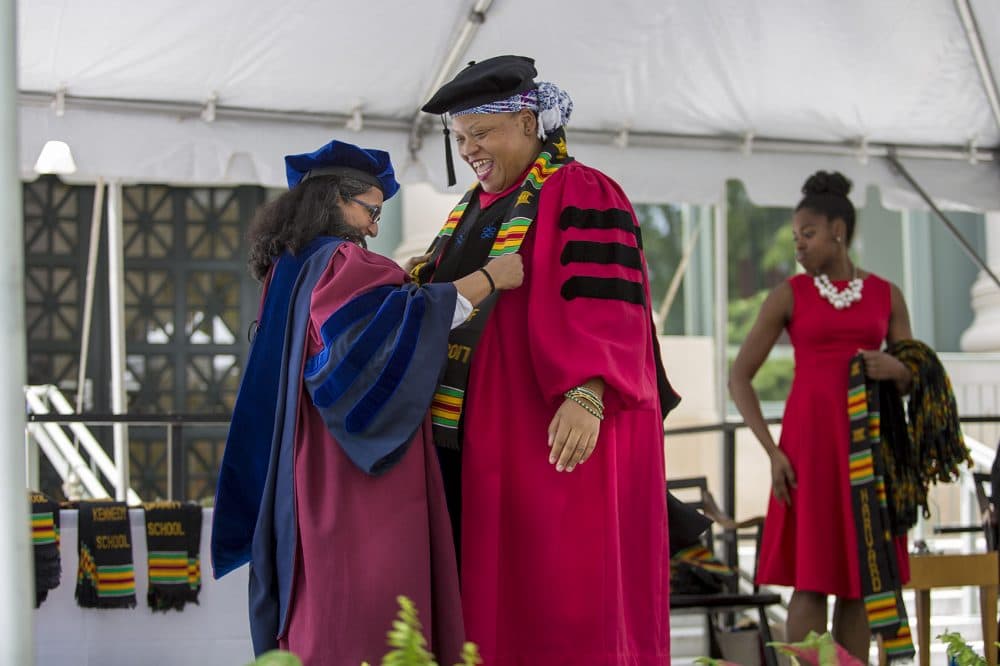 This segment aired on May 23, 2017.