5 Key Issues Mass. Lawmakers Are Considering On Self-Driving Cars
This article is more than 5 years old.
Self-driving cars are expected to dramatically change how people and goods move around. These vehicles are already being tested in Boston, but there are a number of questions about how the technology will be integrated more broadly across the state. For example, if you get into a crash with a self-driving car, who pays? And, how do we ensure safety while riding in self-driving cars, or alongside them? That's as consumers right now don't like the idea of fully autonomous vehicles, according to some studies.
Massachusetts lawmakers are mulling over these issues and more as they consider several bills aimed at putting rules in place for self-driving cars -- which could be on the streets in a major way within 10 years.
There currently aren't any federal laws in place on autonomous vehicles, but the government issued policy guidelines on self-driving cars last fall. Right now some testing is allowed in Massachusetts under an executive order by Gov. Charlie Baker. And a state working group is looking into laws and regulations on autonomous vehicles.
Here's a look at five key issues legislators are discussing:
1. How Much Regulation
At a hearing in April on Beacon Hill, representatives from the auto industry basically told lawmakers to back off — at least for now. The industry is concerned there will be a patchwork of state laws on autonomous vehicles.
"We design, we build, and we sell one car that we can sell in 50 states. Not 50 cars in 50 states," said Damon Porter, the director of state government affairs at Global Automakers.
A key issue here is what role states should play versus the federal government in regulating self-driving cars. Porter and others said states should focus on registration, licensing and insurance, while the federal government should continue to regulate vehicle standards.
Jade Nobles, of Toyota, told lawmakers testing is already permitted in Massachusetts and so "no authorizing legislation is required." Toyota has a research institute in Cambridge focused on artificial intelligence and autonomous vehicle technology.
"Imposing the overly cautious and unnecessarily restrictive regulatory environment may limit the amount of research that we can complete in the commonwealth," Nobles said.
Harry Lightsey, who oversees emerging technology at General Motors, said there is some legislation that's needed. He said a law that doesn't require a person behind the wheel is necessary so more progress can be made on self-driving cars, and he said lawmakers should set basic safety standards.
"The last thing that the public needs ... is a do-it-yourself tech lab retrofitting a non-self-driving-designed vehicle with unproven technology," Lightsey said.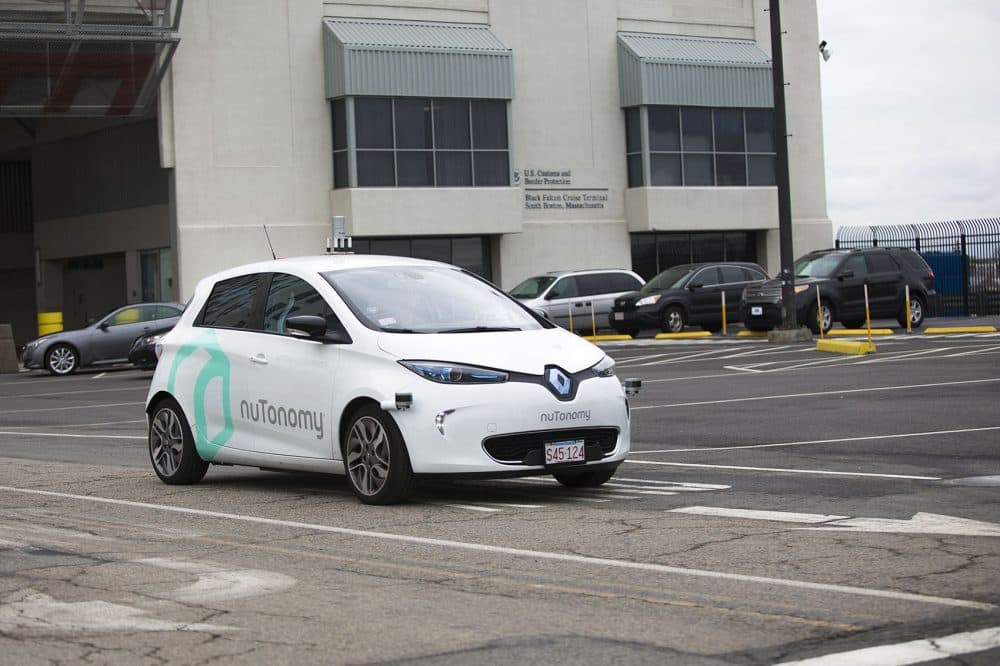 Others are concerned that too many regulations will drive companies out of Massachusetts all together.
"As a venture-backed company, it's very difficult for us to survive if we can't convince venture capitalists that the regulatory climate in Massachusetts is going to continue to be favorable for our operations," said Matthew Wansley of Cambridge-based startup nuTonomy, which is testing self-driving cars in South Boston and also has operations in Singapore.
Wansley said nuTonomy is open to new regulations, but wants to make sure the company can stay in Massachusetts.
And some lawmakers worry that not doing anything now will create problems down the road.
Rep. Tricia Farley-Bouvier (D-Pittsfield), who is sponsoring a bill, said the state "played catch up" when it came to regulating ride-hailing companies and shouldn't do the same with self-driving cars.
2. Ensuring Safety
Many experts believe if we take humans out of the driving equation, the roads will be much safer. Human error accounts for 94 percent of crashes, according to the National Highway Traffic Safety Administration. And distracted driving leads to thousands of deaths and injuries each year. Self-driving cars are seen as a way to reduce traffic crashes.
Autonomous vehicles are designed to recognize and adapt to different environments. They have sensors, computers and other technology that collect data about their surroundings. The vehicles are expected to use roads more efficiently, improve traffic flow, and be better at following traffic rules.
"Let's face it: We aren't very good drivers as a species," Farley-Bouvier said. "Autonomous vehicles will be safer than human drivers. We can feel very confident of that."
But not everyone is confident this technology will be safer. After all, technology can fail. At the State House hearing, Rep. Dan Ryan (D-Boston) pointed to numerous recalls in the auto industry and said car manufacturers have been slow to recall bad products.
"This whole notion that we've gotta get away from human drivers because machines are wicked smart. Come on. Please," Ryan said.
3. Who Is Liable?
There's also a question about fault and who's liable if one of these machines is involved in a crash — especially one that causes injury or death. It seems some lawmakers and automakers agree liability should fall on car manufacturers, rather than on the owner.
"General Motors as an automobile manufacturer is fully accountable for the safety of its products … and we would certainly feel the same way about any self-driving vehicle that we put on the road," Lightsey, of GM, said.
Many of the Massachusetts bills on self-driving cars call for auto manufacturers to have liability insurance, but wouldn't hold manufacturers liable if their vehicle was converted into an autonomous vehicle by a third party. It's worth noting: Toyota has said it doesn't have a position on who bears responsibility for damages.
4. Guarding Against Hackers
While the discussion around liability is ongoing, some say there hasn't been enough discussion about other risks the technology poses — namely, susceptibility to hacking. Self-driving cars operate with software that can be hacked.
"Just having someone come and say, 'Hey, you're going to install antivirus on my self-driving car' is not going to cut it," said Noel Zamot, president of the cybersecurity company Corvus Analytics.
Zamot told the state's autonomous vehicle working group last month that self-driving cars could be compromised at scale. He said it's basically the "wild west" right now when it comes to the cybersecurity of autonomous technology, and more guidance is needed.
"We have more guidance on how the lines for crosswalks are supposed to be painted on streets than we have guidance on how to secure critical infrastructure," Zamot said.
He said government needs to incentivize companies to build cybersecurity features into the design of self-driving cars — just like airbags are built into regular cars.
Self-driving cars also collect large amounts of data and there's concern about privacy, and how the data will be stored and used.
Alex Marthews of the privacy advocacy group Digital Fourth said autonomous vehicles shouldn't be implemented at the expense of people's privacy. He called on lawmakers to require data encryption, minimal data storage and the destruction of data once it's no longer relevant.
There are some potential benefits to this data.
"We hope that legislation would require data sharing to benefit transportation planning," said Chris Dempsey, the director of Transportation for Massachusetts. "Our needs for infrastructure may change with these technologies. If we don't have good data on how those needs are changing, we'll spend those infrastructure dollars in the wrong places."
5. Impact On The Transportation System
How self-driving cars will fit into the state's larger transportation system is another key issue lawmakers are considering.
In the race to get self-driving cars on the roads, many companies are looking to use them for ride-hailing services or shared rides. Uber has been testing its own self-driving cars, while Lyft has partnered with Waymo and GM to work on autonomous vehicles.
Many believe autonomous vehicles will increase mobility, especially for the elderly and disabled. But could these vehicles potentially exacerbate rush hour traffic as driverless cars roam around to pick people up and drop them off?
There is disagreement over the impact on traffic. Some research has shown self-driving cars are likely to lead to an increase in vehicle miles traveled. And that has some worried also about increased emissions.
"With autonomous vehicles, we think there's a great opportunity to transition more quickly to zero emission vehicles — electric vehicles," said Sen. Jason Lewis (D-Winchester), who is sponsoring legislation to require self-driving cars be electric.
---
If Massachusetts passes legislation on autonomous vehicles, it will join 13 other states and the District of Columbia in regulating the technology. The legislation in those states ranges from creating a committee to study self-driving cars (Alabama) to letting fully autonomous vehicles on the road without a driver (Florida) to allowing the vehicles to be used for ride-hailing services (Michigan). So far this year, over 30 states have introduced bills on self-driving cars.
Here's a look at the bills being considered here in Massachusetts:
H.1829, S.1945
Key issue(s): Testing, emissions, insurance, taxes, vehicle standards
These identical bills have a robust set of guidelines for autonomous vehicles, testing on public roads (a passenger would have to be present), speed limits, and data collection and storage. The bills also list fines for rule violations. And they outline a vehicle miles traveled tax.
The bills would require autonomous vehicles to be electric vehicles, have a failure alert system, and be clearly marked as autonomous vehicles. The bills also require companies to have liability insurance and to update their software within 30 days of a new release.
In terms of data, these bills would require data to be open source and include information such as distance traveled and number of passengers, which would be stored for a "reasonable time period." The bills also encourage data sharing.
H.1897
Key issue(s): Testing, insurance, vehicle standards
The bill would allow self-driving cars to be tested on public roads by employees, contractors or people designated by the car manufacturer. Companies would need a certificate that proves their vehicle meets certain requirements (the technology has to follow all traffic laws, have an on/off switch and a feature that stops the car if a person fails to take control when there's a problem).
This bill also requires companies to have $5 million in insurance before they're able to test self-driving cars. Companies wouldn't be held liable if their car was converted into a self-driving car by someone else.
H.1822
Key issue(s): Testing, insurance, vehicle standards
This bill mostly mirrors H.1897, but doesn't require self-driving cars have a feature that stops the car when there's a problem. The bill also doesn't require a certificate for companies that want to test on public roads.
H. 3422, S.1938
Key issue(s): Ride-hailing
These identical bills aim to deploy autonomous vehicles in Massachusetts for ride-hailing services. The bills would allow self-driving cars on public roads and highways for ride-hailing.
H.2742
Key issue(s): Human operator, interstate commerce
Under this bill, autonomous vehicles that haul or deliver goods or transport large numbers of people would be required to have a person inside to monitor the vehicle.
H.3417
Key issue(s): Emissions
This bill calls for all autonomous vehicles to be electric vehicles or "zero emission" vehicles.