AMA Endorses Trying Supervised Injection Facilities
This article is more than 5 years old.
The largest body of physicians in the U.S. is backing one of the most controversial proposals for curbing the country's opioid epidemic: supervised injection facilities.
The American Medical Association (AMA) says these rooms, staffed by medical personnel who monitor drug users, lead to fewer overdose deaths, less transmission of infectious disease and promote treatment. AMA leaders, by a voice vote, approved a resolution calling for development of pilot SIFs during the organization's annual meeting.
"There are legal issues that need to be addressed," said Dr. Patrice Harris, who chairs the AMA's task force on opioid abuse, "but the AMA certainly came out in support of pilot projects on these facilities so that we can collect the evidence and do a full evaluation of their effectiveness."
Harris says the AMA plans to monitor the opening of SIFs proposed in Seattle, San Francisco and New York, but it's not clear when or if these projects will launch. In San Francisco, legislation that would create legal exemptions so that SIFs could open has cleared one chamber of state lawmakers. But in New York, a push to open a supervised clinic in Ithaca appears to be stalled at the state capitol. And in Seattle, opponents are collecting signatures for a ballot question that would ban use of public funds for SIFs.
Some drug experts question research that shows a SIF in Vancouver, the only such facility in North America, saves lives. And John Walters, the director of drug control policy under President George W. Bush, calls government sponsored supervised injection facilities "shameful."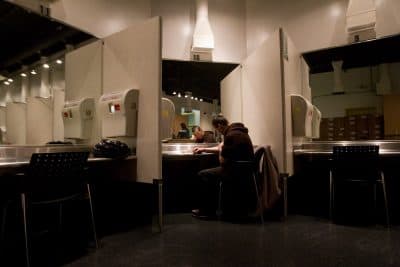 Walters says, in an email, that SIFs don't work and "mark an abandonment of our moral obligation to the addicted." He calls them "a cheap excuse for not demanding the real measures that save lives," such as court-supervised treatment.
But the AMA's Harris says doctors have an obligation to do everything they can to keep patients alive.
"It is appropriate to look at any proposals that could reduce harm in our patients," she said.
Many physicians who support trying SIFs in the U.S. say they are tired of watching patients overdose on increasingly potent opioids.
Dr. Sarah Wakeman, a primary care physician at Massachusetts General Hospital, says a SIF in Boston might have saved a man named Frankie whom she treated for seven years.
"In years past, this sort of harm reduction was often viewed as 'enabling' continued drug use,"  Wakeman writes in an essay about losing Frankie. "If the current epidemic can teach us anything, it's that drug use is soaring unassisted. The time has come to think instead about how we can enable people to stay alive."
A few politicians are beginning to agree.
"Harm reduction is the key and we need to use all the tools available," says Massachusetts U.S. Sen. Ed Markey, a Democrat. "The AMA is recommending one and I think we should follow their leadership."
The AMA's decision follows a similar vote by the Massachusetts Medical Society in late April. The group said its consideration of SIFs was "greatly assisted" by a review of research  prepared by physicians in Massachusetts.
This article was originally published on June 16, 2017.