In Texting Suicide Case, Judge Says Michelle Carter Had A 'Self-Created Duty' To Try To Stop Her Friend From Killing Himself
Play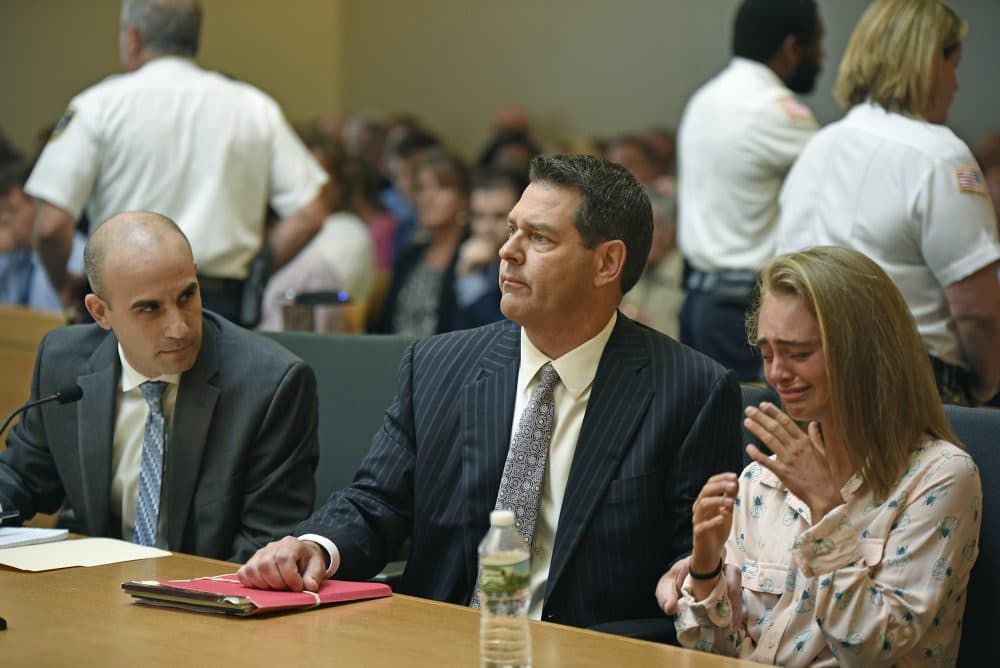 This article is more than 5 years old.
A judge in Taunton Friday convicted 20-year-old Michelle Carter of involuntary manslaughter in the suicide of her friend Conrad Roy.
The two were teenagers when the incident happened in 2014.
Carter was on the phone with Roy when he began to poison himself. He was inhaling carbon monoxide from a generator he was running inside his pickup truck.
Juvenile Court Judge Lawrence Moniz's decision Friday focused on what happened when Roy had second thoughts about suicide and got out of the vehicle. Moniz ruled that Carter caused Roy's death when she ordered him to get back into his truck as it filled up with carbon monoxide.
"The Commonwealth has proven beyond a reasonable doubt," Moniz said, "that Ms. Carter's actions, and also her failure to act where she had a self-created duty to Mr. Roy since she had put him into that toxic environment, constituted each and all wanton and reckless conduct."
The judge also said Carter had the opportunity to rescue Roy by calling for help, but that she listened instead to him coughing as the carbon monoxide from the loud motor poisoned him.
Though there are no state laws criminalizing the encouragement of suicide or stating the duty to report, the judge based his decision on two cases — the first from 1816.
An inmate in a Northampton jail was charged with murder for convincing a fellow inmate who was facing the death penalty to hang himself before the government could execute him.
Boston University law professor David Rossman says that case is relevant today.
"The jury found that the prisoner who hung himself would not have done so at that time had it not been for the messages that were sent by the first prisoner," Rossman says.
"That's a precedent for the application of the idea that the Commonwealth has always considered it to be homicide for one person to convince another person and to be the moving party in convincing the other person to commit suicide."
Judge Moniz also cited the case of the Commonwealth v. Levesque. It's the case of a homeless couple charged with involuntary manslaughter after they failed to report a fire they accidentally caused in a Worcester warehouse in 1999. Six firefighters were trapped and died as they searched for people inside.
The state's highest court ruled that when a person puts another person in a position of danger, they create for themself a duty to rescue or safeguard that person from the danger.
Attorney Ed Ryan represented one of the defendants in the Worcester fire case and he disagrees with the verdict in Carter's case.
He says Carter is unlike the two homeless people who clearly created a danger by accidentally starting the fire and then not reporting it. Ryan says Conrad Roy was already a danger — to himself.
"And without a finding that she created the danger," Ryan says, "I don't think you can premise a conviction on her failure to act because without the creation of the danger, by the individual, there is no duty to act."
Carter's guilty verdict will be appealed.
The National Suicide Prevention Lifeline is available 24/7 at 1-800-273-8255.
This segment aired on June 16, 2017.