Everything You Should Know About The Tall Ships Coming To Boston This Weekend
Short on details about Tall Ships? Well, landlubbers, here's everything you need to know about the parade of sails gliding into Boston Harbor this weekend.
What's Happening And When
First off, the Tall Ships docking is part of the international Rendez-Vous 2017 Tall Ships Regatta, a 7,000-nautical-mile transatlantic race. The gigantic multi-sail ships are docking in ports around the world, and Boston Harbor, which is steeped in maritime history (and not just the steeping of tea, sir!), is one of the six big stops. The ships will also hang out in the United Kingdom, Portugal, Bermuda, Canada and France.

From Saturday until Wednesday, June 21, there will be family-friendly music, entertainment and food around the areas at Boston Fish Pier and Charlestown Navy Yard linked to the Sail Boston event. Organizers expect more than a million people to attend through next Thursday, according to Dusty Rhodes president of Conventures, which is helping to put on the event.
The opening ceremony took place at noon Friday at the Boston Harbor Hotel Rotunda at Rowes Wharf and involved the Blessing of the Sails, a flags ceremony, speakers and the Boston fireboat "spraying water as a backdrop."
But, the real fun everyone has their sights set on comes Saturday with the Grand Parade of Sail in Boston Harbor.
Sail Boston, the event's organizers, say from 10 a.m. until 3 p.m., more than 50 of these enormous sailing vessels will "parade in flotillas from Broad Sound into the main channel of Boston Harbor, along the Boston waterfront, turning at Charlestown, before proceeding to their assigned berthing areas." The event was supposed to begin at 9 a.m. but was delayed due to fog.
Immediately following the Parade of Sails, the public will be allowed to board the ships — free of charge — which will be berthed at various piers, on the following dates/times:



Saturday: 4 - 10 p.m.
Sunday: 10 a.m. - 10 p.m.
Monday-Wednesday: 10 a.m. - 10 p.m.


*Times may vary "at the Captain's discretion," organizers say
Sunday, Father's Day, is a patriotic affair that will feature an 8 a.m. Patriot Run — when 200 sailors, Marines and Coast Guard members will run from North Jetty pier to Christopher Columbus Park and circle back — as well as a wreath-laying ceremony at 11 a.m. conducted by the Navy and Marine Corps. in honor of Massachusetts soldiers who have lost their lives serving in Iraq and Afghanistan.
On Monday, there will be a so-called Crew & Cadet Street Parade from noon until 2 p.m. that stretches from Seaport Boulevard to Downtown Crossing.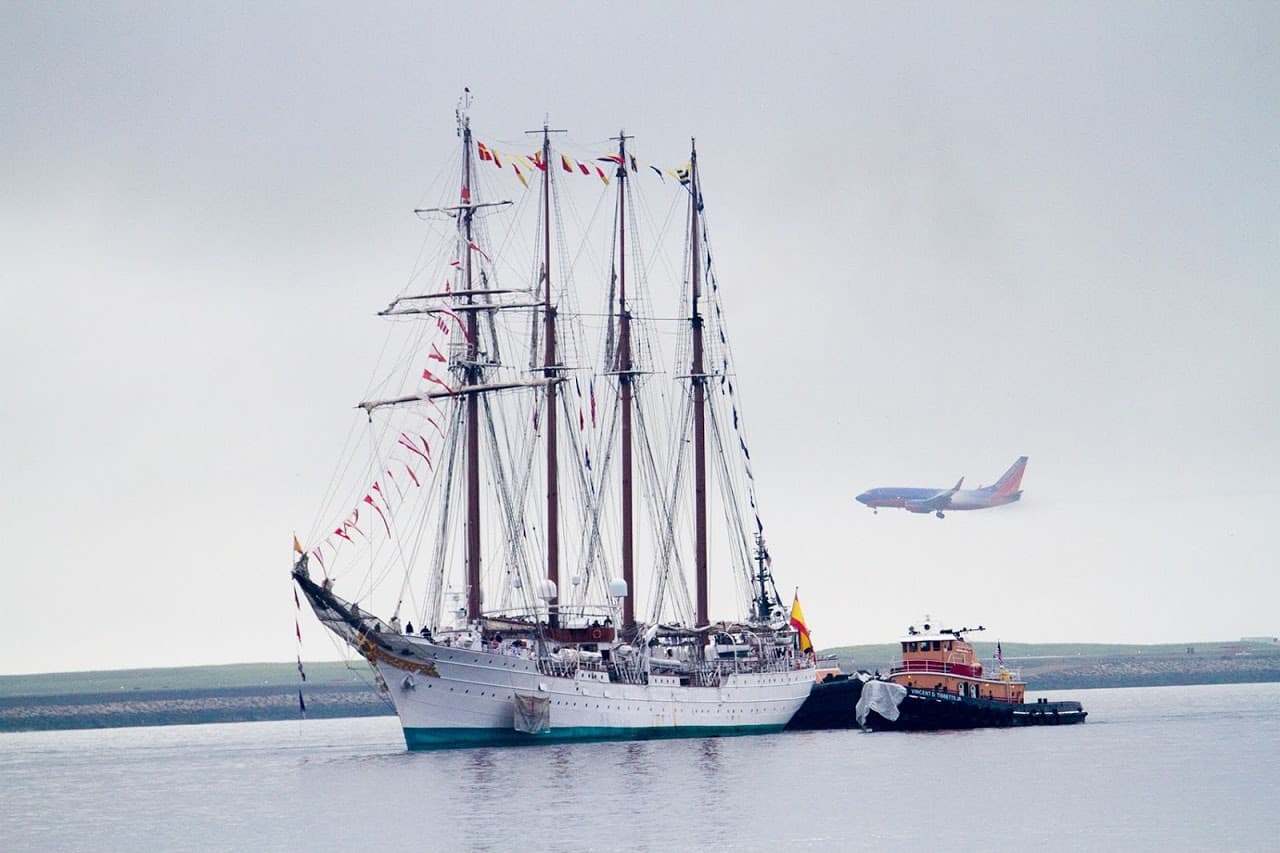 Why Go?
The Tall Ships' Grand Parade of Sail hasn't graced the Boston Harbor since 2000, and Boston is the only U.S. port hosting the spectacle this year.
The Tall Ships might also be a perfect way to celebrate Father's Day with a sea-loving dad. After all, the event prioritizes family-friendly fun with a historical focus.
Where To Watch Parade Of Ships
The Tall Ships parade will be visible from just about anywhere along Boston Harbor, from Deer Island to Castle Island. Organizers say "the best landside viewing locations will be from Castle Island, the Seaport District, the Downtown Waterfront, the North End, Charlestown and East Boston." (So, basically anywhere along the water.) Public access to these areas begins at 7 a.m.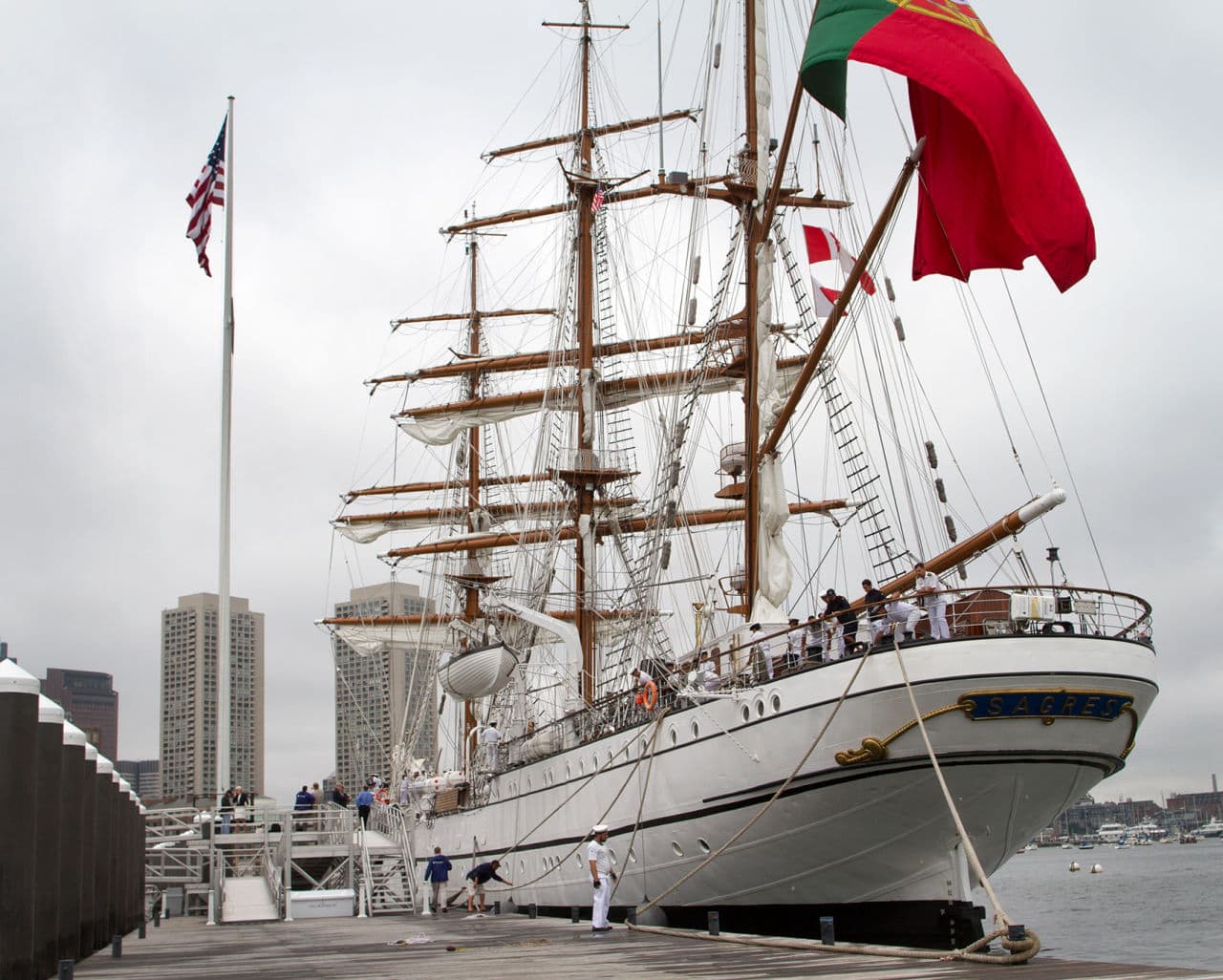 Weather
WBUR meteorologist David Epstein said in his forecast Friday that conditions over the weekend shouldn't be too bad for Sail Boston. On Friday, there may some showers in the late afternoon.
For Saturday, Epstein recommends voyagers to the Parade of Sail come in the late morning or early afternoon, rather than when it begins, as there could be some early showers. It will be more humid Saturday than Friday.
Getting Around With Public Transportation
From sports championship celebrations to the Boston Marathon to July Fourth on the Esplanade, Boston is a city used to scuttling along large crowds.
As always is the case for such big affairs, public officials are recommending people take public transit in and out of the city.
"The planning for this particular event has been going on now for well over a year," MBTA Chief Operating Officer Jeff Gonneville told WBUR's Newscast Unit. And the T had notes to work off of, too, referencing a manual from 2000 when the Tall Ships last came to Boston.
"From a security standpoint, our transit police has been working very closely with the FBI, Mass. state police, Boston police, the Coast Guard and other law enforcement agencies to obviously ensure that this event is a very successful and safe event," he added.
This year, the MBTA has set up special unlimited passes for patrons heading to see the Tall Ships. Here are the details, according to an MBTA release, on the four aptly-named passes:
- $5 MBTA Sail Boston Shuttles-to-Ships Passes: Allows unlimited travel on MBTA Sail Boston express shuttle buses during the days the shuttles operate.

- $25 Commodore Pass: Allows unlimited travel on subway and local buses from June 17 through June 21, including access to both MBTA Sail Boston shuttle bus options.

- $15 Day Sailor Pass: Allows unlimited one-day travel on subway and local buses, including the MBTA Sail Boston shuttle buses, and is valid for twenty-four hours from a first trip on subway or local bus.

- $35 Commuter Rail Day Sailor Pass: Allows unlimited one-day travel on any commuter rail line, subway line, and local bus, including the MBTA Sail Boston shuttle buses, and is valid for twenty-four hours from a first trip on subway or local bus for either Saturday, June 17, or Sunday, June 18.

While the passes can largely be bought at any major MBTA station until Wednesday, the Shuttles-to-Ships passes are also available for purchase using the mTicket app. Additional details on how to use public transit to get a better look at the ships can be found here.
Note that there will be two shuttle bus lines — one from JFK/UMass Station and Castle Island, as well as one rotating between Sullivan Square Station and Charlestown Navy Yard — that will help move visitors aiming to get more than a fleeting look at the ships from various locations.
The MBTA also said they will provide rush-hour service on all of its subway lines.
Starting Saturday, the commuter rail will run extra trains on mornings and weekends on its Fitchburg, Framingham/Worcester, Franklin, Haverhill, Lowell, Middleborough/Lakeville, Newburyport/Rockport, Providence/Stoughton lines. Additional trains on the Fitchburg, Framingham/Worcester, Haverill and Middleborough/Lakeville lines are being added just for Saturday, however.
Ferry service in the Boston Harbor is canceled Saturday but resumes Sunday.
If you plan to drive and pay to park downtown, the best advice is common sense: Reconsider driving in Boston or come with your car very early.
For more information about getting to the event, here is Sail Boston's FAQ on this.
Street Closures
Select roads in South Boston, the Seaport, the North End, Charlestown, East Boston and along Long Wharf start shutting down or become one-ways just after midnight Saturday and stay closed until 4 p.m. They are again shut down from 6 a.m. until 4 p.m. on Sunday, too.
Sail Boston has provided maps of the affected streets here, and WCVB has a written list of roadway changes by neighborhood.
Security And Prohibited Items
You can't be all Jack Sparrow about needing to bring in "your effects," as there are a number of things that are prohibited. Refer to the graphic below: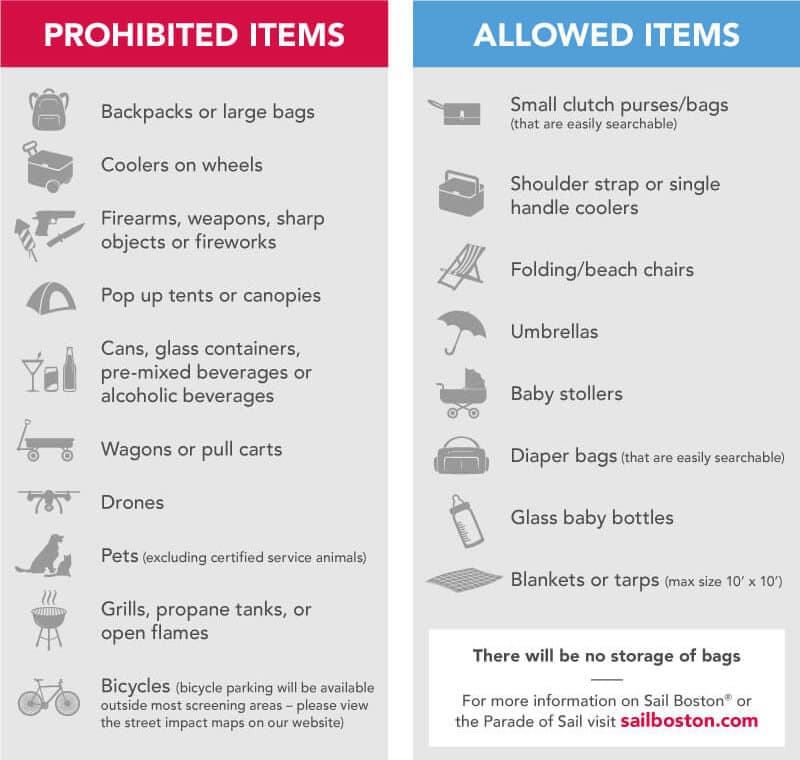 There will be no storage of bags or other items, either. The prohibited items list applies to all Sail Boston events this week. While you can leave the secured area and re-enter — you will be screened upon re-entry.
For more about security measures being taken this year, listen below to the Morning Edition interview from earlier this week between WBUR's Deb Becker and Massachusetts Undersecretary for Homeland Security Patrick McMurray.
How To Watch From Home
If large crowds make you feel like a squished sardine in a can, you can watch the Parade of Sails live on WCVB beginning at 5 a.m. Saturday.
With additional reporting from WBUR's Paul Connearney
This article was originally published on June 16, 2017.