The N-Word Is Shouted In Boston's Back Bay, With Reverberations
Play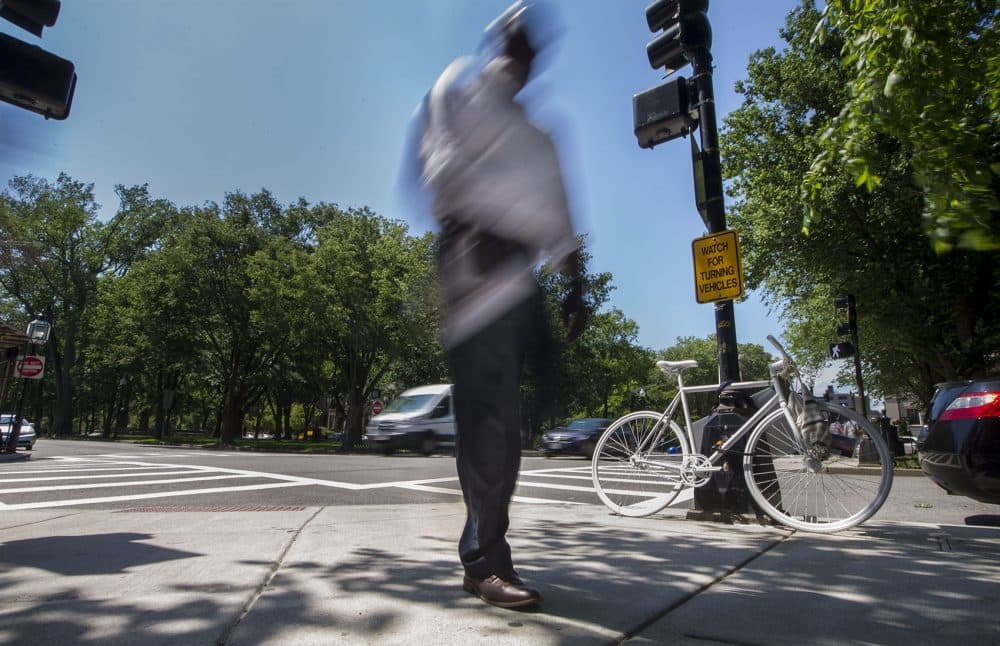 This article is more than 5 years old.
Editor's Note: This story contains an offensive word. After considering a diverse array of opinions, both inside and outside the newsroom, we at WBUR decided to publish and broadcast this story without censoring the word, using it just as it was said in the incident.
A few weeks ago I was interviewing the Rev. Laura Everett, at an intersection in Boston's Back Bay where a bicyclist was recently hit and killed, when in the background, we heard a pedestrian yelling at another pedestrian.
"Hey, nigger, walk on the sidewalk like you should," a white man said, in a clear Boston accent, at a black man walking in the opposite direction.
Everett and a young man standing at the corner looked at each other in disbelief.
"Did that happen?" Everett said.
"Did that just happen?" he said, almost simultaneously.
"Yeah," Everett said.
She added: "If you ever need an example of human sinfulness, just look at the roads. We are so cruel to one another."
"I've really never seen that happen before, and I grew up in South Carolina," the man said. "You see something that's so hateful and you can't even rationalize that it just happened."
Everett crossed the street to try and catch up with the black man, who was walking down the Commonwealth Avenue Mall toward downtown, but he was already gone.
"I thought I'd ask, see how he was doing," she said. "See if he heard it too."
We finished our interview and I returned to the newsroom, wondering what to do with the recording. Given the number of recent racial incidents in Boston — and the city's long and complex legacy of race relations — we felt we needed to report on what I'd heard.
Boston's Reputation
Earlier this year, "Saturday Night Live's" Michael Che called out the city before the New England Patriots played the Atlanta Falcons in the Super Bowl.
"For three hours [during the game], I just don't want to talk about any social issues or politics. I just want to relax, turn my brain off, and watch the blackest city in America beat the most racist city I've ever been to," Che said on the show.
A few months later, Baltimore Orioles center fielder Adam Jones said someone at Fenway Park called him the N-word. The mayor, the governor and the president of the Red Sox all spoke out, and the next night, fans greeted Jones in a fashion rare for an opposing player -- with a standing ovation.
Hate Hotline
Harvard law professor Randall Kennedy wrote a book about the N-word, a word he called the "atomic bomb of racial slurs."
"Not only [was] it used in that way 33 years ago," Kennedy said at his desk in Cambridge. "But is it used in that way today? Sure it is."
Kennedy says the current political climate has created a sense that bigotry can be OK.
"I think there's some people who are saying, 'Oh, this is great, I can now come forward and say things that before I didn't think that I could safely say,' " he said.
And the data back that up. The Anti-Defamation League of New England has reported an increase in anti-Semitic and other hate incidents in Massachusetts since the election of Donald Trump. And the state attorney general's office says that in response to the hotline it set up, it's received 10 reports of the N-word being used over that same period.
Kennedy stresses that the people who spew racial epithets are not characteristic of the Boston he knows. He says what's characteristic of Boston are the people who reject racism and attempt to marginalize it wherever it pops up.
But what's characteristic isn't always what makes the news. What does is when a school punishes two black girls for wearing hair braid extensions. That's what happened at the Mystic Valley Regional Charter School in Malden. Two days after the attorney general denounced it for singling out students of color, the school's board of trustees suspended the hair policy.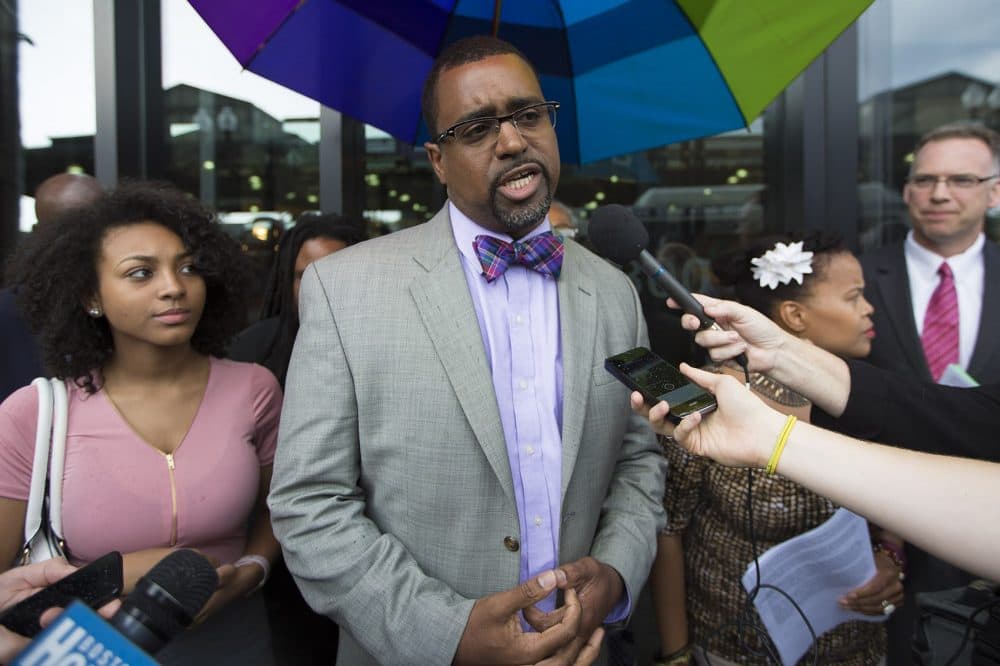 'Structural Racism'
Among those who showed solidarity with the girls in Malden was Rahsaan Hall, director of the Racial Justice Program for the ACLU of Massachusetts.
"We can't necessarily compare whether or not people are calling black folks the N-word more so here than in New Jersey or in Detroit or somewhere in the deep South," Hall told WBUR during a protest. "But what I do know is that the structural disparities that exist in Massachusetts are worse than some of the national disparities."
Hall points to research that shows African-Americans in Massachusetts fare worse than the rest of the country in economic and education measures. And, nationwide, blacks are nearly six times more likely than whites to be incarcerated; in Massachusetts, they're almost eight times more likely.
"To me that says that Boston and Massachusetts [have] more significant problems with race than other places in the country," Hall said.
Hall is talking about "structural racism," the idea that society is structured in a way that discriminates against minorities.
So, is there a connection between structural racism and the kind of racism where a white man feels free to shout the N-word at a black man? For Hall, the answer is yes. He says acts of individual racism are supported by — and inspired by -- structural racism.
"It's easy to point out the person that's obviously doing racist things," he said. "It's harder to have a conversation about the people who are maintaining systems of oppression ... and until we get to that and start teasing that apart, there's really not going to be any substantive change."
'Why Did I Not Intervene?'
Two weeks after my interview with Everett, I visited her in her office on Beacon Hill at the Massachusetts Council of Churches. She said she had thought a lot about how she reacted on the street.
"I was caught off guard," she said. "But that's not a sufficient excuse either."
Everett turned the pages of an old Bible for guidance.
"The sort of ultimate story that Christians point to is about the Good Samaritan, about how to be a good neighbor," she said. "And so as a bystander, where was I in that? Why did I not go after the guy who said this and say, 'Hey, you can't just walk across the street and use that word to someone'? Why did I not intervene?"
Everett said she's looking for appropriate ways to respond in the future. And Harvard's Kennedy has some thoughts.
"If someone was to say for instance, 'That's a terrible thing to say, shame on you,' it seems to me that would be a nice response," Kennedy said.
Kennedy says it's also important to approach the person who's been maligned.
Bear witness, he says, tell the person you saw what happened, express sympathy, and make it clear you're not OK with it.
This segment aired on June 15, 2017.