As More Officers Reach Retirement, Boston's Police Force Is Becoming Less Diverse
Resume
Fifty-six new recruits are ready to hit the streets after graduating Wednesday from the Boston Police Training Academy.
They are welcome additions, but not nearly enough to compete with the staffing challenges the Boston Police Department is facing: more and more officers are hitting retirement age, and the number of officers of color is declining.
"In 2017, eligible is 272. In 2018 it's 370, in 2019 it's 458," Police Commissioner Bill Evans said at a City Council budget hearing earlier this year. He was listing the cumulative number of officers who will become eligible for retirement over the next few years — those reaching the age of 55, with 32 years of service. Mandatory retirement comes at age 65.
The department is already short on staff. The Boston Police Department has a current staffing level of about 2,136. Evans wants that number to be 2,185. Without enough officers, the department is relying on overtime to fill shifts.
Evans says recruitment is not easy.
"It's a challenging profession right now," he said. "We probably recruited the hardest we ever did this year and we probably had the lowest applicant pool to take this last exam."
At Wednesday's swearing-in ceremony for the recent class of recruits, Tyraun Barboza stood with his infant daughter Lanai in his arms. He just completed six months of training with a focus on community policing and says he's looking forward to getting to work.
"It's about neighborhood policing," he said. "You want to bridge the gap between civilians and police force. You know, you gotta go in there with a positive mindset no matter how tough the job is. That's one of the things I'm looking forward to is trying to help bridge that gap."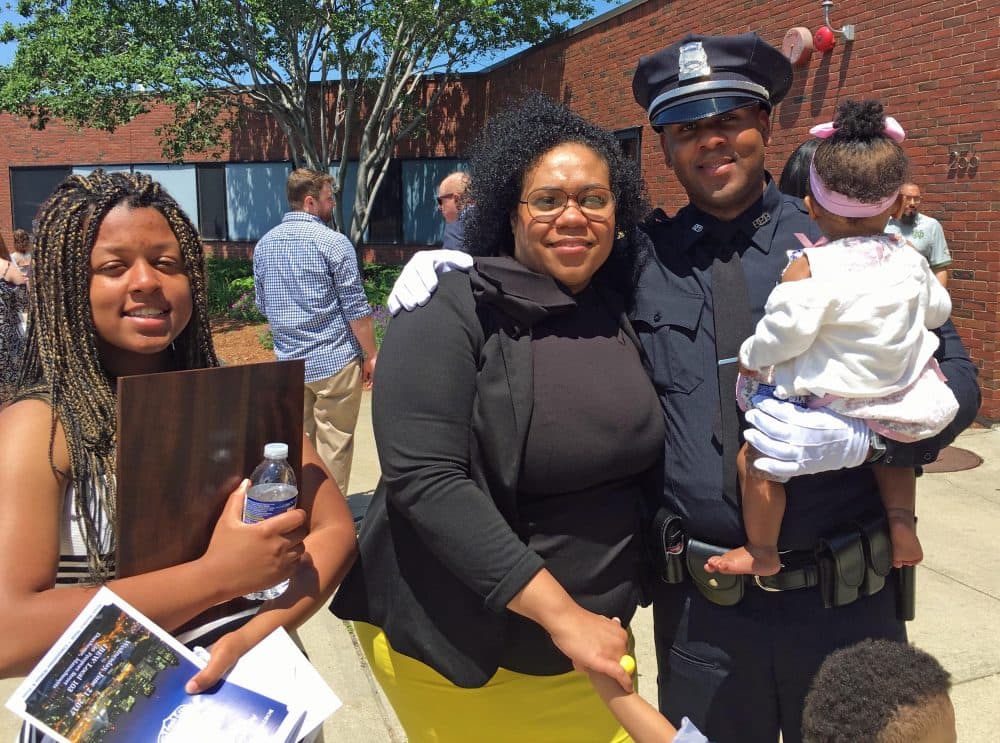 But in one way that gap is widening. In a city where people of color increasingly outnumber white residents, minority officers are vanishing from the force.
Today, the department has become less diverse than it was in 2004. That's when a federal judge overturned a three-decade-old consent decree that mandated hiring of people of color.
"If you look at the academy classes in the last 10 years or so since the consent decree expired, the number of officers of color have dropped dramatically," says Larry Ellison, president of the Massachusetts Association of Minority Law Enforcement.
Ellison says many of the officers hired during the consent decree era are reaching retirement. He expects that by 2018 the department will lose over half the officers of color who came on during that time. And, he says, the department now loses more officers of color than it hires every year.
The issue is apparent in the current class of graduates. Of the 56 recruits, nearly 80 percent are white. There is only one woman of color, only one Hispanic officer, and just two Asian-American officers.
Changing those numbers is now the responsibility of Michael Gaskins, BPD's first diversity recruitment officer and exam administrator. He started in February.
"We're desperately looking for those that have interest that are from the Asian communities and Hispanic communities," Gaskins said. "Not only to be a reflection but to also to serve. We know that there are a lot of English speaking citizens but there are also a lot of non-English speaking citizens and we want to make sure we can serve and provide services to those communities as well."
Gaskins says he believes the department can do a better job making sure people understand the opportunities given the changing demographics of the city. But he says Boston is not the only city facing a recruitment problem.
"Nationwide there is a shortage of people that actually apply to become police officers," he said. "It's a special opportunity and a special job and a special calling. I believe that we have to do a better job of making sure that people understand the position, the opportunities that are here."
The department wants to fill those opportunities quickly. It moved up the start date for the next class of recruits and increased its size. A new class of 100, almost double the recent class, begins training in August.
This segment aired on June 21, 2017.