'Jiu-Jitsu Saved My Life': Dorchester Gym Helps Youths With Struggles At Home
Resume
Walking up crooked, dimly lit stairs, you wonder, "Is this the right place?" There's sheet rock, an old toilet and a discarded vent pipe in the stairwell, but no signs for Level Ground Mixed Martial Arts.
After a couple flights, you hear music and follow it. You open the door to Level Ground and step into a big, bright, welcoming gym with music pulsing from a stereo, kids readying for class and the founder's dog, Corn Chips, roaming around like he owns the place.
From the moment you enter, it's clear Level Ground isn't your typical MMA gym. The nearly 7,000-square-foot space in Upham's Corner in Dorchester is newly renovated. There's a personal training area, a large workout room with a mat-covered floor and punching bags, a place for creating spray-paint art and a bunny lounge.
That's right, a bunny lounge. It's a large cage with three pet bunnies.
But it's not the bunny lounge or the spray-paint art or Corn Chips that make Level Ground truly unique. It's the students and the mission of the nonprofit gym and its founder Ali Fuller.
Nearly 60 students train at Level Ground, and most of the students are at-risk youth from Boston's toughest neighborhoods.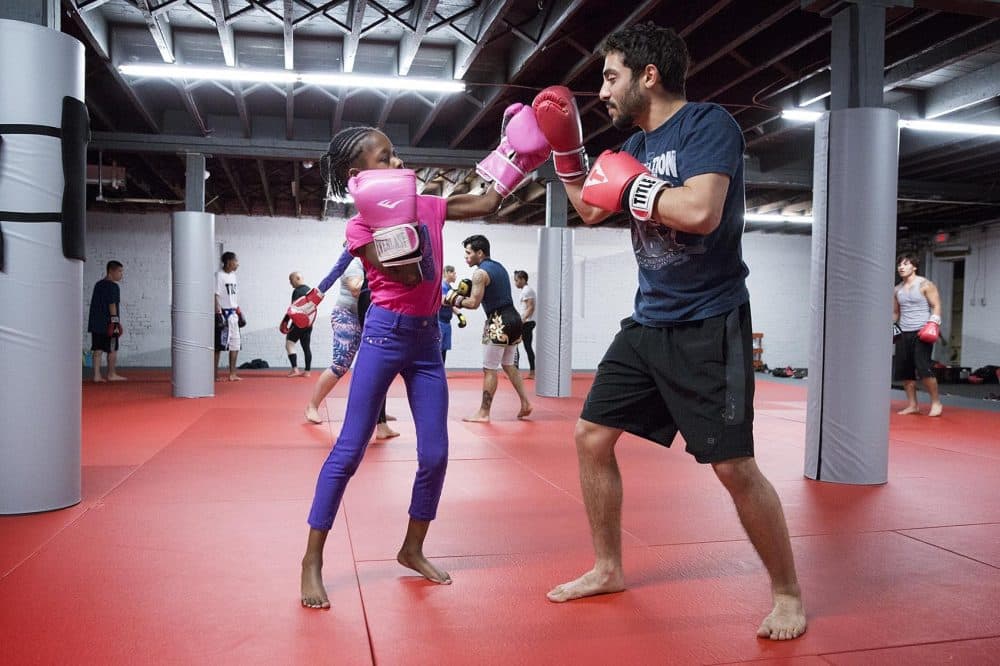 Jiu-Jitsu 'Keeps Me Sane'
"I have a lot going on at home, and this is the only sport that I've done that's actually been able to change my mood and emotions no matter what I'm feeling," says Alisandra Quinones. "After class, I always feel great."
When asked about her home life, Quinones mentions how her family spent three years in a homeless shelter and now lives in a building in Dorchester with a lot of drug activity.
"My dad is actually in jail," she adds. "He just got put in jail for four years. When I was younger, he was gone for eight ... Jiu-jitsu is kind of what keeps me sane."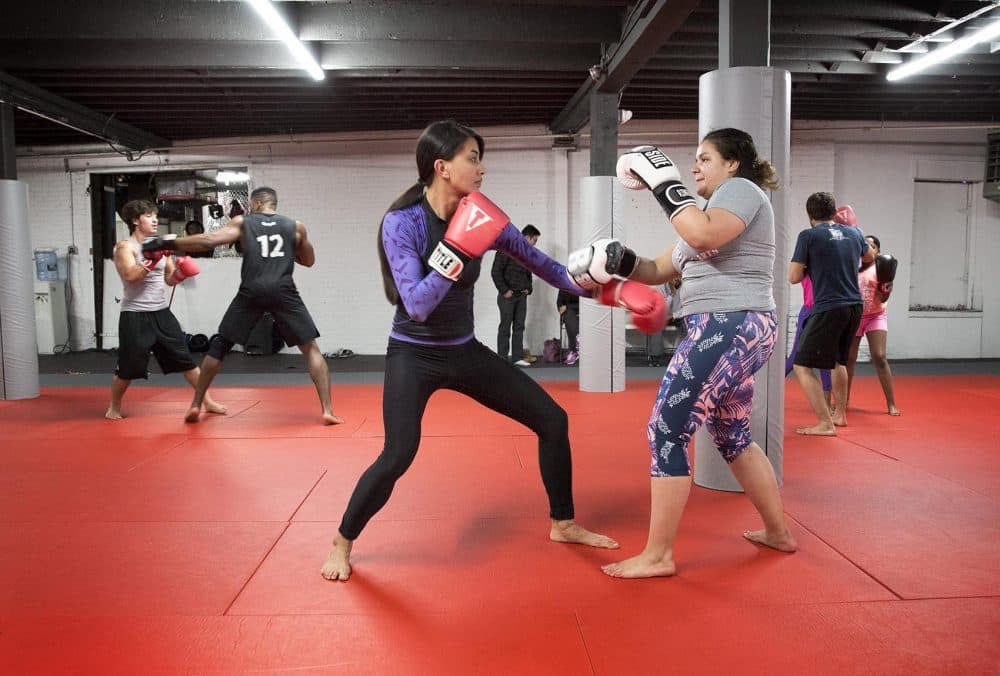 Quinones learns jiu-jitsu as part of mixed martial arts training at Level Ground. MMA combines the combat techniques used in Brazilian jiu-jitsu, Muay Thai, judo, wrestling and boxing.
At the professional level, in pay-per-view fights, MMA is unquestionably a violent sport. That raises the obvious question: Why teach it to at-risk kids, especially since many come from violent backgrounds?
"We try to ... create for them a second home because many of them have very volatile home environments. For a lot of them, this has become their second family."

Ali Fuller, Level Ground's founder
Fuller says MMA naturally appeals to at-risk kids because they're often looking for a way to channel their aggression or defend themselves. Once they get to training there, they realize the sport and the gym offer even more than that — much more.
"We try to establish a safe, supportive, friendly, fun community for these young people, create for them a second home because many of them have very volatile home environments," Fuller says. "For a lot of them, this has become their second family."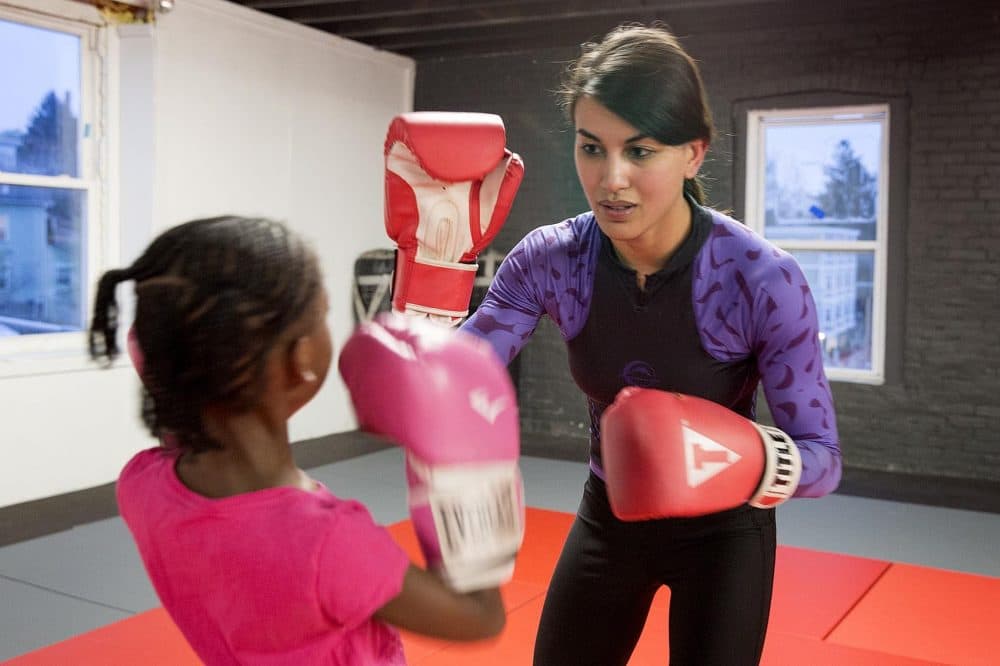 Students credit Fuller with fostering that family.
"I love her like a big sister, like a mother figure," says 19-year-old Marc-Anthony Aviles. "She's shown me more love than some of my own blood."
And when you ask Aviles what he's learned from MMA classes at Level Ground?
He answers: "There's a certain way of thinking that you develop — the discipline, the diligence, the focus — that you learn here that you can apply to all aspects of life. ... It's been a crazy, amazing journey. You know, jiu-jitsu saved my life."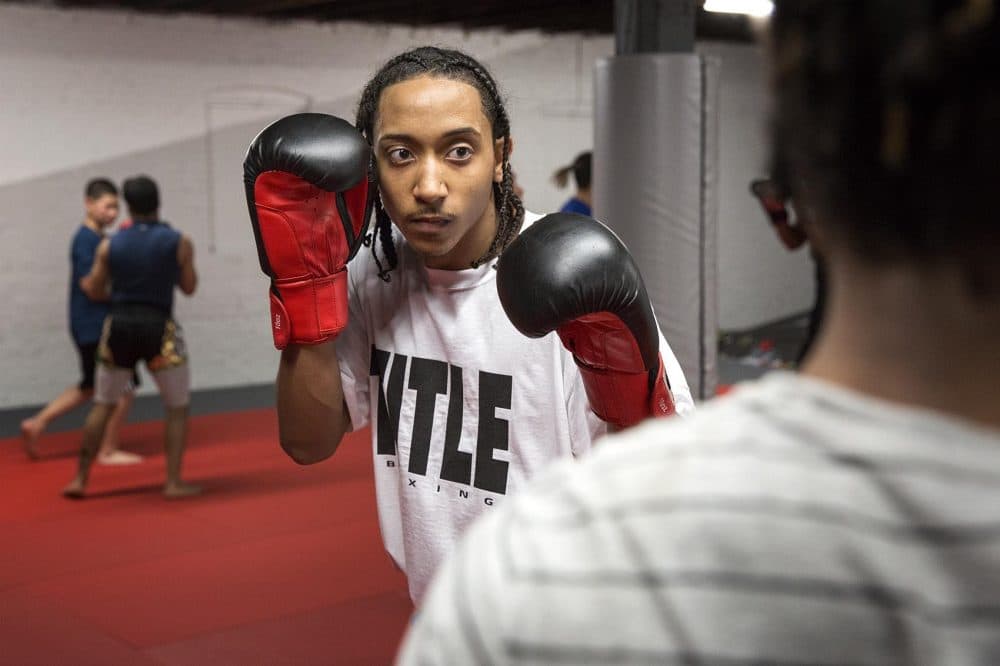 Building Strength And Skills For On And Off The Mat
It's almost time for the Thursday night Muay Thai class. As a college and career counseling session ends, Fuller's voice commands attention.
"Guys, let's get changed and on the mat, please. Two minutes please," she shouts above music from a nearby speaker and the general chaos created by a couple dozen kids.
The students rush into the workout room, take off their shoes, bow, then step onto mat. The youngest students, the beginners, are 8, 9 and 10 years old. The oldest students are in their late teens and early 20s. Some are good enough to fight in amateur bouts.
But that's not the main goal.
"I want them to learn on the mat the principles of determination, of perseverance, of grit."
"I want them to learn on the mat the principles of determination, of perseverance, of grit," says Fuller. "I want them to learn how to be humble young people and to know when to ask for help.
"The techniques, the positions are incredibly complex and you have to constantly say, 'I don't understand this, I don't understand this.' And I hope that off the mat, they will learn it's OK to ask for help."
On one side of the mat, the youngest kids learn punching techniques from an older student.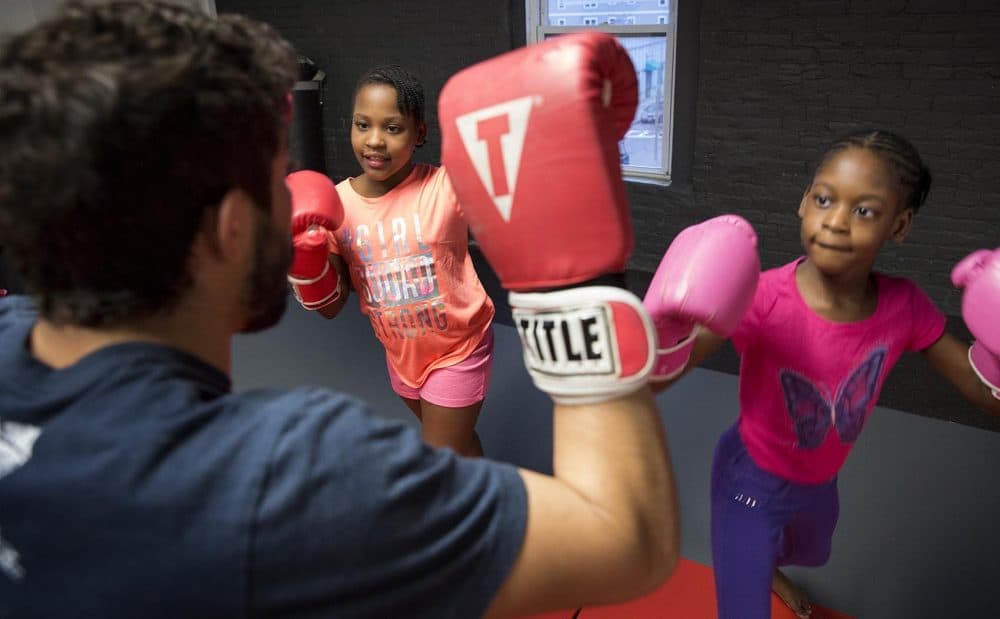 Nearby, Aviles works his way back from injury and practices his jab. On the other side of the mat, some of the more experienced students go through attack-and-defend drills.
Quinones is one of the students in that group, and she begins sparring with classmates and working on punch combinations.
One of her training partners is 20-year-old William Graustuck. He introduced Quinones to Level Ground about three years ago.
"Level Ground helped me man up to what I've got to do," says Graustuck. "They basically stuck behind my back and said, 'You can do it,' so I did."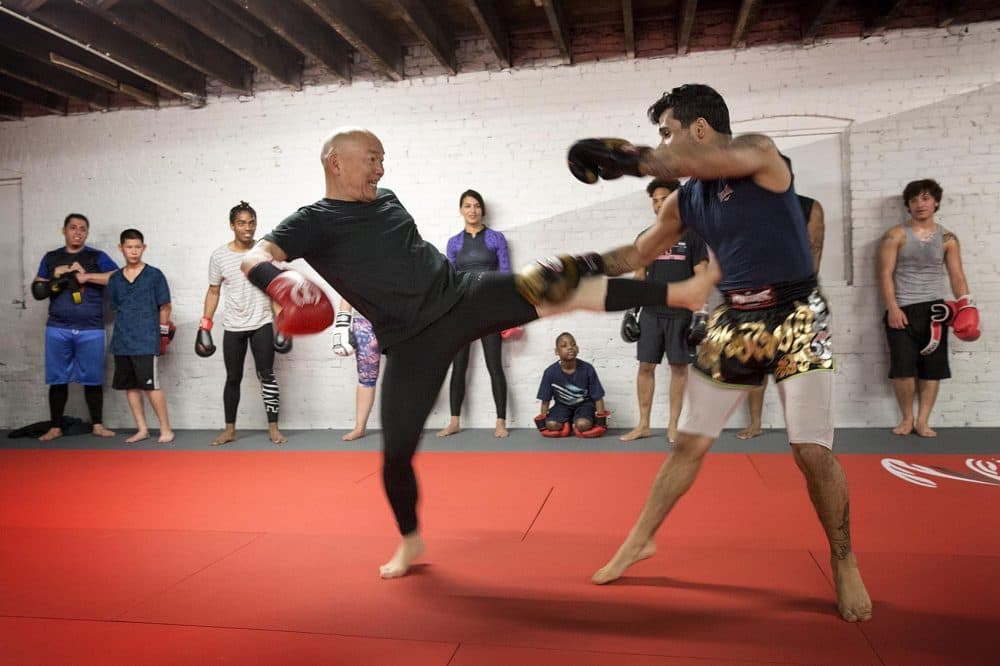 When you ask Graustuck where he'd be without Level Ground, he's brutally honest: "I'd probably be in jail right now, ended up in jail or something like that from stealing, handling guns and stuff like that."
Graustuck competes at the amateur level. One day, he hopes to be a pro MMA fighter and personal trainer.
As for Quinones, she has her sights set on studying art in college. She discovered a talent for art through Level Ground.
Aviles wants to go into real estate, run his own business flipping houses and continue with MMA.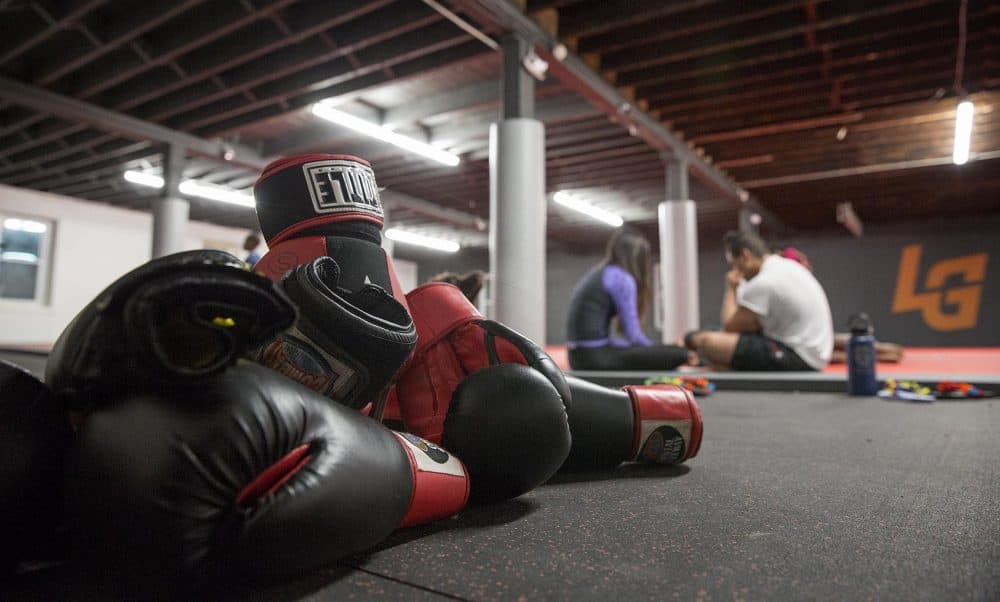 Class ends with everyone gathering in a circle for a group cheer.
"Um, dos, très, família," the students shout.
It means "1, 2, 3, family" in Portuguese. It's a nod to MMA's Brazilian roots and to the family they've created at Level Ground.
This segment aired on June 21, 2017.