Cadden Sentenced To 9 Years In Meningitis Case As Questions Around Verdict Slip Swirl
Play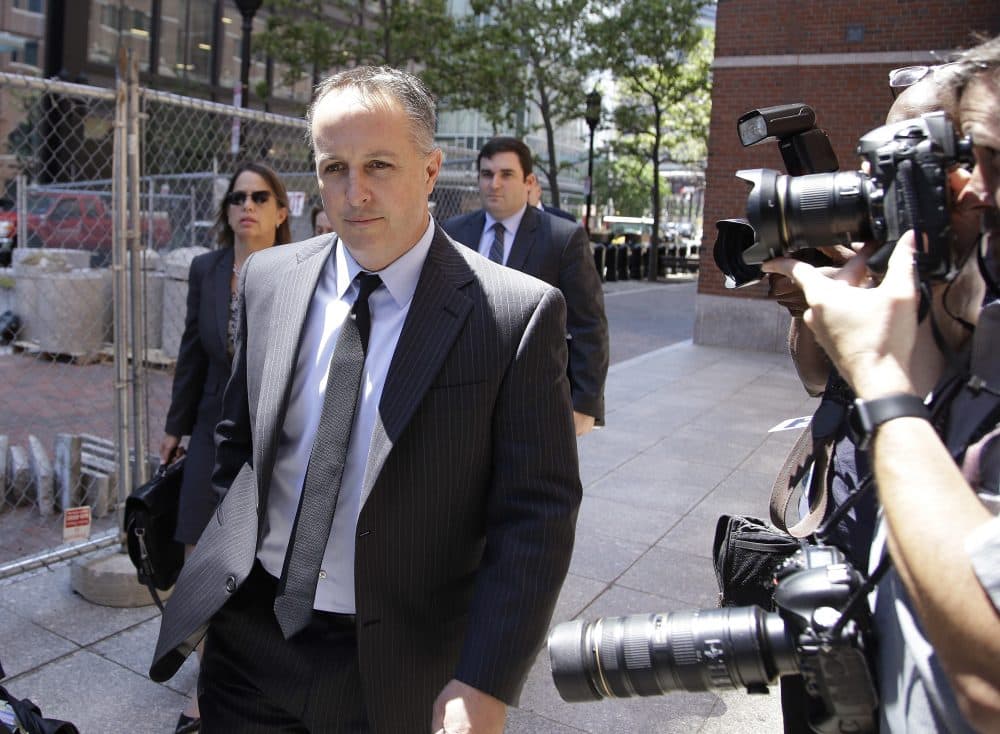 This article is more than 5 years old.
A co-owner of the Framingham pharmacy blamed for the deaths of 76 people in a deadly meningitis outbreak was sentenced Monday to nine years in federal prison.
The sentence given to Barry Cadden was a disappointment for victims of tainted injections prepared by the New England Compounding Center.
"Nine years? He's going to get out feeling good — feeling better than ever — and be able to go on with his life while a lot of us won't even be here," said Victor Davis, one of dozens of victims who traveled to Boston to see Cadden sentenced.
Judge Richard Stearns expressed sympathy, but he ruled that Cadden's crimes were not serious enough to merit the much longer 35-year sentence prosecutors requested.
In March, Cadden was found guilty of racketeering and mail fraud, but the jury found him not guilty of second-degree murder, which was the most serious charge he faced. Since then, the jurors' unusual verdict form — which appears to show the jurors were not unanimous in their verdicts — has raised several questions that remain following his sentencing.
During a short break in court Monday, the jury foreman told WBUR that the jury's understanding regarding the controversial verdict form was, "if it wasn't unanimous for guilt, [the verdict] was 'not guilty.' " The jury foreman did not say it was the jury's understanding that they had to be unanimous for a "not guilty" verdict, as well, and this may reflect the confusion that appears to have been the case among the jurors.
Some victims also said they had read and heard accounts about the jurors' verdict form and expressed frustration with the judge over seemingly not ensuring the jurors were unanimous in their verdict.
WBUR's David Boeri reports on the sentencing proceedings and efforts to obtain the jury list.
This article was originally published on June 27, 2017.
This segment aired on June 27, 2017.