5 Things To Do This Weekend From Hot Air Balloons To Festival Betances' Greasy Poles
This article is more than 5 years old.
This weekend is looking pretty good, so be sure to check out at least one of the two free outdoor festivals happening in town. And/or get acquainted with some of the best art and theater produced in Boston in recent years. Or, like me, flee the city altogether.
---

Green River Festival | Friday, July 14 - Sunday, July 16 | Greenfield Community College
The Green River Festival is a couple hours away from Boston, and at the moment I'm finding that the most appealing thing about it: an escape from the teeming metropolis, complete with beer, food, kid-friendly activities and, if you're willing to shell out, hot air balloon rides. The focus, of course, is excellent live music. Green River Festival is presented by Signature Sounds, a folk and Americana-oriented indie label, but festival organizers do a nice job of mixing it up — this year features reggae, New Orleans funk and Cuban music along with the usual singer-songwriterly fare. I'm especially looking forward to Malian duo Amadou and Mariam, local bluegrassers Twisted Pine and recent NPR Tiny Desk Contest winners Tank and the Bangas. (Check out my summer preview for more music picks.)
---
Festival Betances | Saturday, July 15 and Sunday, July 16 | Villa Victoria, Boston's South End
Festival Betances calls itself "New England's longest-running Latino cultural celebration," and it's an institution in Boston. For good reason, too: Along with tons of live music, the festival features such diversions as a domino tournament and a greased pole-climbing competition. Plus, a parade! Free and open to the public. (See Greg Cook's story on the pole-climbing competition.)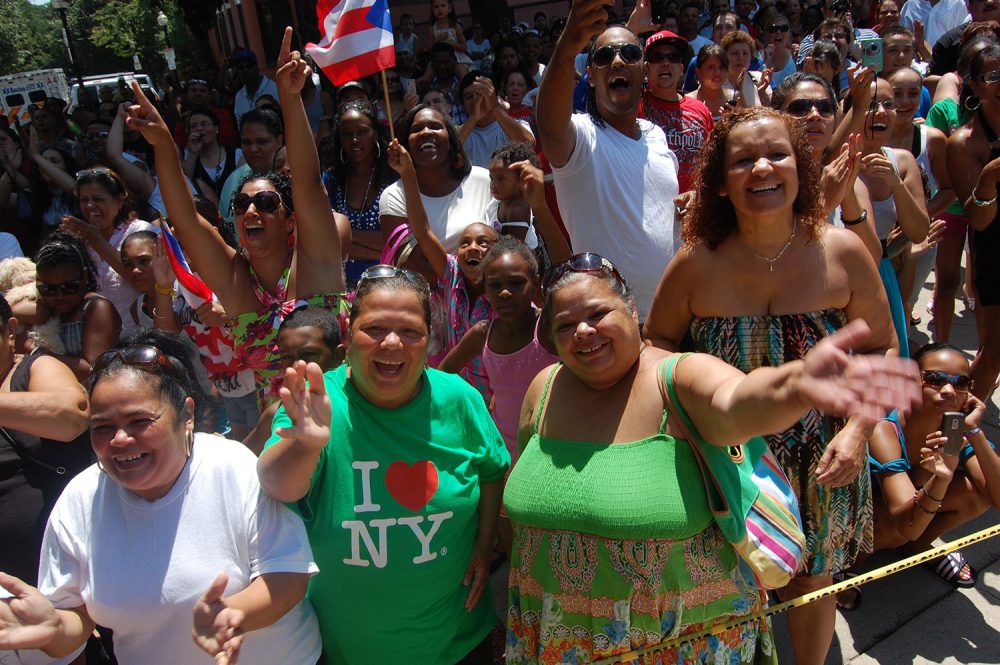 ---
Somerville Artbeat Festival | Friday, July 14 and Saturday, July 15 | Davis Square, Somerville
Every summer, the cars are banished from Somerville's Davis Square so that it can transform into an open-air arts fair. Artbeat features lots of local music, vendors selling tie dye and fun wallets (I still use mine) and area restaurants hawking food under tents on the street. Artists are invited to create work around a theme, and this year it's "voice" — an invitation not just to sing, but to speak out. Free and open to the public.

---
'The Art of Ekua Holmes' | Through July 27 | Simmons College, Boston
Roxbury artist Ekua Holmes' luminous collages belong squarely in the Harlem Renaissance tradition, though they emit a radiance all their own. Her recent debut as a children's book illustrator, for a biography of Civil Rights activist Fannie Lou Hamer, helped garner three of the most prestigious book awards in the country. Those pieces and others are on display at Simmons College's Center for the Study of Children's Literature. (Read more about Holmes work.)

---
Bostonian Society's 'Blood on the Snow' | Through Aug. 20 | Old State House, Boston
Who knew a council meeting could be so thrilling? In "Blood on the Snow," audiences are treated to an hour-long dramatization of the heated deliberations that took place in the aftermath of the Boston Massacre — in the very room where it all went down more than two centuries ago. "Long-simmering popular anger, governmental heavy-handedness, distant and unsympathetic heads of state," ARTery critic Kilian Melloy writes. "The material focuses on events from centuries past, but the concerns and conflicts it delineates feel timely." (Read the rest of his review here.)