With A Terrific 'Cymbeline,' Shakespeare & Company's Tina Packer Has Now Done It All
Tina Packer didn't just pick a peck of Shakespeare plays. She directed the whole bloody 37-play canon — the masterful finishing touch, "Cymbeline," is now on at the company she founded 40 years ago, Shakespeare & Company in Lenox.
This is hardly a vanity project. Packer is not only one of the most thoughtful Shakespeare directors around, she's one of the most exciting Shakespeare directors around. There are echoes of contemporary politics bound up with creative feminism, strong humor, beautiful movement and melt-in-your-mouth acting that feels as natural as anything on your favorite television show. And in almost every case I can think of, her interpretations don't bend Shakespeare out of shape — she convinces you that he and she are theatrical soulmates. A personal list of favorite Shakespeare productions would have to include her stagings of "The Merchant of Venice," "Henry IV, Part I" and "A Midsummer Night's Dream."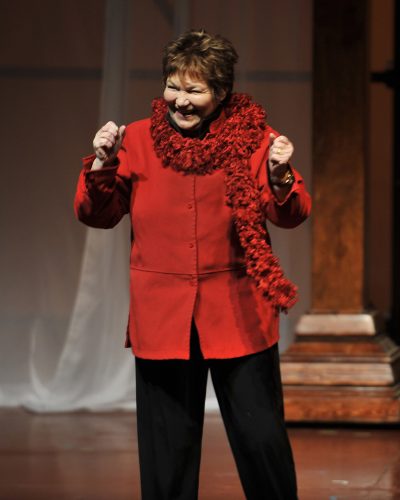 All her strengths are on display in "Cymbeline" (through Aug. 6), a late, lesser-known comedy (mostly) that neatly echoes plot twists and themes from previous plays, from the gender-bending "As You Like It" to the crossed fidelities and suspicions of "Othello."
How many other Shakespeare plays can you name that resonate with the plot, boys and girls? Cymbeline is the king of England(ish), whose daughter Imogen is in love with Posthumus. Cymbeline breaks them up, Postuhumous leaves the country, Imogen is besieged by other suitors, a Iago-like Italian bets Posthumous that he can prove Imogen is unfaithful, Imogen disguises herself as a man and goes off into the country where she's reunited (without knowing so) with her two brothers, both played here by women.
Fun, huh? You betcha, to quote a well-known Shakespearean scholar. Though "Cymbeline" clocks in at nearly three hours, it's a blast. Packer's son, Jason Asprey, becomes a more delightful comedian every year. Packer's frequent on-stage partner, Nigel Gore, and Jonathan Epstein, play a variety of roles to both comic and dramatic perfection. Epstein, who had been feuding with Packer until recent years, takes the majestic, ultimately redemptive, title role.
Helping make Packer a completist is Allyn Burrows, a long-time member of the company who's now the artistic director after running Actors' Shakespeare Project, where he brought Packer in to Boston to help finish her odyssey. His wife, Tamara Hickey, is a lustrous Imogen — also going from tragedy to comedy on a dime. With all that talent in the family, their young daughter Sadie might be the most talented of them all, if her co-starring role in the curtain speech is any indication. ("Open your candy wrappers NOW.")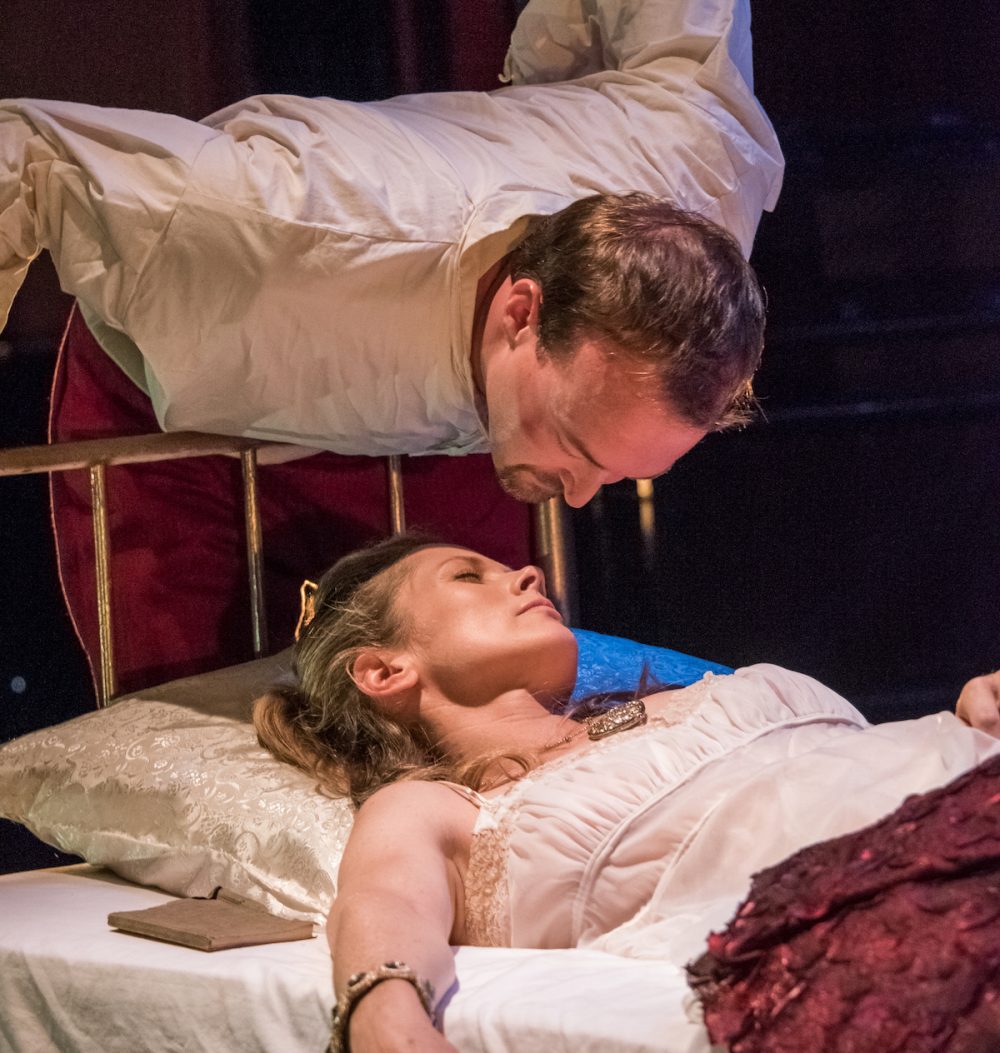 Another actor who gets better every year is Josh Aaron McCabe as the treacherous Iachimo. What a Iago he'll be some year. Thomas Brazzle, though, is a disappointment as Posthumous, going in for the kind of over-italicized, trilling style of acting that Packer usually abhors.
Still, Packer brews a magic potion out of these often zany proceedings. While there's some initial confusion about the plotline, with even the lead actors playing multiple roles, and there's really no scenery to chew on, the production gets into an early groove and then hits one high note after another. The costume changes for Gore, at the end of the show, are hilarious.
Though Packer's politics lean toward the pacifist (ah, alliteration) she's not afraid to get her hands bloody. Can a beheading be humorous in this day and age? Packer's not afraid to go there and you'll be laughing too hard at the consequences in the plot to be offended.
What a fitting end to Packer's traversal of the canon. Though fortunately, it's not the end of her career. I'm ready for her to start all over again.