Take A Look At 15 New Murals Splashed On Downtown Lynn's Brick Walls
This July, muralists from Greater Boston and places around the world congregated in Lynn, on Massachusetts' North Shore, to bring the industrial town's brick walls to life. In just 10 days, 15 new murals popped up downtown — all within walking distance — during the Beyond Walls Mural Festival.
We went to go check them out — and you should too (use this handy map). Here's a look at the artists and their works:
Miss Zukie and JPO | 16 City Hall Square, Lynn
New York City-based artists Alison Perez (aka Miss Zukie) and John Paul O'Grodnick (JPO) collaborated on this wall in Lynn's City Hall Square. The cartoon creatures are a signature of Miss Zukie and you can see JPO's style in the forms that dominate the upper half of the mural.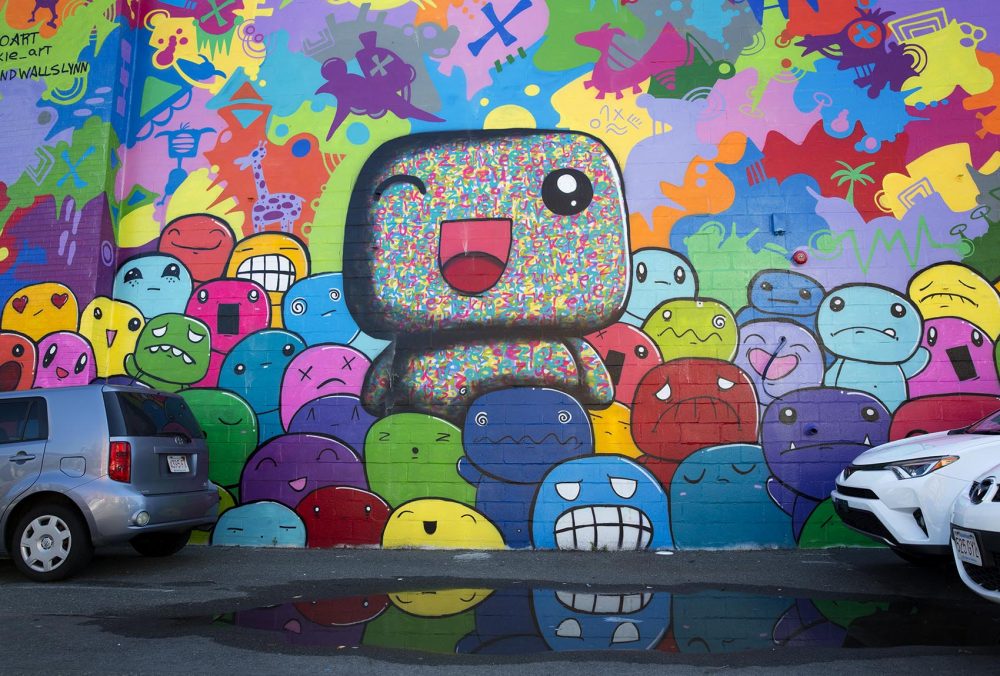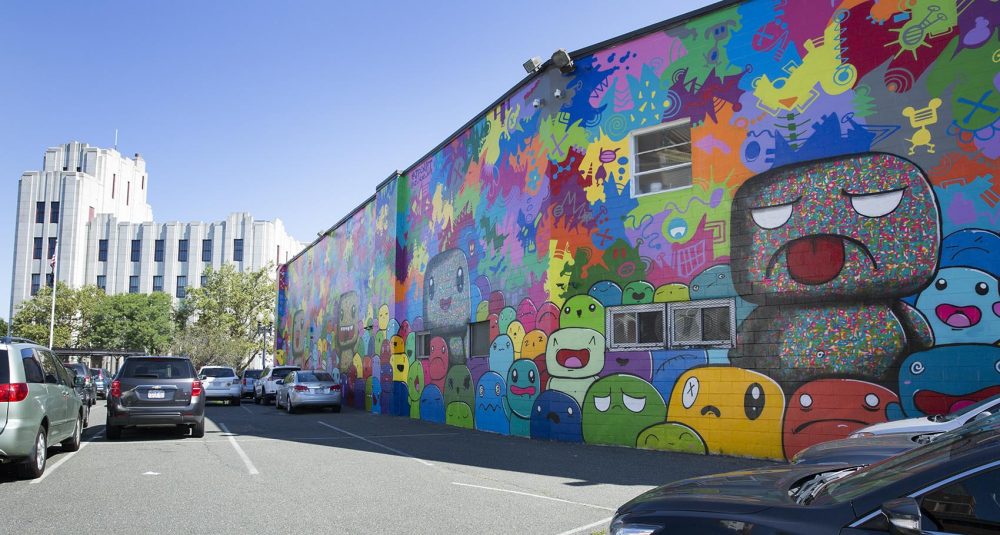 ---
Temp and Relm | 173 Oxford St., Lynn
Lynn natives Temp and Relm cut their teeth in graffiti writing at an early age, throwing up tags around the city. If you look over to the left end of the mural, you could see "Lynn, Lynn..." written in script (click image to enlarge) — a hat tip to the rhyme "Lynn, Lynn, City of Sin" that has dogged the city and is something the festival organizers want these murals to counteract.
---
FONKi | 18 Munroe St., Lynn
Canadian artist known as FONKi is big in Montreal's contemporary graffiti scene. His parents were refugees of the Khmer Rouge genocide in Cambodia (something he goes to the country to confront in the 2015 documentary "The Roots Remain"). A lot of his art touches on immigrants and his own heritage.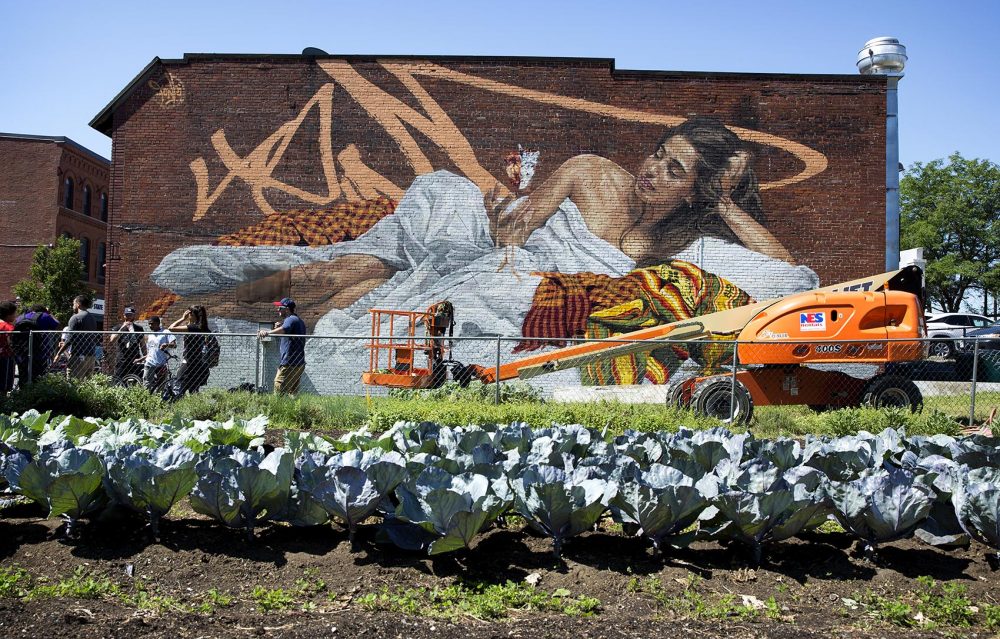 ---
Caleb Neelon and Lena McCarthy | 33 Munroe St., Lynn
You might recognize the big-eyed little creatures in this mural. They're a common theme in Cambridge-based painter Caleb Neelon's work, inspired by pioneer children's book illustrator Ed Emberley, who is based in Ipswich. (You can see them pop up in Neelon's murals in Allston, Cambridge, Somerville, Chelsea, Worcester and around the world.) Artist Lena McCarthy, a Wayland native, helped Neelon with this mural.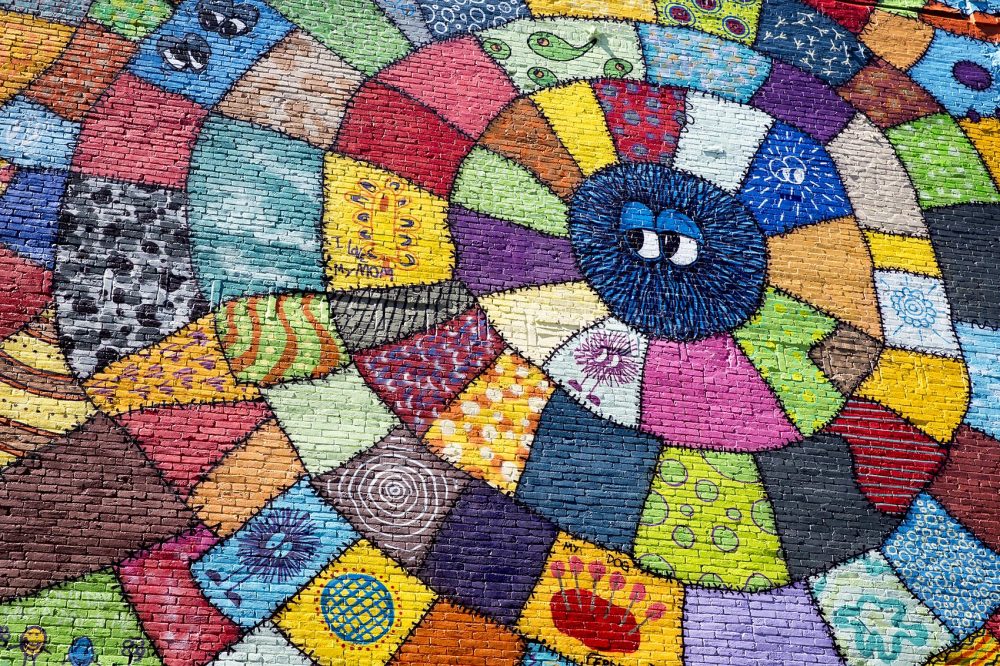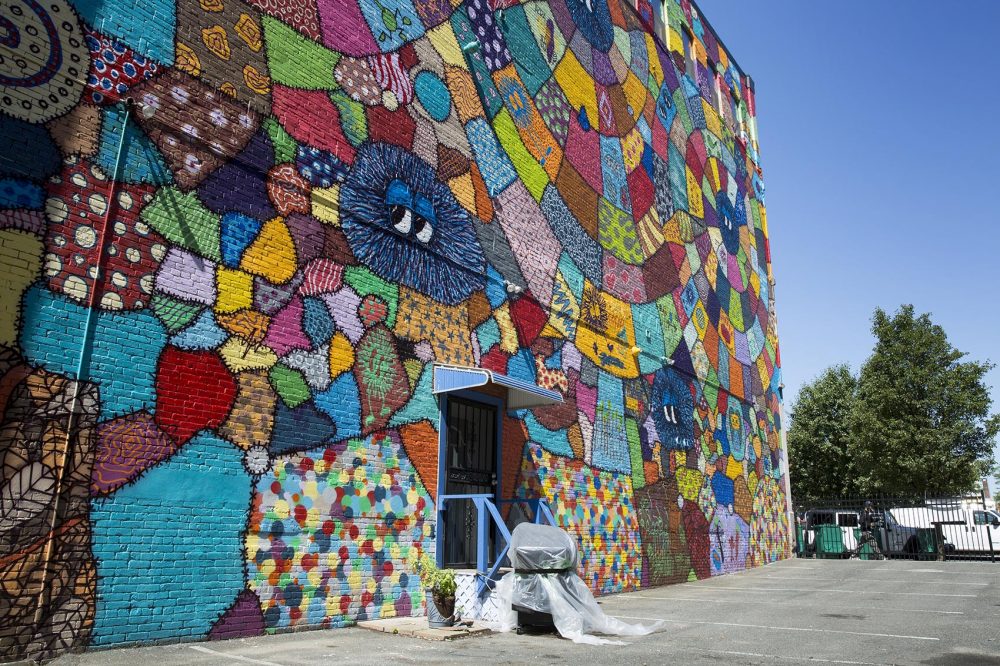 ---
Cey Adams | 65 Munroe St., Lynn
New York City artist Cey Adams emerged in the graffiti scene in the late '70s. He went on to become the founding creative director of Def Jam Recordings and is credited with shaping hip-hop design. According to The Daily Item in Lynn, this mural was inspired by the lyrics of Boston-native and disco legend Donna Summer.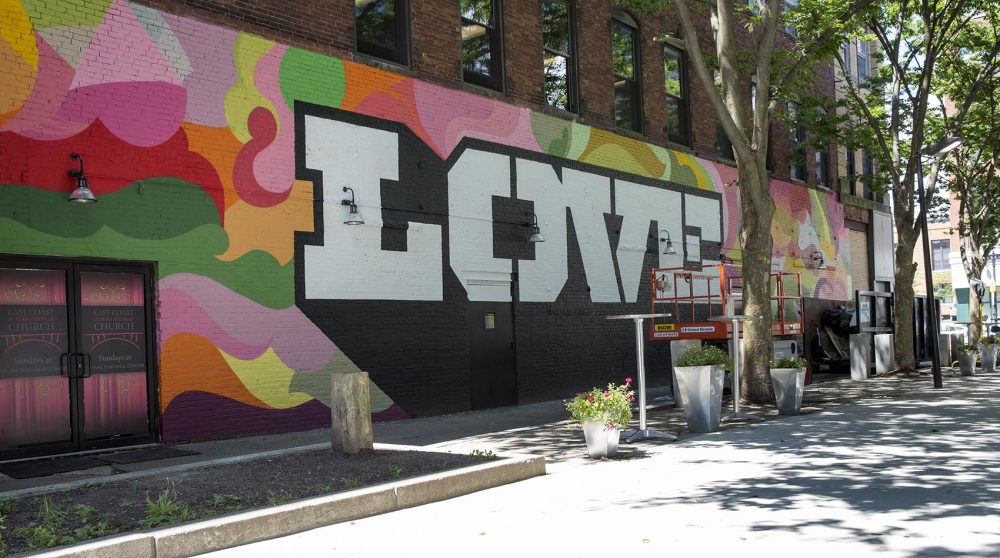 ---
Georgia Hill | 85 Munroe St., Lynn
Right across the tree-covered sidewalk from Cey Adams' wall, Australian artist Georgia Hill painted the words "Not Long Now." You could usually spot a Hill wall thanks to the black and white, almost yin-yang contrast and the bold type face.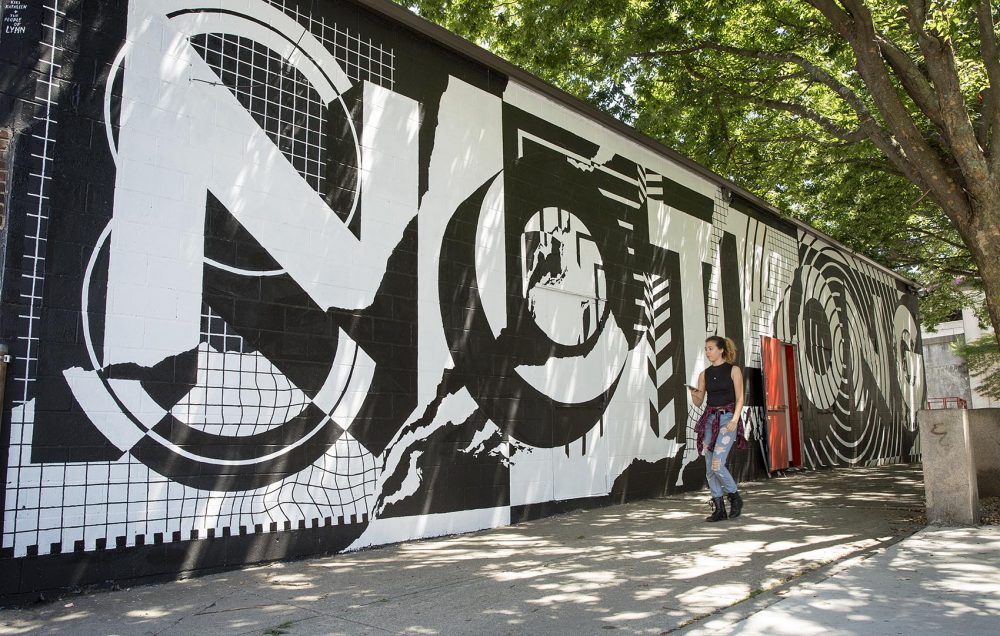 ---
Cedric "Vise" Douglas and Julez Roth | 114-120 Munroe St., Lynn
Boston-born artist Cedric "Vise" Douglas is not only an active participant in the world of local street art, he's also an activist who works to draw in new artists. You may have seen his UP Truck (short for Dorchester's Uphams Corner) around the city. It's a mobile art center that aims to engage Boston's under-served communities in creative pursuits.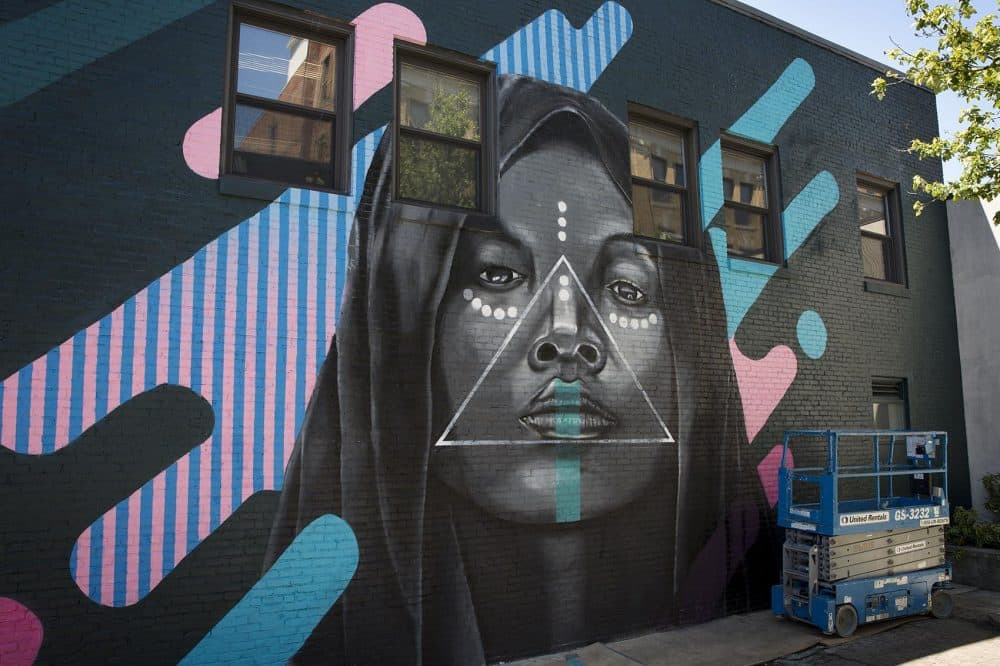 ---
Bruce Orr and Good 2 Go | 129 Munroe St., Lynn
Bruce Orr, in addition to working as an illustrator, painter and co-founder of a puppetry organization focused on reducing waste, is an art therapist. The Italian-born, Delaware-raised artist partnered with the Lynn organization Raw Art Works, which engages at-risk kids in art. Raw Art's team of male teens specializing in public art, Good 2 Go, helped Orr on this wall.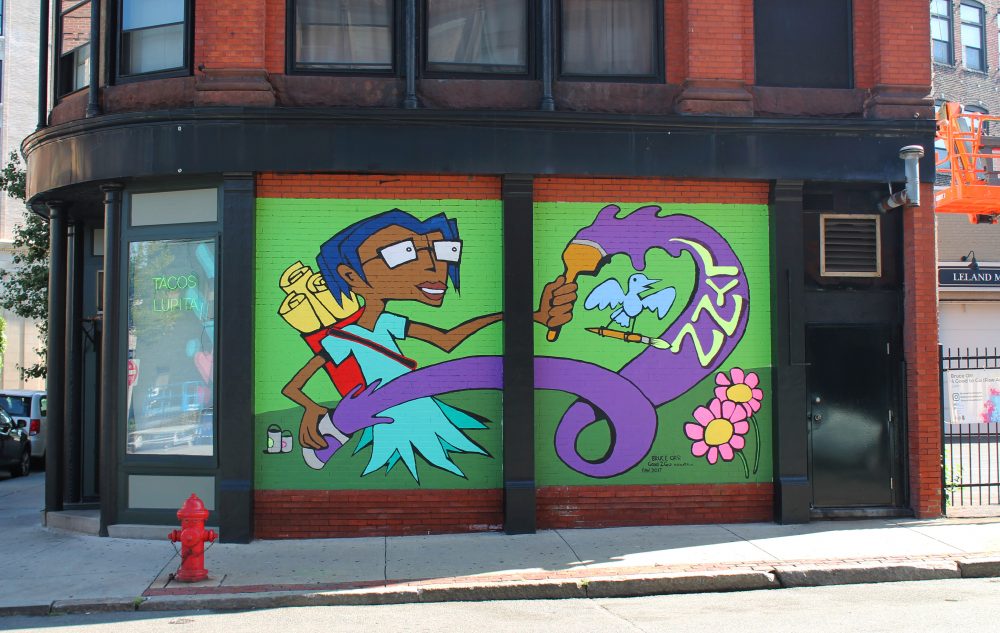 ---
Don Rimx | 129 Munroe St., Lynn
Puerto Rican artist David "Don Rimx" Sepulveda painted this wall with symbols connected to Caribbean, African and Latino culture. He combined brick and wood on the wall to bring elements of nature and city together.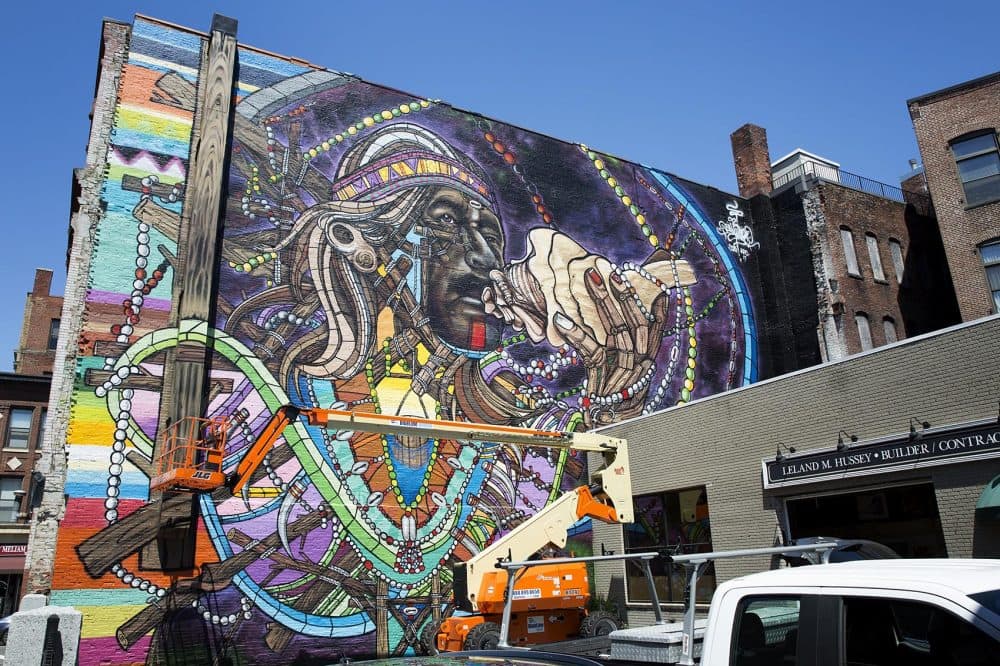 ---
NS/CB | 33 Central Square, Lynn
Nicole Salgar and Chuck Berrett (NS/CB) painted their wall with a portrait of a Wampanoag woman aiming a bow and arrow. Salgar is from Miami, while Berrett is from New York City by way of Salt Lake City.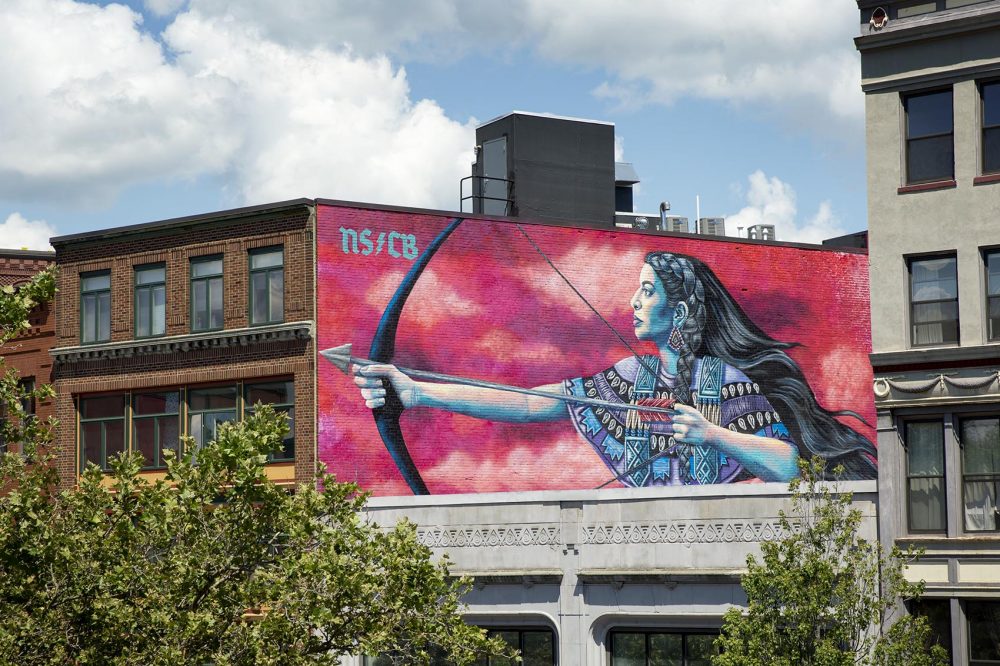 ---
Angurria | 516 Washington St., Lynn
Evaristo Angurria painted this portrait of a Dominican woman in curlers. Hailing from the Dominican Republic, Angurria spent much of his career in the advertising and graphic design world.
---
Tallboy and Brian Denahy | 31 Spring St., Lynn
North Shore native Chris "Tallboy" Coulon (a Lynn native) and Brian Denahy (of Swampscott) got their start painting around Lynn. You've got to crane your neck a bit to see this gorilla-looking creature, high atop the other buildings. Here's a full look at the mural from the roof of a building nearby.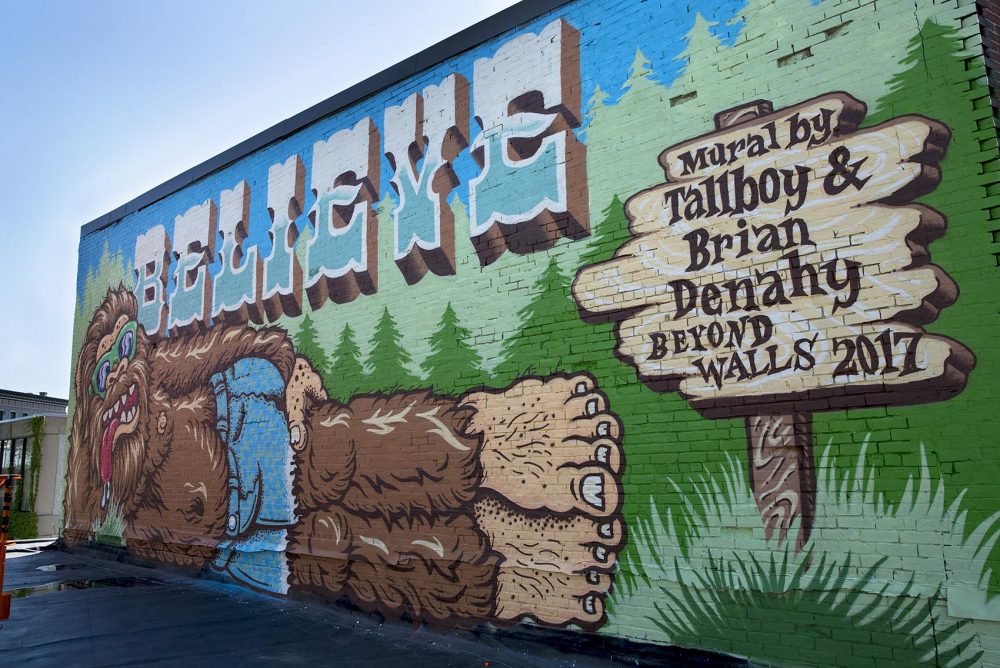 ---
Marka27 | 31 Exchange St., Lynn
Victor "Marka27" Quiñonez was born in Mexico and raised in Texas. His art tends to draw heavily from his Mexican heritage and the nation's folklore.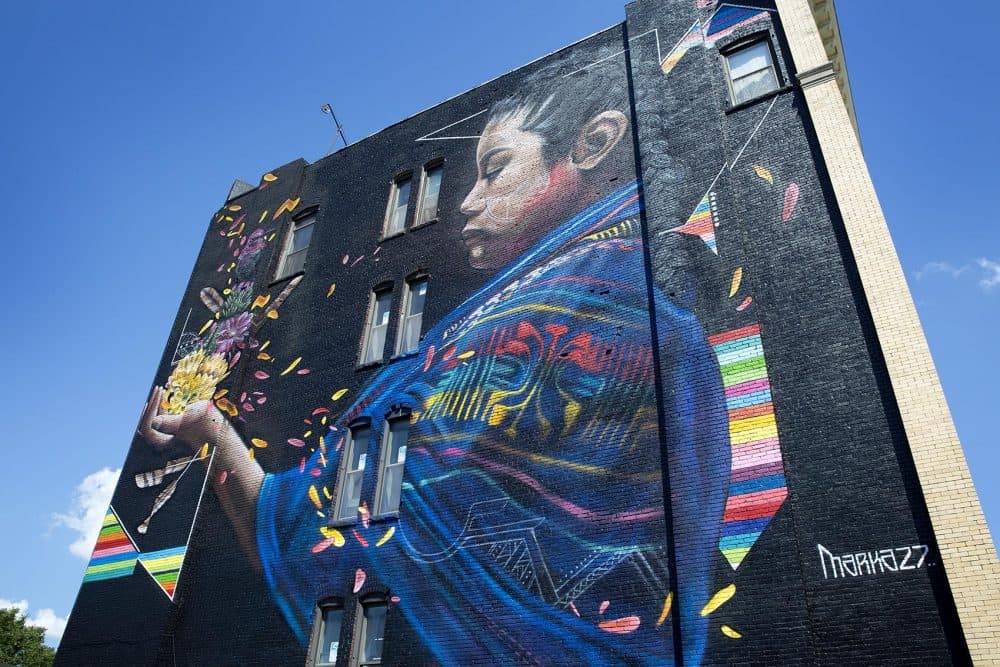 ---
David Zayas | 33 Spring St., Lynn
Puerto Rican artist David Zayas has painted all over the world, often creating elaborate portraits and images of animals. He calls this one "The Protector." His mural is a couple buildings in front of Marka27's wall, and from a distance, you could see petals from Marka27's mural falling into the rooster in Zayas' piece.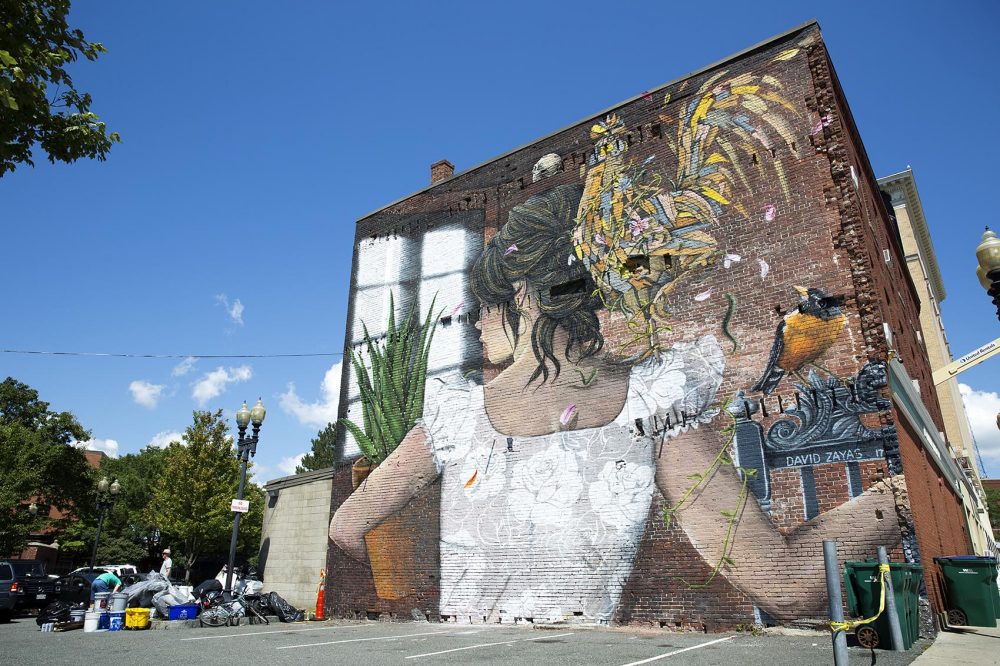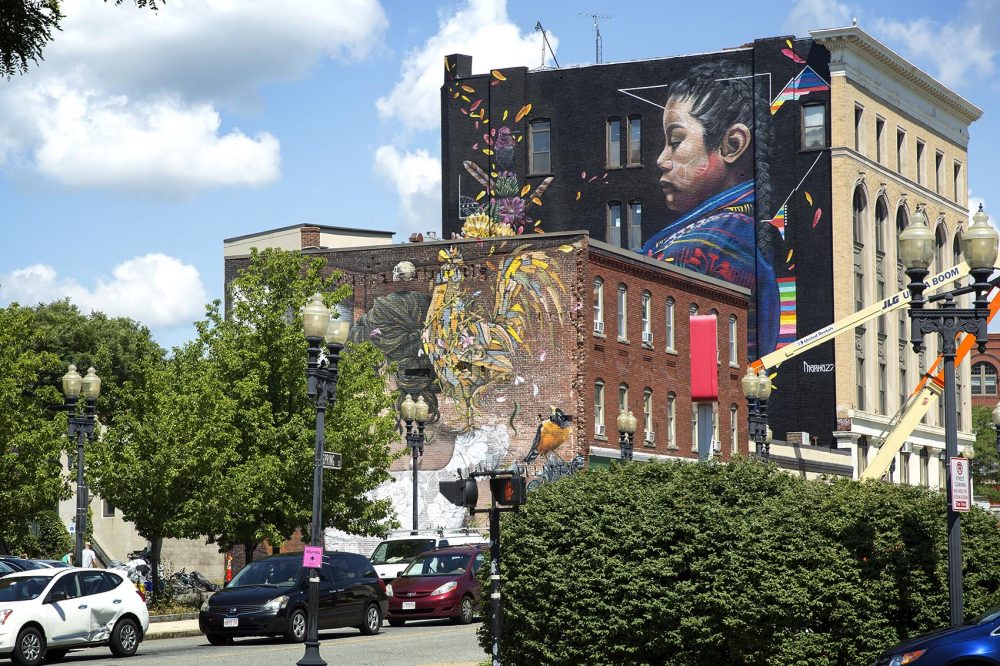 ---
Team Rekloos | 69 Exchange St., Lynn
Team Rekloos is made up of locals Brian Life, Brand Rockwell and Raodee. Life is from Dorchester, Rockwell is based in Quincy and Raodee is from Cambridge.

---
If you go, here's a map from Beyond Walls that could help you find them all: