Fenway Park Hosts First Marathon Inside A Major League Ballpark
Resume
What do you do on a Friday night in Boston? Cuddle up on the couch and read a book? Maybe watch a movie?
How about run 116 laps around the inside of Fenway Park?
That's what 51 people will be doing Friday night, when Fenway Park hosts the first first-ever marathon inside a Major League Baseball ballpark.
It will be 24-year-old Hannah Weitzel's first marathon.
"I'm from a small city in upstate New York so we obviously don't have any major sports teams ... So the fact that this is the first one inside a sports stadium, it seemed like the best opportunity for my first marathon."
Weitzel can thank Dave McGillivray for that. He's the race director for the Boston Marathon — but this, he acknowledges, is a totally different ball game.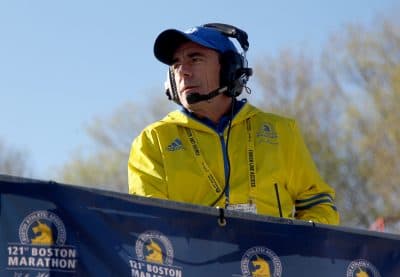 "It's been germinating in my mind for about the better part of 39 years," McGillivray said. "When I was growing up in Medford, Massachusetts, my dream was to play second base for the Boston Red Sox, but obviously that never came to fruition. So if I couldn't play in Fenway Park, I felt like as a runner I wanted to run in Fenway Park."
That's right: In addition to directing Friday's race, McGillivray is running it — his 147th marathon.
"I've run a lot of marathons around the country, around the world; I've run Boston 45 times. But this one is definitely special being in the iconic Fenway Park where so much history has been made."
This may be one of the messiest marathons McGillivray has ever run, because of the crushed red brick track that lines the park's field.
"I totally expect runners to go to the side and empty out their shoes during the course of the run," McGillivray said. "But maybe that's a good thing, to give them a chance to slow down."
It took almost no time for McGillivray to fill up the race — and he was a little surprised by the interest from some first-time runners like Weitzel.
"I don't know if I would've chosen this as my first one, because I think this one has additional challenges that running on the open road maybe doesn't," he said.
Weitzel has given a lot of thought about what it's going to be like running around and around and around those 116 laps.
"I don't think it [has] hit me yet," Weitzel said. "But I've made jokes along the way, like I hope they put a movie up on the big screen just to keep going."
McGillivray says marathon officials in a lot of cities are watching to see what happens. He says some are considering hosting marathons in their own MLB ballparks.
So far, the Fenway Park marathon has raised $250,000 for the Red Sox Foundation.
This segment aired on September 15, 2017.