Your Guide To Boston's Election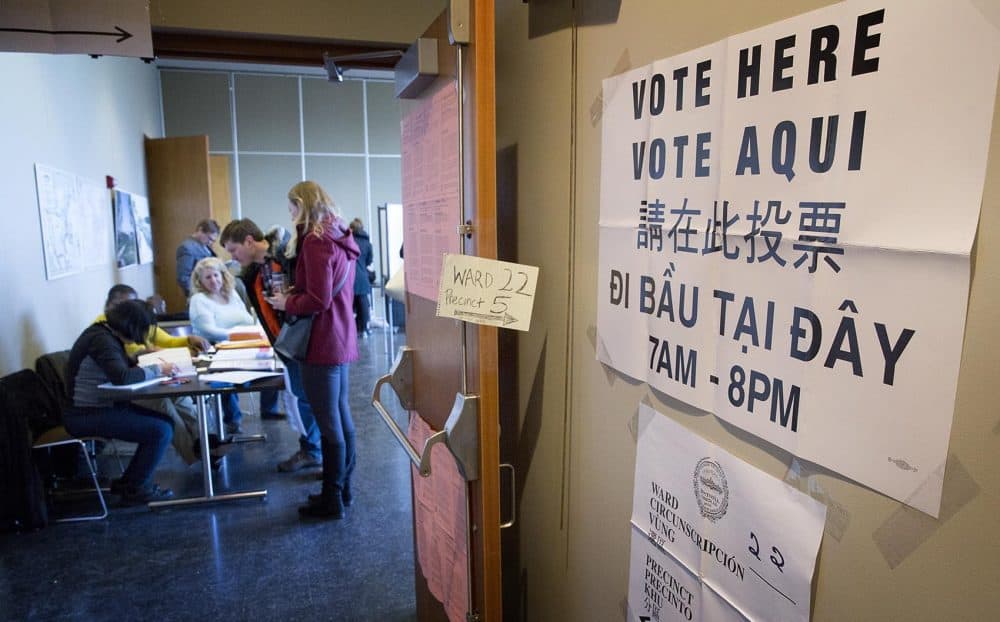 This article is more than 3 years old.
On Tuesday, Bostonians will either vote to keep Mayor Marty Walsh in office or replace him with Roxbury City Councilor Tito Jackson.
The match-up was set in September, when Walsh topped a low turnout preliminary election with 63 percent of the vote. Jackson finished second with 29 percent.
Since, Walsh and Jackson have squared off in two mayoral debates. (Here's a recap of the first debate, and the second.) The mayor and his challenger have sparred over the issues of education, development, and racial and economic disparity in Boston. (Voters in our poll last month identified housing costs as their top priority.)
For the Boston City Council, four contested races were narrowed to two candidates each after the September preliminaries. Thirteen candidates sought to replace Jackson in District 7, while retirements are opening up two other seats: East Boston's Sal LaMattina in District 1, and South Boston's Bill Linehan in District 2.
City councilors in Districts 3, 4, 5 and 6 are running unopposed on Tuesday, while Councilor Josh Zakim, of Back Bay/Beacon Hill's District 8, faces a re-election challenger, as does Councilor Mark Ciommo, of Allston-Brighton's District 9.
There was no preliminary election for the four at-large city council seats, but voters will select from a total of eight at-large candidates on Tuesday.
Here's a quick guide to the general election:
1. When can I vote? 
Voting takes place from 7 a.m. to 8 p.m. on Tuesday, November 7.
2. Who's running for what races?
Mayor Of Boston:
Marty Walsh, incumbent, of Dorchester
Tito Jackson, District 7 councilor, of Roxbury
City Councilors:
District 1 (Charlestown, East Boston, North End):
Stephen Passacantilli
Lydia Edwards
District 2 (Downtown, South Boston, South End):
Michael Kelley
Edward Flynn
District 7 (Roxbury):
District 8 (Back Bay, Beacon Hill):
Josh Zakim (incumbent)
Kristen Mobilia
District 9 (Allston, Brighton):
Brandon David Bowser
Mark Ciommo (incumbent)
City Councilors At-Large
Michelle Wu, District 5 (incumbent)
Pat Payaso, District 7
Michael Flaherty, District 2 (incumbent)
Ayanna Pressley, District 3 (incumbent)
Domingos Darosa, District 5
Althea Garrison, District 7
Annissa Essaibi George, District 3 (incumbent)
William King, District 4
You can find the complete list of candidates in their ballot order here. And here's a map to help you view your ballot, based on your city council district.
3. Am I eligible to vote?
Check your voter status here.
If you haven't registered, you're out of luck for the general election. In Massachusetts, the registration deadline is 20 days before an election (though a judge recently ruled that requirement to be unconstitutional; the secretary of state plans to appeal).
4. OK, I'm eligible. Where can I vote? 
There are polling locations in wards across Boston. Find your polling place here.
5. Can I vote by absentee ballot?
If you can't make it to the polls, you can vote by absentee ballot. You can request the application for an absentee ballot in person, or by mail. Here's how to vote by absentee ballot in the city of Boston.
---
Wait, what if I don't live in Boston?
Dozens of other Massachusetts cities and towns are holding municipal elections on Tuesday, including Cambridge, now-a-city Framingham, Lawrence and Newton.
You can see the full election list here.
With reporting by WBUR's Benjamin Swasey