Bump Suggests Code Of Conduct For State Legislators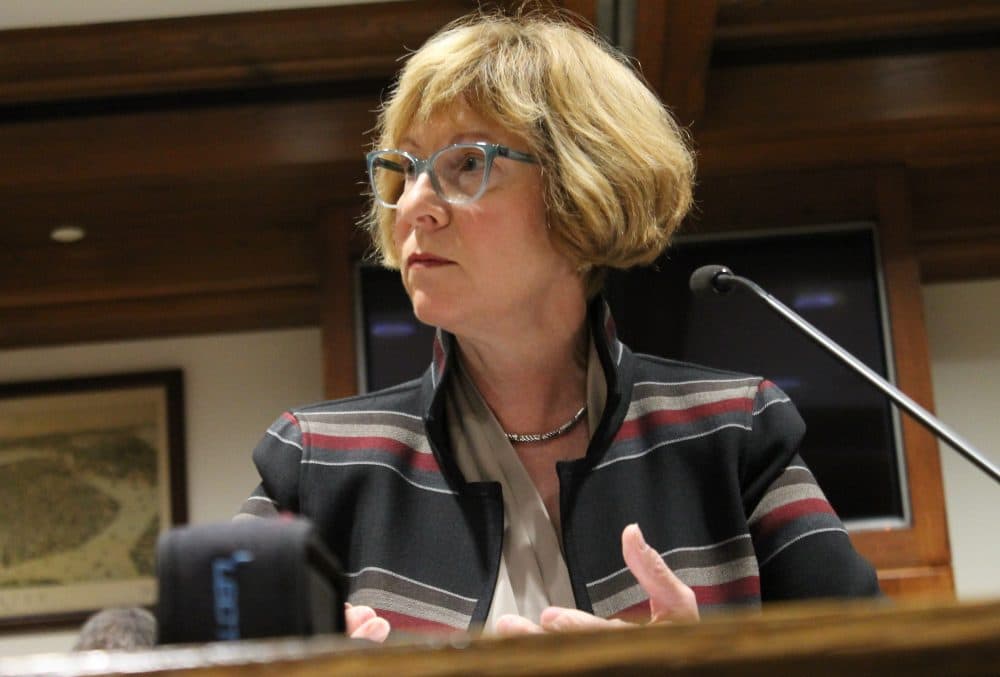 This article is more than 1 year old.
If there has been a marked decline in the amount of sexual harassment within the State House over the past three decades, state Auditor Suzanne Bump missed it.
"I'm not speaking from personal experience because, for whatever reason, I've never had to deal with anything other than the occasional crude comment or misplaced attempt at humor, but from the stories that circulate, it doesn't sound to me that it's gotten better," Bump said Wednesday.
A Democrat who worked as a legislative aide in the 1980s before winning a state rep race in 1984, Bump was first elected to statewide office in 2010. Saying state capitols in general are "unhealthy environments," Bump suggested the House and Senate consider professional codes to police the behavior of lawmakers.
"They have to adopt their own code of conduct and decide what they're going to do about violations by members," Bump told the News Service in an interview. "Right now there is no forum, no forum to effectively deal with complaints against members, or lobbyists for that matter."
Last year, the auditor's office posted footage of Bump testifying in 1985 in support of An Act Prohibiting Sexual Harassment, saying harassment was "not a new phenomenon" and is responsible for "untold grief and suffering."
Misbehavior by men in the state's political class rocketed onto Beacon Hill's agenda last Friday via a Boston Globe column by Yvonne Abraham that without naming names cataloged lewd propositions by elected officials, including one still in office, and unwanted touching by the head of a non-profit.
After the column's publication, House Speaker Robert DeLeo and Senate President Stan Rosenberg both emphasized that people who feel harassed should not be afraid to file complaints, and the House adopted an order to review its harassment policies. Gov. Charlie Baker sent out a memo Monday urging Executive Branch employees to retake a sexual harassment training program and the governor listed resources available to those who have a complaint.
Asked about whether any effort would be undertaken to unearth more details about the accounts reported in the Globe, a spokesman for DeLeo encouraged people with knowledge of incidents reported in the media to contact House officials.
"The House of Representatives investigates every report of inappropriate conduct, including sexual harassment," spokesman Seth Gitell told the News Service. "The Speaker encourages victims of sexual harassment and/or anyone who has knowledge of an act of sexual harassment, including anyone with any information related to the incidents recently reported in the media, to contact either the Office of Human Resources or the Office of Legal Counsel immediately so that an investigation can be commenced."
The Senate has not received any pending complaints that resemble what was reported in the Globe, Rosenberg said in response to the same question.
"The Senate has a zero tolerance policy for sexual harassment. We always proactively investigate any complaints of harassment that are filed with our Human Resources Department according to our long standing harassment policies outlined in our employee handbook," Rosenberg said in a statement. "Currently, we have no pending complaints that would align with the allegations made in the Globe story about a potential member. Should that change, we will immediately follow our protocols to determine the nature of the allegations and appropriate disciplinary action. In addition, the Senate will be highlighting the existing policy and procedures to all Senate employees and I encourage individuals to take advantage of both."
Sexual harassment policies should make it easy for victims to come forward, said Martha Coakley, the former attorney general, Middlesex district attorney and 2014 gubernatorial candidate. She said some of the behavior reported in the Globe is "potentially criminal."
"As prosecutors, your job is not to look for victims. That is one of the key notes of being a fair prosecutor," Coakley told the News Service. "On the other hand, we do want to let victims know that they have options if they've been victimized. Sometimes they need counseling. Sometimes they need an advocate. All of the DAs, I think, are willing to talk to victims without saying, 'If you come to me, then I'm going to move forward with your case.'"
The antidote to sexual harassment in the State House is elevating more women into positions of power in and out of government, Coakley told the News Service. If women occupied more top rungs on the power ladder that would "make a change in culture that will allow a deterrent to harassment," she said.
"Unless we have real change with power structures we're not going to see a lasting change here," Coakley said. "I have no trouble believing that the stories people have come forward with are true. Obviously as a prosecutor the criminal standard of looking at these is higher but harassment in a culture in any institution can exist without criminal behavior and can also thwart the reporting of that. I applaud the Senate president and the speaker for saying they're going to take this seriously and we're going to look at it. And that's a good step, but I also think – as I've believed for a long time – that we need more women in corporations and not-for-profits, in politics, in government, in education to try and balance the power structure."
About a quarter of the 200 seats in the Legislature are held by women, according to the Massachusetts Caucus of Women Legislators.
The State House hallways are filled with supercharged egos, ambitious professionals and people who might work together one day and at odds the next, depending on the issue. The amount of social activity -- much of which spills out to Beacon Hill's watering holes — between the powerful and the relatively powerless, can put people in vulnerable positions, Bump said.
"I do think though that the State House is unique in terms of the fact that unlike most other workplaces, there's a high degree of social activities, which involve people from all points on the power spectrum. So you have very high-ranking elected officials socializing with very young people whose careers are just starting," Bump said.
Christina Knowles, a former State House aide who also worked as executive director of the Massachusetts Caucus of Women Legislators, said that anyone surprised by the allegations printed in the Globe are "part of the problem."
"Being propositioned by lawmakers in exchange for their voting a certain way, men who grope me at fundraisers, receiving unwanted sexts, suggestive comments on my looks...the list goes on and on," Knowles wrote in a Facebook post.
Coakley said she was "not particularly" surprised by the allegations documented in the Globe article.
"The only thing surprising was that it actually -- that women were willing to come forward," Coakley said.