With A Tiny Garden, Franciscan Children's Hospital Finds Therapeutic Power In Plants
Resume
There's a tiny garden on the rooftop of Franciscan Children's Hospital in Boston's Brighton neighborhood.
It's a little oasis in a desert of bricks and concrete.
"We have spearmint and lemon balm over here," says a patient who's tending to the garden. He's 11 years old. "These tarragons taste like licorice," he adds.
The garden came to be this past summer. The hospital's food service director was eager to make more fresh meals from scratch. The herb supply comes from the garden. It's a raised wooden bed on legs, no bigger than a kitchen table. A couple of potted tomato plants sit a few feet away.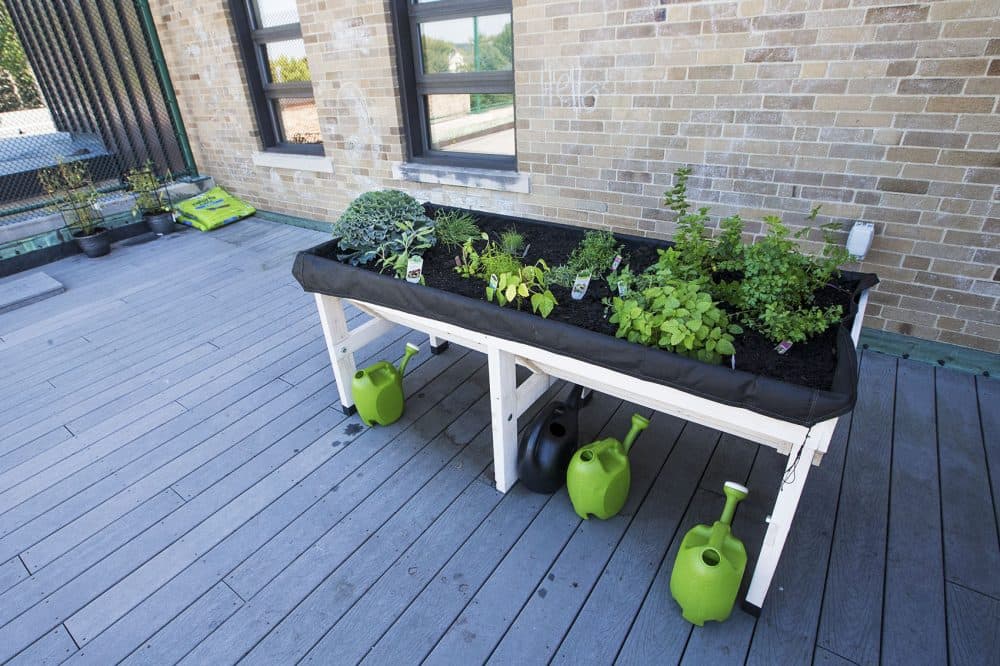 The garden's turned out to be a tiny testament to how nurturing it can be to grow something — especially nurturing for young people in crisis. Gardening requires hope and trust. And these kids are in need of both.
"We worked a lot on the tomatoes," says a 10-year-old boy who's staying at the hospital. The 11-year-old adds, "Yeah, we tried our very best."
The children in this part of the hospital typically stay for two or three weeks. We're not using the patients' names to protect their medical privacy. They're here because they have mood disorders or severe anxiety. Some have endured intense trauma. They range in age from 4 to 14.
As the garden has grown, so has the young patients' eagerness to water it, prune the leaves, and watch it all take root.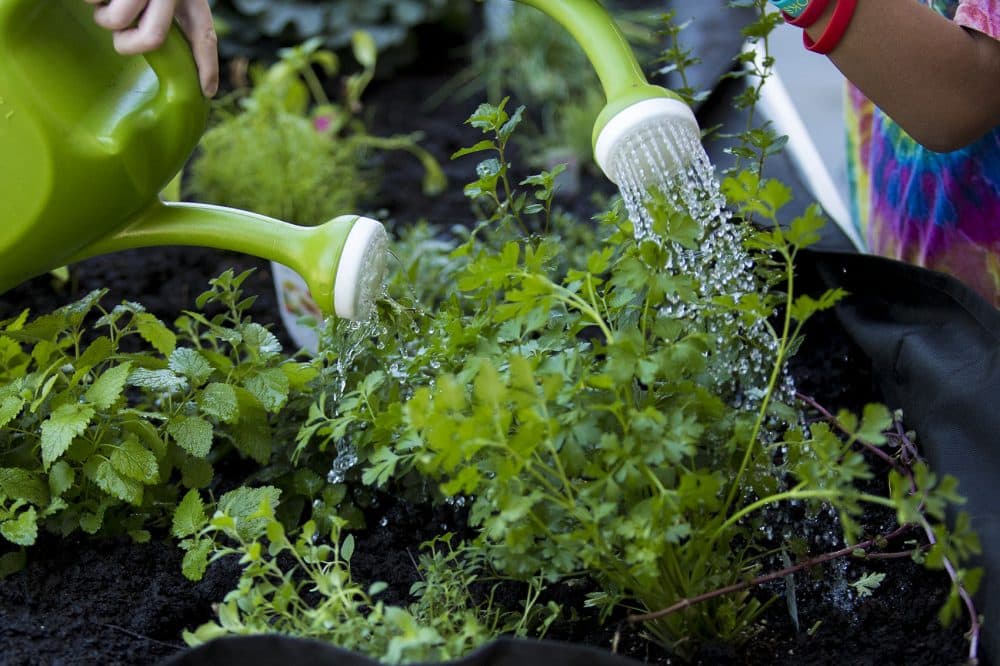 This boy's psychiatrist enlisted him in the garden care.
"He just told me about it a couple weeks ago, and now I'm already on radio," the boy says into our microphone. "And now I watered it, and now I'm part of the garden."
Laura Garvin works in the food service department at Franciscan Children's.
"This started out as a food service project just to meet the kids, because a lot of the kids were coming down and talking to us, and we're like, 'We have no idea who you are!' " Garvin recalls. "And it evolved into garden therapy, which has turned quite successful."
Garvin says that one day early on, some of the girls at the hospital were so excited, they put on sundresses and came barreling out on the garden deck to keep the plants company. She also remembers a youngster who'd never before had a tomato, before plucking one from the garden.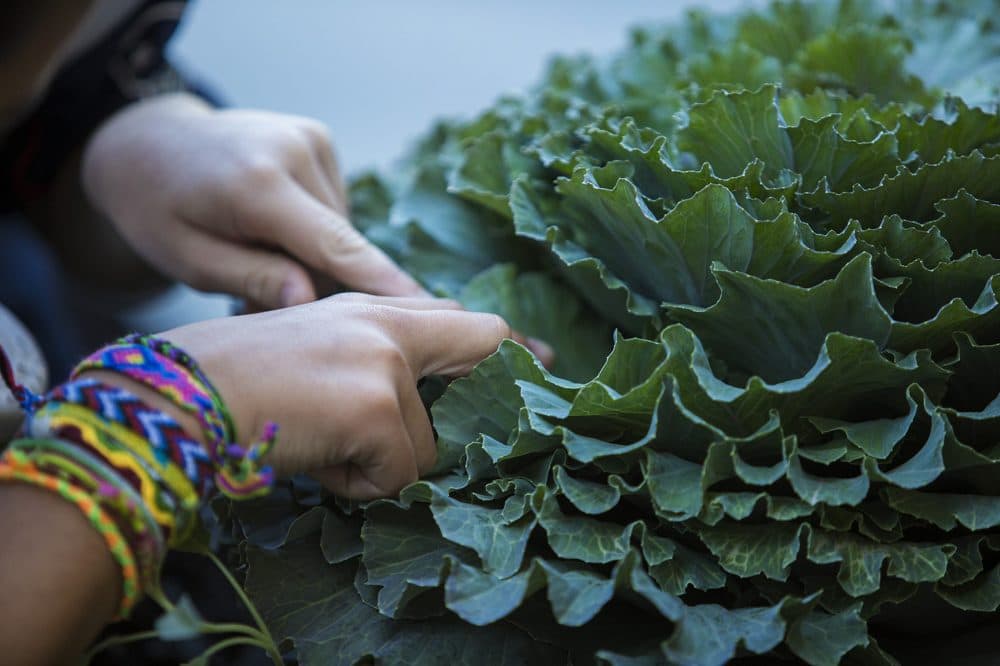 An important lesson for the kids is that plants — and people — grow stronger over time, with patience and care.
More immediate gratification comes as the kids learn a new skill: cooking what they grow. They gather downstairs in the kitchen for today's culinary lesson: pesto.
"We'll start adding, little by little, the herbs into the blender, and then we'll emulsify it as it goes," says Alana Daher, the hospital's food services director, as she instructs the kids. She mixes basil, oregano, parsley and mint in a blender.
There's another patient helping at the counter — a teenage girl plucking the stems from the basil. The two boys watch every step — especially when Daher brings out big bowls of cooked penne and linguine.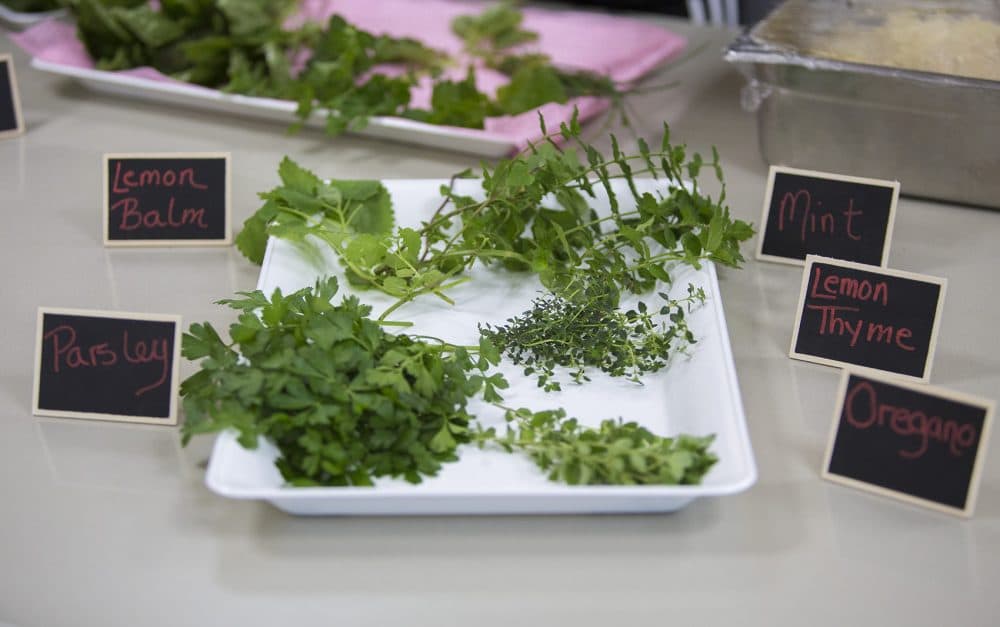 "What you want to do is fold [the pesto] into the pasta. So it's a little different than, like, marinara," Daher says.
"May I have some more parmesan?" one of the boys asks.
The kids' psychiatrist, Dr. Anthony Sossong, does a taste test and calls the pesto delicious.
Sossong is medical director of the Community Based Acute Treatment program at Franciscan Children's. According to him, the garden has become a convivial place where patients often open up.
"I've had kids seek me out on the unit asking if we can go talk in the garden and go water together," Sossong says. "And kids who would rather spend the majority of the day in bed ask to come out and work with the garden."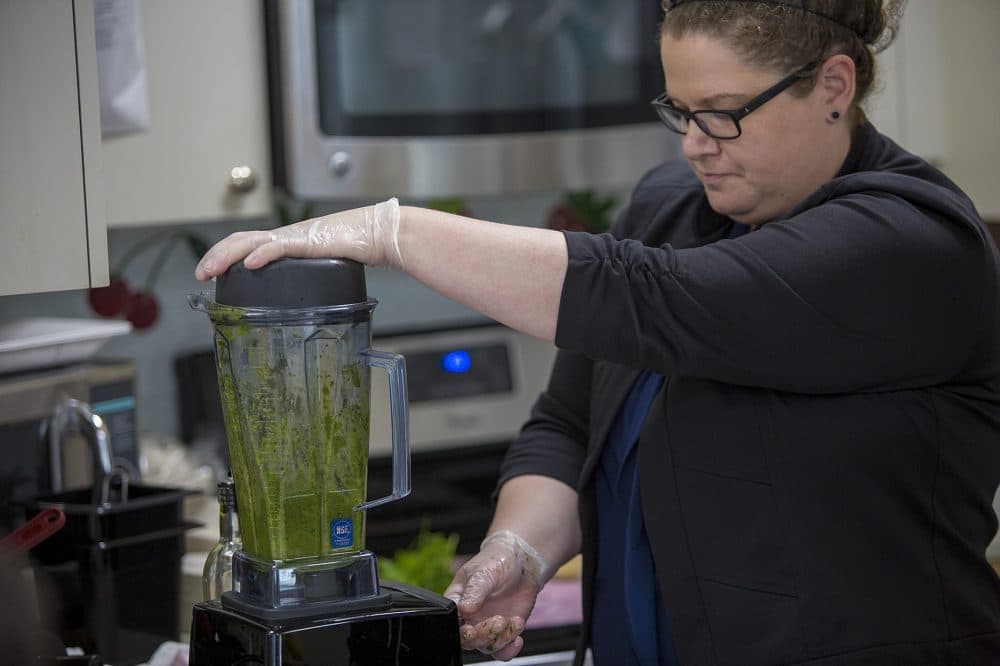 In terms of how that is therapeutic, Sossong says a lot of the patients' therapy focuses on both looking forward and being "present in the moment," and a garden has several elements that help with that kind of mindfulness.
"One is smells," Sossong says. "Very often we are not paying attention to our sense of smell, and that can very much bring people into the moment — the smell of herbs and focusing on nurturing something outside of oneself can be really rewarding. And the idea that they're creating something for future generations of kids who are going to be right there, too — that they're taking care of something that's going to last beyond their stay here."
Next door, in the kitchen, the kids help clean up and reflect a bit on the goodness of gardening.
"It just feels good to have something that you appreciate in life," says one of the boys. The other adds: "It does bring joy to the world — flowers, plants — people like those things. And I like seeing people happy."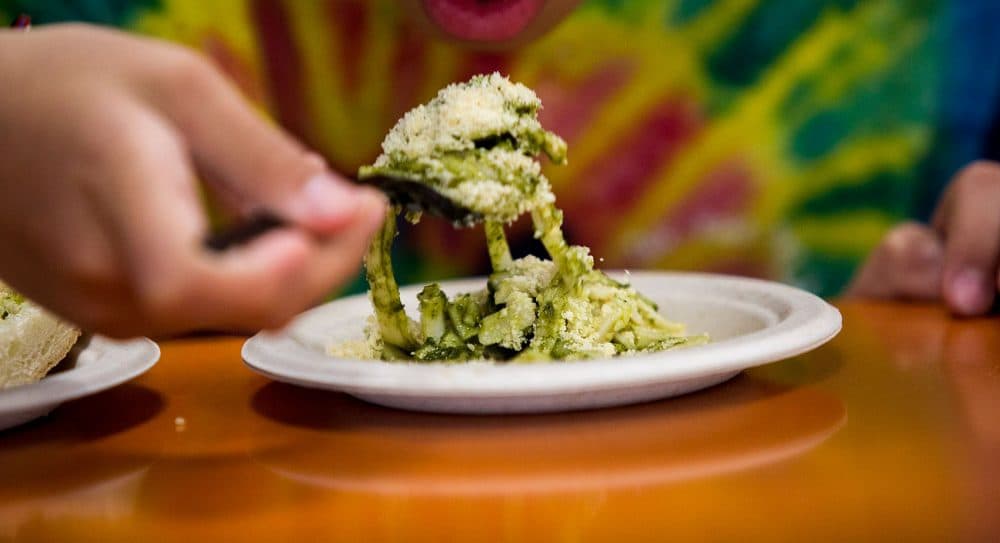 This segment aired on November 2, 2017.