To Reunite Homeless With Loved Ones, New Tech Delivers Recorded Messages
03:51
Play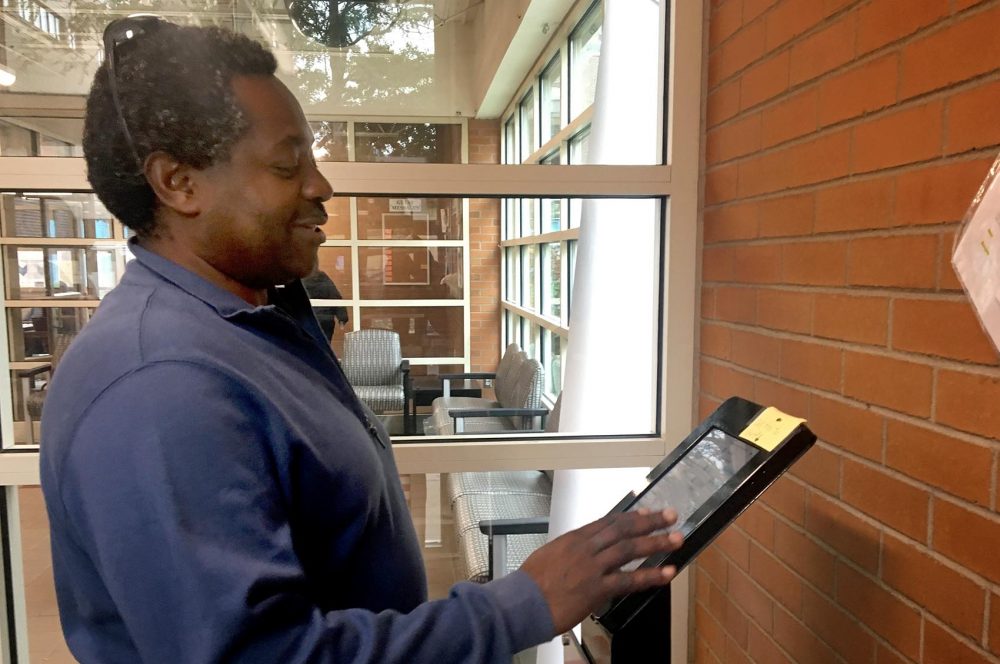 This article is more than 2 years old.
Seven years ago, John Alex Codio lost the phone number of one of his best friends. He was going to visit her in Miami, but his plans fell through. All these years later, he still regrets that he never got to explain himself.
That's why Codio was first in line when a nonprofit called Miracle Messages installed its kiosk in the entrance of Pine Street Inn. Using an iPad, he could record a message for his long-lost friend, and volunteers on the other end would do their best to track her down and deliver his message.
"Hey Nancy, how are you doing?" Codio said into the tablet. "This is Alex. I am very sorry that last time we spoke, I was supposed to come to Miami and spend some time with you. Somehow, some things came up, and it didn't go through. I am very very sorry about that."
For some people facing homelessness, reconnecting with loved ones can mean the difference between staying in a shelter or getting a place to call home. That's one reason Miracle Messages has been turning to technology to help people at shelters connect with friends and family.
And Boston's Pine Street Inn was one of the first places to try the new tech.
The founder of Miracle Messages, Kevin Adler, turned to Codio after he recorded his message.
"What are you feeling after doing that?" Adler said.
"Man, I feel like I want to cry because it's been a long time," he said. "That's my good friend, ya know. I hope she gets it."
Kiosks run by Miracle Messages have been available to the 1,900 people served daily at the Pine Street Inn since October. There's one in the men's shelter, and one in the women's shelter.
Codio said reconnecting with his friend could even mean a way out of homelessness.
"Last time we spoke, me and her, she [said] I would be welcome to her house until I could get back on my feet," Codio said. "If that would be an option, that would work very well."
That's just the type of reunion Adler envisioned when he came up with the idea behind Miracle Messages.
"One day three years ago, I got some hot tea and biscuits and took a walk down Market Street in San Francisco," he said. "And I asked every homeless person I met a very simple question: Do you have any family or friends you'd like to reconnect with for the holidays?"
Adler shot a video of a man named Jeffrey who hadn't seen his family in 22 years. On Facebook, he found a group connected to the man's hometown and posted the video. It quickly went viral, and the man's sister saw it. After more than two decades, Jeffrey was back in touch with his family.
Adler saw the big picture, though.
"Is Jeffrey the only one? No. That's when I left my job and started doing this full-time," he said. "The vision is to reunite 1 million people in the next five years."
"The longer you are homeless, the harder it is to reconnect with your family ..."

Lyndia Downie, executive director of the Pine Street Inn
Massachusetts is among the states with the sharpest increases in homelessness over the last decade. That's one reason Adler chose Pine Street Inn as the site of his first freestanding kiosk.
Plus, Pine Street Inn saw Miracle Messages as another tool to prevent homelessness, according to Lyndia Downie, the shelter's executive director.
"When people first come to Pine Street," she explained, "we have some staff now that right away are saying to people: 'Do you have family and friends you can reconnect with immediately? Can we help you get back there?' We're trying to do everything we can to stop people from ending up in shelter and getting stuck in shelter."
Downie stressed the importance of acting quickly.
"The longer you are homeless, the harder it is to reconnect with your family, because then the shame and what's happened to your life comes into play," she said. "And you start to think your family doesn't want to talk to you."
For Codio, the first guy to use the Miracle Messages kiosk at Pine Street Inn, the story has a happy ending. His friend Nancy got back in touch with him, and they planned on reuniting soon.
This segment aired on December 6, 2017.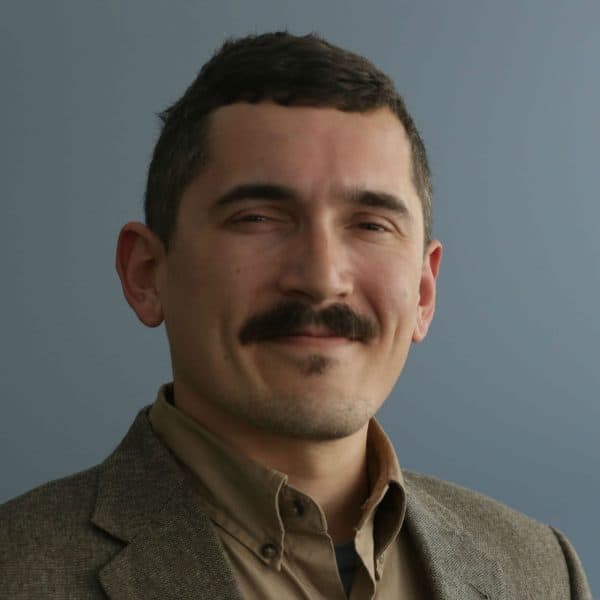 Simón Rios Reporter
Simón Ríos is an award-winning bilingual reporter in WBUR's newsroom.