2017 Was The State's 10th-Warmest Year On Record
There hasn't been a lot of talk about warmth in Massachusetts lately.
But on Monday, the day the state emerged from a severe cold stretch, the National Oceanic and Atmospheric Administration reported that 2017 was Massachusetts' 10th-warmest year on record.
The state's average temperature last year was 49.6 degrees Fahrenheit. That's 2.7 degrees warmer than the 20th-century average for Massachusetts.
The last time the state had an annual temperature average below that 20th-century mean? 1992. You can see the warming trend in this interactive chart:
The chart above also includes local data for Boston, Worcester, the Blue Hill Observatory in Milton and Edgartown on Martha's Vineyard. (The timelines for the data differ, with various Boston locations, for instance, going back to 1873.)
The temperature at the National Weather Service office in Taunton reached 33 degrees just after noon on Monday — the first time it registered above freezing there since Dec. 26. Sunday's low temperature in Boston was -2 degrees, tying a record set in 1896. The low in Worcester was -9 degrees, a new record.
For the entire contiguous United States, 2017 was the third-warmest year on record, NOAA said, after 2012 and 2016. Last year, the U.S. was 2.6 degrees above its 20th-century average.
Every state had an above-average annual temperature in 2017, and five states had their warmest year on record — Arizona, New Mexico, Georgia, South Carolina and North Carolina.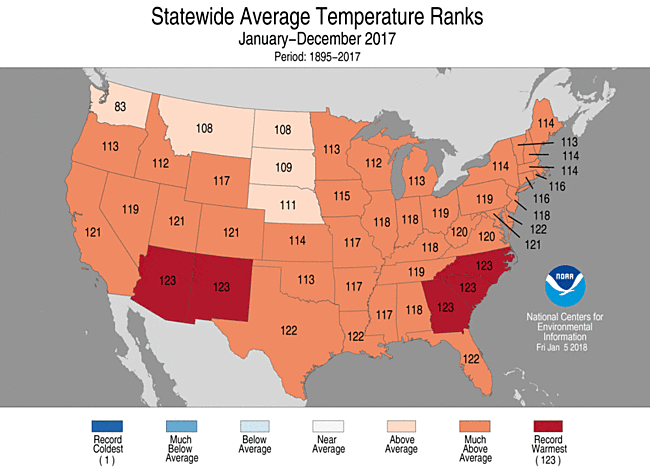 2017 was also a record year for U.S. weather and climate disasters. NOAA said the U.S. experienced 16 events with losses exceeding $1 billion, and total damage from the incidents was approximately $306 billion — $80 billion more than the previous record in 2005.
In Massachusetts, last year was close to average for overall precipitation. You can see that data in this interactive chart:
As you can see, Massachusetts has received slightly more precipitation, on an annual basis, over the last century, while Boston has remained fairly steady.