This Teen Has Reviewed Hundreds Of MBTA Stations And Lines
Resume
We're lucky to have all sorts of experts in the Boston area, but it's not every day you meet one who's still a teenager.
One caught our attention when we came upon his blog -- "Miles on the MBTA."
It's all about — you guessed it — the T.
"I don't know if it's something that even I understand why I love the T," says Miles Taylor, a senior at Cambridge Rindge and Latin High School, and a self-described public transportation fanatic.
"I just really like riding it and observing the people, the amount of people," he says, "and looking at these systems and seeing how they function."
The 17-year-old has already ridden and reviewed more than 500 bus and train lines on the T. And he's been blogging those reviews for almost five years.
"I think it's the thrill of going somewhere totally new," he says. "Riding the commuter rail is something a lot of people in Cambridge haven't done."
Miles says he uses that selling point to cajole his friends into coming with him.
"I always sell it as an adventure, like, 'Yeah! Come with me on this adventure!' "
Our own adventure begins at North Station, where we start making our way to Woburn's Mishawum on the Lowell commuter line — a station that gets just six trains each day, and is completely empty when we first arrive. A "ghost station," Miles calls it.
Miles says he has a number of things he looks for in his reviews.
"Usually the shelter situation is pretty important," he says. "This station has a very decent amount of shelter space, waiting space, which I'm certainly surprised by."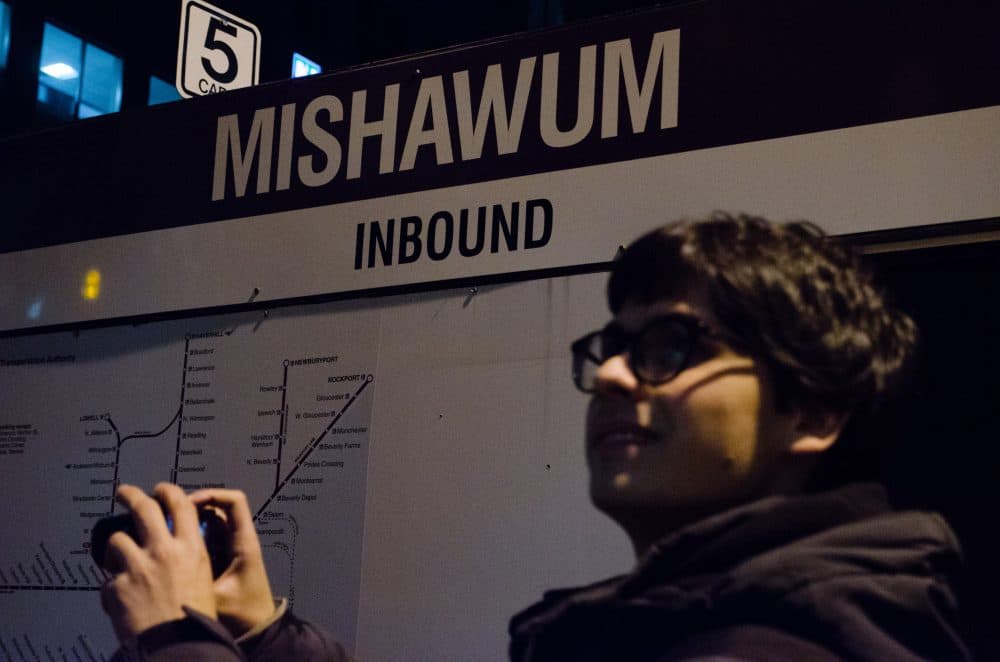 Miles meticulously inspects everything at the station, from the ramps and accessibility, to lights, and even the trash can.
"This hasn't been emptied in a while," he says, peering at the nearly full wastebasket. "The stuff at the bottom looks really old and crushed."
Miles scores all stations on a 10-point scale. Mishawum, he says, won't be among the higher rated stations.
"I'm feeling a 4 right now," he says, then going on to praise its positive traits.
"It has perfectly fine shelters. It doesn't necessarily need to be accessible because it gets such little service. It has so many weird quirks about it that make it awesome."
But for Mishawum, something very important is missing: "actual service."
There are others who share at least some of his enthusiasm. The blog gets 800 to 1,000 views per day, some of those coming from MBTA staff.
"We read it not just because we enjoy it. We're all transit nerds in a similar way," says David Block-Schacter, the MBTA's chief technology officer. "We also read it because when we're trying to figure out something about a station, usually he's the best resource on the web."
Miles has already finished reviewing all of the core T subway lines (the Red, Blue, Green and Orange lines), and he has just 22 more commuter rail stations to check before going off to college.
He still doesn't know where college will be. "My goal is to get in somewhere with a rail system."
When asked about the possibility of going to New York, home of the nation's largest subway system, Miles' eyes light up. "Oh yeah!" he exclaims.
But would he try to review it in four years of college?
"I think it would take a lifetime. I think it would be amazing to do that!"
If it's not totally obvious by now, Miles' dream is to work in transportation one day — maybe as an engineer or a consultant.
But in the case he decides New York isn't for him, Block-Schacter says the MBTA would be "lucky" to have him join the team once he graduates from college.