Finalists For Mass.' Next Ed Commissioner Are In: 1 State Receiver, And 2 Female Outsiders
Play
This article is more than 4 years old.
The race to become Massachusetts' next commissioner of education has narrowed from 18 to three.
After a series of meetings dating back to November, a "screening committee" has put forward one Massachusetts insider — Jeff Riley, the state-appointed superintendent of Lawrence Public Schools — and two education officials from beyond the state's borders.
Despite concerns that the original job description didn't require classroom experience, all three finalists have served as teachers — all as alumni of the Teach for America program — and all have advanced degrees in education.
But there are differences among them, of course. Riley has inspired acclaim and criticism during Lawrence Public Schools' time in state receivership. The others, both women, hail from complex state departments — New York and Texas — that bear little resemblance to Massachusetts' smaller system.
Each of the three finalists will face a public interview next Friday, Jan. 26. The candidate chosen as early as Jan. 29 will take over as the 24th "chief executive" of what is often considered the nation's leading system of public elementary and secondary schools.
Jeff Riley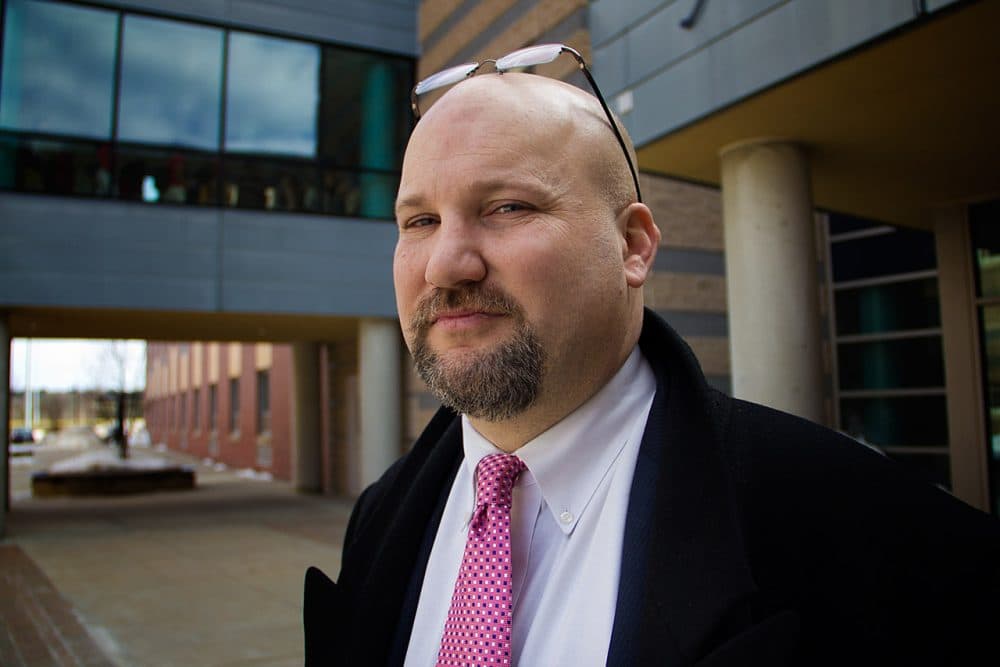 Riley's education career in Massachusetts began in Boston, where he rose from principal to the district's chief innovation officer.
But he's built a statewide — even national — reputation as receiver for Lawrence Public Schools. In 2012, he was appointed to that post after the previous commissioner, Mitchell Chester, assumed state control of that district, then one of the commonwealth's most troubled.
Riley's mandate was to reverse Lawrence's sagging test scores and graduation rates.
The numbers reveal some impressive progress in five years. In 2011, just about half of Lawrence high school students graduated in four years. By 2016, that number had risen more than 20 points: to 72 percent.
When it comes to test scores, Riley's record is more mixed. Between 2011 and 2015, Lawrence students made large strides in mathematics and in the early grades. But high schoolers' scores regressed or held steady over the same period.
His tenure featured a balanced approach: slashing budgets and freeing up teachers. Riley fired half of the district's principals and many administrators. Hundreds of teachers lost work, too, though Riley has said he worked to retain the vast majority of classroom educators — even giving them more control in higher grades.
Riley's unique experience as receiver of a troubled district has involved regular reports to the state's board of education. And it could be seen as giving him an inside track, says former Massachusetts Secretary of Education Paul Reville.
"There are always pros and cons," Reville said, to being a known quantity in-state. But Riley's experience — in Lawrence schools, in Boston and in state meetings — showed that he could be a team player.
"He tended to be somebody who could work very well with the leaders in the community, with union leaders and the individual schools," Reville says. "He's shown himself to be a very dynamic, successful education leader."
Riley is planning to step down from his post in Lawrence at the end of this school year. He will continue to live in Boston, where he has two children enrolled at Boston Latin School.
Angélica Infante-Green
Infante-Green, currently a deputy commissioner at the New York State Education Department, says her passion for education goes back to her grandmother, who ran a one-room schoolhouse in a rural part of the Dominican Republic.
As a first-generation American, Infante-Green says she got a second push from her mother, who came to this country with an eighth-grade education and was determined to do better by her daughter.
Even still, teaching wasn't a foregone conclusion. After Infante-Green graduated from New York City public schools, she sought a bachelor's degree in architecture and she considered law school. Then Teach for America grabbed her.
"When I saw those kids, they lit up," she remembers in a video portrait for the advocacy group Chiefs for Change, "the excitement that I felt — the power that I felt, that I had to change their lives — that was it."
Infante-Green worked in individual New York City schools for almost a decade. But she said in that video portrait that she and fellow teachers felt "frustration" at policies constraining educators, and she tried to carry her passion for education into upper administration.
In 2009, Infante-Green was running the district's office of English-language learners, where she oversaw initiatives to increase academic performance of that cohort. In 2013, she rose to do that same work at the state level, overseeing a complex statewide reform that took effect in 2016, one that created a significant shortfall of ELL-certified teachers in the state. She also implemented a parents' bill of rights regarding language education, and introducing a "state seal of biliteracy" like the one passed into law in Massachusetts late last year.
Infante-Green has implemented dual-language learning in special education classrooms as well. It's an area of personal passion for her; she has an autistic son. She has emphasized speaking Spanish with her children, in an attempt to build biliteracy at home.
Penny Schwinn
If either Infante-Green or Penny Schwinn is chosen, she will become the first female appointed commissioner in the history of Massachusetts public schools.
Schwinn and Infante-Green share a reformist spirit, and a background in Teach for America. But there are disparities, too. Schwinn was born in Sacramento, California, the daughter of a lifelong educator. She graduated from the University of California at Berkeley in 2004, making her the youngest of the three finalists.
Her mother taught low-income students in Sacramento, Calif. Schwinn told a meeting of the California Charter Schools Association in 2013 that she is driven by the realization that she herself had "a significantly different set of opportunities than [her mother's] students did."
Part of her efforts to create those opportunities including founding Capitol Collegiate Academy in 2009. Its website describes it as a "high-performing charter school ... closing the achievement gap in Sacramento."
In her 2013 run to join Sacramento's county board of education, Schwinn's charter-school background became an electoral fault line. She recalled in that 2013 interview her parents received mailers that said, "Penny Schwinn doesn't care about poor kids... or your kids." In the end, Schwinn won her seat by 251 votes.
During the past decade, Schwinn has bounced around the country: from Johns Hopkins University, where she earned a master's degree in teaching in 2006, back to her hometown. Since then, she's been a state education official in Delaware, a finalist for superintendent of schools in Ohio, and a deputy commissioner in Texas, where she remains today.
Schwinn has been at the Texas Education Agency since 2016. Since then, she's had to respond to allegations that TEA had in effect capped budgets for special education (which she and the agency denied), and fielded criticism of a no-bid contract she offered for data mining in Texas classrooms.
Turnover At The Top
It's a sign of the times that all three of these finalists got their start in Teach for America. The TFA program began in 1989 — Riley was a member of its 1993 cohort in Baltimore, Schwinn from 2004-2007 -– and by now, it's the nation's leading gateway for determined young people to enter the day-to-day adventure of classroom teaching.
But there are broader implications, says Reville: "We're drawing leadership from different places than have been known in the past."
In today's world, Reville says, there's lots of turnover at the upper levels of education -– with even finalist Penny Schwinn taking a number of posts in the span of four or five years — of a broader trend in education.
It's worth noting that Massachusetts hasn't been part of that trend. Whoever is chosen later this winter will become just the fifth commissioner to hold the post in 30 years. Massachusetts teachers, parents and politicians may be working with him, or her, for a long time to come.
This article was originally published on January 16, 2018.