A Minor Fight In A Boston School Landed One Student In ICE Custody, Advocates Fear
Play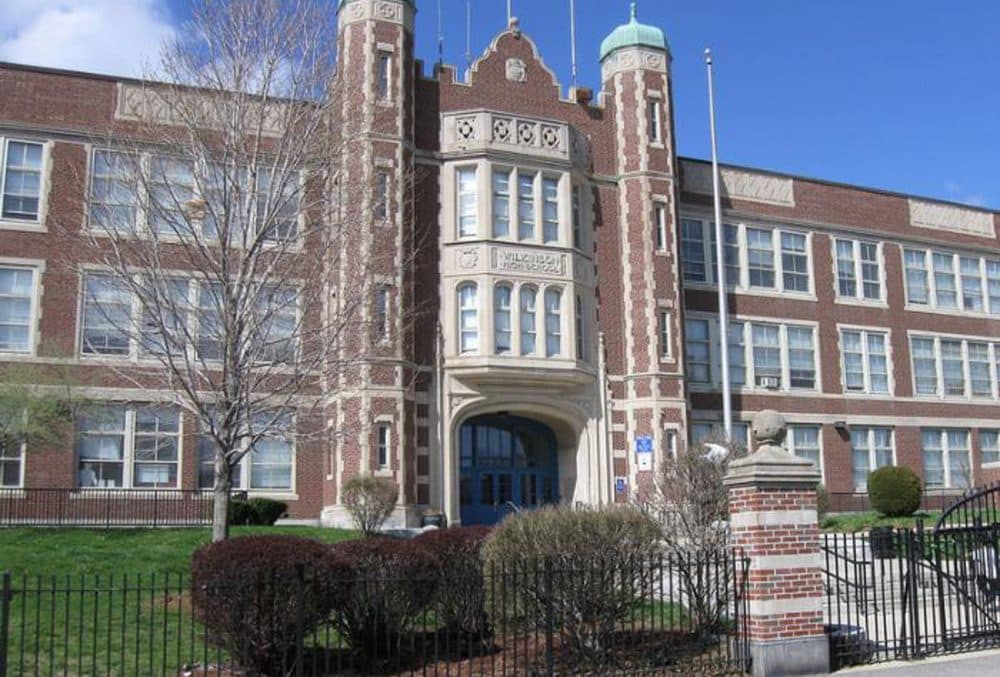 This article is more than 5 years old.
Boston Public Schools is coming under fire from immigration advocates over concerns about the sharing of student information with federal immigration officials.
The Lawyers' Committee for Civil Rights and Economic Justice said late Thursday that an incident report by a school police officer in Boston, which detailed a nonviolent altercation between students, was then shared with an intelligence unit at Boston Police Department that federal authorities can access.
One of the students cited in the school police report was subsequently arrested by immigration officers and has been in federal detention for 16 months. Advocates say they fear minor incidents in schools will lead to the deportation of undocumented students.
Boston Public Schools leaders said they do not keep records of students' immigration statuses, and that they only share student records with law enforcement when ordered to do so by a court.
The report flagged by the Lawyers' Committee, however, is a school incident report filed by a Boston school police officer assigned to East Boston High School. The school department said these documents are considered police reports and are shared with the Boston Police Department in some serious cases.
"We've heard from BPS spokespersons that their school police won't share such records unless there are things like gang-related homicides or possible threats to public safety at stake," said Matthew Cregor, the education projects director at the Lawyers' Committee.
Cregor questions, then, why this specific school incident, which has been described as an "unsuccessful fight," ended up with the Boston Regional Intelligence Center (BRIC). BRIC is a data analysis unit at Boston Police Department that's accessible to state and federal law enforcement agencies, including U.S. Immigration and Customs Enforcement (ICE). The unit is tasked with keeping tabs on gang threats, drug activity and potential terrorism.
Sarah Sherman-Stokes, an attorney for the former East Boston High School student who was written up for the altercation and is now in custody, said her client was unfairly pinpointed as a gang associate in the school police report. And that, she said, set a whole series of actions in motion.
"Once he's labeled a gang member or a gang associate, that information gets replicated across databases, and it looks as though he's being ID'd as a gang member or a gang associate in multiple places," she said, "but it's all stemming from the same source, which is this Boston Public School incident report."
Sherman-Stokes said her client does not have gang ties. He's a young man from El Salvador who entered the U.S. illegally in 2014, when he was 17 years old. After receiving a visa through special immigrant juvenile status, his green card application was actually pending when he was arrested by ICE, she said.
He has no criminal record or pending charges, according to Sherman-Stokes, who said federal agents have used pictures of him in a blue soccer jersey to support their claim that he's a member of the notorious MS-13 gang. Sherman-Stokes also believes her client was denied bond because he has been labeled as a possible gang associate.
Sherman-Stokes said she has taken up her concerns with the Department of Elementary and Secondary Education, and is awaiting a formal response.
Cregor from the Lawyers' Committee says he wants to ensure that agencies are not "labeling certain youth," and, as a result, then sharing school police reports and "landing [students] in ICE custody instead of the principal's office."
Boston police say the issue at hand is how the school resource officers are collecting and reporting information on students. The school police officers do receive some training from Boston Police Department, but they are employees of Boston Public Schools.
BPD Lieutenant Michael McCarthy said questions about how school police officers go about assessing a student's gang affiliation are best asked of the school police officers.
"When other law enforcement agencies share information with us," McCarthy said, "we don't control what they share so [WBUR] may want to check with the reporting agency as to their collection techniques and what they do and what they report."
Cregor said he hopes the sharing of this particular report is an isolated incident. Still, other advocates worry this could be a sign of a broader trend.
Kade Crockford with the ACLU of Massachusetts said concerns about what she calls a "school to deportation pipeline" have been on her radar for some time.
"These situations where young people who have been alleged to be involved in gangs — despite the fact that they have never been accused, let alone convicted of involvement in violence — leading to deportations," she said, "is raising an important issue that the city of Boston should have looked at closely a long time ago."
WBUR reached out to Mayor Marty Walsh's office for comment. His staff said he was in Washington D.C. and unavailable for comment. They referred our questions to Boston Public Schools and the Boston Police Department.
This segment aired on January 26, 2018.