WBUR Poll: For Head Injuries, Football Fans Support Regulation, But Haven't Changed Viewing Habits
Play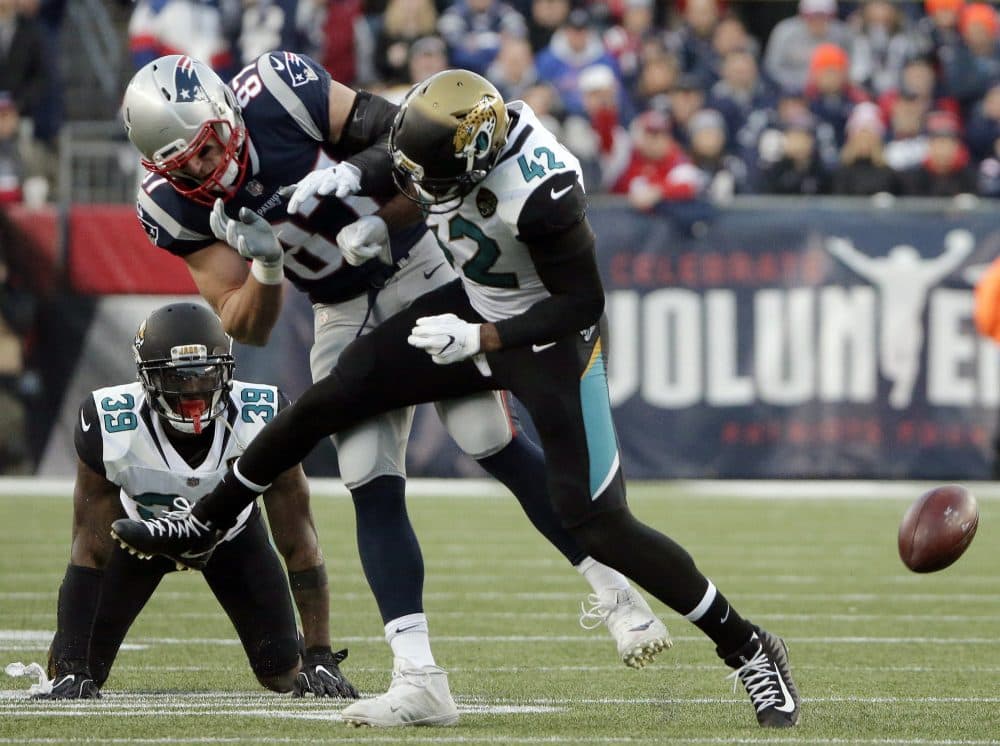 This article is more than 5 years old.
Will Gronk play?
That's the big question being asked around New England these days. And it will soon be the big question asked around Minneapolis as the Patriots and Philadelphia Eagles prepare for Super Bowl LII.
Patriots tight end Rob Gronkowski suffered a concussion in the AFC Championship game. He did not practice last week. And his status for the Big Game remains uncertain as he follows the NFL's concussion protocol.
On average, based on numbers released by the NFL, there's close to one concussion per game during the regular season. Numbers may be higher because players are still reluctant to self-report potential concussion symptoms.
Fans Are Still Watching
But seeing players potentially suffer brain injuries on any given Sunday hasn't driven away football fans.
In a WBUR poll (topline results, crosstabs) conducted earlier this month, NFL fans in Massachusetts were asked if news about concussion dangers changed their football viewing habits.
For 91 percent, the concussion news didn't change how much football they watched. And that makes the people who were polled a lot like the fans going to a recent Bruins game at the Garden and stopping by the Patriots Pro Shop. Not even Gronkowski's concussion had changed their thinking.
"I feel like in certain jobs you're going to get hurt," says Jessy Luz of Hudson. "If you work construction, there's a chance you're going to get hurt every day. They play football and there's a bigger chance they're going to get hurt every day. [Gronkowski] didn't go back in the game so they knew he was messed up. But it didn't change my sports fandom at all."
For Chris Federico of Stoughton, it's the player protests — not player concussions — that sometimes leave him wondering whether he wants to watch football.
"I certainly see some hits where they're really cringe-worthy," says Federico. "But these guys are voluntarily doing this on their own. This is the career they've chosen. … I'd rather just watch and be entertained by watching football than have it become political."
Awareness And Making The Game Safer
During the 2017 regular season, NFL ratings were down 9.7 percent, according to numbers tracked by Nielsen. Still, 36 of the top 50 broadcasts in 2017 were football games. Topping the list? Last year's Super Bowl between the Patriots and Atlanta Falcons with an average audience of 111.3 million viewers.
But for head injury researchers and people like Chris Nowinski, CEO of the Concussion Legacy Foundation, it's never been about changing viewing habits. They want to raise awareness and make football safer.
Based on anecdotal evidence, Nowinski sees attitudes toward football changing.
"People do tell me they're not as excited to watch football because they can no longer enjoy the big hits like they used to," says Nowinski. "And a handful of people tell me that they've stopped watching because it's not for them. It's like watching a slow-motion car accident. But for the most part, most people love their football."
For more anecdotal evidence, Nowinski mentions how some broadcasters have declined football assignments and are now covering other sports. Part of the reason is that those reporters know the long-term effects of head injuries, whether concussions or sub-concussive hits.
Speaking about the players those reporters would be covering, Nowinski says, "Down the road, some percentage of them are gonna really struggle neurologically because of what happened on the field. And not every sport has those long-term effects."
Support For Regulation: High
That kind of awareness may help explain the most surprising result from WBUR's poll. When asked if they would support or oppose more government regulation at the youth football level, 73 percent of those polled said they would support it at the youth football level, 72 percent would support it at the high school level, and 56 percent would support it at the NFL level.
Dale Devonshire of Brockton grew up with football, rooting first for the Eagles and now for the Patriots. She favors any rule changes that could reduce the number of concussions in the NFL.
"You're a fan and you feel like you know these people," says Devonshire. "There is a concern that their post-football life would not be as rich as it could be because of the injuries that they suffered and that's, that's sad."
When asked if that impacts her viewing habits or gives her any second thoughts about being an NFL fan, Devonshire sighs then adds, "No, I'm afraid it doesn't."
It's the same for the many sports fans who can't wait for the Super Bowl and for the many Patriots fans who hope Gronkowski will be back on the field for the Big Game.
This segment aired on January 29, 2018.