More Than Trippy Dorm Room Decor: The MFA Examines M.C. Escher's Skill And Enduring Allure
Resume
A topsy-turvy staircase leading nowhere.
Two hands drawing themselves into existence.
Interlocking birds that morph into fish, and back again.
Dutch graphic artist Maurits Cornelis (M.C.) Escher's iconic, trippy images have mesmerized many a mathematician, college student, psychologist and pothead over the years. But the art world hasn't always taken his work seriously. Now Boston's Museum of Fine Arts is exploring Escher's skill and enduring allure for the first time.
Escher's illusions have been a staple of dorm-room decor for decades. They've inspired posters, T-shirts and films like Jim Henson's 1986 fantasy tale, "Labyrinth." In one scene David Bowie — playing an evil goblin king — navigates shifting stairways like the ones in Escher's famous print "Relativity."
Other riffs on Escher's "Relativity" show up in the movie "Night at the Museum" and on the animated TV show "Family Guy."
Now, an original "Relativity" lithograph print from 1953 is hanging in a gallery at the MFA.
On a recent day at the museum, curator Ronni Baer walks over to another popular Escher titled "Bond of Union," with its two human-like heads made of a spiraling ribbon that's surrounded by what could be described as tiny planetoids that seem to float in space.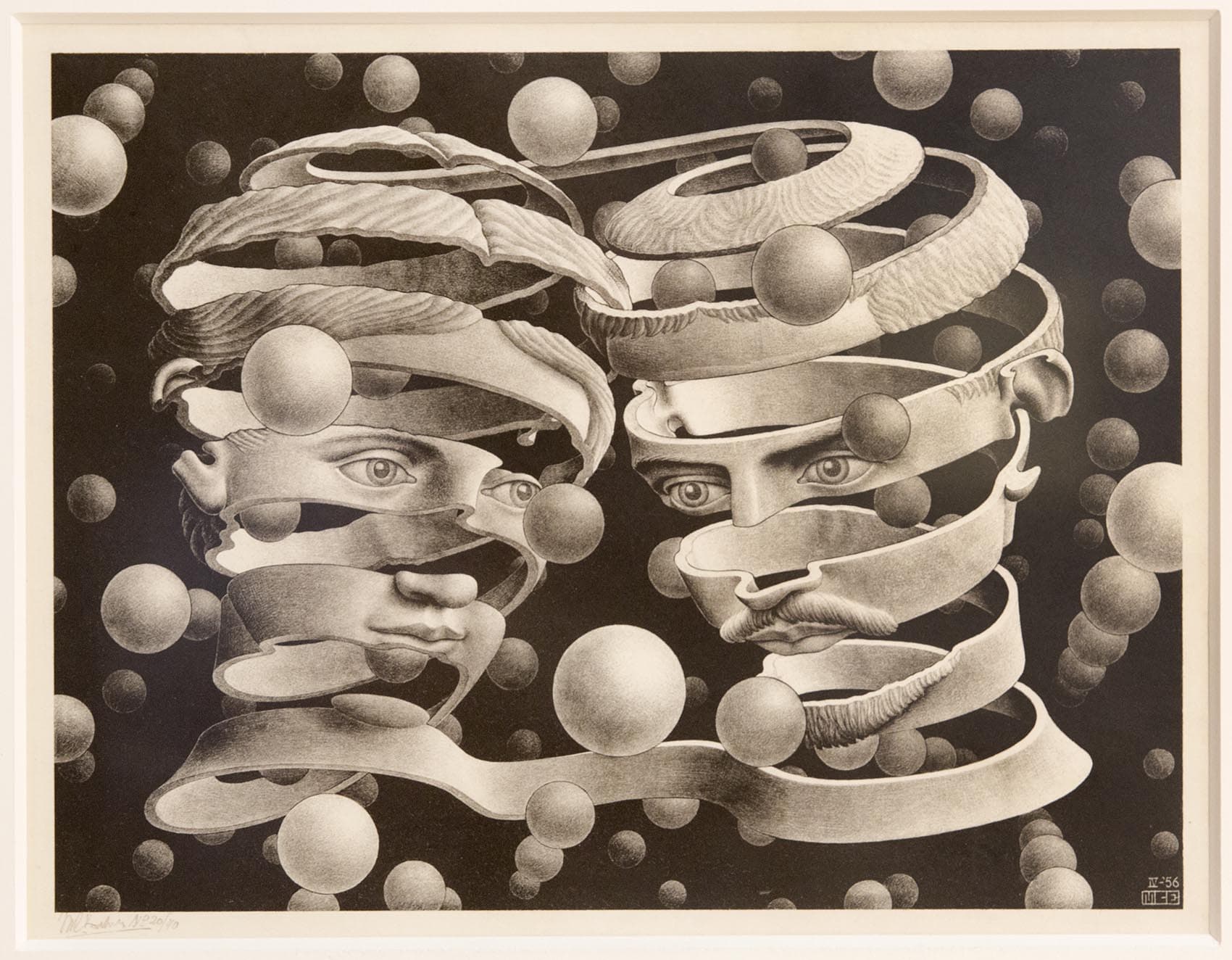 "This was ubiquitous in the '60s and early '70s as a psychedelic thing," Baer said, adding that she knew Escher's "Reptiles" from an album cover.
The English glam rock band Mott the Hoople has Escher's parade of little reptiles crawling all over its 1969 debut album.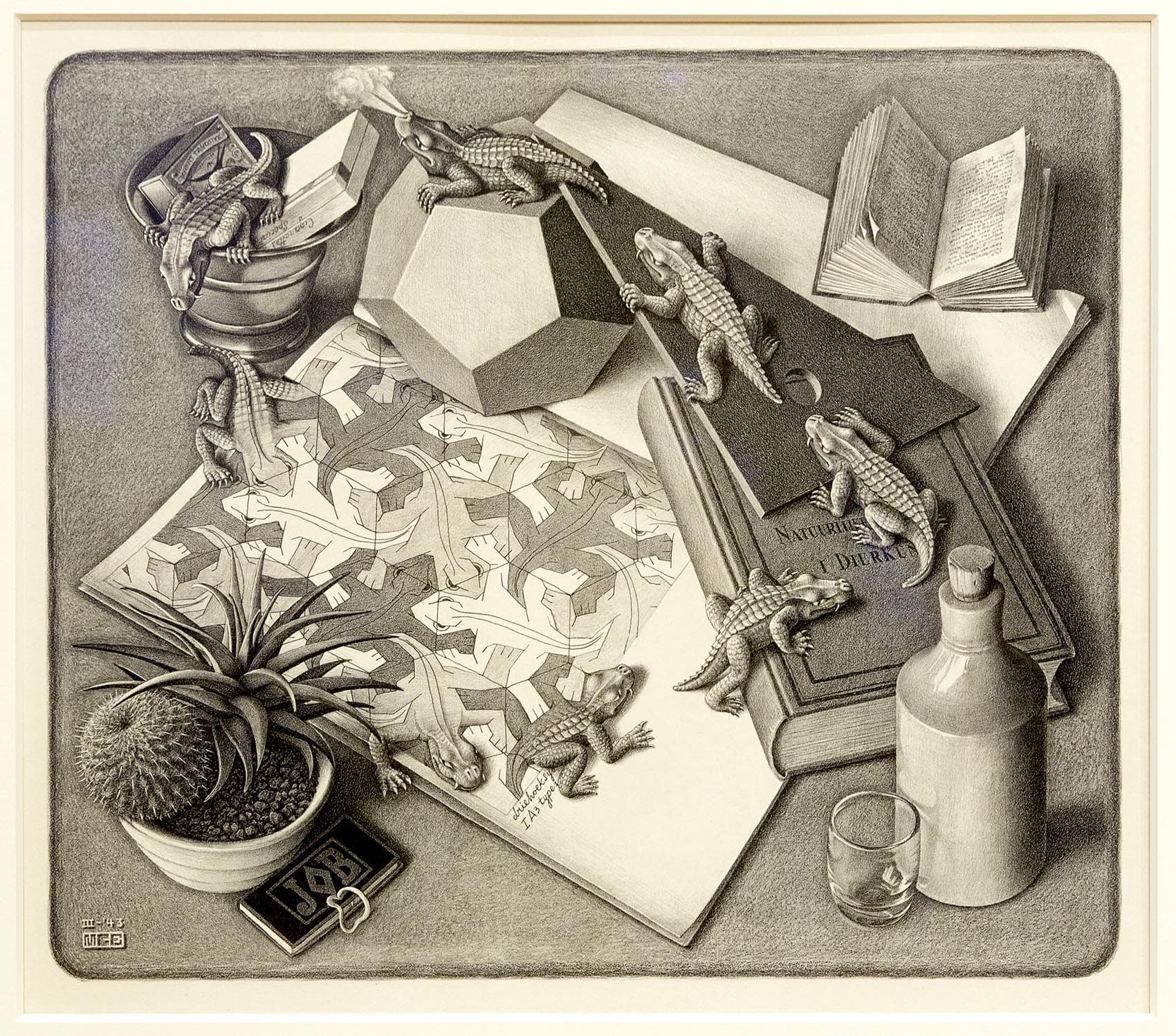 But even though works like "Reptiles" and "Relativity" have been embraced by pop culture, Baer says art institutions, critics, curators and historians have long-dismissed Escher for being too whimsical, too popular, too mathematical — including her.
"I too disdained him," she admitted. "And now I find him really fascinating — both as a really good printmaker and as a thinker. He was a guy obsessed with certain motifs. He worked them and worked them, and I think that's one of the signs of a real artist."
Baer has been examining the artist's painstaking processes and complex thinking in the new show, "M.C. Escher: Infinite Dimensions." For it, the curator who usually works with European paintings tracked down 50 original prints and drawings owned by private collectors and institutions, including the Boston Public Library.
Like a lot of major institutions, Baer said the MFA only has two works by Escher in its permanent collection. They, too, are on display for the public to see in a gallery brimming with the artists playful but highly-detailed, extremely technical "greatest hits."
"There's a whimsy in these images," Baer remarked standing in front of the well-known 1960 conundrum, "Ascending and Descending." "You know it's this ever-continuous march up and down, up and down, then down and up, at the same time — but nobody gets anywhere."
They're fun, engaging puzzles that are meant to be understood, Baer said. "I think Escher liked to entertain as well as intrigue -- and I think those two things are constantly in tension in his work."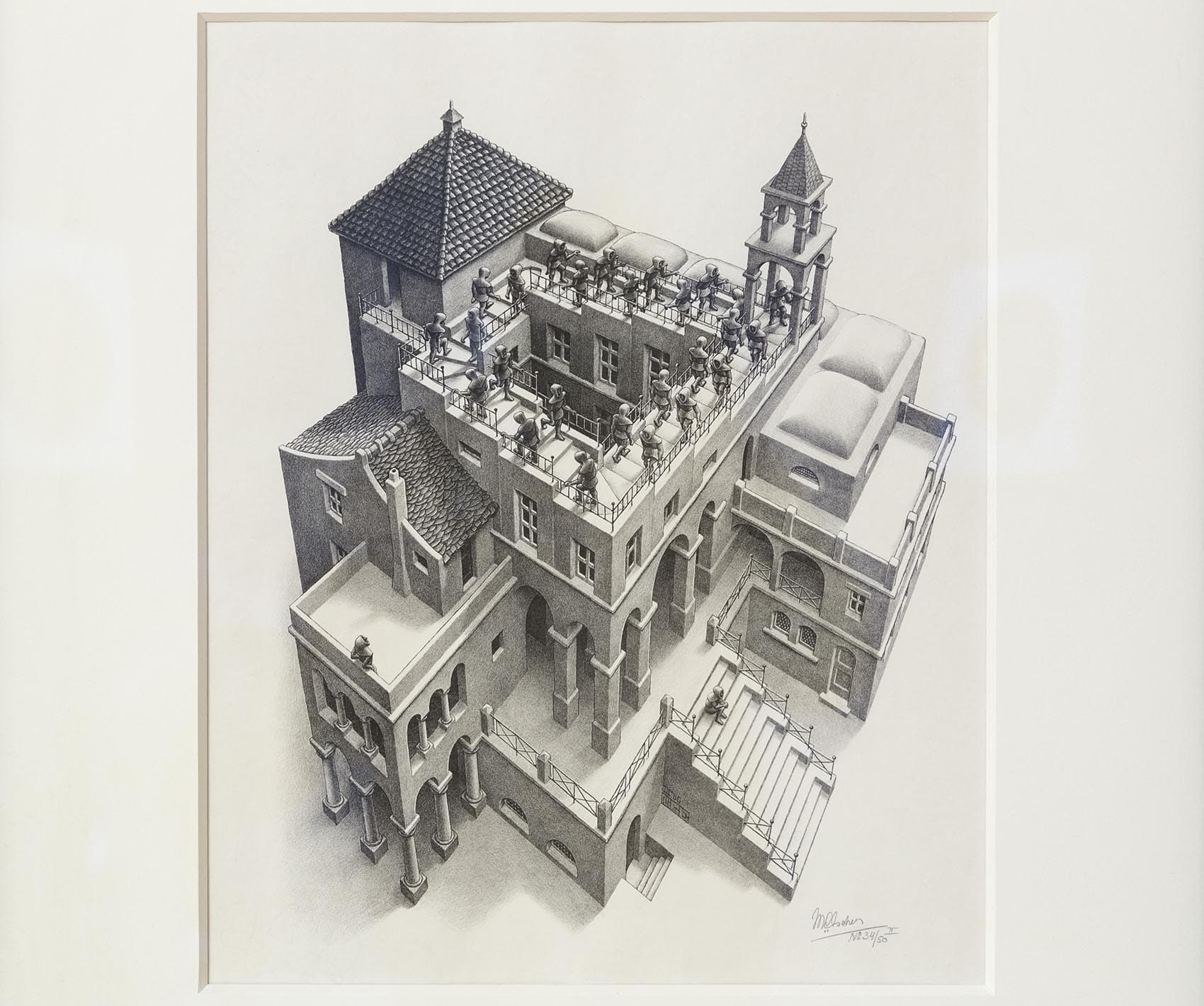 You can also see that in Escher's signature, symmetrical arrangements of shapes — often birds, fish or reptiles — that fit snuggly together without gaps. Those are called "tessellations."
Escher also played with the conflict between two-dimensional imagery and spatial representation.
But Baer added the artist was clearly engaged in and responding to the world around him, as well as with the Dutch art history continuum. She pointed out the recognizable 1935 image "Hand with Reflecting Sphere" that shows the bearded artist peering out from a mirrored orb poised in his hand.
"This goes back to the 15th century idea of an artist representing himself on a curved surface," Baer said. "So Escher is fully aware of his art historical tradition, but he does it in such an interesting way."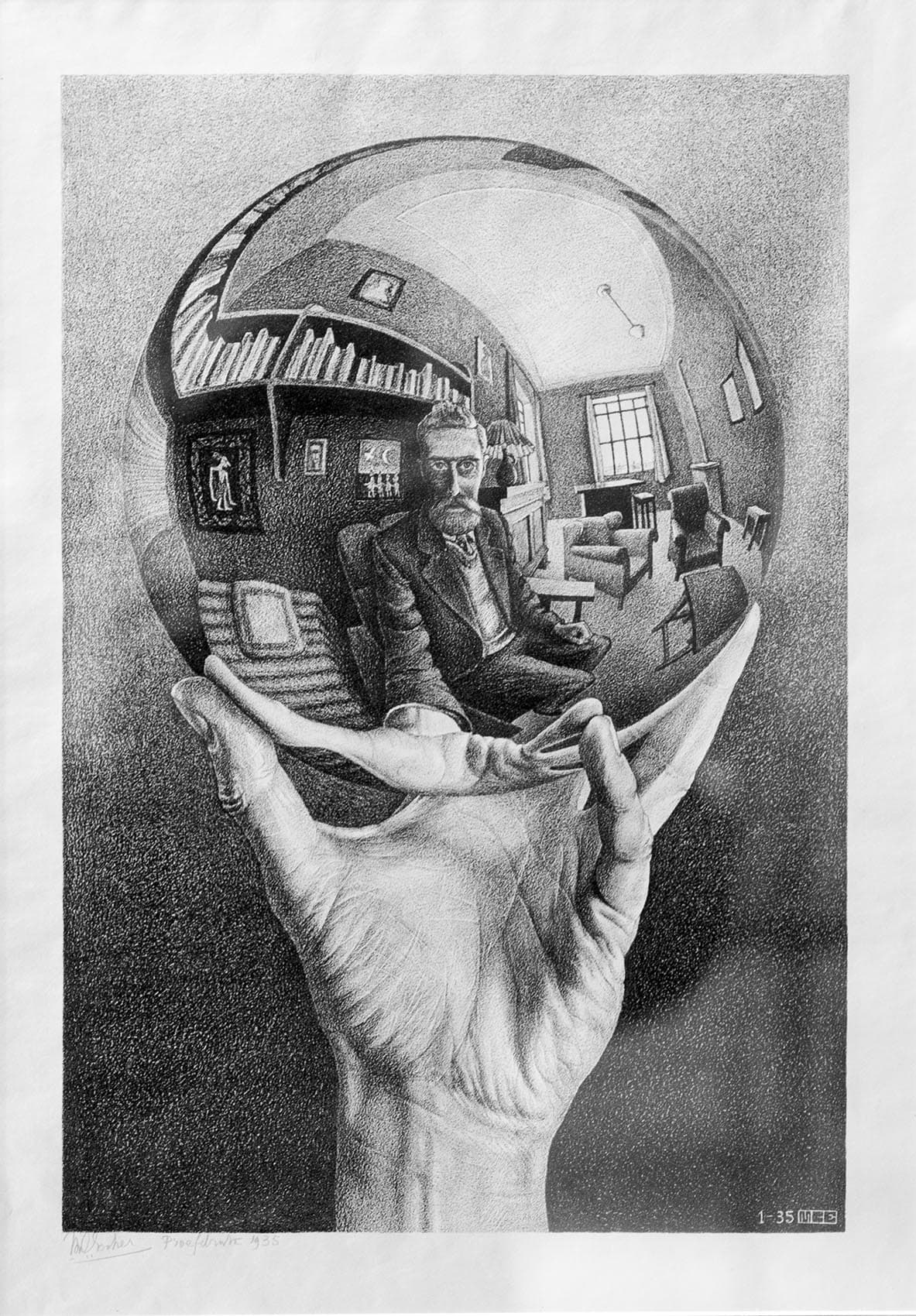 "Hand with Reflecting Sphere" has been reproduced countless times, but when you study the original print in person every detail pops.
"There's a huge difference between seeing how he can manipulate his materials, and how he inks the plates, and how he achieves this depth of tone," Baer explained. "It's so different than looking at a flat reproduction that doesn't have any of those characteristics."
In other words, don't try this at home with your poster of the sphere image. It's just not the same.
Whether Escher's work is seen as pop art, high art, or both, Baer wanted to show how it connects with all kinds of people. She reached out to more than a dozen creative types outside the museum world, including a computer scientist, an architect, a physics professor, a poet -- even Mott the Hoople musician Ian Hunter.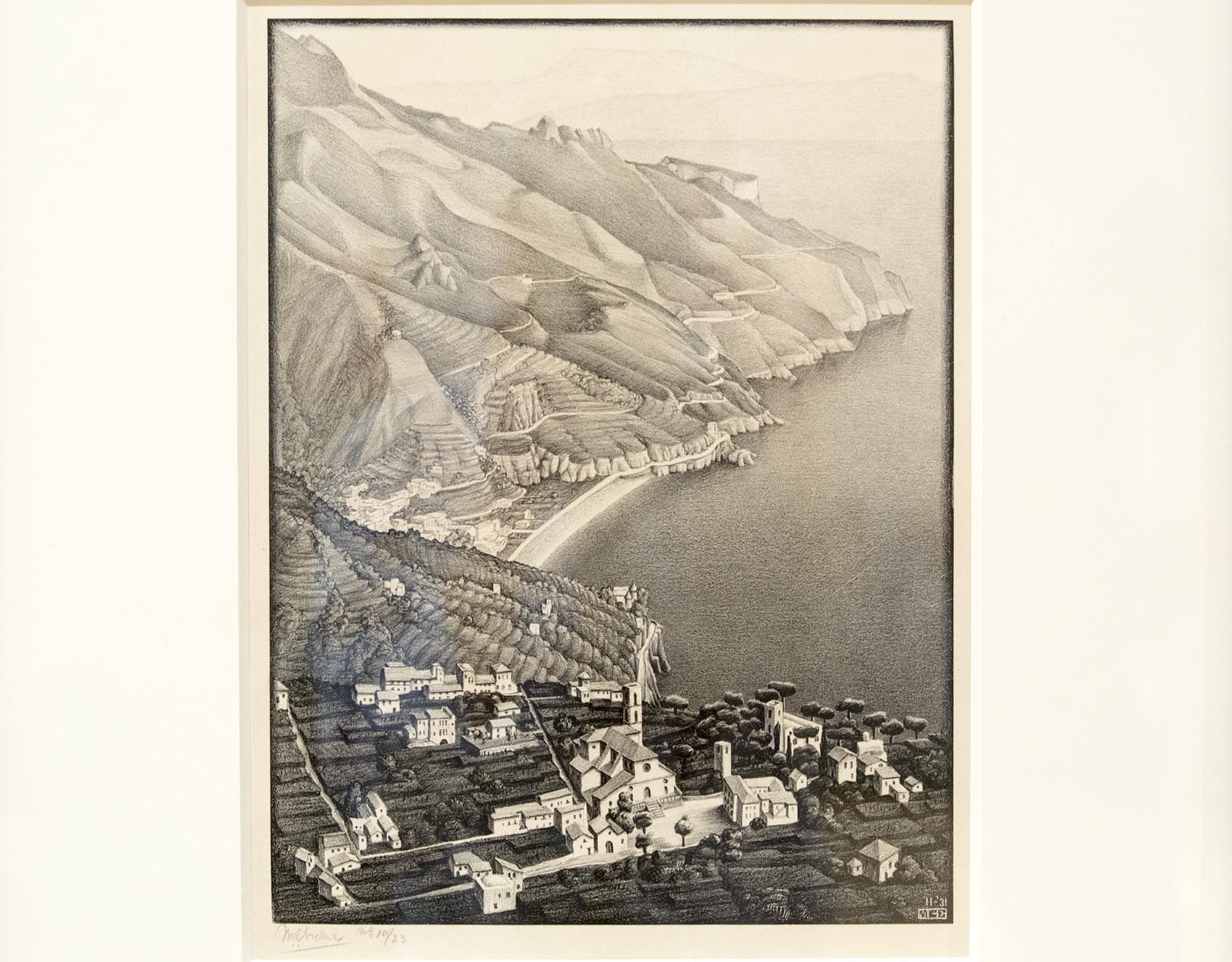 Chef Barbara Lynch wrote about a more realistic piece Escher made of the Amalfi coast when he lived in Italy in the 1930s. It reminded Lynch of her own trips to Genoa. Musician Yo-Yo Ma meditated on how Escher relates to Bach. Retired astronaut-turned-artist Nicole Stott penned an essay about Escher's "Three Worlds," which shows a fish under water, leaves on the water and trees reflected in the water.
An excerpt from her essay reads:
From orbit, I've see the crystal clear and glowing colors of our Earth. I've experienced the dynamic nature of water, land, clouds and lighting swirling and interconnected below me ...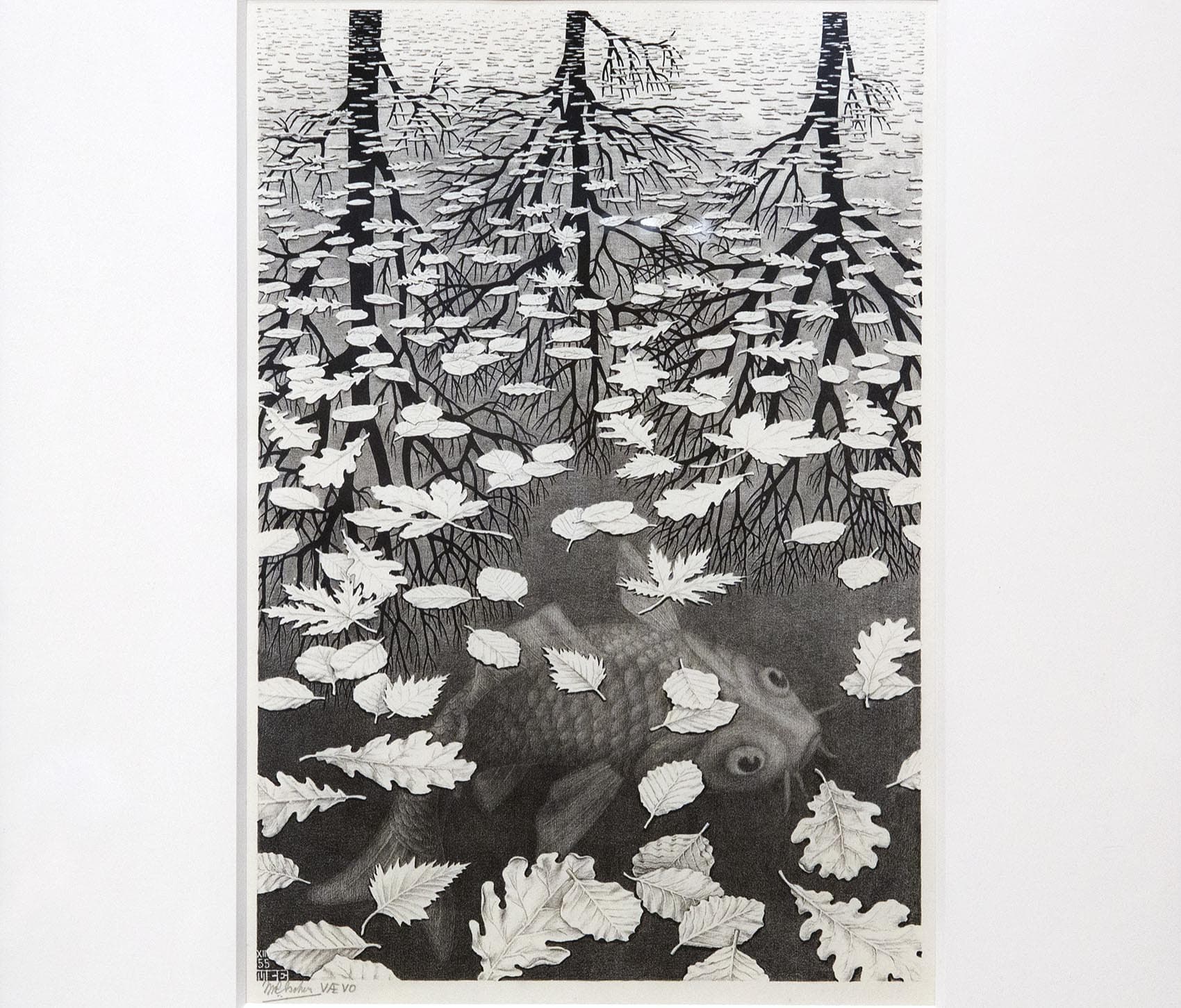 Stott is the first person to paint a watercolor in outer space. She said at first, Earth from orbit — and Escher's work — could appear to be pretty simple.
"You could just take a quick glance at it and walk by," Stott told me on the telephone from her home in Florida. "But if you take the time you discover new things every time you look at it — you're surprised. And the same thing happens when you look at Earth from space." Stott's words are paired with "Three Worlds" in the exhibition.
American Repertory Theater artistic director Diane Paulus chose Escher's 1948 piece "Drawing Hands." She has been mulling its meaning over since she encountered it in a book about Shakespeare by Harvard University scholar Marjorie Garber.
Garber used it to illustrate the idea that pop culture informs classics, and classics inform pop culture. This inspired Paulus as she worked through the creation of "The Donkey Show," her 1970s disco version of the bard's "A Midsummer Night's Dream."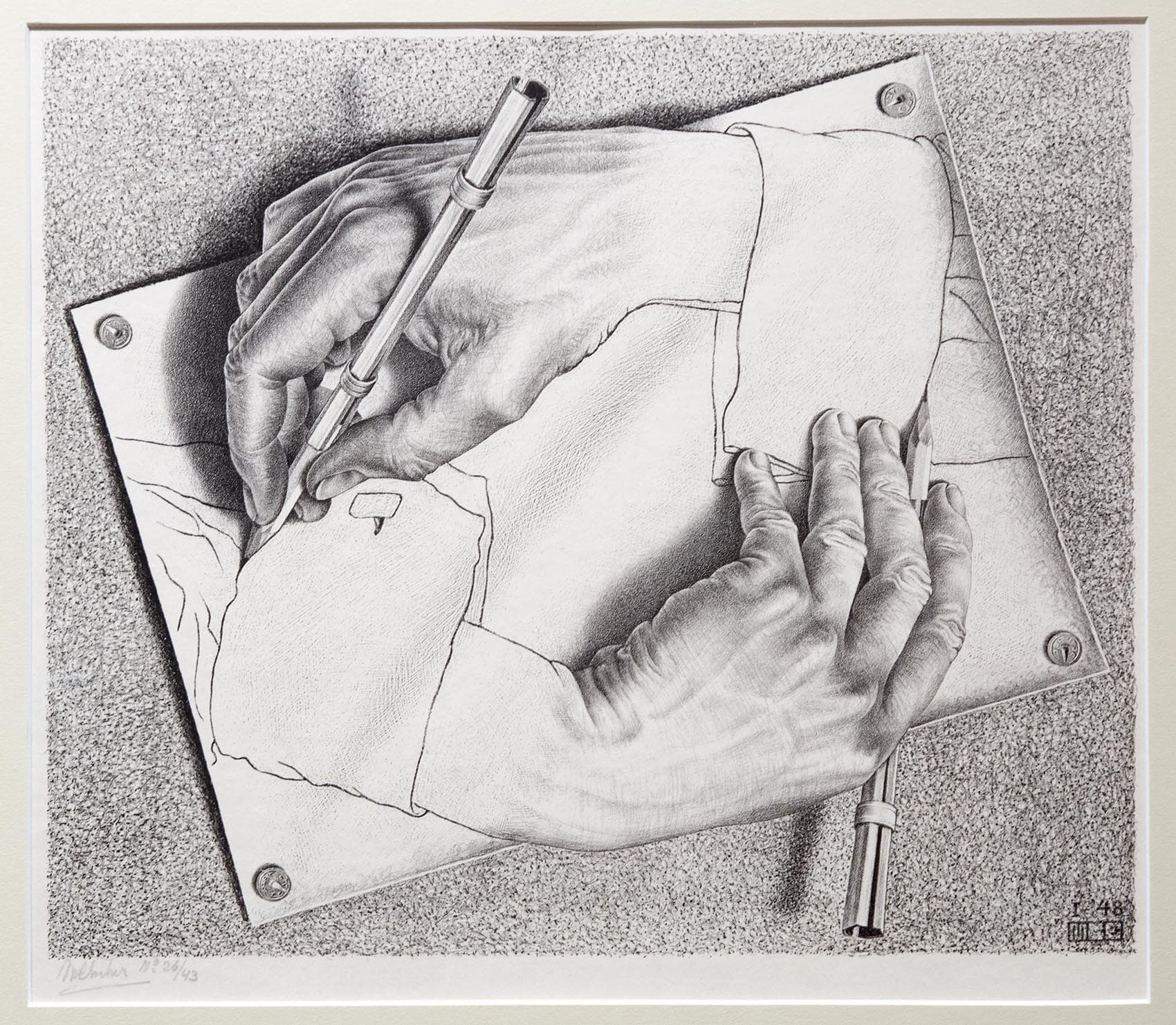 For Paulus, "Drawing Hands" also channels the mysterious evolution of a creative act in a visual way.
"Where one hand is drawing, which leads to another hand which is drawing," she described, "it's a constant flow where you cannot put your finger on where it begins and where it ends."
Like all good art, Paulus believes Escher's works grab our imaginations on a visceral level and challenges us to participate.
"There's kind of a gauntlet set down to say, 'Try to figure out where this begins and where it ends, I dare you!' " she mused. "And then you kind of look at it — and stare at it — and you get lost in the maze."
M.C. Escher created 448 lithographs, woodcuts and wood engravings before he died in 1972. He also illustrated books and designed postage stamps, murals and tapestries. While living, though, Escher didn't have his own museum retrospective until he was 70.
MFA curator and new Escher convert Baer hopes this show helps reveal there's much more to this artist than meets the eye.
"I've changed my mind," the curator said. "We'll see what the public says."
---
The MFA's special exhibit "M.C. Escher: Infinite Dimensions" runs through May 28.
This segment aired on February 8, 2018.