Harvard Taps Lawrence Bacow As Its New President
03:19
Play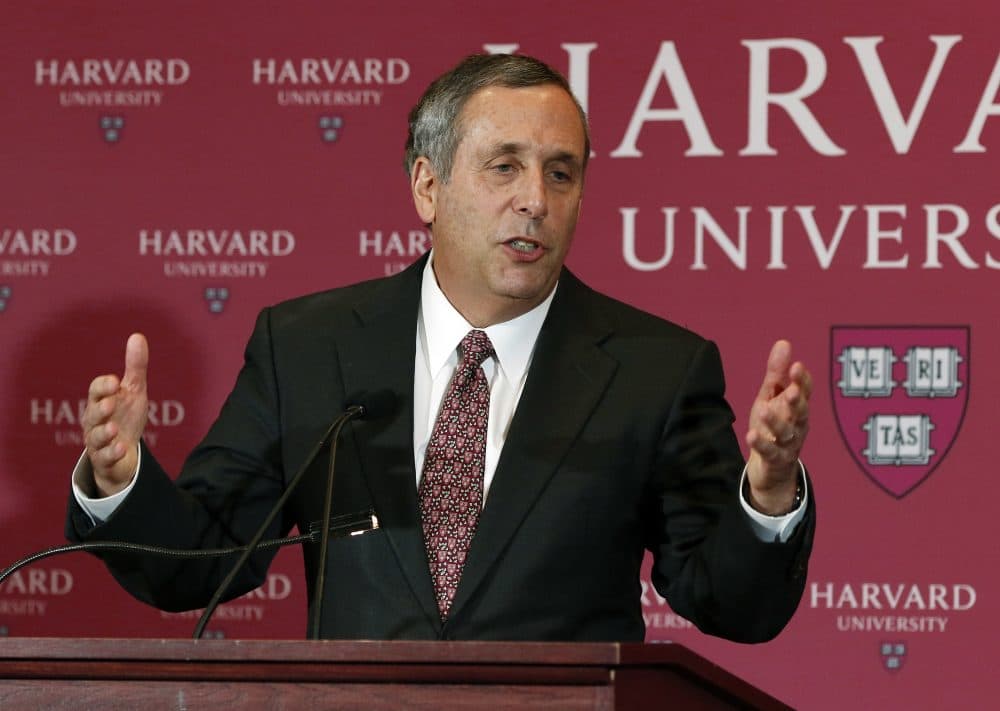 This article is more than 4 years old.
Lawrence Bacow, a former president of Tufts University and chancellor at MIT, has been named Harvard University's 29th president, the school announced Sunday.
Bacow will succeed the departing Drew Faust, Harvard's first female president, who in June revealed her plans to step down after 11 years in the role.
Bacow is no stranger to higher education locally, as the former president of Tufts and chancellor at MIT. He's a familiar face at Harvard University, as well. In fact up until December, he sat on the university's search committee for a new president before he himself was identified as a candidate.
Bacow has three graduate degrees from Harvard and currently holds an academic appointment at the Harvard Kennedy School of Government.
The 66-year-old acknowledged that he takes over the most prominent role in academia at a time when there are many challenges facing higher-ed institutions.
"It's the first time in my lifetime when people have questioned the value of going to college," he said.
Bacow said he feels a commitment, in a time when our nation is divided, to help the university leverage its resources to make the world a better place. He sees a role for Harvard fostering conversations about climate change.
He spent much of his career worrying about problems of the environment, he said, and is a scholar of environmental policy and law.
Bacow said he also recognizes that some criticism of higher ed is valid, and vows to do a better job of controlling costs and making the campus feel inclusive.
The head of Harvard's search committee, law school lecturer William Lee, said the committee wanted someone with broad experience who could hit the ground running.
"Someone who clearly sees the huge opportunities before us in education, in research, and in serving the word broadly, but someone who also clearly sees and is ready to confront the great challenges facing us," Lee said.
Bacow grew up in Pontiac, Michigan, the son of European immigrants, and credits higher education for his personal achievements. He choked up a bit when, in a nod to his own roots, he promised to continue Harvard's support of so-called Dreamers — students who were brought to the country illegally as children.
"I would not be standing before you today if this country had turned its back on my parents. And I think we have to do everything we can to protect those students who have known no other country," he said.
He was chosen among 700 potential candidates for the position — a position some hoped might be filled with a person of color for the first time.
When asked if this was a missed opportunity to further diversify at Harvard, Faust pointed out she was not a member of the selection committee. She was quick to praise Bacow as her successor.
"At a time of challenge to higher education, I can't imagine anyone who could do a better job of supporting its fundamental values and purposes," she said.
As for advice for Bacow, Faust says there is great power in listening.
Bacow will take over as president July 1.
This article was originally published on February 11, 2018.
This segment aired on February 12, 2018.