Poll: Transportation Is Still Bad And Needs More Money, Mass. Residents Say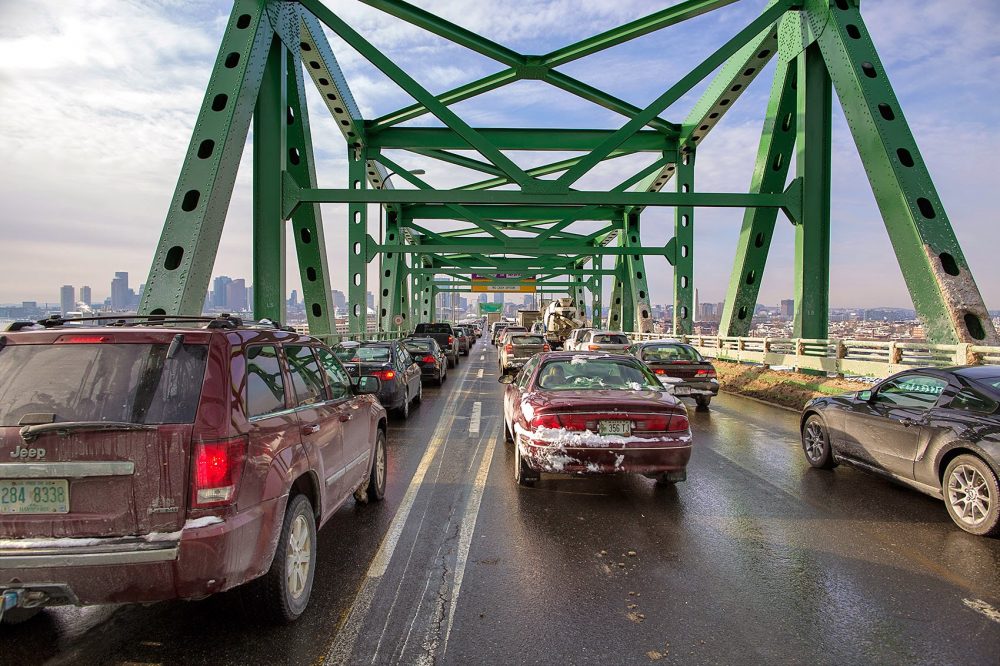 This article is more than 4 years old.
Massachusetts voters don't feel transportation in the state has improved within the last five years, and are clamoring for more funding to fix roads, bridges and the MBTA, a new poll found.
The poll, conducted by MassINC Polling Group for the Barr Foundation and released Tuesday, asked 709 Massachusetts voters about their feelings on a range of transportation issues, including traffic, funding, autonomous vehicles and ride-hailing. The poll (topline, crosstabs) was conducted in collaboration with the advocacy group Transportation for Massachusetts.
The results largely show a public that is concerned about getting around the state and also skeptical about whether new technology will fix existing problems.
"There's a lot of uncertainty about whether or not the system is good enough to keep up with the demands that the Massachusetts economy is placing on it," MassINC president Steve Kozcela said.
Fifty-one percent of respondents believe Massachusetts roads and public transportation are good enough to support the state's economy, while 35 percent said these modes of transportation "are holding the economy back." Fourteen percent said they were unsure.
Here are a few other key takeaways from the report:
We're Still Stuck In Traffic
The poll showed 38 percent of respondents believe moving around their part of the state over the last five years had become harder, while 46 percent said getting around had stayed about the same during that period.
Only 14 percent of those surveyed said they thought conditions had improved.
This follows a consistent trend in which many Massachusetts residents already feel like traffic is a nightmare. Just last year, drivers in Greater Boston spent an average of 60 hours in traffic during rush hour. And, in a 2016 WBUR poll, most Boston-area residents said traffic had been worsening since 2011.
Transportation Is A Top Priority
As a hot-button issue on the minds of voters, "transportation is now right up there with health care, the economy [and] education," Kozcela said.
Those polled pointed strongly at two options they thought might be effective in fixing transportation problems, with 56 percent backing improvements to the MBTA and 55 percent hoping to see investments in the condition of roads and bridges.
Massachusetts voters said improving these two areas should be a "major priority" for the state. Seventy-three percent of voters said rehabilitating highways, roads and bridges should be a major priority, while 64 percent said overhauling public transit should be the state's priority. For comparison, 68 percent saw public education as a prime concern, while 37 percent said climate change should be a primary issue for the state.
An overwhelming majority of poll respondents — 81 percent — said they support the state raising new funds to invest in transportation infrastructure.
So ... Who Is Paying For This?
While voters want more funding, it's unclear who they think should pay for these enhancements. The poll didn't ask that specific question, but did ask respondents about some mechanisms for funding.
For example, a majority of voters support imposing a fee related to pollution on companies that bring gasoline into the state, the poll found.
Respondents were also asked about congestion pricing. On this issue, the poll found voters — 55 percent — largely disapprove of raising tolls into and out of Boston during peak traffic times, but largely approve — 60 percent say — of lowering tolls outside of rush hours.
Additionally, respondents were split on whether they would support the state expanding electronic tolling — 47 percent back the idea while 45 percent oppose it. That divide changed when respondents were asked if they would support more electronic tolling if the additional revenue raised went directly to improving congestion. In that case, 61 percent were for the idea.
People Aren't Racing To Ride In Self-Driving Cars
There is some thinking out there that technology — specifically driverless cars — will solve many of our transportation challenges. But Massachusetts residents aren't buying this supposed idyllic future.
According to the poll, 79 percent don't believe self-driving cars will be a replacement for public transit, and say investments still need to be made to trains and buses regardless of how the technology develops.
The poll also found more people than not think autonomous vehicles will make roads less safe. Forty-six percent said the vehicles would make roads less safe, while 26 percent said they'd make roads safer.
And many people think self-driving cars will further clog up roadways. According to the poll, 37 percent think self-driving cars will worsen traffic while only 19 percent say the technology will improve conditions. Seventeen percent said the vehicles would make no difference.
Commuters Don't Blame Traffic On Uber And Lyft
On the other hand, Massachusetts residents don't believe another transportation technology — ride-hailing — is making traffic worse. Just 19 percent of poll respondents say they think Uber and Lyft are to blame. That's compared to 43 percent who say the ride-hailing services make no difference to traffic, and 20 percent who say the services improve the flow on the roads.
Voters' perspectives are in contrast to a report out earlier this month by the Metropolitan Area Planning Council, which found that Uber and Lyft are adding traffic to the Boston area.