In 'Portraits Of Resilience,' MIT Students Share Personal Stories Of Depression
Resume
In 2014 and 2015, MIT experienced a cluster of suicides. Six students and a professor took their lives within a little more than a year. After that, the school newspaper published stories written by an MIT student and a professor about their struggles with depression.
An MIT computer science professor, Daniel Jackson, noticed something about the reaction on campus. There was a wave of consoling and encouragement.
Jackson is a photographer. So he set out to photograph members of the MIT community who had experienced depression and anxiety, and ask them to tell their stories. He hung posters of the first few subjects around campus. Then so many people came forward, Jackson decided to compile a book. It's called "Portraits of Resilience."
Jackson, as well as two of the people he profiled — MIT junior Emily Tang and Victor Morales, who graduated from MIT in 2014 — spoke with WBUR's All Things Considered host Lisa Mullins.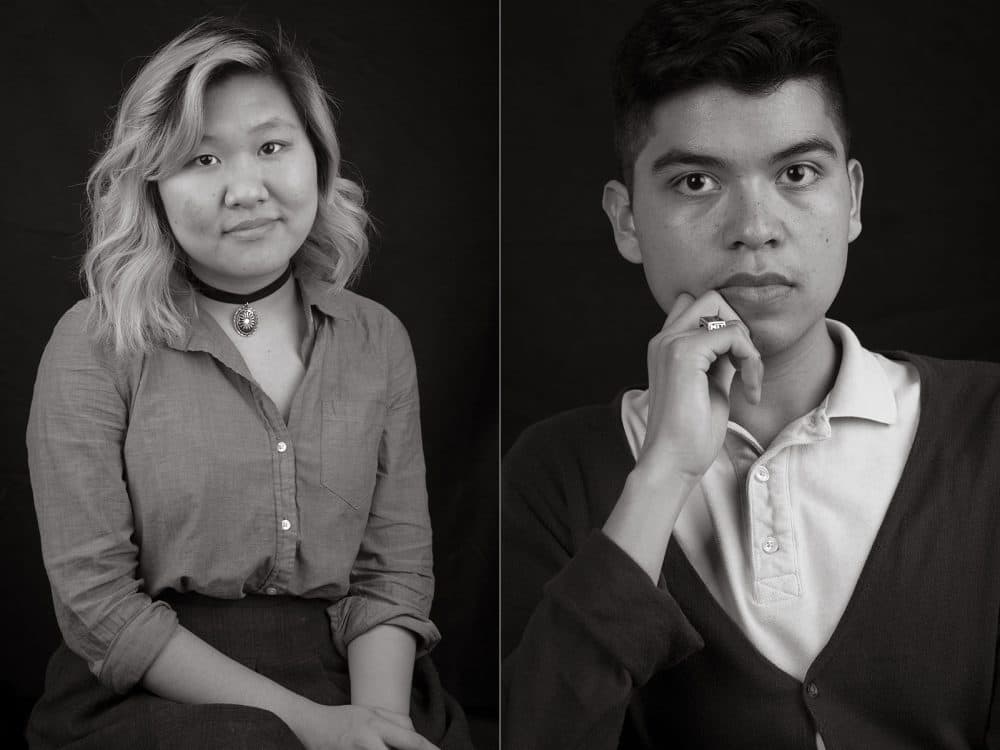 Interview Highlights
Emily Tang: "I think as early as eighth grade, I started experiencing a lot of depression. That was the first time I really felt a lot of overwhelming pressures to do well in my studies. I think that was when I'd started taking my first high-school-level class that would start counting towards my GPA, because I was in an advanced math class. ... I started self-harming at that time. I would cut my arm with a razor. I alternated between emptiness and wanting to feel something, and feeling everything was my fault and wanting to punish myself.
"It was just, academics were all I was. Everyone knew me as, like, the smart girl who was going to MIT. It was just such a core part of who I was, that when ... I wasn't top of the class anymore, I didn't get everything right away, then it was this feeling of, Who am I, then? And I think what has really helped since then has been finding other things to define myself — letting myself enjoy my hobbies thinking, It doesn't matter that I'm not going to be a famous artist. If I enjoy drawing, it can take up a lot of my time. I can do music, I can do these things that don't necessarily contribute to my future, because they're a core part of who I am.
"For 18 years, all I was the nerd, the encyclopedia, the machine, the calculator. Those are literally names I got called in high school. And I think people meant them in a fun, jokey kind of way. But they really made me feel ostracized. It made me feel like I wasn't somebody that people saw as a person, but rather as, you know, just a product of my academics."
Victor Morales: When I saw those posters [of people with depression at MIT who had shared their stories] on the halls, not really knowing that I was going through depression yet, just seeing those posters ... their images printed out nicely, all around campus, I felt inspired by their stories. And when I got in touch with Professor Jackson, I had the opportunity to share mine.
"I remember my sophomore year at MIT, I failed two classes. And for the first time that I remember, I felt anxiety — this feeling, this urge ... to just crawl up into a ball and not do anything. And I felt powerless, and I felt alone. All these people admired me. They thought I was a straight-A student. They thought I was really good at math, when really I wasn't.
"I remember going through the worst weeks of my depression ... I couldn't get out of bed. I was sleeping 12 hours every night. I couldn't really eat ... and I remember texting some of my friends, and they came and helped me get out of bed. They didn't present a judgment. They didn't ask me what was going on. They understood that I was going through a difficult period of my life. And they are a large part of the reason why I survived."
Professor Daniel Jackson: "I guess the first thing I was trying to do was to allow these people, who in some respects had been left unacknowledged and in the dark ... to show their faces. And to say, 'Here I am. This is me. I'm proud of the life that I'm leading and what I've accomplished.' I hope to show them in a way that was respectful to the fullness of their life and experience
"In their stories, although they all faced formidable challenges, they show such extraordinary qualities of character and mind. And they've accomplished so much. And I find a positive, happy ending, in a way, in every story. Even if they didn't find complete resolution, they came to terms with things and they have a lot to teach us."
This article was originally published on March 08, 2018.
This segment aired on March 8, 2018.