Democrat Conor Lamb's Upset Victory Is Also A Win For Massachusetts' Seth Moulton
04:21
Play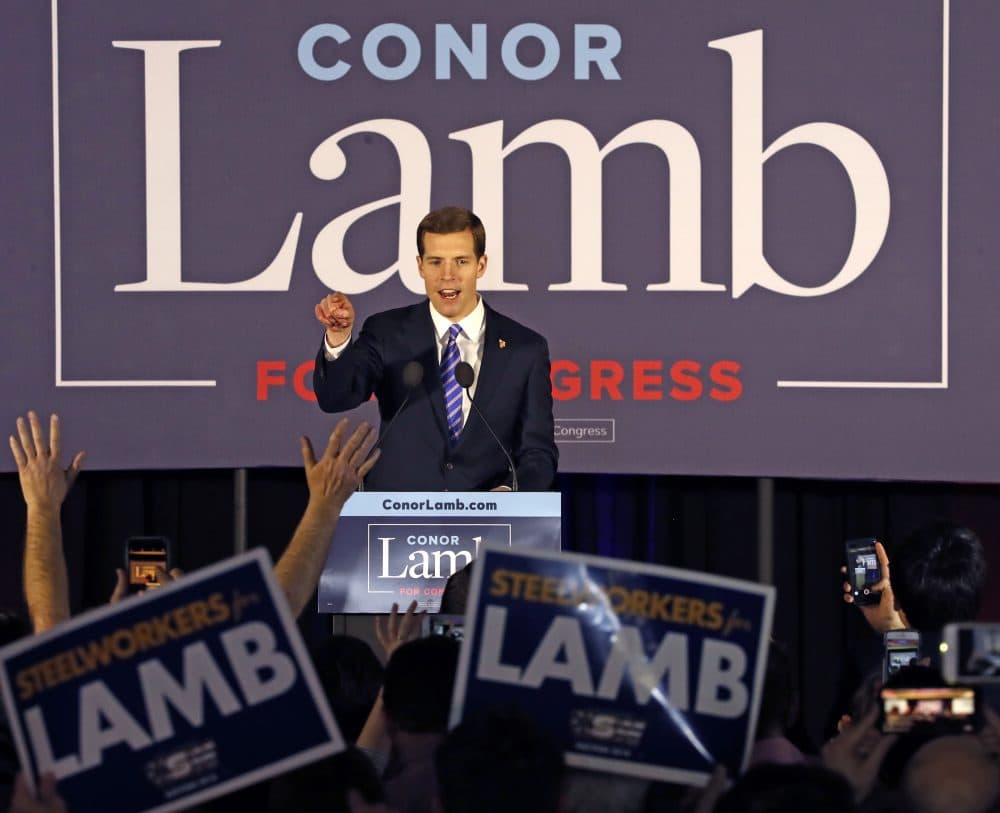 This article is more than 1 year old.
The stunning upset victory of Democrat Conor Lamb in this week's hotly-contested special congressional election in Pennsylvania was a rebuke of President Trump and a big win for Democrats.
For Massachusetts Congressman Seth Moulton, who was an early supporter of his fellow Marine veteran, Lamb's win was especially significant. The Salem Democrat raised money for him, campaigned with him and says Lamb represents a new generation of leaders that the party desperately needs.
Last September, Moulton went to Iowa to the Polk County Steak Fry organized by the Polk County Democrats. Back then, Moulton's trip to the first presidential caucus state fueled speculation he was considering a presidential run of his own, but Moulton said he was there to advocate for a slate of fellow veterans and Democrats running for Congress.
"Twelve veterans who I have endorsed so far in swing districts across the country — exactly the districts that we need to take back if we're going to take back the House," Moulton said. "One of my messages here is: hope is on the horizon. There's help on the way, and it's coming in the form of a new generation of Democrats who understand public service, and who are going to start winning again."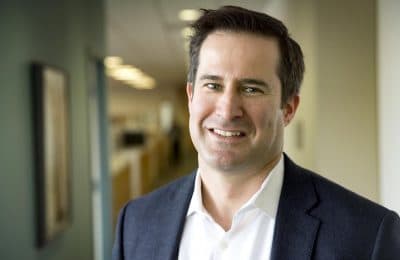 Moulton's slate of endorsed candidates is now up to 19 veterans. Lamb is one of them. Moulton raised nearly $80,000 for Lamb, canvassed door-to-door with him and had six of his staff members working in Pittsburgh. The efforts helped Lamb beat Rick Saccone, a four-term Pennsylvania state representative in a district that Trump carried by 20 points in 2016.
"Some people have credited me with recruiting some of these veterans to run, and there's a few I did encourage," Moulton said. "But the best recruiter out there is our commander-in-chief, Donald Trump. He's the one who's convinced so many veterans to stand up and take on the Republican establishment, to take on the president, and serve the country again."
Moulton is among many who call Lamb's victory a big defeat for Trump and Republicans. Lamb ran as a moderate Democrat: a Marine veteran, who promised to oppose Democratic House Leader Nancy Pelosi, and whose campaign ad featured a picture of him shooting an AR-15-style assault rifle.
Some Republicans caution reading too much into Lamb's victory.
"Lamb basically ran as a Republican," D. Raja, treasurer of the Pennsylvania Republican Party, said earlier this week on Fox News. "And the phrase that I would like to say is, here's a 'Lamb' in Republican clothing. Lamb says he's pro-life, pro-gun ... he says he's pro all of that, and unfortunately, I do not think Conor Lamb will deliver once he gets elected in all those facets."
"It's a ridiculous attack line, like so many of the Republican attacks on him," Moulton said. "He has Democratic positions up and down the list, but they're positions that reflect the will of his district."
Lamb is pro-gun rights, but in favor of universal background checks. Personally opposed to abortion, but unwilling to upend abortion rights. And supportive of medical marijuana. Boston-based Democratic consultant Dan Payne says these positions place Lamb squarely among mainstream Democrats.
"He opposed the Trump tax cut, he is for maintaining ObamaCare," Payne says. "And if he's so close to the Republican Party and Trump, why did they spend $10 million trying to defeat him?"
"I think you see the generation of veterans who went to Iraq and Afghanistan taking over for the generation who sent us there."

Rep. Seth Moulton
Payne is among many who believe Lamb's victory signals a big challenge for Republicans as they try to keep their majorities in Congress in the age of Trump. Lamb's victory was fueled by an energized electorate that included college-educated suburban progressives and blue-collar labor. Moulton says Lamb was a candidate who understood his district, and that his experience as a veteran gave him credibility.
"Now we have a new generation of leaders who have seen the consequences of failed leadership in Washington in places like Iraq and Afghanistan," Moulton said. "I think you see the generation of veterans who went to Iraq and Afghanistan taking over for the generation who sent us there."
Veterans like Lamb are in a unique position to challenge what's wrong with Washington, Moulton says. And he's hopeful they can help Democrats win in November.
This segment aired on March 16, 2018.