Sen. Rosenberg's Husband Hefner Is Indicted For Sexual Assault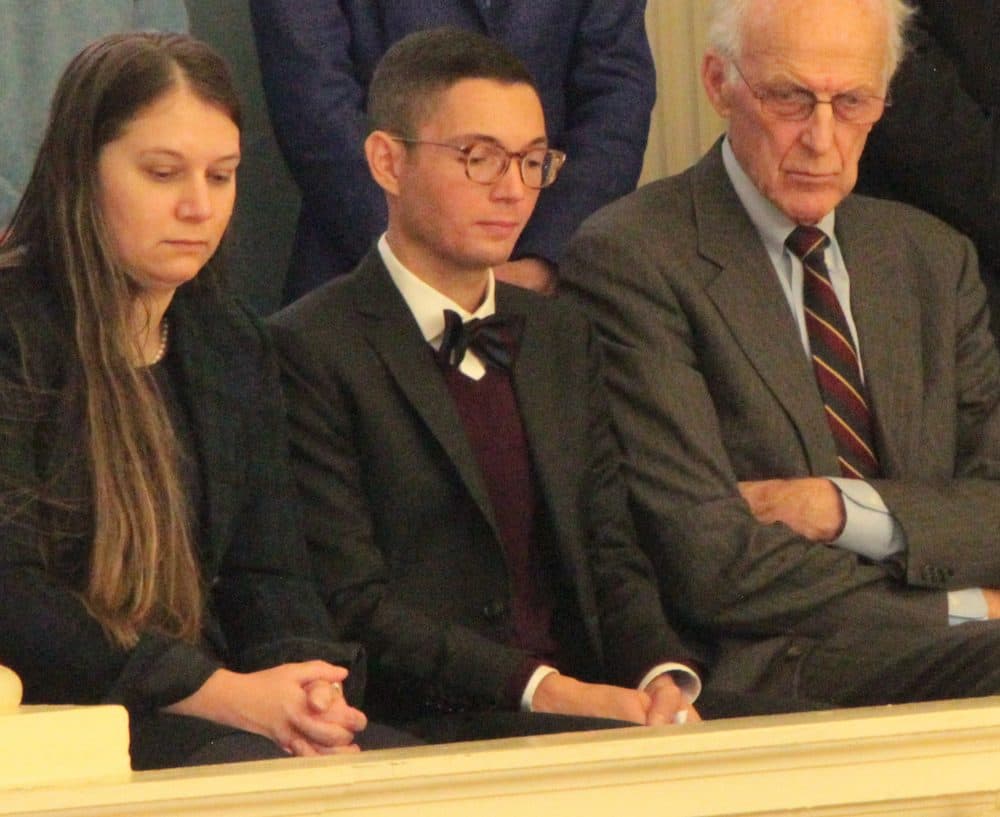 This article is more than 4 years old.
The husband of former state Senate President Stan Rosenberg has been indicted on felony charges including sexual assault.
Bryon Hefner was indicted Thursday on charges in connection with sexual assault, criminal lewdness and distributing nude photos without consent.
Rosenberg, 68, a Democratic senator from Amherst, said in January the two are separated. A month earlier, Rosenberg said Hefner was entering treatment for alcoholism.
Allegations of sexual misconduct against Hefner, while Rosenberg was president, rocked the State House's upper chamber, and led to Rosenberg stepping down from the post during an investigation.
Hefner has told the Boston Globe he was shocked by the allegations.
Hefner's lawyer said Thursday he plans to plead not guilty to the charges. The lawyer also said Hefner looks forward to contesting the evidence and confronting the witnesses against him in court.
Rosenberg has denied any prior knowledge of the allegations against his husband, and said Hefner had no influence over policy or any Senate-related business.
The Globe has reported that Hefner involved himself in Senate business.
The indictments allege that in 2015 and 2016, Hefner, now 30, sexually assaulted one victim on three separate occasions in the Boston area. He allegedly sexually assaulted two other victims in Boston from 2014 to 2016.
Prosecutors said in a statement that Hefner also "obtained nude and partially-nude photos of another victim without the victim's knowledge and sent or showed those photos to four other people without the victim's consent."
"This joint investigation revealed a disturbing pattern of conduct that was not only inappropriate but criminal," Suffolk District Attorney Daniel Conley said in a joint statement announcing the indictments with state Attorney General Maura Healey.
"These are serious charges," Rosenberg said in a statement. "They are now being handled by the judicial system. I have faith in that system and trust that it will adjudicate this case fairly."
Hefner is set to be arraigned on April 24.
Harriette Chandler is now the Senate president. She said in a statement Thursday:
These charges are deeply disturbing, and I thank the victims for their tremendous bravery in coming forward. Clearly, the actions described will not be tolerated, and the Senate will cooperate fully with the District Attorney and Attorney General's Office
The governor's office also acknowledged the victims in a statement.
Gov. Charlie Baker and Lt. Gov. Karyn Polito, said Lizzy Guyton, the office's communications director, "commend those who came forward to report these despicable actions and believe those who engage in crimes and sexual harassment of any kind must be held accountable."
With reporting by WBUR's Anthony Brooks and The Associated Press. Here's Anthony's Morning Edition feature.
This article was originally published on March 29, 2018.