Text Messages In Somerville Would Warn People Of Federal Immigration Raids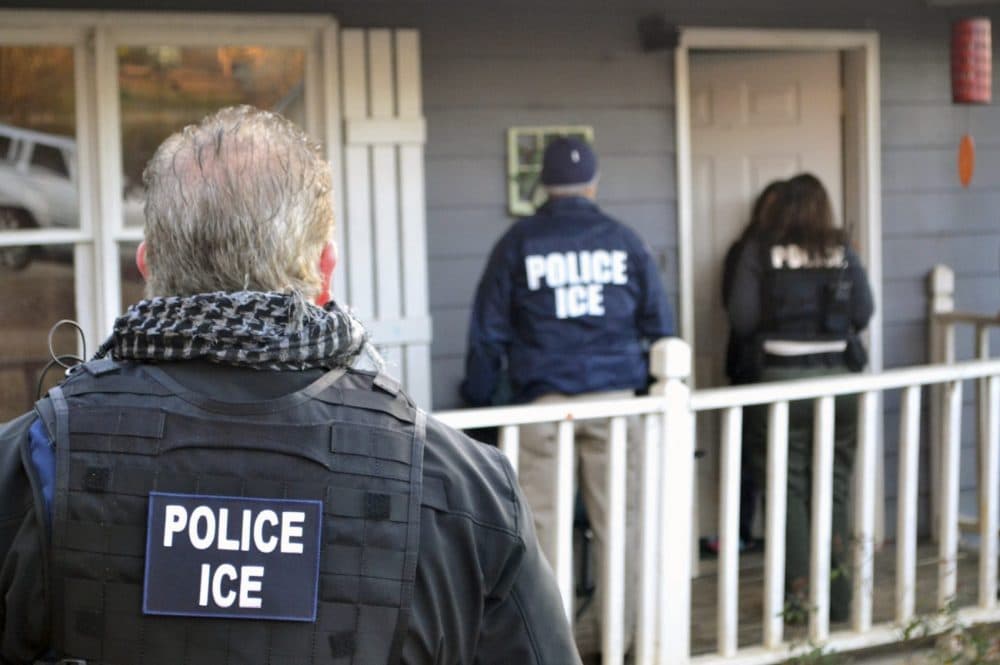 This article is more than 4 years old.
Local immigration advocates are testing a text message service in Somerville that they say will alert people when federal immigration officials are conducting raids in the area.
Organized by The Welcome Project, the nonprofit says the Somerville Response Network will work like this: If someone in the community sees or hears that an immigration raid is happening, they'll be able to call The Welcome Project.
The immigrant advocacy group says it will work to verify that an immigration raid is indeed happening and, if it is verified, the group will then send out texts alerting people who have signed up to receive messages.
In an interview with WBUR on Thursday, Executive Director Benjamin Echevarria insisted the network would be legal and would not stop law enforcement officials from doing their job.
"We're not interfering ... this is no different than like a scanner radio where activities are picked up on a scanner," Echevarria said. "As private citizens, I'm free if I see something to call my neighbor or notify my neighbor as I see fit."
Asked how the group would verify claims that an immigration raid is happening, Echevarria said, "some of this is still being worked out" but that there "will be a host of different ways that we would look for verification." He said those efforts could include sending workers to the locations of alleged raids to "calling a neighbor to say, 'Hey, can you look out your window to see what's going on?' "
In a statement, U.S. Immigration and Customs Enforcement spokesperson John Mohan pushed back on the concept of the Somerville Response Network.
"Using local community organizations to help individuals evade federal immigration law, many of whom may be facing or already convicted of serious criminal charges, does not benefit, but rather endangers communities, making them less safe and putting them at greater risk," Mohan said.
Echevarria doesn't see the situation like that.
"By no means are we attempting to skirt the law in any given way," he said. "We're just merely being good citizens that are notifying neighbors of activities that are occurring in their neighborhood."
On his personal Facebook page, Somerville Mayor Joe Curtatone shared an article about the network, saying the nonprofit's work in recent years "has been nothing short of heroic."
The testing of the Somerville Response Network was first reported by the Somerville Journal.