ACLU Sues Trump Administration Alleging Illegal Detainment Of Spouses Of U.S. Citizens
Five married Rhode Island and Massachusetts couples are accusing the Trump administration of illegally detaining the immigrant spouses of American citizens.
The couples, who are being represented by the American Civil Liberties Union of Massachusetts, say their immigrant spouses were detained while following government regulations for obtaining lawful immigration status based on their marriages to Americans. The ACLU, along with the law firm WilmerHale, filed the class action lawsuit Tuesday in Boston federal court.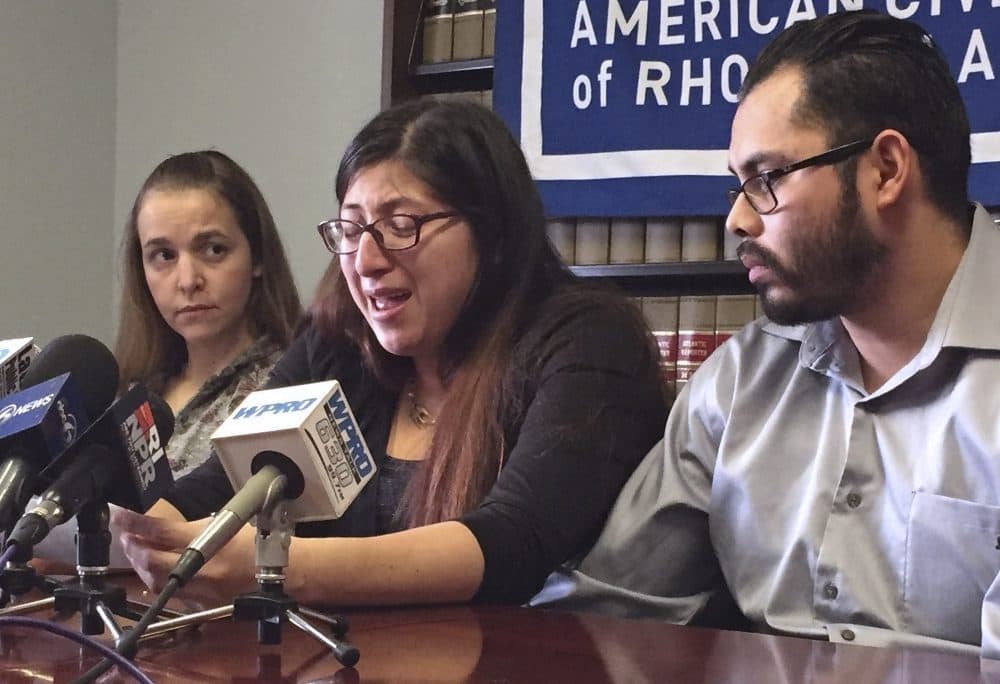 Lilian Calderon is among the spouses taken into custody. She has lived in the United States since she was 3 years old, and has two American children, ages 2 and 4. When she showed up in Providence in January for her interview to get legal residence based on her marriage to Luis Gordillo, who is an American citizen, Immigration and Customs Enforcement (ICE) agents detained her and took her to the Suffolk County House of Correction in Boston.
"I was told that I couldn't say goodbye to my husband," Calderon said at a Boston press conference Wednesday. "I was detained for a month with no further reason other than I was just detained."
A month later, Calderon was released.
She has a stay of removal from the country that expires in May.
In two other cases, the immigrant spouses have been told to leave the country on April 24 and May 2.
"When you have an administration that prevents people who are entitled under the law to seek their lawful status in order to stay here with their U.S.-citizen family members, you have to ask: Why?" said Adriana Lafaille, an ACLU of Massachusetts attorney representing the couples. "Is it because the administration has a view about what kind of people should be entitled to be Americans?
"And we think that the comments made by the president against 'chain migration,' the racialized comments that the president has been making, do reveal an animus that is really driving an effort to prevent people who are lawfully entitled to be here from following that process," Lafaille continued.
The couples are caught between contradicting policies of U.S. Citizenship and Immigration Services (USCIS) and ICE. In 2016, USCIS allowed some spouses of American citizens to remain in the U.S. while pursuing legal immigration status. But ICE has adopted a policy of detaining the same people.
The spouses are from Guatemala, Brazil, El Salvador and China.
A spokeswoman for USCIS referred WBUR to the office of the U.S. attorney for Massachusetts, which did not return an email asking for comment.