Does The Boston Marathon Ever Get Canceled Due To Weather? Nope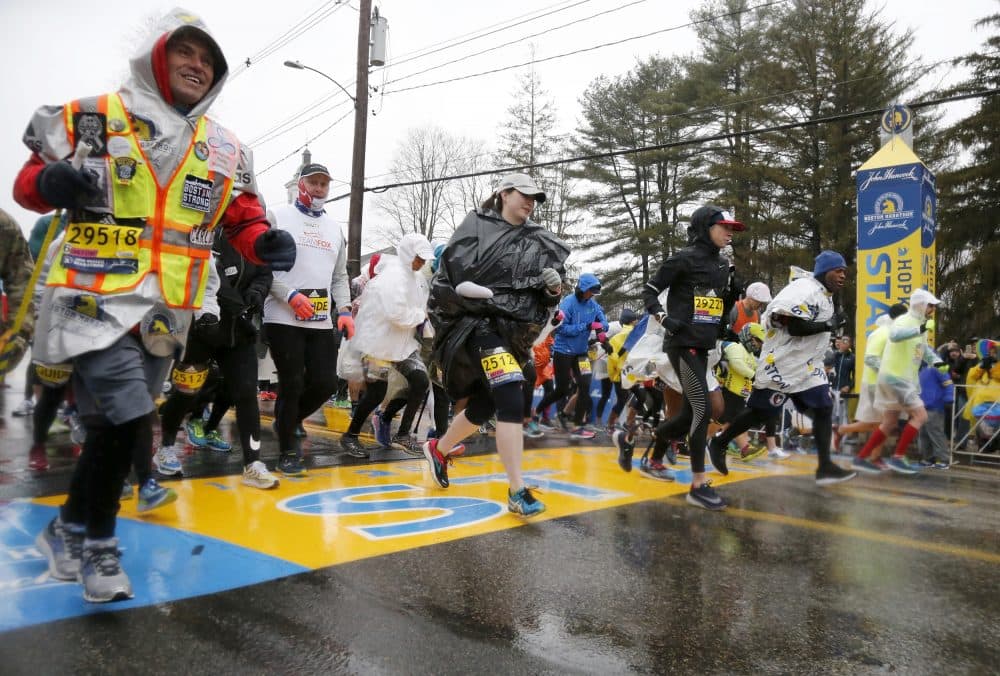 This article is more than 4 years old.
Editor's Note: This story is from 2018. Here's what you need to know for the 2019 Boston Marathon.
---
With the rainy, cold and windy weather here in Massachusetts this fine Marathon Monday, you might be tempted to wonder: Has the Boston Marathon ever been postponed or outright canceled?
If you've spent any time in this region at all, you know that April can be a weird month. Sometimes, it's like today; other times, it's really hot and sunny and runners risk overheating and dehydration.
But surprisingly, in its 122 years, the Boston Marathon has never been canceled due to the weather, says the Boston Athletic Association. The one time it was canceled at all — and you could argue it wasn't really a cancellation, just a modified race — was in 1918, when organizers held a military relay race because of World War I. (This year, there will be a relay-race to commemorate the 100th anniversary of that event.)
According to the BAA's official race guide, here are some of the extreme weather conditions over the race's history:
Snow
1907: Traces of sleet
1908: Snowflakes and drizzle
1925: Cold wind and occasional snowflakes
1961: Snow squalls; recorded temperature was 39
1967: Snow squalls accompanied the runners throughout the first five miles
Rain
Heat
1905: Records say the mercury hit 100
1909: High reported was 97
1927: The temperature got to 84 and a newly surfaced, but uncured, road melted under the runners' shoes
1952: High temperature of 88
1976: For much of the first half of the race, the temperature along the course was reported to be 96
1987: Temperatures were mid to upper 80s with more than 95 percent humidity
2004: The hottest marathon since 1976 (86 at the finish)
2012: The temperature started at 75 at the start of the women's elite and was at 89 midday in Framingham
Other Unusual Weather Conditions
1939: Runners at the starting line experienced dark skies caused by a northeast storm and a partial eclipse of the sun.
2002: A heavy mist severely reduced visibility, grounding helicopters, which resulted in limited televised coverage of the race.
2010: Eyjafjallajökull, a volcano in southern Iceland, erupted in late March, and then again on April 14. It stopped European travel for weeks and hundreds of entrants were unable to make it. They were given the option of deferred entry into the 2011 Boston Marathon.
If you're running or watching today, remember to dress appropriately. We've got some advice from sports medicine Dr. Thomas Gill: