For Months, A Boston Federal Courtroom Has Been Spotlighting MS-13's Brutal Violence
Play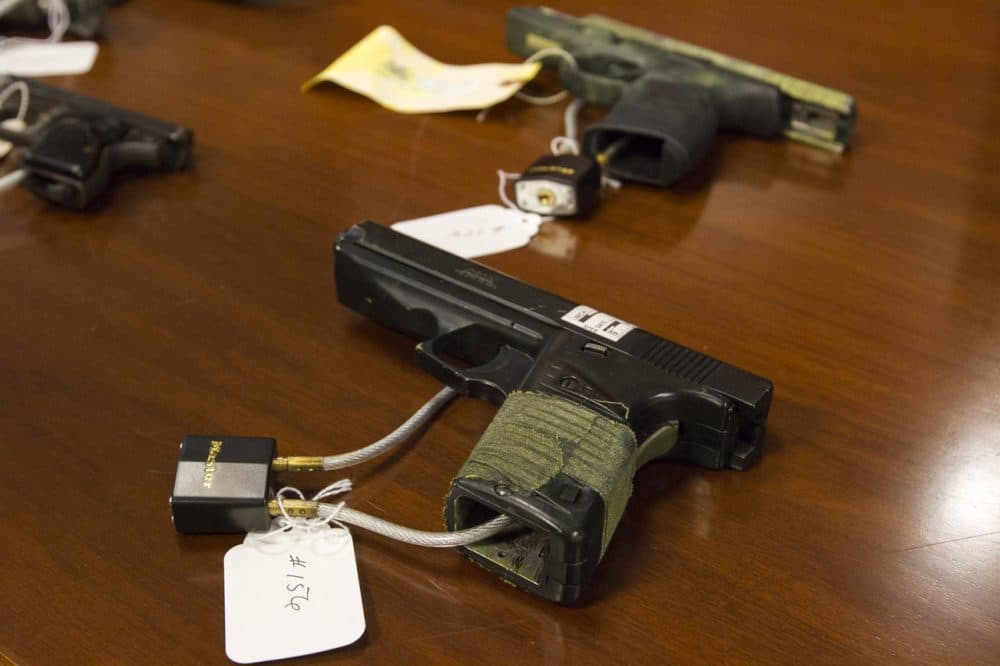 This article is more than 4 years old.
Editor's note: Some may find the language or situations described below upsetting.
For months now, federal Courtroom 2 in Boston has been spotlighting savagery, murders and the brutal recruitment of teenagers by an international gang with hooks into the Boston area.
Feared in both Central America and the enclaves of immigrants here in the United States, the gang known as MS-13 has become President Trump's symbol of what's wrong with illegal immigration and what's right with a wall on the border.
The criminal case in Boston is the largest in the country against MS-13. A sweeping indictment has charged 61 people with being members or associates of the gang. So far, two thirds of them have pleaded guilty or gone to trial and been convicted.
'You Earned' Your Sentence
Amid a fierce national debate on immigration enforcement, Attorney General Jeff Sessions came to the "sanctuary city" of Boston in September to put a bulls-eye on MS-13.
"We are coming for you. We will hunt you down. We will find you. And we will bring you to justice," Sessions said.
Indeed what the attorney general vowed to do that day had already been done by prosecutors in Boston a year before Trump became president and Sessions attorney general. The results in Boston's Courtroom 2 have been dramatic.
This month alone, an El Salvadoran defendant has been sentenced to 19 years in prison for racketeering conspiracy, including acts of attempted murder. He was accused of hitting his victim in the head with a machete.
Another Salvadoran gang member has pleaded guilty to charges involving the murder of a 15-year-old boy, allegedly stabbed on a beach in East Boston by four assailants who shared knives and each took a turn.
And last week, F. Dennis Saylor, the judge who is presiding over all of these cases, imposed a 27-year prison sentence on a man from Honduras. The defendant had fired a shot that missed his target but killed a mother surrounded by her children in a domestic abuse shelter in Chelsea.
"I take no pleasure in imposing this sentence," said the judge. "You earned it."
'We Just Did An Awesome Hit'
There's a lot to tell about a gang whose motto is "Kill. Rape. Control." And since the primary language of the defendants, the witnesses and the victims is Spanish, a team of translators has gone hoarse unpacking testimony clotted with violence and profanity. The pace is slow and the horror is repetitive.
As bad examples, these defendants make ideal exhibits for the case against open borders and lax immigration enforcement. Almost all of them are in the country illegally.
And a prosecutor couldn't hope for more prejudicial names. The defendants' real names follow Spanish convention, they are long, and because there are 61 defendants, they're complicated. So everyone, even defense attorneys and fellow defendants, calls them by their street names. You don't need to be fluent in Spanish to detect the menace of guys who call themselves "Violento," "Psycho" and "Terrible."
"The one thing MS-13 is really good at is killing 18th Street," says one of the defense attorneys outside the courtroom. 18th Street is the name of the other Central American gang, the archenemy of MS-13.
And MS-13's attacks are vicious. As if to endorse Trump's depiction as "bad hombres," the MS-13 defendants even brag about their crimes. You can see and hear them reveling in knife stabbings and mutilation by machetes, celebrating with a full payload of f-bombs that carpets the courtroom as their accounts are translated from Spanish and read to the jurors in English.
The reason you can see and hear them is because they have been secretly recorded by an undercover informant posing as an unlicensed cab driver. Prosecutors say almost all of the alleged gang members have incriminated themselves — like "Animal" did in the transcripts introduced last week.
"[We] just did an awesome hit," he excitedly tells the informant who's recording him. "We got a chavala, doggie."
"I struck that son of a b---- with the knife, I tied him up, and [Witch Doctor] stabbed him like two or three times. Then the son of a b---- told me, 'I'm only 16 years old.' "
Not too young to die.
A Broken Pipeline To The North
The irony is that Animal's mother had sent her son to the north from El Salvador to escape MS-13. The reality is that gang members are already here awaiting the young immigrants who think they're getting away from the gang by stealing over the border.
The idea that people who are deportable are released after they are arrested trying to cross the border clearly angers Trump, who has long complained about so-called "catch and release," where people caught crossing the border are released from custody to await a hearing from an immigration judge.
But attorneys defending MS-13 clients argue that catch and release, after a short detention, is just what happened with at least one of a half-dozen MS-13 members who have turned government witnesses.
The gang member called "Violento" wants a lesser sentence and the opportunity to remain in the U.S. So he's agreed to testify against three defendants in the current trial in Courtroom 2 and link them to murders and attempted murders.
The defense wants to show Violento would do and say anything, like lying to Immigration and Customs Enforcement when he was arrested as he crossed into Texas in January 2014.
"You told them you were a member of an opposing political party and might be killed for your beliefs," defense attorney James Cipoletta asked of Violento on cross examination. "That was a lie."
"Si," said Violento. Indeed, it was a very big lie, because Violento was a gang member actually trying to escape police in El Salvador who were likely to put him back in prison.
Back home, he admitted, he'd fingered an 18th Street member and seen his MS-13 crew murder the man. He had dug up and reburied the body of another MS-13 victim. And in a third incident, Violento was caught with a gun on his way to killing a ticket taker on a bus who wasn't making his extortion payments.
Did he tell this to U.S. immigration when he was arrested at the border?
Violento sniffed at the silliness of the attorney's question. Of course he didn't.
"I gave them testimony, [for getting political asylum]. They found it credible, and they gave me bail for $7,500," Violento testified.
Catch and release.
"You were allowed to enter and remain in the United States as a result of your lying," the attorney said.
Answer: "Si."
Back in MS-13 — around Boston — Violento was soon bragging on audio and video about shooting at chavalas who belonged to 18th Street.
In 2015, he was arrested as an "illegal alien in possession of a firearm," later as a gangster. Violento makes another bad example for the president.
As the federal prosecution continues in Courtroom 2, the president can count on more convictions and more evidence he can cite of what comes from open borders and lax enforcement.
This article was originally published on April 18, 2018.
This segment aired on April 18, 2018.